Despite trailing in the first three quarters, the Lakers responded as expected to take a 2-1 series lead against the Houston Rockets in their Western Conference semi-final matchup. It'll be interesting to see what adjustments Houston make ahead of Game 4, after showing promise despite lacking decisiveness during clutch moments down the stretch. Who will prevail here?
Houston Rockets vs LA Lakers: Rockets eager to level series
Rajon Rondo was on fire from the bench with 21 points, nine assists, two rebounds and a steal in 30 minutes while LeBron James and Anthony Davis were unsurprisingly key components too.
It'll be interesting to see what adjustments Houston make ahead of Game 4, as Mike D'Antoni's side showed plenty of promise but struggled in clutch moments last time out. Who will prevail here?
As mentioned, the LeBron-AD tandem was in full working order as expected. LeBron was aggressive from the off, scoring 29 of his 36 points in the first-half alone, before allowing others to shine.
James Harden (33 pts, nine rebs and assists on 11-of-23 shooting) found himself stifled offensively and a much improved Russell Westbrook (30 pts, eight rebs, six assists) didn't have many reliable scoring outlets to pass to.
Besides Jeff Green's bench production with 16 on 7-of-11 shooting, both Eric Gordon and Robert Covington flattered to deceive with the majority of their shot attempts – going a combined 6-for-16 from the floor.
That's simply not efficient enough during playoff basketball, where such small margins can be the difference between winning and losing games.
The whole team need to be collectively better here, but that begins with shot-making and limiting needless fouls (18 committed, LeBron-AD had 21 FT attempts).
Key players to watch out for
Rockets: Eric Gordon
Last time out, I highlighted Westbrook's need for improvement and despite his encouraging Game 3 numbers, it's important the All-Star guard maintains that consistency throughout the remainder of this series.
However, both he and Harden could score 40-a-night and they'll still lose without effective scoring production from their supplementary pieces, like shooting guard Gordon.
After scoring 21, 23 and 24 in their last three, he struggled big time as they fell to defeat – frustrating mainly as the game was within reach and they were ahead for so long too.
It's understandable for sharpshooters to flicker from hot and cold but it's equally important they don't dwell on the poor games too long.
Game 4 presents a golden opportunity for the 31-year-old to redeem himself after going 2-of-9 from the field, including 2-of-6 from deep, in a matchup where they should have punished the Lakers but fell short.
Lakers: Anthony Davis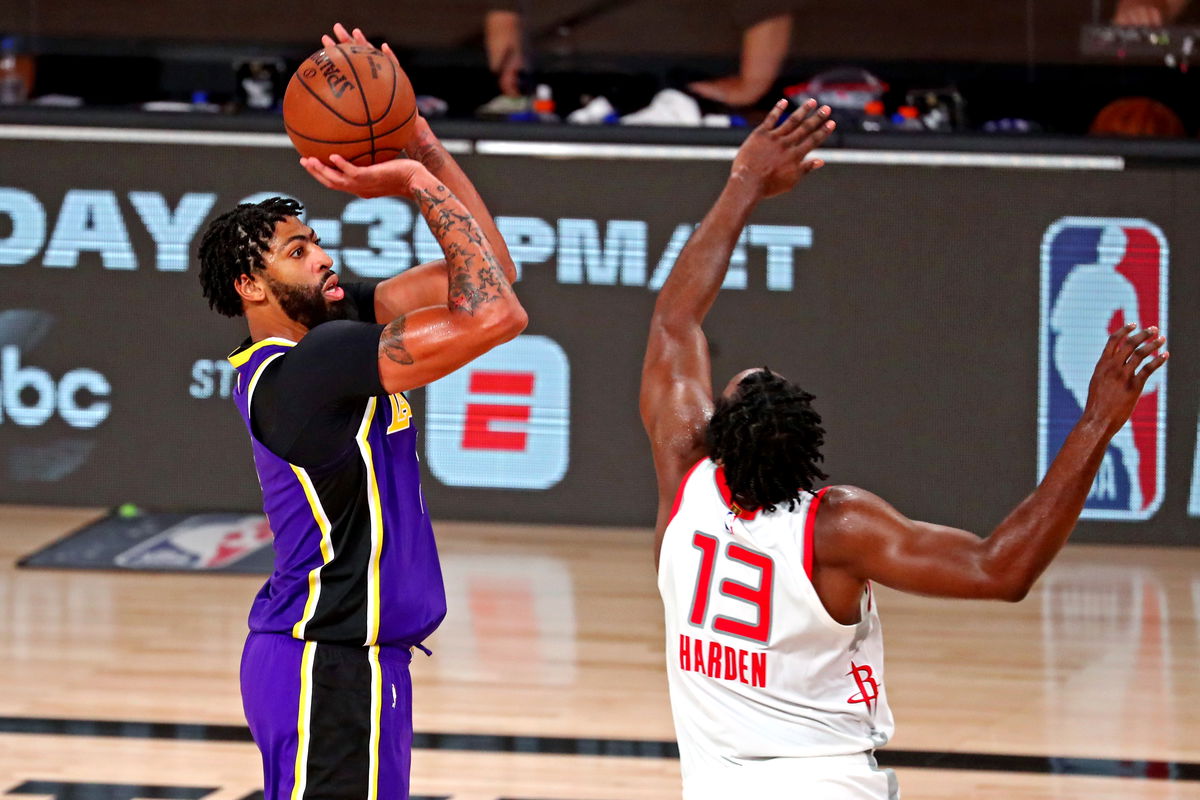 After LeBron's early explosion out of the gates in Game 3, it's high time his All-Star teammate followed suit with a dominant display of his own here. Although he had another double-double (26 pts, 15 rebounds) with six assists to boot, this wasn't a vintage display by any means.
The fact that almost a third of his points came from the free-throw line speaks volumes, because Houston simply don't have the length to guard him in the paint.
JaVale McGee's role in the rotation has been questioned given his offensive limitations, but that also has something to do with Davis' insistence on not playing center. So, he needs to lead by example if they're to fully benefit from a big line-up against the Rockets' small-ball tactics.
Who's more likely to prevail here? the breakdown
After coming back from a lingering deficit in Game 3, ESPN's Basketball Power Index have given the Lakers a slight edge (58%) to prevail again and take a 3-1 series lead into the weekend here.
By contrast, FiveThirtyEight's predictions have offered a 61% win probability percentage for Houston to tie the series at two apiece – perhaps assuming their shooters will enjoy a more efficient outing from the field.
Both outcomes are entirely possible but Houston won't be helped by the absence of their sixth man Danuel House Jr.
He missed Game 3 and it has since emerged that he's being investigated by the league for a "potential violation of bubble protocol", though he's denied any wrongdoing.
Averaging 11.4 points and 5.8 rebounds per game in the playoffs, will his sidelined status spell doom for the Rockets?
Predicted line-ups
Rockets: Russell Westbrook, James Harden, Eric Gordon, Robert Covington, PJ Tucker.
Lakers: Kentavious Caldwell-Pope, Danny Green, LeBron James, Anthony Davis, Markieff Morris
Prediction: Lakers to take a 3-1 series lead
Pictures' source: SI.com, LA Times and Getty