Michelle Waterson overcame a sluggish start to finish strong, edging a split decision victory in an action-packed main event against Angela Hill before revealing her desire to fight for a #1 contender spot in the strawweight division. That came after lightweight Ottman Azaitar stole the show with a blistering R1 knockout against Kharma Worthy in the night's co-main event.
Waterson impressive in Fight of the Night matchup against Hill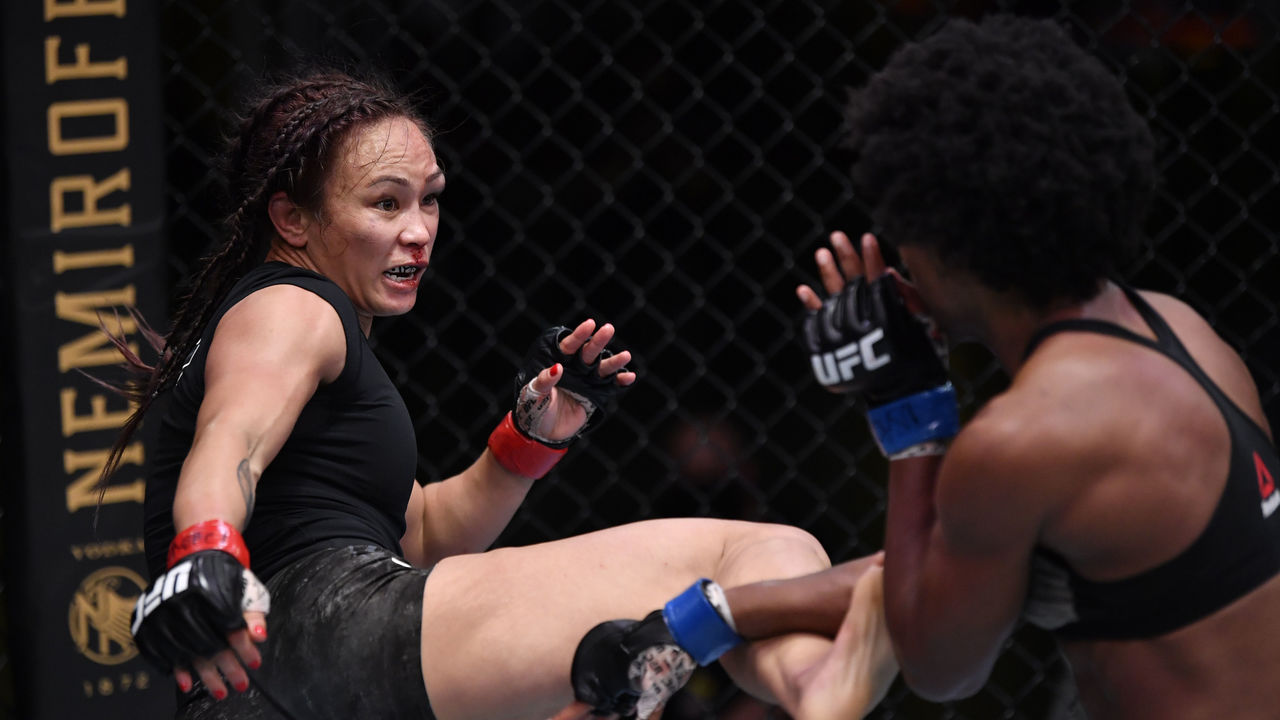 47-48, 49-46, 48-47: Michelle Waterson defeats Angela Hill via by split decision
In an evenly-matched five round showdown between two strawweight contenders, Hill entered as a slight favourite and immediately went to work – justifying her pre-fight comments about taking the fight to Waterson, who has experience outpointing opponents.
Hill blocked a takedown attempt in the early exchanges and that would prove a persistent theme, as her defence (94%, 17 takedowns stuffed) came to the fore under sustained pressure.
She responded by landing a beautiful punch combination and connected with the same right hook which caused Claudia Gadelha all sorts of problems during her May split decision loss.
Waterson missed with a handful of leg kick attempts as she gradually tried to find her range, a task made more difficult by Hill frequently closing the distance and forcing Michelle backwards.
Both women landed significant strikes in the pocket as R1 ended, Hill connecting with a big knee before Waterson responded with a well-executed front kick. This was just getting warmed up.
Hill, the early aggressor, continued to dictate the early stages despite Waterson's output gradually increasing over time.
Maintaining patience was always going to be key, especially in an encounter originally scheduled for three rounds rather than the main event's five.
Angela needed to stay measured and did so after appearing to stumble Waterson with a left hook, before being occupied with more takedown defence as Michelle landed a good combo.
It was a better round from the Karate Hottie, but it very much felt like she was 0-2 on the scorecards after ten minutes.
It took a further two before she finally secured her first and only official takedown of the evening, before referee Marc Goddard's intervention snapped her into action.
He was unhappy with inactivity on the ground and moments later, she had Hill in a precarious situation defending submissions on her back as a rear-naked choke suddenly presented itself.
Hill fended that off, but absorbed ground strikes in return as Waterson finished R3 well before Goddard gave Overkill a stern warning as she landed a grounded upkick moments before the horn sounded.
As the main event rounds began, Hill landed a good combination as Waterson stumbled towards the cage once more before they clinched at the fence.
Both were content exchanging in an increasingly tense stand-up battle, but Waterson landed the bigger shots while starting to land leg kics with frequency again as late-round cardio kicked in.
The kicks continued as she had increasing success by mixing them up and despite Hill trading too, suddenly it seemed all square again heading into the final round.
Waterson had grown into the fight after a slow start and Hill was undoubtedly aware.
She began the final round with yet more takedown defence and two spirited punch flurries to fight off Michelle's advances as both looked to establish their dominance late on.
Waterson surpassed her career-best significant strike count (76) at the start of R5, which spoke volumes for the pacing and quality on display between two contenders unwilling to lose.
She kept busy as the punch speed was amplified when boxing in the pocket, though Hill wasn't content to finish with a whimper and landed more strikes during a frantic final minute.
The pair continued unleashing strikes until the final horn, ending a memorable main event where both impressed in different ways. That said, Hill was rightly unhappy at the decision.
I had her winning 48-47, in a fantastic fight that could have gone either way.
The statistics speak for themselves though, as Angela had more accuracy (53%) on less strikes thrown and rendered Waterson's ground game effectively useless for sustained periods.
Waterson: 162 of 361 total strikes landed – 45% // 128 of 324 significant strikes – 40%
Hill: 146 of 278 total strikes – 53% // 131 of 261 sig strikes – 50%
Post-match comments as Waterson eyes title shot
Afterwards, Waterson praised Hill's toughness and revealed she wanted to finish the fight on the ground – easier said than done – before issuing a challenge to the division's top contenders.
On who she wants next, she responded: "Whoever is next in line for a title shot… I want to get to the belt as fast as possible," before thanking her teammates and coaching staff.
It'll be interesting to see what's next for Hill, after another disappointing split decision defeat – this one will probably hurt even more than the last.
Azaitar blasts Worthy during brief but bruising co-main event
R1, 1:33 – Ottman Azaitar defeats Kharma Worthy via TKO (punches)
During Thursday's media day, Azaitar kept answers short and sweet. Just like Saturday's display.
"Fans want to see blood, knockouts, stand-up and we need to be grateful for them. I never give predictions but can say that I've given my best in training and the same on the night too." 
Worthy said he'd been preparing for Ottman from January onwards and despite a June fight in-between, Kharma was hungry to be embroiled in a good fight. On paper, this was one.
In truth though, it seemed like Worthy played right into Azaitar's hands and allowed himself to be blown away after just 93 seconds in their first co-main event matchup.
The first 60 or so were filled with both fighters feinting and trying to suss each other out, but after connecting with one jab and a leg kick, Worthy quickly found himself in a world of pain.
Rather than keep the fight at distance, he ate a heavy one-two punch combination and that was suddenly the beginning of the end.
Azaitar could smell blood, advanced forwards before landing a number of ferocious strikes in quick succession as Worthy tried to survive but found himself flung to the canvas instead.
After absorbing more strikes on the ground, referee Herb Dean had no choice but to stop the fight despite Worthy's initial protests.
That punch explosion culminated with a simply remarkable finish and if you needed any visual representation, you could see UFC president Dana White congratulating him ringside in awe.
Azaitar thanked his family, team and coaches before admitting he was preparing for a longer fight, while White confirmed post-fight he's poised to feature on Fight Island next month.
"I really wanted to go for three rounds, not to think about the knockout, to start easily and slowly, he always counters so I wanted him to come [forward], but if I smell blood, I eat them.
Modafferi wins again in closely-contested rematch against Lee
29-28, 29-28, 29-28: Roxanne Modafferi defeats Andrea Lee by unanimous decision
Coming into this interesting rematch, Lee (11-5, #9) was the comfortable favourite against #8 ranked Modafferi (25-17) – who is seemingly a gatekeeper in the women's flyweight division.
Failure to put together an impressive win streak, coupled with the fact she turns 38 in less than a fortnight, it's fair to say that rankings aren't of paramount importance to The Happy Warrior.
However, finally settling the score against a familiar foe was. She began this fight with purpose, landing first and stumbling Lee early on, as the pair exchanged strikes.
Lee completed a nice transition takedown before Modafferi completed one too during a back-and-forth round, though Roxanne's ground work proved pivotal in edging her ahead.
She applied a leg lock and did well when in top position with ground strikes, though you could sense that Lee wasn't going to go away quietly.
They exchanged more punches in R2 and Lee – statistically the better striker – connected with a beautiful spinning backfist that wobbled Modafferi.
Roxanne displayed some slick movement to change levels and secure another takedown after catching one of Lee's many leg kicks, though that round was clearly one in Andrea's favour.
One apiece going into the final five minutes, Modafferi's corner urged more activity as Lee invited her to engage. Initially, she didn't – instead circling around and keeping the fight at range.
Those leg kicks (24 landed) continued to pile up and Lee's striking was again a factor, before Modafferi sensed her opportunity and took the fight back down to the ground.
It was a difficult final round to score because neither was particularly dominant, despite both having their moments, and it felt like Modafferi's ground work could sway the judges.
As the fight went to decision, the statistics flashed up on the broadcast and you could sense Roxanne edged it with almost a full round of control time (4:49), compared to Lee (1:35).
Stat breakdown
Modafferi: 129 of 267 total strikes landed – 48% // 60 of 169 significant strikes – 36%
Lee: 118 of 210 total strikes – 56% // 97 of 189 sig strikes – 51%
"It feels so good, it means so much to me to get this win, to prove I still belong in the top ten and can be a contender. Evolution is the key. Never just settling and just doing what you are good at, always trying to learn and improve, evolving with the times. That's the key.

I just want to fight somebody in the top 10, whoever the UFC matchmakers want me to fight. Whenever they call me, I say yes." 
Ed Herman beats rodriguez after egregious refereeing decision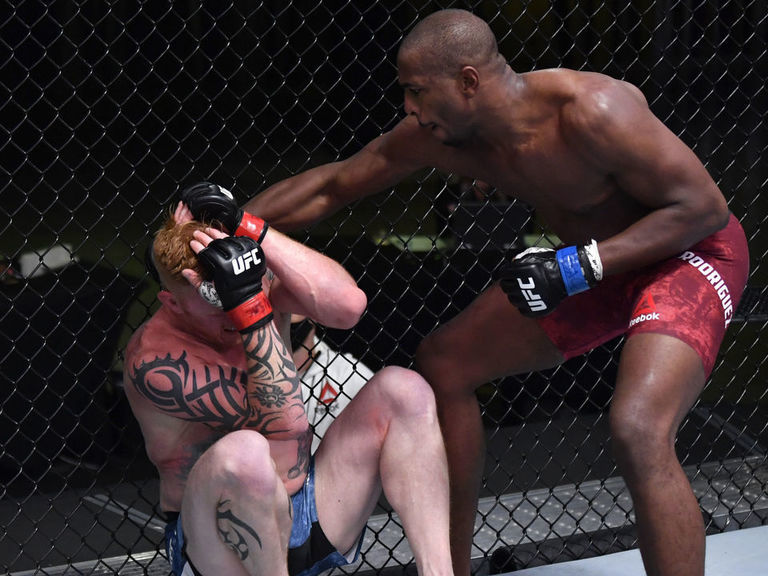 R3, 2:41 – Ed Herman defeats Mike Rodriguez via submission (kimura)
Ed Herman is on a three-fight win streak for the first time in eight years, but even he would admit it wasn't the way he would have wanted things to end after multiple cancelled bouts this year.
He was hurt a number of times against a gamely opponent in Mike Rodriguez, who wobbled him in R1 with a nicely-executed elbow before defending his early takedown attempts well too.
They clinched at the fence in R2 as Herman tried to wear him out, but Slo Mike wasn't having any of it. Instead, the 31-year-old returned to his busy striking and landed some devastating knees.
That's where things took an unexpected turn. He grounded Herman and was moments away from stopping the fight as those repeated blows rendered the veteran nearly helpless.
Instead though, referee Chris Tognoni pulled him away and stopped the fight, citing a low-blow as the reason with a bemused Rodriguez in disbelief.
Herman, who should have been receiving the obligatory medical treatment after losing right there, instead milked the allotted five minutes allowed to recover his bearings.
Replays showed he didn't suffer a low blow of any kind, they were well-placed knees to the mid-section and body – but the 39-year-old wasn't going to complain about getting a reprieve.
When they continued, Herman was almost finished again and went into survival mode as Rodriguez landed nasty elbows in the clinch before ground and pound to follow up.
Ed was firmly grounded and needed a finish somehow, there was no way he'd win on any of the judges' scorecards. He tried for a kimura and locked it in, before Rodriguez ultimately tapped.
Herman spoke briefly to Michael Bisping during the post-fight broadcast, saying:
"I don't know where I got hurt, groin or the body, I went down and I'm not sure… was really tired, had no energy and it was weird [without fans in attendance] but man Mike's a hell of a guy. My experience pulled through but even at 39, I'm not very happy with my performance and feel like s–t." 
Herman couldn't be reached for further comment, being transported to hospital for precautionary measures – though Dana White confirmed Rodriguez would be awarded his win bonus regardless, from a fight that should have been stopped on multiple occasions.
Green's career resurgence continues with UD win over Patrick
30-27, 30-27, 30-27: Bobby Green defeats Alan Patrick via unanimous decision
Lightweight Bobby Green had social media hyped immediately after his latest victory, during an efficient display against the returning Alan Patrick in the night's second main card matchup.
R1 was packed with grappling by both as the Brazilian, making his first UFC appearance since featuring on the Khabib-McGregor prelims in October 2018, tried to assert himself.
Green was clearly the busier fighter and intensified his efforts towards the end of R1, with two successful takedowns and a 35-8 striking advantage after five minutes.
Patrick still posed threats he needed to be wary of, as R2 was more competitive (32-20 strike success in Green's favour) but the American's ground game and persistence were on display.
He secured a career-best fourth takedown to get R3 underway and despite an impassioned plea from Patrick's cornermen encouraging him to go flat out for a late knockout, it was futile.
He was struggling to find his range, found himself overwhelmed for large periods and made to look like an ordinary striker given Green's impressive head movement and output.
Strike statistics:
Green: 109 of 149 total strikes landed – 73% // 61 of 85 significant strikes – 64%
Patrick: 38 of 89 total strikes – 43% // 19 of 69 sig strikes – 28%
Afterwards he thanked his team and discussed a desire to fight Al Iaquinta (14-6-1) next, saying:
"I talked to him when he was fighting Kevin Lee [December 2018] and was like 'I blew my knee out the day I was supposed to fight you. If you'd like to run it back, we can, he was like yes sure'. Let's see." 
Billy Quarantillo lands walk-off ko, eyeing tougher competition
R3, 0:07 – Billy Quarantillo defeats Kyle Nelson via KO (punch)
On Thursday, Billy Quarantillo said there was a reason why this matchup would kick off the main card and he certainly wasn't wrong. Fireworks were predicted and they arrived as promised.
To his credit, Kyle Nelson started well and won R1 on two of the three judges' scorecards. That was as good as it got for the outspoken Canadian, who planned to finish in style.
Instead, it was him laid out unconscious on the canvas just seven seconds into the final round.
Quarantillo came back firing in R2, especially with multiple clinch strikes and continued success during their stand-up exchanges.
He had Nelson wobbled and when they engaged near the fence, the 29-year-old looked to be visibly tiring as time wore on, having expended energy aplenty in R1.
Billy knew as much, so picked up where he left off to start R3. Showcasing his impressive cardio, an excellent walk-off knockout victory was the exclamation point on an encouraging display.
He set it up after a subtle feint allowed him to hit Nelson clean on the chin with an overhand right, which sent him to sleep and ended the fight.
Quarantillo wants a step-up and it seems likely he'll get it before too long:
"I think I bring a lot of excitement, not only to the division, but to the UFC in general. Dana White standing up and talking to me afterwards, being excited… that's the most you can ask for, your boss is super excited.

I'm going to climb the rankings from here. Being 3-0 in the UFC, after losing on The Ultimate Fighter and going 1-1 on TUF, it's a dream come true." 
Prelim results, featuring eubanks and two big wins for debutants
Women's bantamweight contender Sijara Eubanks (#15) earned her second win of 2020 with another unanimous decision victory (29-27 x 3), this time against #14 ranked Julia Avila.
The 35-year-old was frustrated with an inability to secure her first UFC finish, but now has successive wins for the second time in her career and wants another fight before the year's over.
Things have gone from bad to worse for Roosevelt Roberts in the lightweight division.
After a R1 submission defeat by Jim Miller in June, he lost in 31 seconds via a guillotine choke against newcomer Kevin Croom after scheduled opponent Matt Frevola pulled out with injury.
In the heavyweight division, company debutant Alexander Romanov was victorious against Roque Martinez with a R2 submission (arm-triangle choke).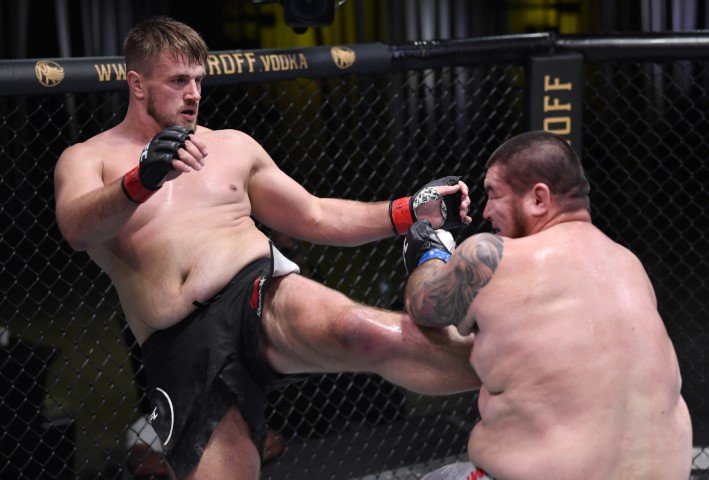 Jalin Turner was a last-minute replacement for Frank Camacho after testing positive for coronavirus earlier this week and took his opportunity against Brok Weaver – winning via submission (rear-naked choke) with 40 seconds left in round two.
During the first and only welterweight clash of the evening, Bryan Barberena snapped a two-fight losing streak to earn his maiden victory since August 2018 against Anthony Ivy.
He won on all three judges' scorecards – 30-27, 30-27, 29-28.
In the night's first bout, Sabina Mazo (9-1) needed almost 14 of the 15 allotted minutes but ultimately prevailed with a R3 rear-naked choke during her flyweight matchup against Justine Kish (7-3).
Nicknamed the Colombian Queen, the 23-year-old has now won three straight since losing on her UFC debut against Maryna Moroz in March last year.
Pictures' source: Yahoo, Getty, MMAFighting.com