Dominic Thiem was two sets and 2-1 down against Alexander Zverev, but showed steely determination and resiliency under immense pressure to recover and emerge victorious after a fifth-set tiebreak finish – winning the first Grand Slam of his career in a dramatic finale packed with unpredictable moments galore.
2-6, 4-6, 6-4, 6-3, 7-6: Dominic Thiem beats Alexander Zverev in five-set thiller
Just like Victoria Azarenka on Saturday, Zverev started like a house on fire and you could see his confidence grow as time passed with Thiem frequently dropping service games.
He started slowly, uncharacteristic for a player who had only dropped one set in the 18 played in the build-up to Sunday's finale. The set he lost? Marin Cilic, US Open 2014 winner no less.
Thiem improved as the match continued and displayed real fight under pressure towards the end of the second set, where Zverev was understandably eager to close it out.
He had other ideas and could have levelled things at 5-5. Instead, deadlocked at 30-all, Zverev's powerful serving got him out of a potentially tight spot – a net winner and ferocious forehand that forced Thiem wide and into another unforced error to secure a two-set advantage.
Dominic did well to save four set points and force the German into more errors and although he wasn't playing at his best, desperately needed a quick foothold in set three.
Zverev starting to slow down at the wrong time
Zverev in set one: 4 aces, 1 double fault, 2/3 break points won, 6 unforced errors, 16 winners
Set two: 2 aces, 5 double faults, 2/8 BPs won, 14 unforced errors, 8 winners
It's easy to say in retrospect, but the signs were there. Ultimately, they took a very long time to materialise.
Thiem saved two break points early in set three but missed a routine volley at the net, which rather typified his issues. He fired a ball long during the next point, was 2-1 down but had multiple opportunities himself to earn the immedate break back – he did precisely that.
2-2 became 3-3, then 4-4 as the games were quite drawn out and tense. Neither was playing particularly well, errors increased and it made for a chess match Zverev couldn't control.
A double fault and back-to-back poor shots into the net presented Thiem with two set points.
He didn't need more than one. 2-1 and suddenly, the shift had arrived. Zverev's level was dropping and Thiem gradually eased himself into a match he was on the verge of losing.
That notion was emphasised midway through a frenetic fourth set. 3-2, 30-15 up and he found himself in an 18-shot rally that was punctuated by a emphatic net winner down-the-line.
He proceeded to lose the next four successive points and judging by his incredulous reaction in-between points, he couldn't believe what was happening either. 3-3 turned to 5-3 Thiem as Zverev blinked again on another service game and suddenly the Austrian had three set points.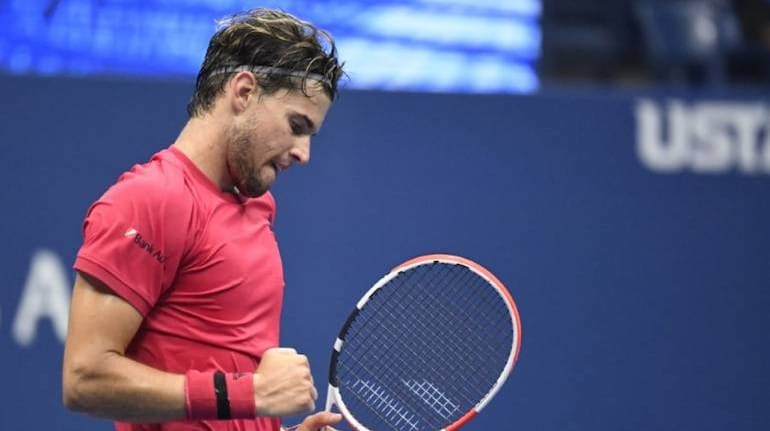 Tiebreak needed to separate the duo during deciding set
2-2, all square again and headed for a deciding set.
It also seemed fitting that was the longest (1hour, 11 mins) and one where both had chances – one winning break point immediately after the other – but needed a tiebreak to settle the score.
After receiving some medical treatment for a thigh issue, Thiem served for the championship at 6-5. Zverev was 5-3 up and had found himself in the same situation, 20 minutes earlier.
To the German's credit, he stayed persistent and resilient under pressure to level the scores once more. Also 2-0 up in the tiebreak, Thiem won three successive points down 3-2 and that propelled him into a favourable position on serve, despite losing one of the next two.
Having squandered two championship points – both on serve – you could be forgiven for wondering what was next for Thiem after recovering to get to this situation to begin with.
He responded defiantly, winning an enthralling rally at the net to produce another shot at glory. This time, Zverev fired wide and it was all over. Finally, after four hours and five minutes.
Final thoughts as Thiem achieves ultimate reward
He's done it. At the fourth attempt, Thiem has finally clinched his first Grand Slam trophy and there will undoubtedly be a sense of justification for the Austrian, who has often fallen short.
So much so that his comments last year after losing to Stefanos Tsitsipas at the ATP Tour Finals in London were seen as an important warning to the Big Three, rather than an ill-timed belief.
The signs have been there. Boris Becker namechecked he and Zverev as two of the players likely to surpass the dominant trident sooner rather than later.
Barbara Schett said he'd be in good shape once tennis resumed after a five-month hiatus, having narrowly lost the Australian Open Final against Novak Djokovic on February 2.
Djokovic's shock disqualification in R4 suddenly opened up the draw for a first-time Slam winner, with both Roger Federer and Rafael Nadal not featuring at Flushing Meadows this year.
He was the pre-match favourite and things simply won't get any easier from here but having just turned 27 two weeks ago, he'll be hoping this is the first Slam of many in the coming years.