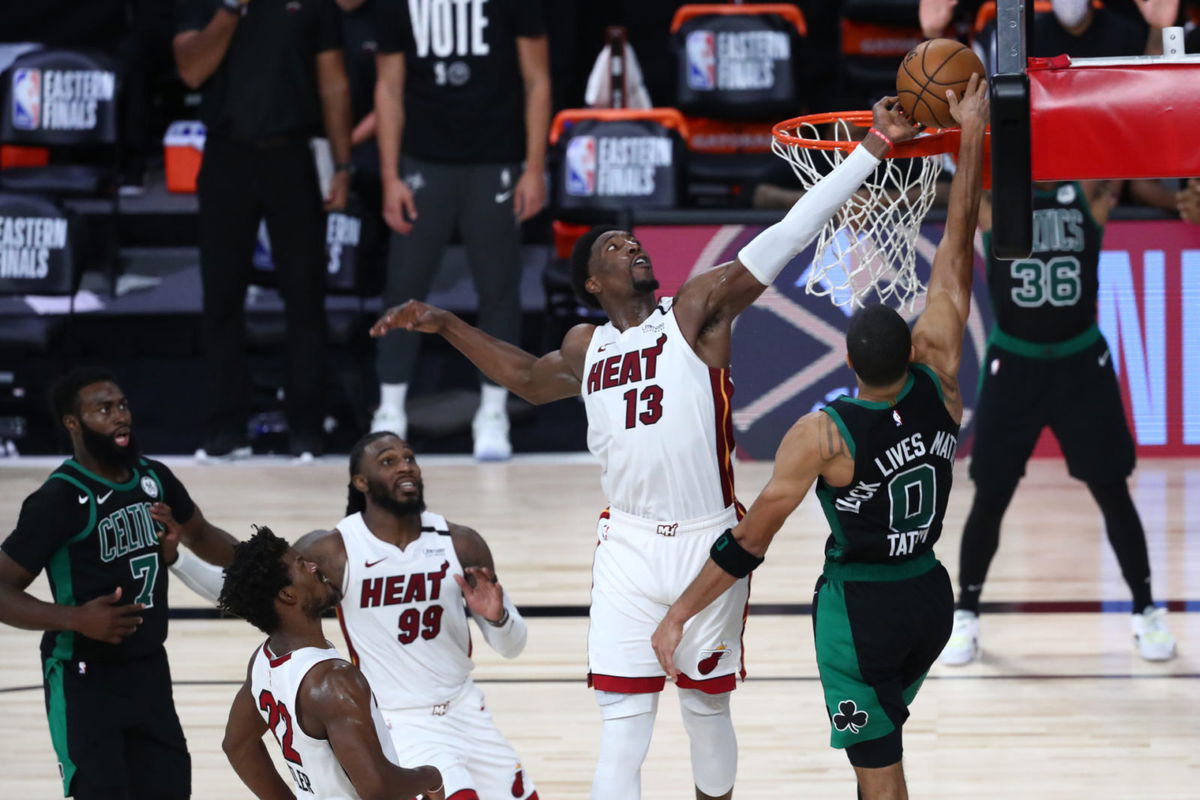 Bam Adebayo's record-shattering block to deny Jayson Tatum proved decisive in overtime, as the Miami Heat drew first blood in an exciting series against the Boston Celtics. Boston need to respond in Game 2, trailing against a determined Heat side continuing to silence their critics, like Denver out West. Will they double their series lead, or will things be tied up at one apiece?
Celtics vs Heat: will boston stop relinquishing leads?
Adebayo met Jayson Tatum's dunk attempt and rejected it emphatically at the rim, as the game's leading scorer was stifled in crunch time while his teammates tried – with contrasting results – to help claw their way ahead.
They shouldn't have found themselves in that position to begin with. They were up 12, then 14 with 11:25 left to play in the fourth quarter.
Tatum had 30 points, Marcus Smart delivered a game-high six threes during his 24-point effort, yet Boston ultimately fell short in overtime.
Miami's display was one of defiance, managing to nullify their offense in clutch moments down the stretch and still almost found themselves stunned at the buzzer by an audacious three-point attempt which bounced off the rim.
It goes without saying that Tatum is the Celtics' x-factor in this series, but he needs consistent – not streaky – help from other teammates offensively.
Daniel Theis was fouled out for the second successive game, while Jaylen Brown (6-of-14 shooting, 17 pts) and Kemba Walker (6-of-19 shooting, 1-of-9 from three) need to step up.
As I mentioned last time out, Tyler Herro again proved himself an invaluable asset to Miami's creative plans, even when his sharpshooting abilities were not firing (5-of-10, 2-of-5 from three).
He was one assist away from his first career triple-double and the 20-year-old continues to flourish on the biggest stage, post-season basketball.
Jimmy Butler delivered in the fourth quarter, while Goran Dragic (11-of-19 shooting, 29 pts) led them in scoring – overcoming a deficit which reached 14 and really should have been over.
Which way does this series swing next?
Key players to watch out for
Celtics: Kemba Walker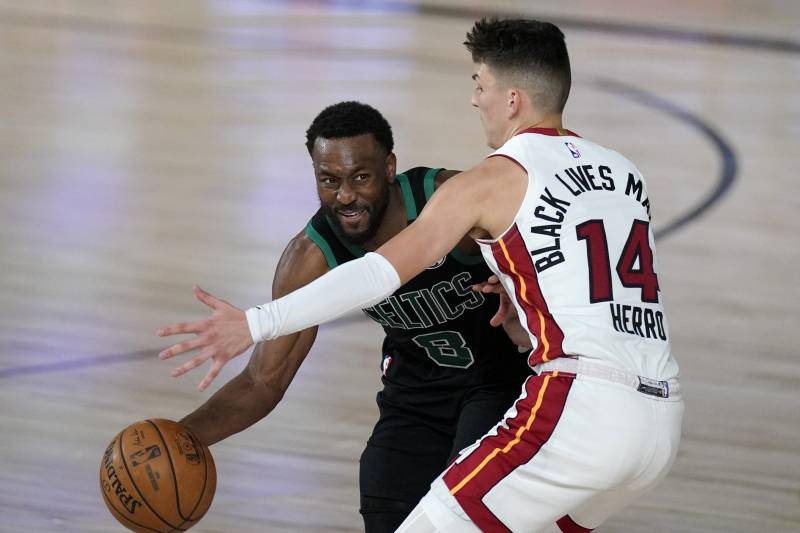 As mentioned, it's important Boston collectively step up with their shooting. They shot 44.3% from the field and 35.7% from three-point range – the bulk of which came from Smart-Tatum.
Walker has struggled with his shot for a number of games now.
Although he, like others, had moments in Game 1, he's finding it difficult penetrating defences to create his own good scoring opportunities and is playing visibly frustrated as a result.
In his last three games, he's shot 13-of-46 from the field and 3-of-22 from three-point range.
Either he needs to stop taking so many shots, or be more methodical with those decisions while utilising his quality as a playmaker, creating for others as he's shown the capability to do.
After averaging 3.8 assists in their four-game series with the Philadelphia 76ers, that increased to 6.1 during a strenous seven-game matchup against Toronto. Efficiency and productivity are key – he doesn't need to be told.
Heat: Duncan Robinson
Perhaps even moreso than Kemba, Game 1 was immensely frustrating for Duncan Robinson – largely because he watched from the bench and could have no-one but himself to blame.
He picked up two quick fouls, which saw Herro enter the game and play starter minutes quite well. Why change a winning formula?
Erik Spoelstra tried to persist with him, but it clearly wasn't working. In 17 minutes, he had: six points on 2-of-7 shooting alongside four fouls, two rebounds, one assist and block.
Heralded as a reliable sharpshooter that has provided Miami with additional threats to be mindful of from the perimeter, the 26-year-old needs to improve and quickly.
Otherwise his minutes will continue to decrease as Herro's stock rises and the foul trouble excuse for him watching helplessly won't be as easy to justify.
Who's more likely to win here? the breakdown
ESPN's Basketball Power Index is backing Boston (58.7%) to prevail in Game 2, which makes sense given how close they were for sustained periods in a back-and-forth series opener.
FiveThirtyEight's win probability statistics seem to think so too (60%), as Miami needed a Herculean defensive effort from Adebayo to help them close the game out late in overtime – and still almost lost! How will Boston respond?
Probable line-ups
Celtics: Kemba Walker, Jaylen Brown, Marcus Smart, Jayson Tatum, Daniel Theis.
Heat: Goran Dragic, Duncan Robinson, Jimmy Butler, Bam Adebayo, Jae Crowder.
Prediction: Boston to level the series at 1-1
Pictures' source: Kim Klement / USA Today