Although the co-main event finished unceremoniously, there was no questioning who emerged victorious in the headliner between #2 ranked welterweight Colby Covington and former champion Tyron Woodley. Covington – who challenged for the title last year – earned a R5 TKO win as the burning possibility of retirement has only intensified after an eventful main card.
Covington finishes Woodley, calls out Masvidal and Usman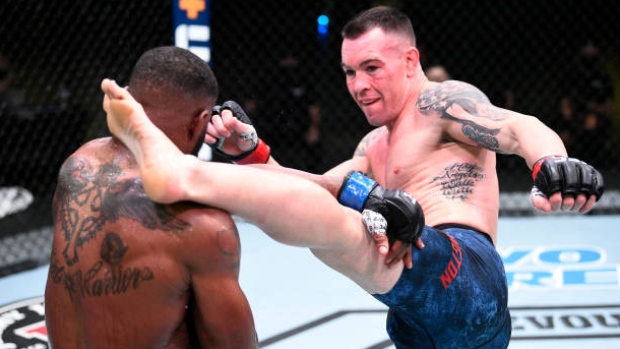 R5, 1:19 – Colby Covington (#2) defeats Tyron Woodley (#5) via TKO finish 
There was some undeniable bad blood heading into this clash between two top-ranked welterweights, but Covington was the clear betting favourite and it was quickly clear to see why.
He got an early takedown and that ultimately proved a rather cruel sign of foreshadowing from Woodley's perspective, having done well to fight out of it and get up relatively unhurt.
Having been frustratingly gun-shy in his previous two bouts – particularly the UD defeat by Gilbert Burns in May – questions over how he'd approach this encounter were understandable.
Not wanting to get taken down throughout against an excellent wrestler in Colby, he instead fought with his back against the cage and invited forward pressure from a relentless opponent.
As we saw during his memorable title shot defeat against Usman last December, Covington's cardio and ability to push the pace under pressure cannot be understated.
He landed a nice body kick and was dictating the fight's pace, two worrying signs for Woodley to heed as time wore on. Well, heed he did not.
Covington's patient approach was clear in R2 despite Woodley completing a takedown of his own, as he pushed for a guillotine choke but ended up unsuccessful.
The pair both landed good strikes but Tyron looked like he was trying to lull Colby into a false sense of security – the 32-year-old didn't buy it at all and instead responded defiantly.
Early in R3, referee Dan Miragliotta paused the action after Covington caught Woodley with an eyepoke. After a break, where the ringside doctor came in to check Tyron's vision wasn't impaired, it felt like both were taking the round off – at least mentally.
There was plenty of clinch control from Colby, while Woodley didn't really do much to stop himself from being controlled near the cage or absorbing strikes as they jostled for position.
Woodley was surviving, rather than inflicting damage
In between rounds, you could hear Woodley's cornermen urging him to "turn up the offense" and discussed a will to win. Instead, it was more about survival than resurgence from him in R4.
After landing more body strikes, Covington took the former champion down again – this time with a much more emphatic throw, having worn Tyron down enough over those 15 minutes.
It didn't come as a surprise to see Woodley bleeding in a precarious situation on the bottom either.
Covington continued unloading with multiple ground strikes, including a nasty right hand and a plethora of hammer fists during a sequence which looked perilously close to being stopped.
10-8 round on all three judges' scorecards, Colby was winning 40-35. That was until R5 began, as Woodley's corner stressed the importance of a finish and an anti-climatic one followed.
After failing to secure another guillotine choke on the ground near the cage, he appeared to try and move position on the ground too quickly and damaged his ribs.
Shouting in agony with his rib injury obvious, ref Miragliotta quickly called a stop to the action as Covington didn't need an invitation to continue landing ground strikes until told otherwise.
The stats speak volumes, during another eye-opening display by Woodley. He played right into Covington's hands and calls for him to retire will only increase after three successive defeats.
Covington: landed 232 of 311 strikes (75%), 78 of 143 significant strikes (55%)
Woodley: 67 of 116 (58%), 34 sig strikes (41%)
Post-fight comments, reaction as Covington still has unfinished business
During the TV broadcast, Covington kept his message short and sweet – nonetheless effective:
"Jon Anik, you've been doing a tremendous job so let me take this off your hands for a minute. I want to dedicate this to the first responders and the army – this world wouldn't be safe without you.

These weak woke athletes and cowards like LeBron James, I'm sick of them. Speaking of spinless cowards, Marty [Kamaru Usman] and Street Judas [Jorge Masvidal], we've got unfinished business. I'm coming for you, you're next." 
Usman is scheduled to face Gilbert Burns at UFC 256 on December 12 after the Brazilian's positive COVID-19 test saw him pulled from UFC 251 in Yas Island two months ago.
Masvidal was a late replacement and lost quite convincingly, but talks appear to be in the works for a BMF rematch against Nate Diaz at some stage in the coming months.
During the post-fight presser, company president Dana White revealed he'd be interested in booking Usman-Covington 2 later down the line – but Burns is the #1 contender right now.
On ESPN+'s post-fight show, Colby received a phone call from US president Donald Trump congratulating him on the victory – before hinting Masvidal is next up for him before Usman.
Cerrone and Price deadlocked in eventful co-main event
29-27, 28-28, 28-28: Donald Cerrone and Niko Price duel to a majority draw
In the night's co-main event, Donald Cerrone looked to add to his own history by earning a 24th UFC win and becoming the outright leader in finishes (tied-most with 16).
Niko Price certainly came to duel with a future Hall of Famer and his early blitz attack didn't come as a surprise. Not if you saw his battle back in May against Vicente Luque.
This was a slightly more efficient striking display from the Hybrid, eager to win his first fight of 2020 against a determined Cowboy – who ate punishment galore early but responded well.
Price against Luque at UFC 249
Landed 144 of 307 strikes (47%), 129 significant (44%)
Price against Cerrone tonight
Landed 167 of 330 strikes (51%), 150 significant (48%)
The first 90 seconds of R1 looked ominous for Cowboy, who was absorbing a multitude of strikes as Price pushed the pace immediately and clearly looked for an early finish.
He landed 63 strikes (55 significant) in the first – most of which came during the first half of a round where Cerrone displayed his toughness and determination to grind through damage.
An accidental eye poke was waved away by Cowboy as he wanted to continue and refused to take an opportunity for rest offered by referee Jason Herzog.
Although it was admirable and typical of the 37-year-old's character, he probably should have been smarter and taken that time to slow Price's pacing down even more.
By this stage of the round, Niko had an adrenaline dump and suddenly Cerrone was the aggressor – landing knees, a few body shots and gradually getting back into proceedings.
Price deducted point for persistent eyepoking
The eyepoking, and a need for improved fighting gloves, came to the fore at the end of R1 as Herzog deducted Price a point, having previously warned him.
To his credit, he didn't let the deduction hurt his production and continued to connect with regular shots in R2.
Mixing strikes between all three areas kept Cerrone guessing (21 head, 19 leg, 17 body), but Cowboy jabbed well as Herzog continued to warn Price over his outstretched fingers.
Cerrone finishes strong, unable to convince two judges
Cerrone mixed things up himself: elbows, spinning back kicks and applying forward pressure against a gamely opponent whose striking efficiency was understandably fading.
His head movement and boxing skills were helpful in R3, before a double eyepoke paused the action momentarily.
Cerrone unofficially earned a takedown and maintained top position on Price's back, while landing some clubbing blows and a brilliant head kick once they separated.
It rather typified a fight that was clearly impacted by the persistent – albeit accidental – eyepokes.
Price's point deduction was key in the outcome, but it also again proved that outstriking opponents isn't always enough to win.
I scored the fight 29-27 Cerrone, just as ringside judge Eric Colon did, but if Herzog didn't punish Price for those eyepokes, he would have won on the other two scorecards.
Cowboy knew as much post-fight and that's the second successive fight I believe he won, yet now he's 0-4-1 in his last five and just like Woodley, talk of retirement is on the agenda.
Khamzat Chimaev obliterates Gerald Meerschaert in 17 seconds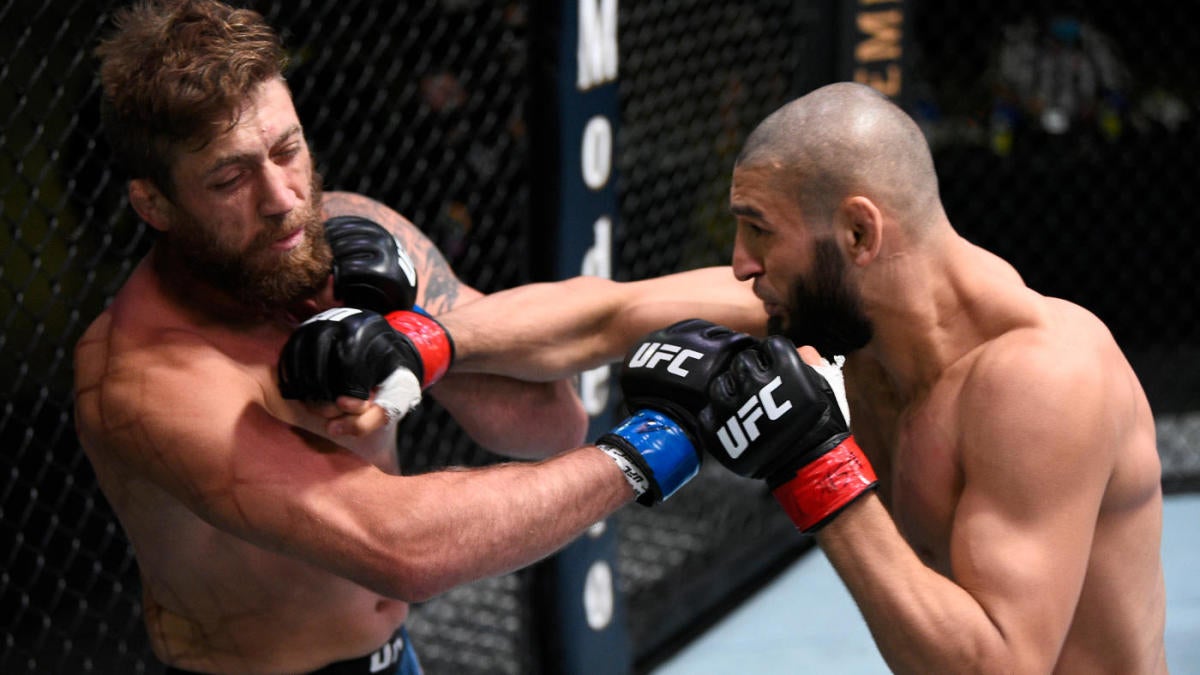 R1, 0:17: Khamzat Chimaev defeats Gerald Meerschaert with KO (punch) 
Gerald Meerschaert was defiant this week, saying he wouldn't let the UFC build Chimaev on his name and felt the disrespect in looking too far forward after double-booking Khamzat.
That didn't age well at all. One kick and a knockout punch were all the Russian-born Swede needed to record his third UFC victory in quick succession.
On multiple replays, Meerschaert seemed to see the punch coming but couldn't react quickly enough to dodge or block it, as it landed clean on the chin and blasted him to the mat.
As usual, the 26-year-old rising sensation was honest post-fight:
"I want my 50Gs [bonus money]. I wanted to knock him out, like I did. My coach told me, [do] a little bit of boxing… I'm ready for any opportunity." 
He certainly got his bonus after recording a tie for the third-fastest knockout in middleweight history, which is made all the more impressive by the fact Chimaev is a natural welterweight.
Shortest time to three wins in UFC history:
Khamzat Chimaev – 66 days
Johnny Walker – 105
Yushin Okami – 126
Cyril Gane – 133
Lucas Martins – 134
Israel Adesanya – 145
The hype train rolls on and we're left in awe after another emphatic display – he's been in the Octagon less than five minutes, starred at Fight Island and his star continues to blossom.
Rest of main card
R1, 2:43 – Johnny Walker (#11) defeats Ryan Spann (#12) via KO (elbows and punches) 
In the light-heavyweight division, two of the top twelve clashed and it didn't take long for them to exchange blows either.
Ultimately, Walker survived dangerous moments early on to recover in style and emerge victorious, connecting with some rather vicious hammer fists after both were visibly rocked.
It was no wonder he danced post-fight as he left the Octagon, against Spann – a slight underdog – who began well and completed two takedowns, but was made to rue his shot timing in close.
"He caught me but this division, any punch can get you knocked out. I had to be safe, take my time, use jiu-jitsu and he started to feel my hands.

I'm very focused and now you're going to see even better. I can fight again now. Light-heavyweights, heavyweights, I don't mind. I'm ready for whatever." 
R1, 3:44 – Mackenzie Dern (#15) beats Randa Markos via submission (armbar) 
Mackenzie Dern earned an impressive R1 victory against Randa Markos – who was duly punished for being overzealous after Dern's missed kick saw the #15 ranked strawweight fall to the mat.
She raced for the takedown but almost immediately regretted doing so, as Dern recovered with a quick reversal on the ground and looked for a record-equalling submission manoevure.
A triangle choke turned into a tightly-held armbar and at that point, it was only a matter of time before the Canadian tapped.
Markos falls to 10-9-1 with back-to-back defeats against Amanda Ribas – who ended Dern's unbeaten streak last year – and now the 27-year-old.
She admitted embarrassment by falling over early on and wanted to show up her stand-up skills, but a quick finish is beneficial for returning again in 2020:
"I'm so happy, I wanted to show my hands a bit more… I don't know why the girls want to stay on the ground with me… Randa's a tough girl so I'm happy to have got a quick finish and no injuries.

No name, I really want to fight again this year, hopefully this was enough to get a bonus – get me back in, maybe November-December, Vegas is giving me good luck. I'm ready for anyone." 
Statistic: Dern is now tied for the most submission wins in UFC strawweight history, with Cynthia Calvillo and Rose Namajunas (3). 
29-28, 28-29, 29-28: Kevin Holland beats Darren Stewart via split decision 
Middleweights Kevin Holland and Darren Stewart quickly found themselves embroiled in a strike-heavy clash but the former had an overriding feeling that he didn't win by the end.
Judging solely by the strikes, he was a clear victor – but take each round in isolation, especially given Stewart's ability to absorb damage and inflict a lot of his own, and you understand.
Holland outstruck the Dentist across the 15 minutes, though the shift between rounds becomes clear once you delve deeper into the statistics:
R1: Holland 68-35 Stewart — 33-17 in significant strikes
R2: Holland 49-30 Stewart — 31-28 sig strikes
R3: Holland 46-32 Stewart — 10-12 significant strikes
R2 was close in significant strikes landed, while Stewart's ground and pound comfortably gave him the final round that he needed – Holland even said he felt it was potentially a 10-8.
"I'm always happy to get a win, but we can run it back – I felt like it was a draw, or he might have won," the 27-year-old said, while admitting he's ready to replace Damian Maia if he pulls out of a scheduled bout against Chimaev.
It's always refreshing to see fighter honesty post-fight but after tonight's events, perhaps he wants to rethink his position on the latter.
Statistic: Holland is now tied for the most UFC wins in 2020 (3) and revealed he's prepared to go again before the year's over. 
Prelim results, featuring jackson's comeback win and ko finishes
In the flyweight division, David Dvorak (#14) was excellent against Jordan Espinosa during an encounter that looked evenly-matched as far as striking was concerned in the first two rounds.
As for the third and final round, the Czech outstruck Espinosa 32-20 as far as strikes landed – en route to a unanimous decision victory (30-27 on all three judges' scorecards).
Featherweight Damon Jackson recovered from a precarious situation to defeat Mirsad Bektic, inflicting the 29-year-old's third successive defeat with a R3 guillotine choke.
Bektic had eight minutes of control round in the first two rounds and despite Jackson's persistent submission attempts, looked to be closing in on victory.
His corner told him to continue circling but at a time when he needed it most, his cardio deserted him as Jackson began the final round like a furious bee to a trail of honey.
After taking him to ground, he transitioned from an arm triangle to a choke hold in style.
As his passionate cornermen shouted three days' notice, the 32-year-old – who made his return after a four-and-a-half absence from the UFC – is likely to be ranked as a result of this victory.
He had this to say:
"Obviously, I didn't come out as strong in the grappling as I wanted but was planning for something soon, having waited for [an opponent] three weeks, I'm ready to go again in a few weeks. I've been ready to fight for a month. 
Women's bantamweight Jessica-Rose Clark marked her first fight of 2020 in style with her first TKO finish in six years to dismiss Sarah Alpar deep into the final round of their 15-minute scrap.
By contrast, flyweight Mayra Bueno Silva needed just under half a round (2m29) to submit Mara Romero Borella with a tightly-executed armbar that seemed to finish the fight in an instant.
In the featherweight division, Darrick Minner didn't hesitate and had an early night's work against T.J. Laramie – winning by a first-round submission via guillotine choke after 52 seconds.
There were three bantamweight bouts to kick off the prelims, with contrasting finishes.
Tyson Nam earned a TKO finish (punches) against Jerome Rivera, 34 seconds into R2. Andre Ewell won his second successive fight via split decision (29-28, 28-29, 29-28) vs. Irwin Rivera.
Randy Costa meanwhile, wasted no time at all – landing a beautiful head kick knockout against Journey Newson in just 41 seconds.
Pictures' source: Cageside Press, Zuffa