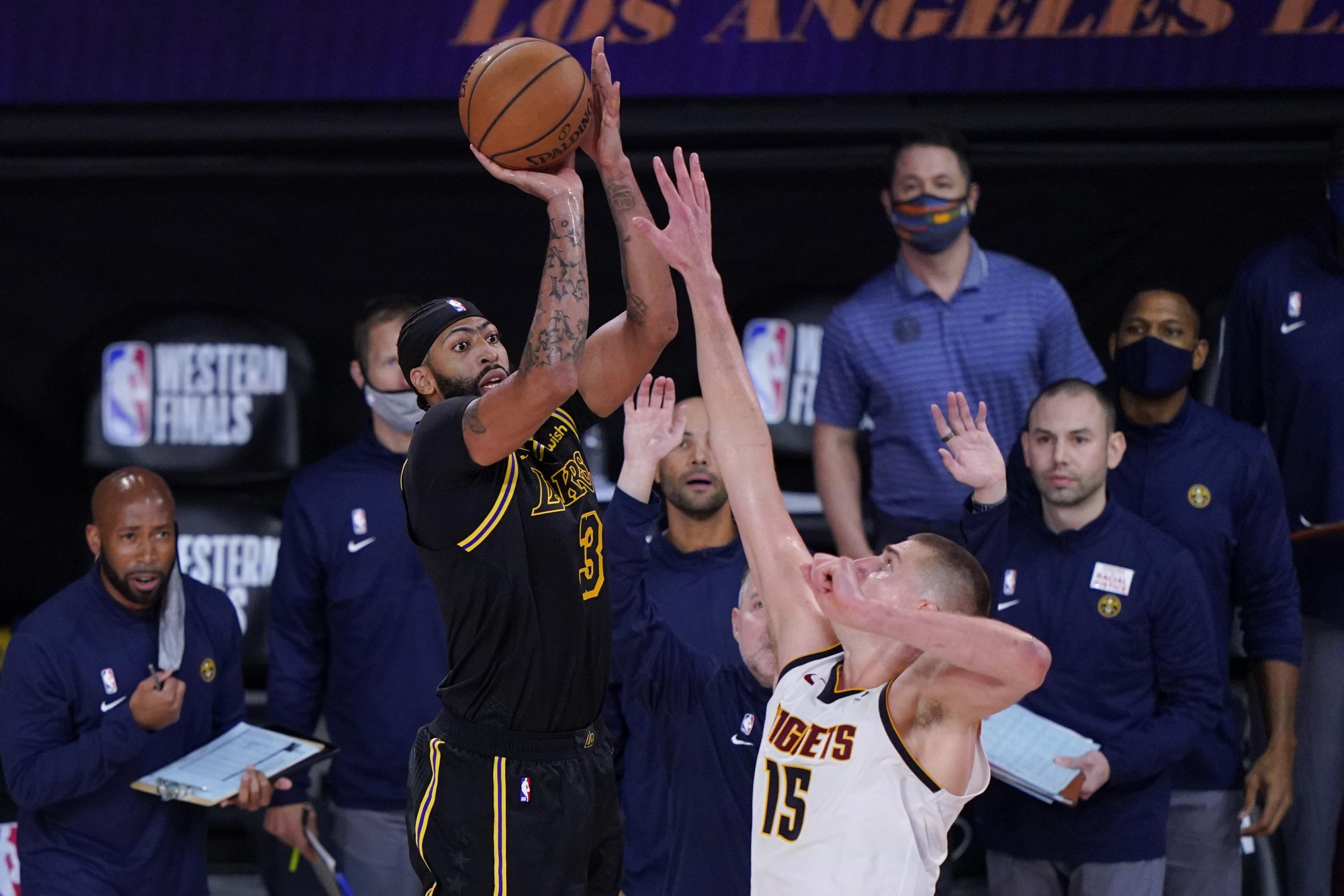 Anthony Davis' buzzer-beating three broke Denver hearts dramatically at the end of Game 2. Now, the postseason's comeback kings are down 2-0 to the Los Angeles Lakers and there's increasing belief this matchup is one step too far for Nikola Jokic and co. After narrowly falling short on Sunday, how will they respond in Game 3 of this year's Western Conference Finals?
Denver Nuggets vs La Lakers: 2-0 down, odds against denver
Jokic had 30 points and nine assists, Jamal Murray added 25 while Michael Porter Jr was a much-needed spark plug from the bench (15 pts, four rebs).
Ultimately, they cut down another lead – as large as twelve midway through the third quarter – but were left empty-handed by a determined Laker display, who responded accordingly to finish the game in dramatic circumstances.
Murray's block on a Danny Green jumper gave Los Angeles 2.2 seconds to inbound and throw up a prayer to finish the game, down one.
Rajon Rondo fed AD after a missed rotation by Mason Plumlee and well, the 27-year-old produced the biggest shot of his career to date, in a clutch moment, etching his name into the Lakers history books with aplomb.
How do Denver recover from that? Both teams shot poorly from distance over 48 minutes, but questions are rightly being asked of Michael Malone's side again after a rousing effort that was ultimately too late to make a difference.
Key players to watch out for
Nuggets: Jamal Murray
As mentioned, Murray made some big plays down the stretch – some important free-throws in the fourth, two made jumpers and a block which looked to tie the series up at one apiece.
It wasn't to be. Given his high scoring numbers in a remarkable postseason to date, the point guard knows he needs to be both more aggressive and efficient if Denver are to win here.
Jokic will get his points, there's almost no question about that. If he doesn't, you know he'll facilitate – but the same cannot be said with as much certainty for his star teammate Murray.
He had more turnovers (5) than assists (4) in Game 2, shot a grim 2-of-9 from three-point range and 8-of-19 (42.1% FG) overall. It goes without saying that he needs to improve.
Lakers: Anthony Davis
After being rightly praised for producing arguably the biggest shot of his career to date last time out, the onus is on AD to maintain that consistency under pressure in Game 3.
He almost had a double-double (31 pts, 9 rebs) and played the most minutes for the Lakers (39) to boot, but has shown a tendency to seemingly take his foot off the pedal offensively after games like these in the postseason.
Instead, it's important he goes for the jugular. He had 37/10/4 at a more efficient clip (57.1%) in Game 1 and although LeBron James' aggressiveness was key as they earned a comfortable early lead, he can't do it by himself.
Danny Green and Kentavious Caldwell-Pope (both 11 pts) were the Lakers' highest scorers after LeBron-AD which speaks volumes, but Denver have a hard time defending against Davis' length and ability to score across the floor.
Who's most likely to win here? the breakdown
Somewhat unsurprisingly, ESPN's Basketball Power Index predicts the Lakers have a 60.5% chance of winning Game 3 and earning a near unassailable advantage in the WCF.
FiveThirtyEight's win probability statistics are a complete contrast, particularly after a nervy end to Game 2. They've still given LA a narrow edge (52%), but it's much less by comparison as they expect Denver to respond accordingly.
After all, it is a game many believe they'll probably have to win, if they stand any chance of extending the series beyond five or six. Who will prevail here?
Possible starting line-ups
Nuggets: Jamal Murray, Gary Harris, Jerami Grant, Paul Millsap, Nikola Jokic.
Lakers: Kentavious Caldwell-Pope, Danny Green, LeBron James, Anthony Davis, JaVale McGee.
Prediction: Nuggets with another spirited effort, but Lakers to win and make it 3-0
Pictures' source: AP