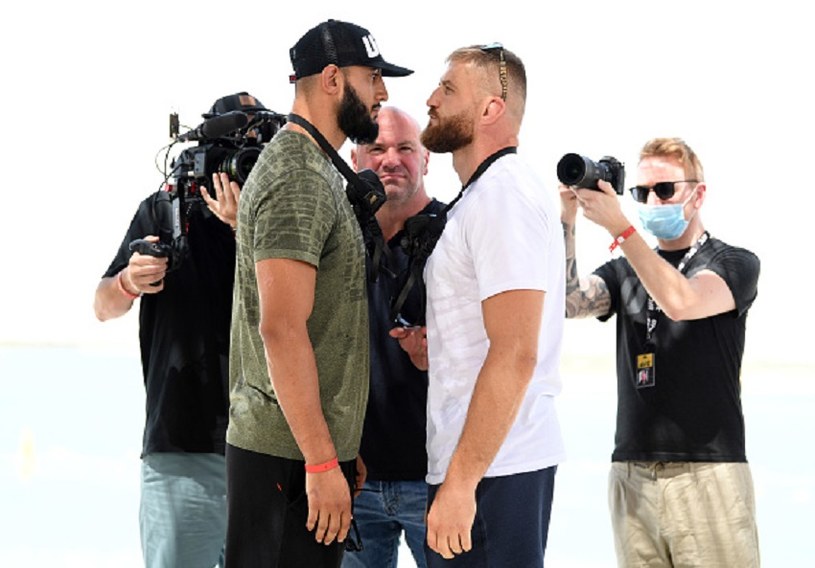 Ahead of their UFC light-heavyweight title fight in the early hours on Sunday at Fight Island, both contenders revealed there's no bad blood between them. Dominick Reyes (#1, 12-1) narrowly lost in his previous opportunity for gold at UFC 247, while Blachowicz (#3, 26-8) earned his third successive win the weekend afterwards to insert himself into the title picture.
While UFC 253's main event has plenty of bad blood two years in the making, the same cannot be said for Saturday's co-main event between two contenders with a vacant title on the line.
Jon Jones has long made public his desire to move up in weight, so when vacating a title he's defended on 11 separate occasions over the past nine years, it wasn't that surprising in truth.
In the UFC's athlete rankings, Jones ranks top above the likes of Khabib Nurmagomedov (#2) and Stipe Miocic (#3) – both champions – as the men's pound-for-pound best right now.
Issues over pay were among the reasons for his decision to step up a weight class, after edging a controversial unanimous decision win against Reyes at UFC 247 – another title defence.
Both Reyes and his opponent this weekend, Blachowicz, have called for Jones to face them, but it feels inevitable the victor will get an opportunity to do so further down the line:
Before then, there's a title bout for the pair to concern themselves with.
During today's press conference, with both main event fighters Israel Adesanya and Paulo Costa jawing at one another, Reyes-Blachowicz didn't feel like getting involved in verbal confrontation.
Reyes seeking similar light-heavyweight control as new champion
There was simply no need. On whether he has something to prove or feels like he's walking in as the champion on Sunday, Reyes was defiant in his response.
"It's about every performance. Every performance speaks for itself, it's all about what you've done lately – I'm going to show up and prove I'm the best in the world. We both have power, want to put each other down and when this gold belt is on the line… I'm willing to do whatever it takes." 
Jones was a topic in conversation but Reyes quickly shut that down.
"It's another fight, he's a completely different opponent who brings different challenges to the table and I have to address them.
It's going to be my reign. It's a whole new division [now that Jones has departed], same thing different story, but I'm the champ now."
"Not yet," Blachowicz retorted.
Underdog Blachowicz aware of the task at hand
When asked about Reyes' strengths, the 37-year-old said there are weapons which he'll be wary of, but also is confident that his coaches have helped him to establish a winning formula.
"His stand-up is really good, has good takedown defence, southpaw position, good kicks, but with my team, I've found my weaknesses and will show that on Sunday morning. We'll see." 
On the pair's respect for each other, Blachowicz said: "I don't need bad blood, I do my best inside the cage, try to knock him out but after the fight, I can drink beer with him, no problem."
Reyes meanwhile, said the feeling was mutual: "Same thing. This is a sport, I approach it as one, some people have bad blood and don't like each other, I have none. I do want to take his head off though, which is part of the game."
The full UFC 253 fight card is as follows:
Main card
Middleweight title bout: Israel Adesanya (c) vs Paulo Costa
Light-heavyweight title match: Dominick Reyes vs Jan Blachowicz
Flyweight: Kai Kara-France vs Brandon Royval
Women's bantamweight: Ketlen Vieira vs Sijara Eubanks
Featherweight: Hakeem Dawodu vs Zubaira Tukhugov
Prelims
Lightweight: Brad Riddell vs Alex da Silva
Welterweight: Diego Sanchez vs Jake Matthews
Featherweight: Shane Young vs Ludovit Klein
Light-heavy: William Knight vs Aleksa Camur
Early prelims
Heavyweight: Juan Espino vs Jeff Hughes
Light-heavy: Khadis Ibragimov vs Danilo Marques