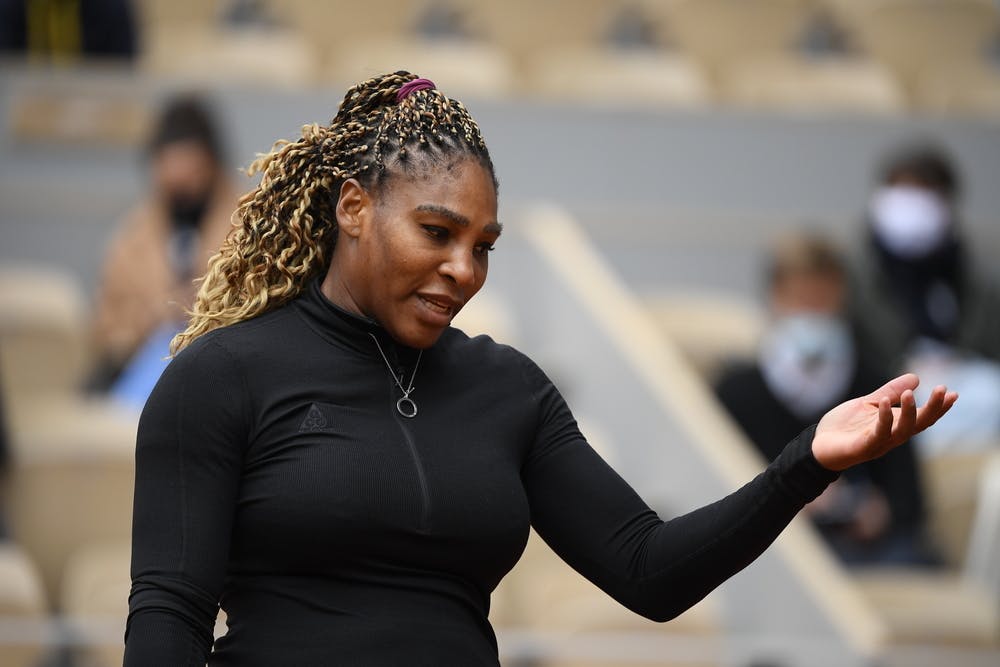 Just minutes before she was scheduled to go on court in her second-round match against world no.132 Tsvetana Pironkova, three-time Roland Garros champion Serena Williams pulled out of the French Open today – revealing she's been ordered to rest an Achilles injury that has worsened since sustaining it against Victoria Azarenka at the US Open earlier this month.
In what was supposed to be a rematch from their three-set US Open quarter-final on September 9, Serena instead found herself forced to withdraw with an aggravated Achilles heel injury.
She revealed that it's unlikely we'll see her again in 2020, but also took encouragement from the fact that the injury wasn't one to the knee and described it as an acute issue with poor timing.
On what's next for her as she recovers, she said:
"Just two weeks of sitting down, doing nothing and, after that, I've been told I need to do a little training. But, doing the math on that, more than likely – I don't know if I'll be able to play another tournament this year.

It will mean a lot of time to fully recover for the future. I feel like my body is willing, this is not a nagging injury, it's acute.

If it was my knee, that would be more devastating for me, but this is something that just happened and it's super acute." 
Margaret Court's all-time record of 24 Grand Slams still stands, and although she didn't mention it specifically, is one of the main things driving her on to continue at the highest level.
"I love playing tennis, competing and being out here. It's my job – and I'm pretty good at it still. So, until I feel like I'm not good at it, I'll be okay. I'm so close to some things, like I'm almost there, that's what keeps me going."
Pursuit of the elusive 24 continues
Serena has been stuck on 23 Slam titles since winning at the Australian Open in 2017. After which, she withdrew from two events (knee inury) before revealing she was 20 weeks pregnant.
After returning 13 months later at Roland Garros, she has reached four Finals – two at Wimbledon, two at the US Open – and lost all four.
READ: The most comprehensive defeat of the four Finals, Halep's Wimbledon win in 2019
She reached the semis at Flushing Meadows two weeks ago and was a set up but lost against eventual runner-up Azarenka. During that match, she sustained the aforementioned injury.
During her first-round win over Kristie Ahn on Monday afternoon, she suffered a recurrence of the injury – although didn't complaining of an injury afterwards when asked.
"In that second set, I felt like I needed to walk with a limp and that was no good. I had to focus on just walking straight, I tried, I always give 100% – everyone knows that. 

I think achilles is an injury that you really don't want to play with because that is not good. If it gets worse, I think it's one of the worst. So I don't want it to get to that point, when I actually have a chance to get better." 
What's next?
In the third-round, Pironkova – who had a wildcard to play in this year's event – will now play against 24-year-old Czech Republic international Barbora Krejcikova.
Pironkova has only surpassed R3 once at Roland Garros, back in 2016 where she reached the quarter-finals before losing to Samantha Stosur.
Quotes' source: The Guardian