Anthony Davis had 34 points and LeBron James added 25 as the Los Angeles Lakers were rampant en route to an impressive Game 1 win vs. the Miami Heat in this year's NBA Finals. Erik Spoelstra's side have multiple niggling injuries – Goran Dragic (foot), Bam Adebayo (shoulder) and Jimmy Butler (ankle), but want to make necessary adjustments and shoot more efficiently than they did for Game 2. Will they tie up the series or can the Lakers take a 2-0 lead?
LA Lakers vs Miami Heat: Depleted Heat have mountain to climb
Tip-off time: saturday, 2am bst
Butler led Miami in scoring with 23 on 13 shots, while Kendrick Nunn (18 pts, 8-of-11 shooting) and Tyler Herro (14, 6-of-18) were the Heat's next closest on the stat sheet.
Dragic only played 15 minutes and limped off with a foot injury, while Adebayo was in foul trouble early and strained his shoulder too.
As a team, they shot just 31.4% from distance (11-of-35) and found themselves effectively swarmed by a relentless Lakers defence after an encouraging start to proceedings early in the first quarter. How do they overcome that in Game 2?
It'll be interesting to see how they fare without Adebayo (shoulder and neck) – as reports earlier tonight emerged via ESPN that their All-Star forward will not suit up for Game 2.
He's arguably been their best player in the postseason, averaging 18.4 points, 11.4 rebounds and 4.9 assists in 15 games before limping off against the Lakers earlier this week.
Key players to watch out for
Lakers: Anthony Davis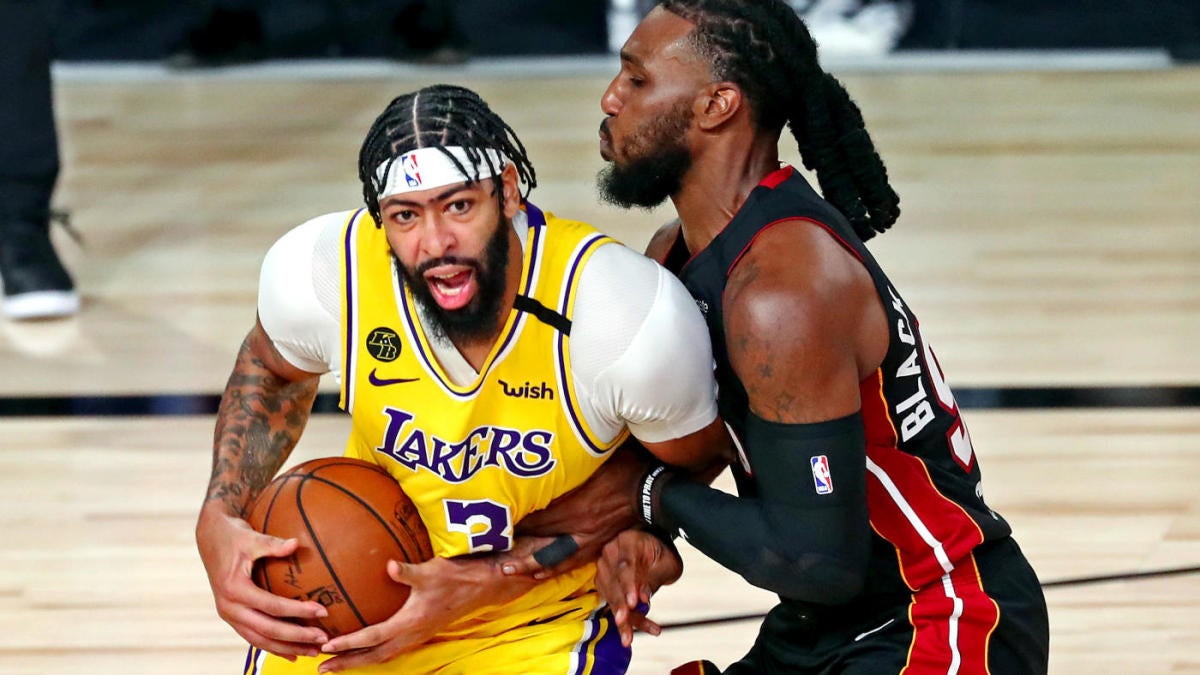 Earlier in the postseason, AD said he wants to be involved in clutch moments down the stretch and clearly relished his role during an impressive Game 1.
As I've said before though, it's important he doesn't relent – instead continuing to back up his comments with excellent play, across both ends of the floor, when the Lakers need him most.
He was in the running for Defensive Player of the Year this season and made a joint game-high three blocks with Danny Green.
Doing a lot of the dirty work that doesn't always show itself on the box score, it's imperative he starts well and doesn't let his head drop if the shot isn't falling early.
Game 1 was the first time he had just one personal foul and turnover since their first-round GM1 defeat by Portland. What's next?
Heat: Tyler Herro
Perhaps it speaks volumes for his rapid progression, but I'm holding Herro to a higher standard because he is a genuine x-factor in this series but struggled from the floor.
He shot 6-of-18 (33%), including 2-of-8 (25%) from three-point range and had the worst plus/minus across Game 1.
Harsh? Perhaps, but the sharpshooting rookie has taken on more responsibility, particularly in the Orlando bubble, and needs to be increasingly efficient from the floor against the Lakers.
Dragic sustained a plantar tear in his left foot and potentially returning in this series was described as "unclear" on Wednesday night, so there's more onus on Miami's supporting cast – Herro, Duncan Robinson, Nunn, to deliver.
Who is more likely to win here? The breakdown
ESPN's Basketball Power Index has given the Lakers a 58.4% chance of winning Game 2, while FiveThirtyEight's statistics have swung the opposite way – Heat with a 59% probability to level the series.
Given their troublesome luck with injuries, I'm inclined to back the Lakers here. Stranger things have happened, sure, but it'll be interesting to see whether Miami can rise above the pressure or fold under it against a Lakers side who seem destined to win this year's Finals as things stand.
Predicted line-ups
Lakers: Kentavious Caldwell-Pope, Danny Green, LeBron James, Anthony Davis, Dwight Howard.
Heat: Kendrick Nunn, Duncan Robinson, Jimmy Butler, Kelly Olynyk, Jae Crowder.
Prediction: Lakers to double their series lead, 2-0