Holly Holm showed why she's the #2 ranked women's bantamweight contender with a commanding decision win against Irene Aldana (#6) in the night's main event, after Germaine de Randamie showed evolution in her game – defending her number one contender spot for Amanda Nunes' belt courtesy of a third-round submission victory to stifle Julianna Pena (#4). 

a Holm vs de Randamie rematch seems the next fight to make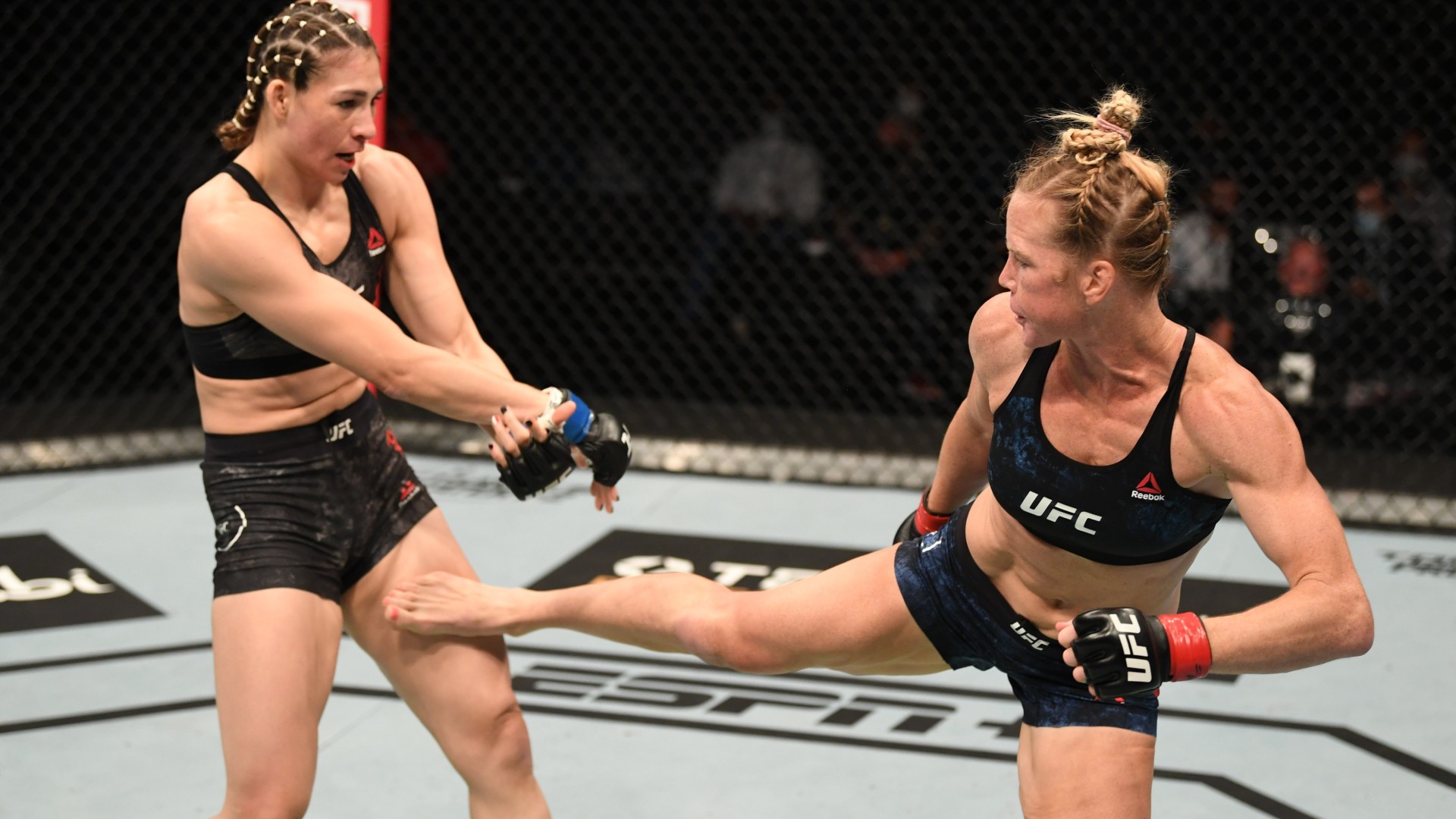 50-44. 50-45, 50-45: Holly Holm defeats Irene Aldana via unanimous decision
She was modest during the immediate post-fight interview, but Holm doesn't need telling that she's one step closer to becoming a two-time UFC champion after cruising past Aldana here.
The Preacher's Daughter displayed her excellent fight IQ, rendered the Mexican's forward pressure useless for sustained periods and frustrated the 32-year-old into regular mistakes.
This was Aldana's first UFC main event and after back-to-back wins against Vanessa Melo and Ketlen Vieira to finish 2019 on a high, this matchup was a significant step up in quality.
She knew that coming in, but still found herself stifled from the early exchanges as Holm was the early aggressor and circled to perfection while loading up on punch combinations well.
Mixing up side and high kicks, Holm's persistence with her grappling also came to the fore. Coming into this clash, Aldana boasted a 93.5% takedown defence statistic (2nd all-time).
Well, not anymore. Holly completed a takedown in each of the five rounds (5 of 14) and that rather typified a frustrating outing for the no. 6 ranked contender, who had no answer.
An example of this was early in R2, where Aldana landed a good shot flush on Holm's chin as she continued pressing forward. How did the #2 contender respond? A blistering five-punch combo.
Aldana was wobbled, more than once or twice, and found herself unable to connect with the same ferocity or frequency as Holly – very comfortable here and eluded to that afterwards.
"There's some things I need to work on, obviously, but I like to learn from wins, not losses. I'm still very green, learning and just want to put it all together." 
Holm turns 39 in two weeks and her attitude is admirable to say the least. She continued to connect with nicely-timed straight lefts and that movement was causing problems aplenty.
A sliver of encouragement from Aldana? Quickly shut down. She started well in R3 and began landing more frequently in the first minute or so, but Holm produced a timely takedown.
After smothering her on the ground and getting into a mount position, she landed some good ground and pound strikes as Aldana was suddenly in trouble.
Irene did well to recover but continued absorbing strikes, whether they were head kicks or otherwise, as her forward pressure was only inviting more punishment.
Failing to cut the Octagon off nor limit Holm's movement was detrimental to Aldana's dwindling chances of victory, as the minutes ticked on and Holly continued striking with increasing venom.
She was targeting a stoppage win and probably would have got one during the final minutes in R5 – landing a beautiful head kick as Aldana was sluggish to get back up after another takedown.
Unloading with an explosive burst to finish strong, you could see Irene's face was wearing the after-effects and she found herself thoroughly outclassed by a better fighter on this occasion.
On the game plan and what's next for her:
"She's a mover just like me, so I had to think what would I do if I was fighting me – that was my coaches, not me, I just listen to them! We put the gameplan together and were able to be victorious. I like to let the future fold out, I have a great team around me and just train."
Statistic: During her impressive decision victory, Holm surpassed a personal best significant strike tally (77) – landing precisely double that figure with 154 in 25 minutes against Aldana. 
30-27, 30-27, 29-28: Carlos Felipe defeats Yorgan de Castro via unanimous decision
Felipe, a slight pre-fight underdog, improved to 9-1 during a co-main event that promised plenty after this week's build-up and yesterday's weigh-ins – but petered out in a frustrating third round.
de Castro (6-2) was expected to have learned from his mistakes against Greg Hardy at UFC 249 in May. It was quickly apparent he hadn't, absorbing some early kicks and finding himself on the back foot against an advancing Felipe.
He made plenty of feints and tried to counterpunch his way into earning the Brazilian's respect, but that was futile.
Instead, Felipe tested his chin with good one-two combos but his job was made more straightforward by de Castro, giving him too much respect and not being busy enough.
The respective cornermen echoed that sentiment: de Castro's team upset by his inactivity, while Felipe knew he was inflicting damage aplenty but importantly needed to continue in that vein.
de Castro started fast in R2 but that urgency faded quickly as Felipe worked body shots well and showcased his punch speed whenever they were exchanging in the pocket.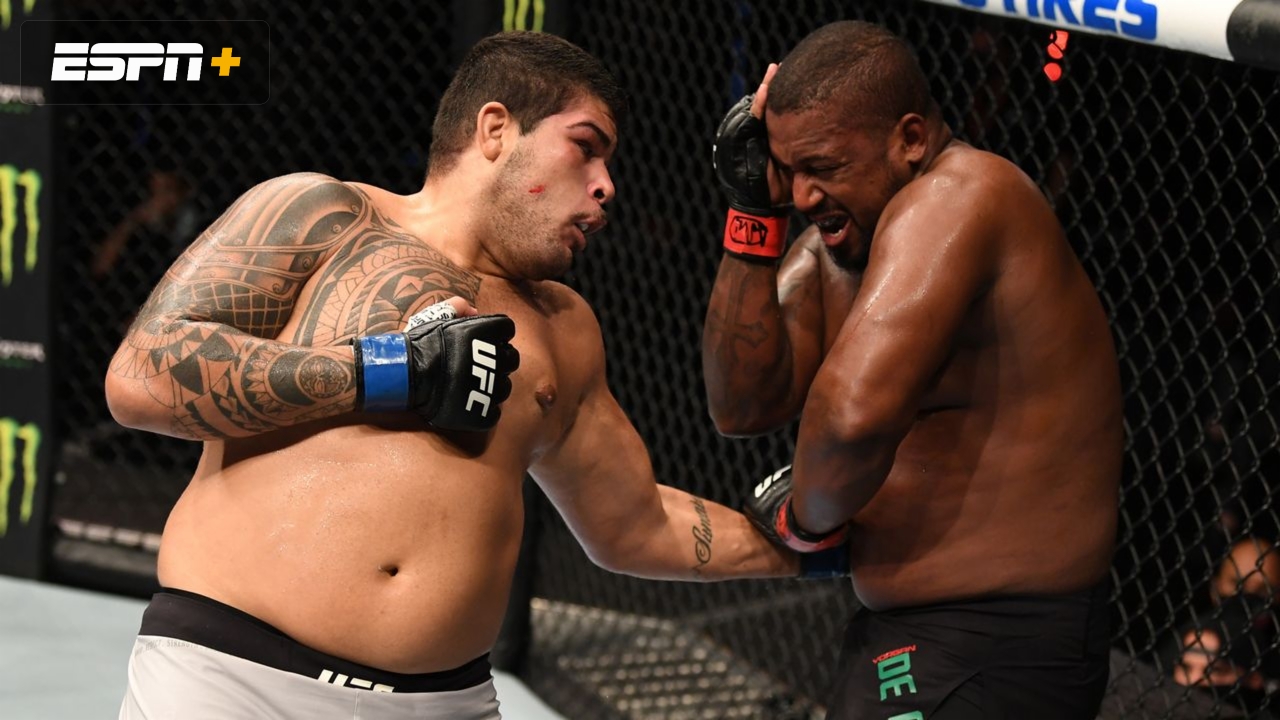 They brawled a bit, recklessly swinging, before referee Kevin Sataki became the centre of attention – not that he wanted to.
de Castro was warned for grabbing the fence whenever they clinched, while Felipe continued landing combinations. His goading had clearly impacted them both – firing up the 25-year-old while leaving de Castro stifled by his speed.
R3 was a better round for the Mad Titan, who was probably down two rounds to begin with. He attempted a takedown with Felipe up against the cage but Sataki was unimpressed by their inactivity in the clinch, so separated them.
He would do that multiple times over the final five minutes, as de Castro continued blitzing forward and swarming Felipe into the same position – who was rather bemused by it all.
The referee's insistence on them fighting, rather than sprawling at the cage, meant he said clean break with increasing frequency to try engaging them in a stand-up battle again.
de Castro was clearly running on empty though, trying to go the distance and signalling a frustrating end to a fight many didn't have high expectations for. Felipe was happy though:
"I love doing this, I fight to have fun – a lot of people talk s–t about me… I have some violence inside me, I can [express that] in the cage.

There was a guy in Brazil, he ran away from me for a year, Rafael Pessoa… don't run. Mick, Dana, put me to fight, I'm ready. I think I deserve PotN." 
Spoiler alert: After failing to get a finish, he wasn't one of the four bonus winners of the evening but will nonetheless be hoping for another fight before 2020 ends with limited damage sustained.
Rest of the main card
R3, 3:25 – Germaine de Randamie (#1) beats Julianna Pena (#4) via submission (guillotine) 
In the first of two women's bantamweight clashes, de Randamie retained her #1 contender spot with an accomplished display against #4 ranked Pena – showing she can adapt under pressure.
Although the Iron Lady said she was very sloppy and stiff, she also earned her first Performance of the Night bonus in nearly four-and-a-half years by making Pena look ordinary at times.
She wobbled Julianna with a right-hand early and it quickly became apparent she couldn't really close the distance as de Randamie's movement was troublesome – Germaine was in control.
Continuing to pick her shots with precision, she caught Pena flush with another straight right and despite Pena visibly loading up with a few flurries, hadn't done enough in the early going.
Pena caught a kick and raced to try and complete a takedown, just managing so a few moments before the horn sounded. It was a platform to build upon for the next two rounds.
After a passionate intervention from her corner, Pena rushed in early to start R2 and caught de Randamie with her back against the fence.
She secured a body lock and despite her leg trip not working initially, she didn't give up and eventually earned another takedown as the pair exchanged shots on the ground.
Pena was angling for a choke but de Randamie managed to hold firm, absorbing damage before reversing it into a tight Von Flue hold of her own.
Despite an encouraging level of improvement from the The Venezuelan Vixen, you couldn't help thinking if the round had continued any longer, Pena would have probably submitted.
In R3, they exchanged punches and Pena pushed the pace – perhaps conscious that the fight was becoming a close affair ahead of a decisive final round.
She appeared the fresher fighter but also found herself taking risks to force the issue, swinging wildly at times and not moving her head enough. That foreshadowed a surprise finish.
After clinching near the cage and exchanging knees, Pena produced some dirty boxing and went for a one-legged takedown. She was too slow to complete it, allowing de Randamie to respond.
Seamlessly executing a guillotine choke with Pena's head too high up her body not to try, she squeezed tightly and looked at referee Jason Herzog after a few seconds.
He checked the 31-year-old's arm and it was limp, rendering her unconscious as the match was quickly stopped.
de Randamie immediately got up, put a finger to her lips and shouted a kickboxer chokes you out! – displaying an ever-growing evolution of her arsenal to finish the fight on the ground.
As mentioned earlier, it seems like a Holm rematch from UFC 208 is the likely fight to book, determining Amanda Nunes' next title challenger at 135lbs.
"I was very sloppy, everything was stiff but I said, give me your neck and I'll put you to sleep. I'm 36, come on Dana, give me those 50Gs baby… still the #1 so I can say hold that champ, congratulations on your family but I'm still here."
It was the first submission win of her career and having lost to Nunes at UFC 245 last December, she's now 10-4 with an eagerness to become a two-weight world champion before long.
R2, 0:44 – Kyler Phillips beats Cameron Else via TKO (punches and elbows) 
R2, 0:44 – Kyler Phillips beats Cameron Else via TKO (punches and elbows) 
In the bantamweight division, Kyler Phillips (8-1) produced an impressive display to effectively extinguish Cameron Else's hopes of a UFC debut victory on Fight Island.
After winning Fight of the Night honours against Gabriel Silva in late February, the 25-year-old wanted a stoppage and facing a last-minute replacement meant this could be unpredictable.
Else – riding a six-fight win streak – had remarkably recorded first-round finishes in all of his ten professional victories. So judging by that statistic, it felt like he needed a quick morning's work in Abu Dhabi if he was to reign victorious. Phillips though, had other ideas.
Taking his time to measure up the bullish Englishman, he mixed up kicks and punches to good effect, circling across the Octagon well while being unafraid to showcase his acrobatic style too.
Else was a gamely dance partner and absorbed plenty of damage but kept coming forward, while being mindful of Phillips' striking ability.
It showed on his body – specifically the left knee – before Kyler completed a takedown and displayed crucial patience as Else didn't take too kindly to defending on the ground.
They exchanged submission reversals but Phillips' ground and pound was narrowly close to stopping the fight. Else looked visibly stunned and had been saved by the horn, but not for long.
After a body lock takedown, Phillips raced into a mount position and after landing more hammer fists, referee Marc Goddard had no choice but to stop proceedings early in the second round.
R2, 3:15 – Dusko Todorovic defeats Dequan Townsend via TKO (punches)
Kicking off the card, middleweight Duško Todorović kept his unbeaten record intact with a quality showing – both in stand-up exchanges and on the ground – against Dequan Townsend.
It was remarkable to see his 34-year-old opponent absorb the number of strikes he did during the first five minutes, yet Dequan shrugged it off and at the horn, shook his head defiantly.
That proved ominous and Todorovic ultimately made him pay for that bravado at the start of R2, completing an emphatic takedown and racing to some nasty ground and pound strikes.
Townsend struggled to recover from that precarious situation on the bottom, Todorovic didn't relent and referee Jason Herzog had no choice but to stop the fight.
"He doesn't lose that often to stoppage or TKO, my coaches told me to wrestle, get him to the ground and there I could showcase my jiu-jitsu – I think that's the first takedown of my career!

I'm super happy now, glad to stay undefeated. The ultimate goal is to keep my 0, I want to be undefeated for the rest of my career and I'm going to do everything I can do to make sure that happens." 
Prelims, with a carlos condit win and charles jourdain in action
During the featured prelim of the night, two-time welterweight title challenger Carlos Condit returned to the win column at the sixth time of asking, beating fellow veteran Court McGee.
30-27 on all three judges' scorecards was a fair reflection, even though the striking stats might say otherwise – McGee landed four less strikes on 8% higher accuracy over three rounds.
However, he was stunned right at the horn to finish R1 and Condit appeared to have broken his nose with that punch. The following two rounds, he outstruck McGee 73-53, mixing up attacks.
Condit's last victory was against Thiago Alves (doctor stoppage) in May 2015, so this was a welcome return to winning ways for the 36-year-old.
"Competing at this level for a long period of time, you're going to have wins and losses. I'm still about it, have fire in my gut. It's been a while since I've had a win, haven't fought in almost two years, it feels really good." 
Charles Jourdain came in as an overwhelming favourite to prevail against a determined Australian in Josh Culibao, but the featherweight fighters fought to a dubious split draw.
One judge scored it 30-27 for Jourdain, another edged it 28-29 Culibao, and the third was split 28-28 after an unpredictable three rounds which had plenty for fans to enjoy.
Whether it was an abrupt R1 knockdown which saw Culibao immediately earn Jourdain's respect, successful submission attempts and a mixture of shot selection on display by both.
Jourdain landed 68 strikes – more than Culibao at a more accurate clip (54%), though Kuya – who trains alongside current champ Alexander Volkanovski – landed two more significant strikes.
I felt as though Jourdain had edged it with his work on the ground and a much-needed recovery after an alarming first round, but a split draw was an underwhelming end in truth.
Jordan Williams' durability and heart was on full display, but he was unable to prevail during a gruelling 15-minute clash against French middleweight debutant Nassourdine Imavov.
Between the pair, they threw 263 total strikes but Imavov's punches were more accurate and significant, despite WIlliams' forward pressure after an encouraging first round showing.
In the women's strawweight division, Loma Lookboonmee looked impressive en route to a UD victory (30-27, 30-27, 29-28) against a frustratingly gun-shy Jinh Yu Frey.
In the bantamweight division, Casey Kenney earned a comfortable unanimous decision (30-25, 30-26, 30-27) victory against Heili Alateng.
In the lightweight division, Luigi Vendramini had an early night's work – winning in just 80 seconds – delivering a beautiful head kick finish after a punch combo wobbled Jessin Ayari.
After an emotional celebration with his father in the Octagon, he had earned one of four Perormance of the Night bonuses too. He revealed he would've changed profession, had he lost.
"I've waited two years and nothing good happened in my life. But today has paid for everything, I'm very happy and I feel I'm a UFC fighter – can change my life, my family's lives."
Picture source: Cageside Press, MMAFighting.com, Zuffa