Joshua Buatsi made a victorious in-ring return after 402 days of inactivity, with the fifth defence of his WBA international light-heavyweight title during a gritty seven-round clash against a gamely Croatian opponent in Marko Calic. Buatsi ends Calic's 11-0 unbeaten streak and improved to 13-0 himself – passing a necessary gut-check challenge with bigger fights to come.
R7, 2:09 – Joshua Buatsi retains WBA international LHW title, beats Marko Calic
Buatsi alluded to it pre-fight, but just because many people didn't know much about Calic beforehand, didn't mean he wasn't coming to win.
In shades of Terence Crawford's early scare against Egidijus Kavaliauskas last December, Calic was content to engage in the pocket and exploit Buatsi's left side – using his reach and counterpunching skills to good effect in the early rounds.
Calic unafraid to test Buatsi with increasing success
R3 was the Croatian's best round: moving well, prompting an intense pace by the pair as he landed a number of good combinations and did well to get Joshua into a brawl that he didn't exactly want.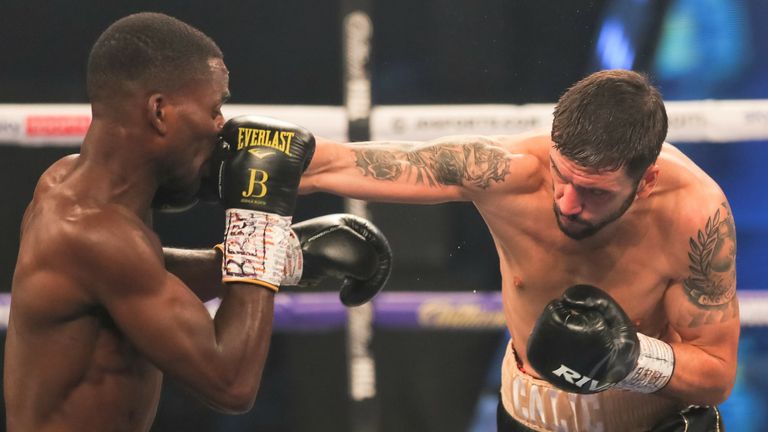 Connecting with that right-hand regularly proved Buatsi's kryptonite, especially as you could see the 27-year-old sporting some serious swelling just below his left eye.
Having done well with his jab and targeting Calic's body early, Buatsi needed to return to that – doing well in their exchanges despite impaired vision.
Calic's subtle efforts to frustrate him continued in rounds four and five, clinching regularly and backing Joshua up where possible. However, the Ghanaian-born Brit set up the double jab to good effect and was being more measured with his approach.
buatsi rallies back to good effect, makes adjustments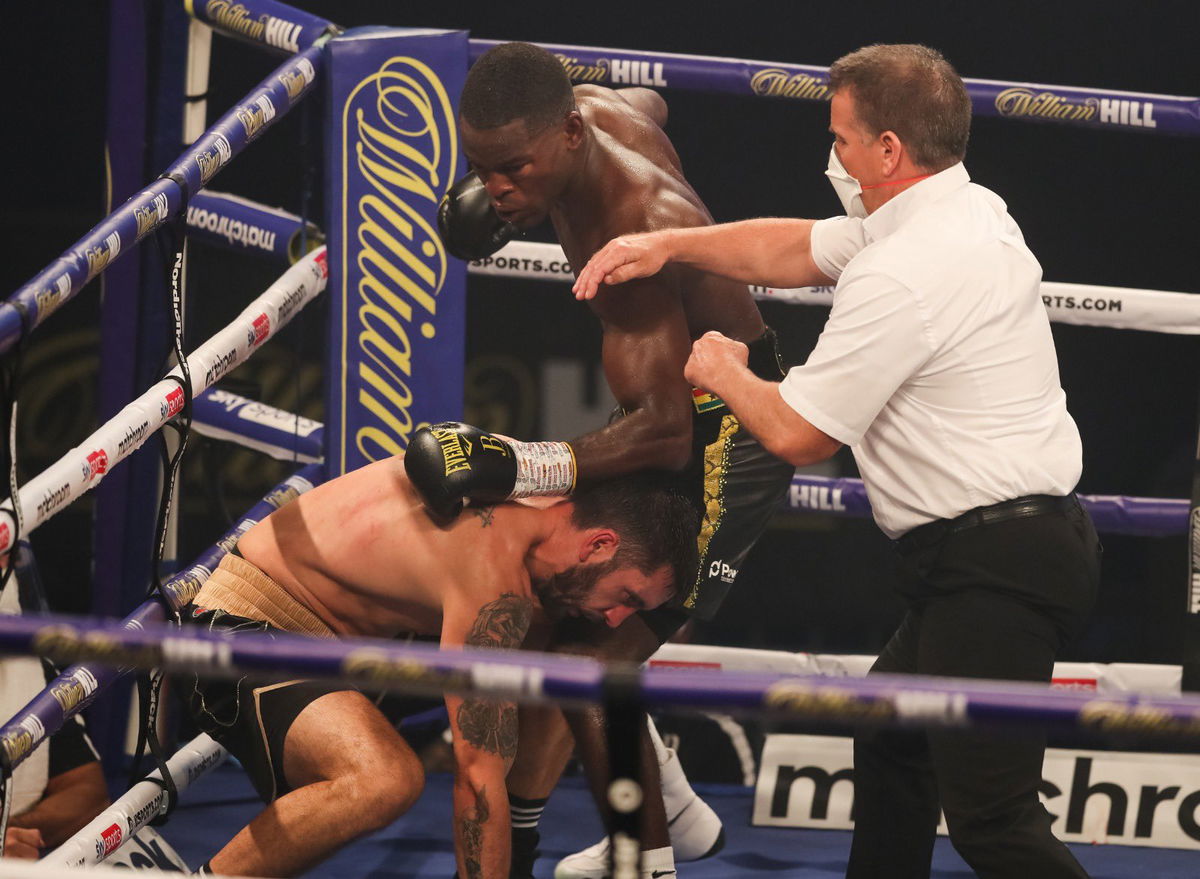 The end of R5 was the beginning of the end. After a slow start, Buatsi finished strong with a beautiful right hand and inflicted damage aplenty as Calic absorbed a ferocious flurry before being saved by the bell.
Buatsi made adjustments to start R6, showing improved defence on his left side and blocking Calic's fast combinations.
He continued firing shots to the body, walking forward and although the Croatian responded well with punches of his own, Joshua's were clearly the more impactful.
Calic changed to a southpaw stance to start R7, trying to stifle Buatsi and retrieve a second wind in the process. Instead though, the Brit was unperturbed and could smell blood as he advanced forward, connecting with a ferocious combo.
He raced towards the ropes to apply the exclamation mark on an admirable performance, having wobbled Calic with an overhand right. The referee gave the Croatian a standing eight count and he looked towards his corner, as if to say he was done.
The vicious explosion continued for a few seconds before the inevitable happened: Calic's corner waved the towel ringside, ending a much-needed challenge for Buatsi in Milton Keynes.
Post-fight comments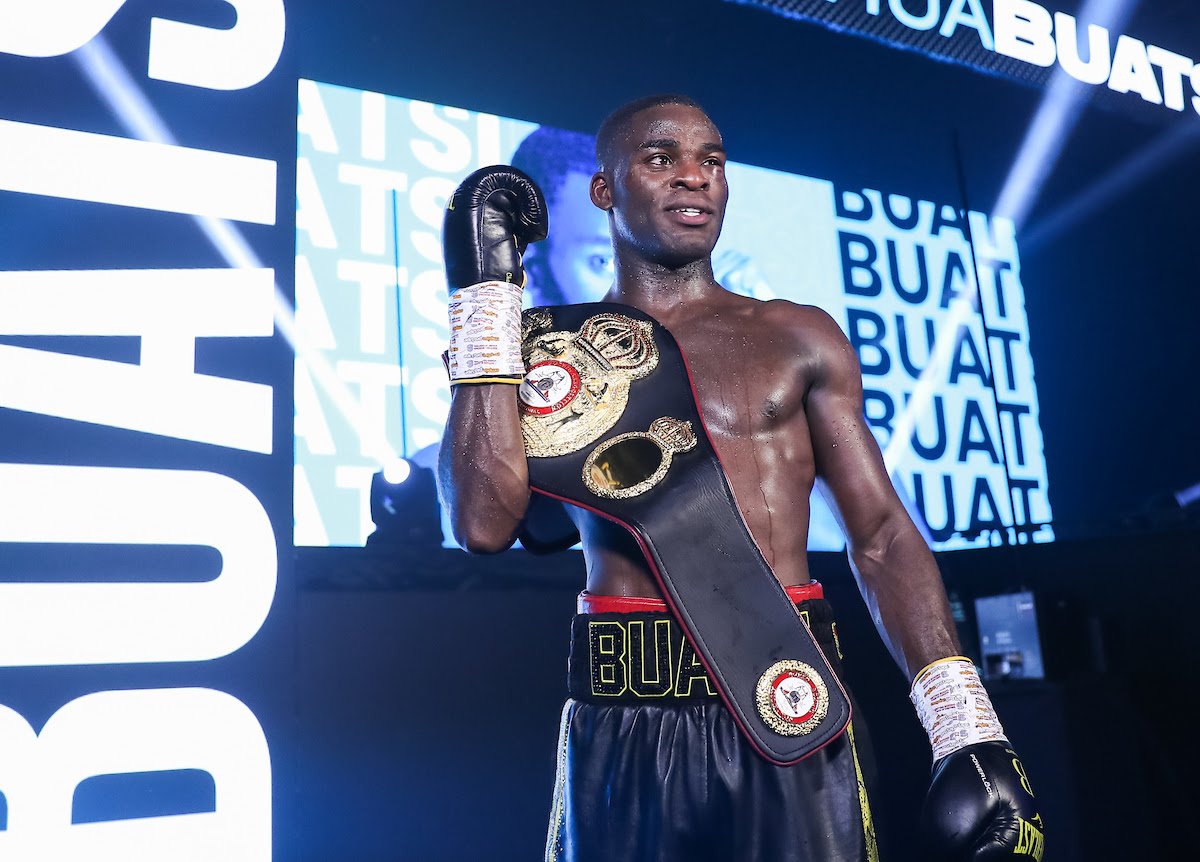 He echoed that sentiment post-fight during an interview with Sky Sports, saying:
"Props to Calic, he told me his jaw was broken. Credit to him, I got a thumb [cut] in the third round – never happened before – but I stuck with it.

I noticed he went southpaw, I looped the right, when it landed I said you're hurt, he was tough and competitive each round.

400 days out of the ring, it's different, credit to you guys [Matchroom for scheduling the fight], I'm excited and happy to have got the win.

"Great opponent, under-the-radar, hasn't been heard of but we knew he was a tough opponent and I came out on top. I just need to keep moving forward, it's good to be back, sit down with the team, it was a good fight and I enjoyed it.
On whether he wants to fight again in December, with domestic rivals Callum Johnson and Anthony Yarde both linked:
"That's the aim. I'm not sure what's happened, it's swelling [the cut below his eye] but I've learned and it was something new to adapt to, deal with it. If it heals, I'm more than happy to be back in December. I'll let the team decide, I'm just going to recover."
Context
After a 13-month absence, it was refreshing to know Buatsi (13-0, 11 KOs) would be returning with multiple light-heavyweight contenders sure to be watching with intrigue.
Calic – who was 11-0 with 6 KOs – was always set to be an intriguing opponent as Buatsi targets world LHW success next year, something his promoter Eddie Hearn told me earlier this summer.
During an interview (subscription needed) with the Telegraph's Gareth A Davies, the 27-year-old put things into perspective considering the unprecented circumstances we're in:
"This has been a long layoff but it's only in my head: I accepted what the situation is, I've just dealt with it and moved forward. I look at the positives, if you dwell on the negatives you're going to get down. I'm fit, strong and my health is 100 so what can I really complain about? Nothing.

Calic is a very good amateur, experienced, boxed a lot of people and is well educated. Once I'm in there I will feel the danger and look for the win. If I sense any vulnerability anywhere then I'll take it – I think most important is to get out and fight. It's been a while and I want to impress."
Impress he certainly did, though this was the acid test many have long been calling for as he targets a world title shot in 2021 – whether he'll tell you that or not.
What does buatsi's gritty victory mean?
In simple terms, he's one step closer to challenging for a world title in the LHW ranks. As I explained back in August, there are many champions and willing contenders eager to battle.
WBA: Super – Dmitry Bivol (17-0)
Regular – Jean Pascal (35-6-1, 1NC)
WBC and IBF: Artur Beterbiev (15-0)
WBO: vacated by Canelo Alvarez
IBO: Dominic Boesel (30-1)
Just hours before this fight, WBA undefeated champion Bivol was quoted as saying he's willing to fight anybody – Buatsi included – and revealed the Brit's on his radar as a potential challenger.
"[He is a] good boxer, if it made sense and the fans want to see this fight, I am always open to fighting anybody." 
His manager Vadim Kornilov echoed that sentiment, saying: "We are working on a return fight for Dmitry at the end of the year. We would definitely entertain a fight versus Joshua Buatsi."
Buatsi has been handled carefully and for good reason by Matchroom's Eddie Hearn, not trying to rush him too quickly – but this was a necessary scrap to emerge from and it's likely he'll duel with one – or both – of the aforementioned domestic rivals before fighting for world gold.
World heavyweight champion Anthony Joshua, who manages Buatsi, also had his say post-fight.
Other results
WBC junior welterweight title: Chantelle Cameron dominant en route to UD win over Adriana Araujo (100-90 x 3)
Heavyweight: Alen Babic earns R3 TKO victory over Niall Kennedy (0:34)
Lightweight: Aqib Fiaz beats Kane Baker on points, 77-75
Super-middleweight: Linus Udofia beats John Harding Jr via R9 TKO (2:07)
Middleweight: John Hedges beats Jan Ardon on points, 39-37
Pictures' source: badlefthook.com and Sky Sports