Jimmy Butler recorded a historic 40-point triple-double, becoming only the third player in NBA Finals history to do so – as the Miami Heat delivered a defiant display, taking Game 3 with a nine-point margin against the Lakers. It's made all the more impressive knowing that two of their stars – Goran Dragic and Bam Adebayo – watched helplessly from the sidelines nursing injuries. Can they level the series, or will the Lakers restore their two-game advantage? 
heat vs Lakers: game 4 presents must-win matchup for both
tip-off time: wednesday, 2am bst
Butler exploded for 40 points on 14-of-20 shooting, while there were important contributions from Tyler Herro and Kelly Olynyk (both 17 pts) as Erik Spoelstra's side led for sustained periods without the pressure of a big deficit to overturn.
That proved pivotal down the stretch as the game was tied at 91 apiece with 8:31 left of the fourth quarter.
They went on a 18-9 run as the aforementioned trio were key in those clutch moments, against a deflated Lakers side who struggled to stifle Butler's red-hot evening – despite multiple efforts to do so.
LeBron James had 25/10/8 on 9-of-16 shooting, Anthony Davis added 15 points but found himself in early foul trouble, which rather set the tone for a frenetic Game 3.
It was actually the story of the Lakers' bench – namely Markieff Morris and Kyle Kuzma with 17 each – who did well to keep them in the contest.
Morris scored the most he's had since mid-January against the Hawks, while he was still with Detroit. Kuzma, who has been heavily scrutinised recently, recorded his best scoring night since August 11 against Denver. Even still, those efforts weren't enough to propel them to victory.
Key players to watch out for
Heat: Jimmy Butler
After his historic Game 3 performance, Butler has personally taken it upon himself to lead Miami back into contention and tie up the series once more.
He was excellent throughout, adding a pair of blocks and steals to accompany the aforementioned triple-double, on a night where Spoelstra's men needed someone to follow.
It's a shame Dragic and Adebayo remain sidelined and will probably not suit up for Game 4 either, though their absences have seen Jimmy take more responsibility as the dictator.
His passing and vision have been underrated, but not anymore. The last time he had 13 assists in a game? November last year, during their 109-94 victory against the New Orleans Pelicans.
The Lakers will pay even more attention to him and it's unlikely his shot falls as often as it did (70% FG), but he needs to continue facilitating for others and being aggressive from the off if they're to level the series again.
Lakers: Kyle Kuzma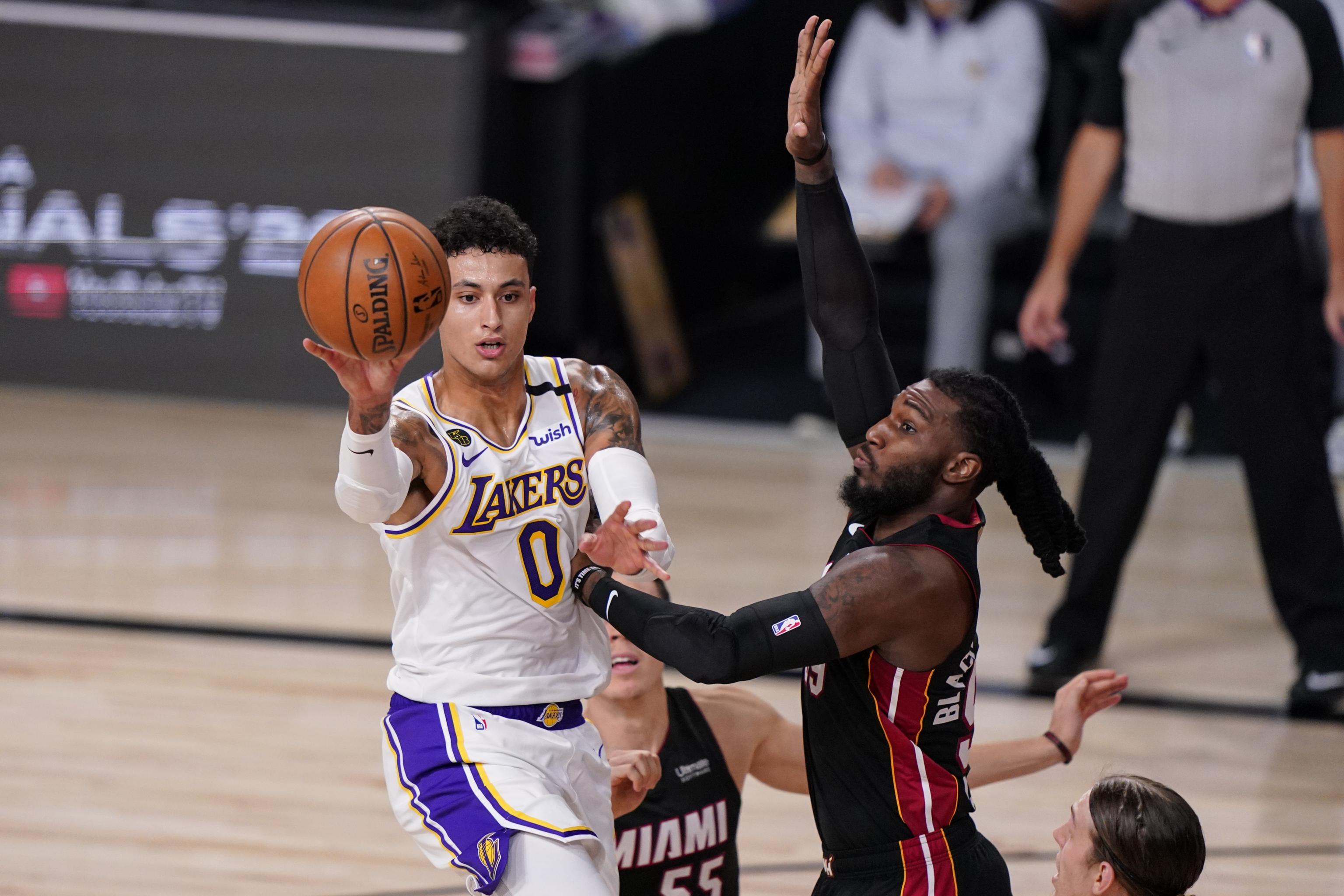 Admittedly, the 25-year-old doesn't always help himself.
His shot selection, decision-making and consistency levels aren't where they need to be, if he truly wants to be the Lakers' x-factor. That doesn't mean he can't evolve into that, but it feels like time is running out on that front.
After scoring 8, 3 and 11 points in their last three games, Kuzma produced 19 on 13 shots during an eventful Game 3 defeat.
Across both teams, only Morris (5-of-11 from distance) scored more than his four three-pointers and it's clear to see he's a long-distance threat, even if you can't say that all the time.
Danny Green and Kentavious Caldwell-Pope had seven points between them, so naturally the bench unit's production is magnified when their starters are largely underwhelming.
Rondo (4 pts, five assists, 8 rebs) struggled from the floor, shooting just 2-of-8. JR Smith and Alex Caruso? A combined 2-of-7. Do you see where I'm going with this?
There's no reason why Kuzma can't produce more efficient numbers, which in turn will provide him further opportunities. With the pressure increasing, what's next in Game 4?
who's more likely to win? the breakdown
As mentioned, Miami still have a key duo injured – Adebayo and Dragic – and given the quick turnaround between matches, it's unclear whether either will return for Game 4.
ESPN's Basketball Power Index is backing the Lakers with a 58.4% chance to retake their two-game advantage. Interestingly, FiveThirtyEight's win probability statistics cannot split the two sides after Butler's historic Game 3 display.
They've given the pair a 50% chance of winning, a number not previously seen before in the postseason so far. That speaks volumes for how volatile this series could be, depending on who wins this. However, I'm backing the Lakers.
Probable starting line-ups
Heat: Tyler Herro, Duncan Robinson, Jimmy Butler, Jae Crowder, Meyers Leonard.
Lakers: Kentavious Caldwell-Pope, Danny Green, LeBron James, Anthony Davis, Dwight Howard.
Pictures' source: Bleacher Report, Getty