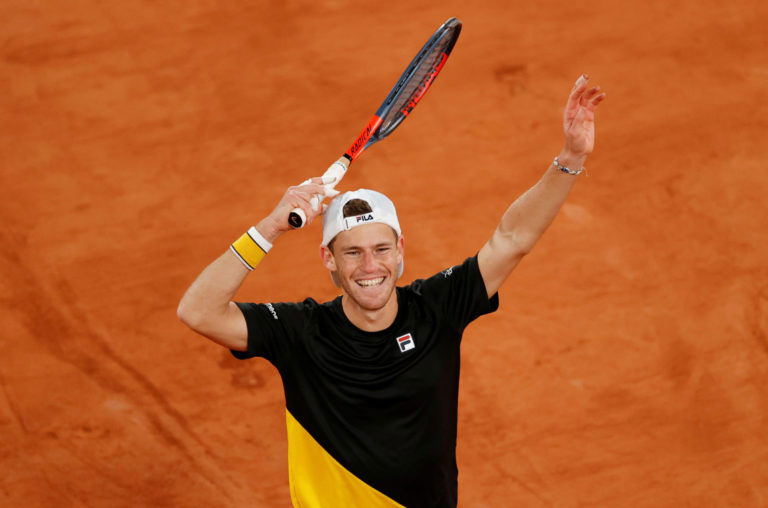 Diego Schwartzman needed five hours and eight minutes to outlast close friend and US Open winner Dominic Thiem during a gripping five-set encounter, progressing into the first Grand Slam semi-final of his career to date. His reward? Facing 12-time tournament champion Rafael Nadal on Friday, who came through a difficult test against Italian teenager Jannik Sinner.
Schwartzman (#12) stifles tired Thiem (#3) in exhausting five sets
Final score: 7-6, 5-7, 6-7, 7-6, 6-2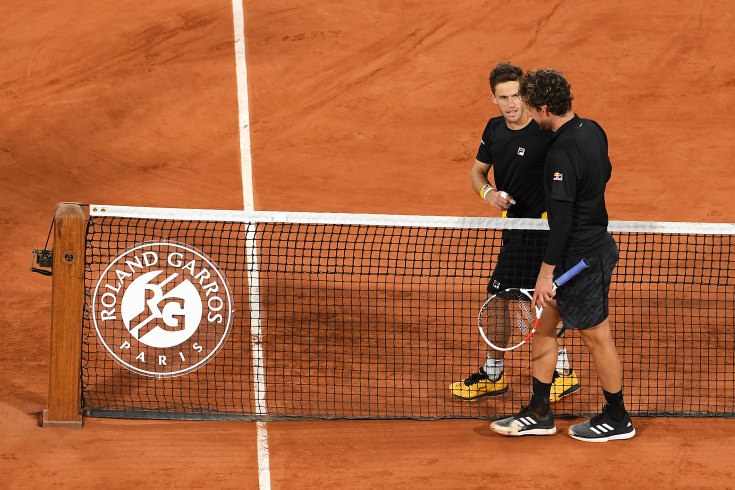 After four-and-a-half hours, Schwartzman found himself in unfamiliar territory. He won the first set despite being down 5-4 at one stage, then lost each of the next two with 37 unforced errors.
The 28-year-old admitted that even he expected to lose after relinquishing that opportunity to capitalise on Thiem's sluggish start, like Alexander Zverev at last month's US Open.
However, he rallied back in the fourth – despite squandering three set points at one stage before again finding himself on the verge of defeat.
2-2 going into the deciding set, the pair won their early service games. This could've easily gone either way at this stage. At 30-15 up, Schwartzman missed a volley at the net on serve.
Thiem missed a forehand down-the-line on the Argentine's second serve, before being punished by a timely backhand winner in the very next point.
Those errors continued as Schwartzman very swiftly found himself with three break point opportunities to take a 4-2 hold.
This time, he gladly took them and the match quickly slipped away from an exasperated Thiem. His shot selection seemed sloppy and not aggressive given the situation he was in late on.
Successive misses presented Schwartzman with match point after the Austrian's baffling decision to play a poorly-weighted drop shot midway through a rally – on two separate occasions – and a thrilling match ended unceremoniously.
Diego did well tactically to continue frustrating his friend as the match wore on, day turning to night, and Thiem's dwindling energy levels meant he didn't attack the forehand side enough.
That was his most effective weapon with almost 40 of his 65 total winners emanating from there.
Ultimately, it wasn't to be for a man that was pushed to five sets by Hugo Gaston on Sunday. This rather was about Schwartzman, who played well and showed steely persistence to prevail.
Nadal (#2) given toughest test yet against fearless Sinner
Final score: 7-6, 6-4, 6-1
In his first Grand Slam quarter-final, Sinner was largely excellent against Nadal and pushed the Spaniard in ways many didn't expect here.
By contrast, this was Rafa's 42nd Slam QF and another on his hallowed surface.
It made the Italian teenager's display all the more inspiring, standing toe-to-toe and not backing down without a battle. He missed two good opportunities, one at the net and a forehand winner, to break Nadal's serve early in the first set.
As he usually does, Rafa responded accordingly by winning the next three points and holding serve at 3-2 up.
Sinner mixed up his strokes well, showcasing both nonchalant power and balance to help him stay competitive during longer rallies where others would wilt under pressure.
A brilliant backhand down-the-line winner, one Stan Wawrinka would be proud of, was the pick of his shots as 3-2 down turned to 5-5 and Jannik's excellent ball-striking came to the fore.
Nadal's defensive skills were on display, stretching and leaping across the baseline at will as the pulsating rallies continued.
A tiebreak was needed to separate them and despite being 2-1 down, Nadal won five of the next six points to present multiple opportunities for a one set advantage. He didn't hesitate, leaving Sinner to rue his missed chances earlier in a tightly-contested opening sequence.
Act 2 saw more of the same as Sinner won seven straight points, Nadal saved two break points but great poise at the net proved pivotal in helping Jannik clinch the third.
Up 3-1, he wasn't for long. Nadal forced him into errors and got the immediate break back, which felt like a potential turning point as far as the match's flow was concerned.
It proved so not long afterwards. Sinner forced Rafa back to the baseline but played a drop shot and immediately regretted it, finding himself wrongfooted at the net before missing a volley at the net in the subsequent point.
3-1 had become 3-3 and Nadal saw a chink in the teenager's armour to exploit.
His movement wasn't flawless and although he could match the Spaniard for power, the decision-making wasn't as seamless on a consistent basis under pressure.
Exquisite lobs, powerful forehand winners and more brilliant shot-making by both followed, before Sinner made successive errors – one shortly after Nadal's effort skimmed the net, then another from a poor drop shot.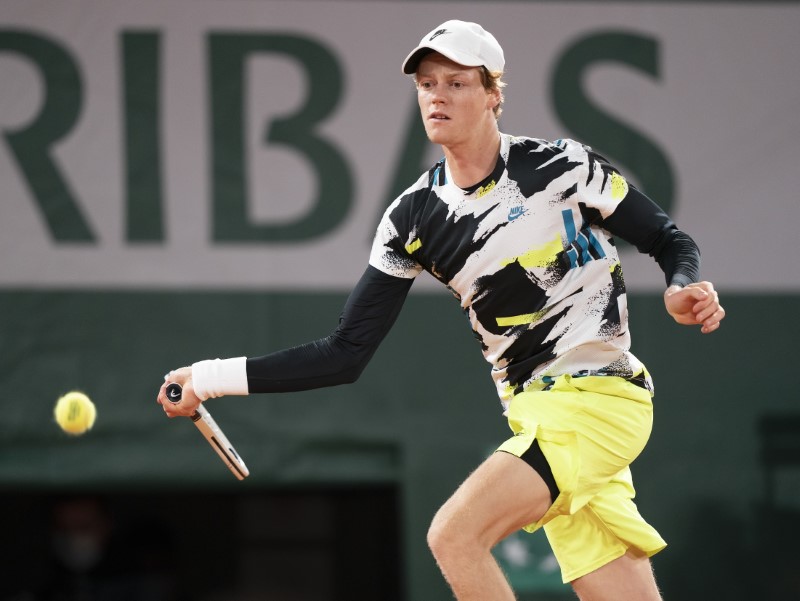 Nadal didn't need a second invitation and clinched his break point opportunity, before serving for the set with no hiccups.
A two-set lead and playing with confidence, Rafa wanted this latest challenge ended quickly. To his credit, Sinner didn't give up and did well to continue chipping away at an increasing deficit.
The commentators suggested Nadal's relentless had broken his spirit and that was emphasised by what happened, down 1-0 on Rafa's serve.
He battled back from 40-0 down to double his third set lead after Sinner's drop shot struggles – which were previously troublesome – continued.
Nadal's defence was visibly morale-sapping and on a deuce point, somehow managed to produce a lob winner over the Italian. Rafa won seven games in a row but Sinner got himself on the board, at the very least, during what was quickly becoming a procession by this stage.
Buoyed on by his passionate supporters, he continued crunching winners and finished a tricky test with a timely volley after two hours, 49 minutes against someone who'll certainly be back for more experiences like these in future.
With more weight training on board, the sky is the limit for Sinner – who turned 19 in August and will enter the world's top 50 for the first time when the rankings are updated next Monday.
Other results on an action-packed Tuesday
Just before Nadal-Sinner got underway, Poland's Iga Swiatek was excellent en route to a straight-sets victory against Martina Trevisan.
The 19-year-old beat tournament favourite Simona Halep – world number two – on Sunday and recovered from 3-1 down early, showing great resilience to earn her first Slam semi-final berth.
She'll play Argentina's Nadia Podoroska on Thursday with both finding themselves in unchartered territory in Grand Slam tournaments.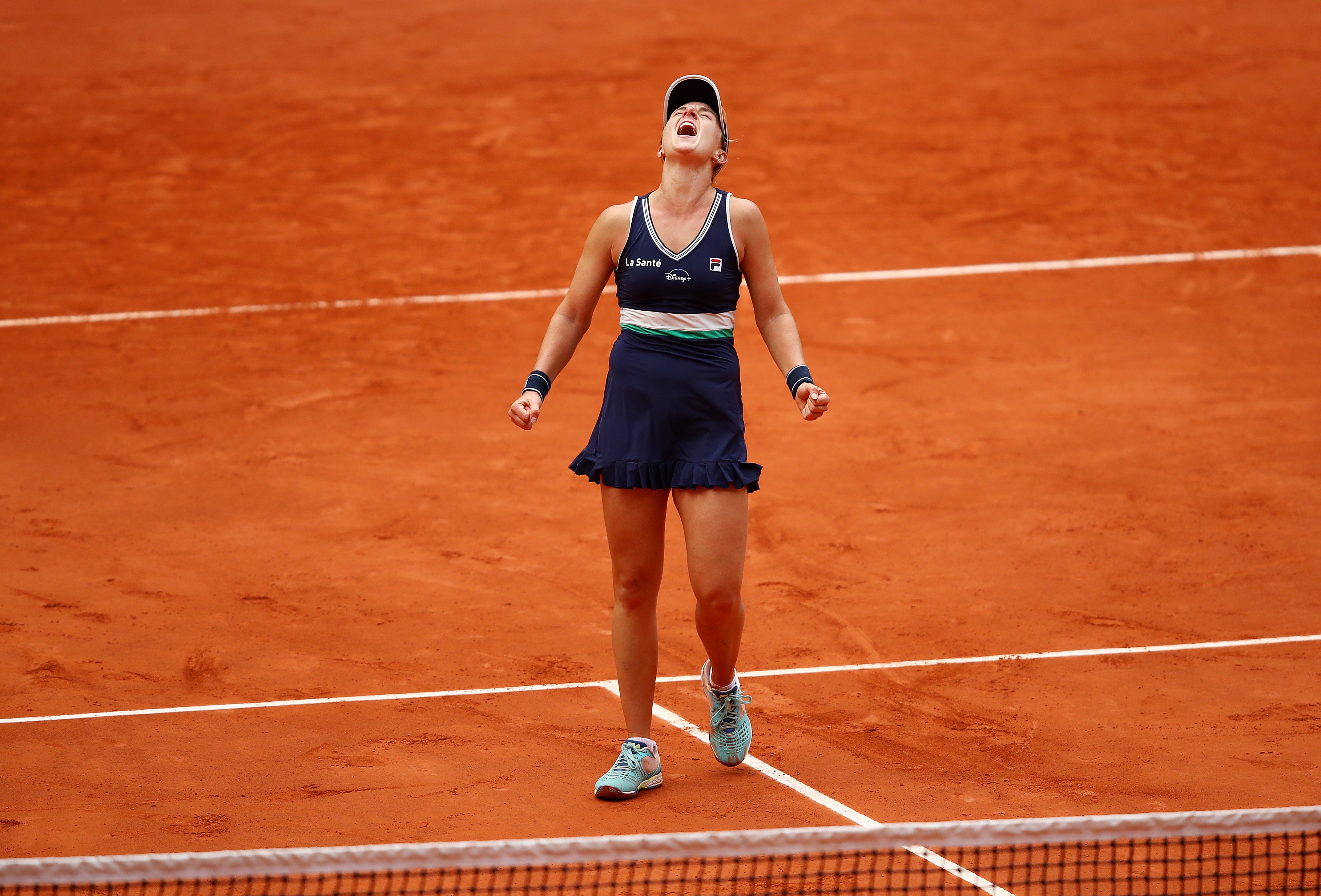 The 23-year-old stunned world no.4 Elina Svitolina 6-2, 6-4 and it's a drastic improvement for a player set to rise more than 80 places in the WTA rankings into the top 50 next week.
Given the financial constraints that come with lower-ranked tennis tournaments, endless travel and coaching, she wasn't sure whether she could continue her career at one stage in 2017.
As quoted by the Guardian, she said: "I had too many injuries, I dropped my ranking and had been like eight months out of the Tour.
Then I didn't have money to start playing tournaments – it was a very tough moment for me because I also changed all my team, I was a little bit, like, I didn't know what to do." 
Given her recent achievements, she's already surpassed her total career prize money over the last three weeks – which speaks volumes.
In addition, Podoroska becomes the first Argentinian woman since Paola Suarez in 2004 to reach a Grand Slam semi-final at Roland Garros.
This capped a memorable day for Argentina and South American tennis, long needing a spark with Juan Martin del Potro's persistent injuries and a dearth of quality on the women's side.
Wednesday's order of play (BST)
Men's Singles:
2pm – Andrey Rublev vs Stefanos Tsitsipas
From 4.30pm – Novak Djokovic vs Pablo Carreno Busta
Women's Singles:
11am – Petra Kvitova vs Laura Siegemund
From 12.30pm – Danielle Collins vs Sofia Kenin
Women's Doubles:
11am – Desirae Krawzyk and Alexa Guarachi vs Ena Shibahara and Shuko Aoyama
From 1pm – Jessica Pegula and Asia Muhammad vs Nicole Melichar and Swiatek