After spoiling the Lakers' championship coronation party in Game 5, Miami Heat hope to level the series at 3-3 during another elimination game here. LA are 48 minutes from their first NBA title since 2010 and a frenetic end to Friday's loss will have posed questions – can they conclude the year here against a determined side hamstrung by injuries? Can LeBron James elevate his teammates again en route to a historic victory? Will Jimmy Butler and co take this to a Game 7? 
Miami Heat vs LA Lakers: coronation party, take two
tip-off: monday, 12.30am bst
Butler had another decisive triple-double in Game 5 and truly left it all on the floor, having played 47 of the allotted 48 minutes, to get there.
35 points, 12 rebounds, 11 assists and five steals – the 31-year-old small forward has taken the responsibility as Miami's closer like a duck to water, but this isn't surprising.
What is though, is the way in which the Heat have managed to stay competitive and frustrate a Lakers side who seemed destined to clinch their 17th championship.
This is without a 20-point scorer in Goran Dragic (foot), a less-than-100% Bam Adebayo (neck, shoulder) and yet they don't care that the odds are repeatedly stacked against them.
Instead, they've risen to the occasion and made a series many felt would be a 4-0 sweep, a must-watch battle poised to go right down to the wire.
LeBron relishes the challenge and after watching Danny Green miss a wide-open three in crunch time, it'll be interesting to see whether he goes solo during the dying embers.
Anthony Davis (heel) has confirmed he'll play, but more on him later. LA need more from their bench unit (14 points on 5-of-22 shooting) and Kentavious Caldwell-Pope needs to be assertive if they're to close this series now.
Key players to watch out for
Heat: Duncan Robinson
Robinson had 26 points with seven three-pointers made, five rebounds and one steal during his best postseason display to date in Game 5. Talk about timing.
Game 3 and 4 combined, the second-year shooting guard recorded 30 points so it's clear he'll play a pivotal role in deciding the fate of Game 6 too.
Tyler Herro was understandably quiet in the clutch after an inefficient night (4-of-11, two turnovers) but moments like these are perfect for Robinson to show his sharpshooting abilities.
It's likely the Lakers will adjust after allowing him easy matchups on the perimeter, but some of his shot-making was excellent under pressure too.
Adebayo voiced personal disappointment at his Game 5 display and that's likely to change for the better too, but it's important they don't rely on Butler as much as they did again.
Plenty has been said about Butler – rightly so – but will Robinson continue his hot streak when they need him most?
Lakers: Anthony Davis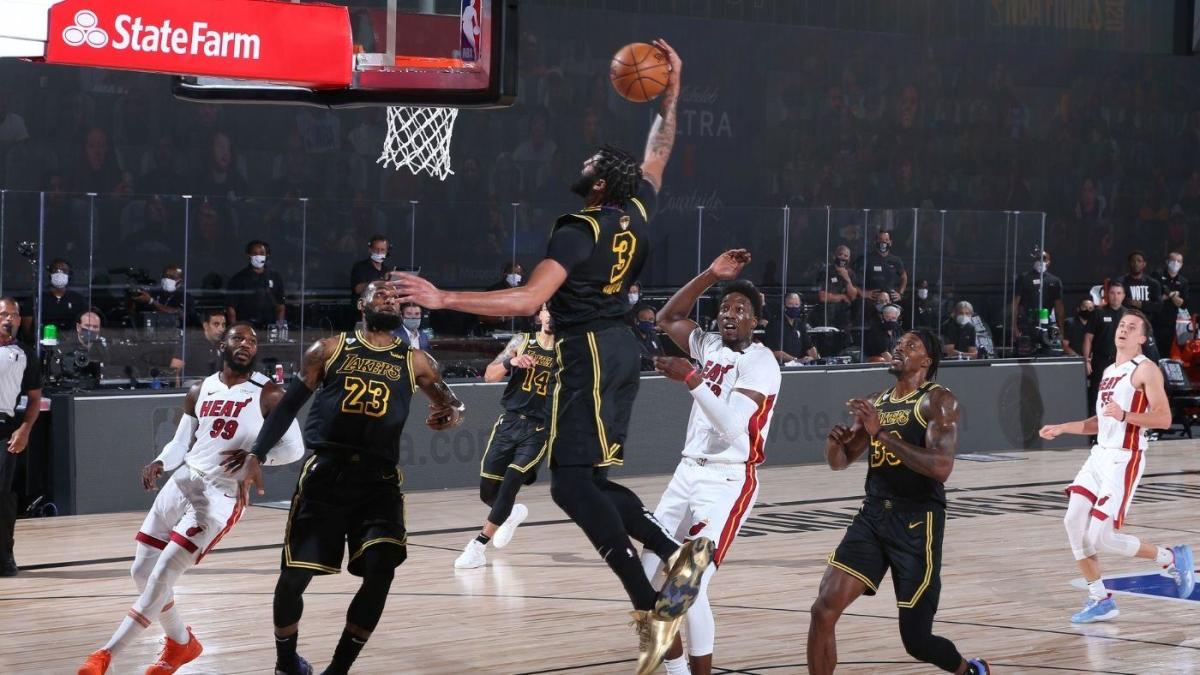 It felt like the entire Lakers squad were gathered around AD after he went down on his heel in the first-half, eagerly hoping he could continue and wasn't seriously injured.
That speaks volumes for the big man, who was visibly limping for sustained periods after half-time and still managed to deliver a big display on both ends in 42 minutes.
He had a double-double (28 pts, 12 rebs), a trio of assists, blocks and steals and consistently got to the free-throw line for good measure in the second-half too.
His importance cannot be understated, which is why it'll be interesting to see just how comfortable he is on court in Game 6.
If he's firing on all cylinders – which is unlikely – there's no reason why the Lakers can't close this game out. If he starts slowly or gets into foul trouble, like during their Game 3 defeat, LA could find themselves in some serious danger.
Who's more likely to win here? the breakdown
ESPN's Basketball Power Index gives the Lakers a 57.2% chance of clinching Game 6 and that's understandable, considering they were trailing for large periods on Friday and were still on the cusp of winning in clutch time.
FiveThirtyEight's win probability statistics though, are backing Miami to take this to a Game 7. Who can blame them, after a fearless Game 5 showing?
Butler's unafraid to battle against LeBron and he's got help: Robinson, Adebayo, Herro and Kendrick Nunn's scoring efforts from the bench haven't gone unnoticed.
Dragic remains sidelined and will be missed, but things are finely poised and Miami are capable of playing better – making it more difficult for LeBron to record 40/13/7, for example.
As a neutral, you'd love the Heat to take this to a Game 7. Ultimately though, I'm sceptical and feel LeBron will take over and help the Lakers become NBA champions once again.