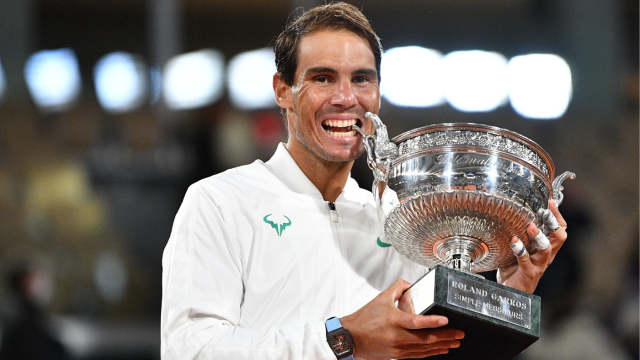 Rafael Nadal was ruthlessly brilliant en route to yet another French Open title, beating world number one Novak Djokovic in straight-sets – 6-0, 6-2, 7-5 – clinching his 13th Roland Garros trophy in style, having returned to competitive action less than a month ago. The Spaniard also joins esteemed company: Roger Federer on a record-tying 20 career Grand Slam titles.
Before the tournament began last month, it was clear that these two – alongside US Open champion Dominic Thiem – were heavy favourites to go all the way.
Even after watching Djokovic endure some rather uncomfortable moments in Friday's semi-final victory, Nadal probably wouldn't have expected to earn a bagel (6-0) first set advantage.
That's exactly what he did. Armed with a 76% first-serve percentage, he saved three break points while recording just two unforced errors against Novak, who had no answer for him.
Despite his 11 first set winners, Djokovic was unable to establish any momentum after continuous mistakes – overhitting shots and struggling behind his serve.
Finding himself regularly behind the baseline defending Nadal's powerful groundstrokes stifled any rhythm you'd expect him to seize, because his shot-making could only take him so far against a man with soaring confidence.
Djokovic's errors continue to mount as Nadal races ahead
He had his moments during rallies but was forced into increasingly difficult shots and fumbled an opportunity to breathe new life into the first set down 3-0 ala Sofia Kenin in Saturday's final.
Wrongfooted for one Nadal forehand winner, he overcooked a backhand on the stretch and couldn't capitalise after Nadal fired an open shot into the net.
Rafa sent him wide with a brilliant crosscourt strike and after missing the subsequent return, he was suddenly 4-0 down following a timely ace. That lead continued growing and 45 minutes in, Nadal had a set in the bank.
One point can often tilt the balance in tennis, so when Djokovic held serve to start set two and started assertively, it felt like a promising moment as far as his momentum was concerned.
It didn't last long at all though. After unleashing a crosscourt forehand winner to save one break point on serve, he hit two forehands into the net and you could see his head drop as the crowd inside Philippe Chatrier groaned.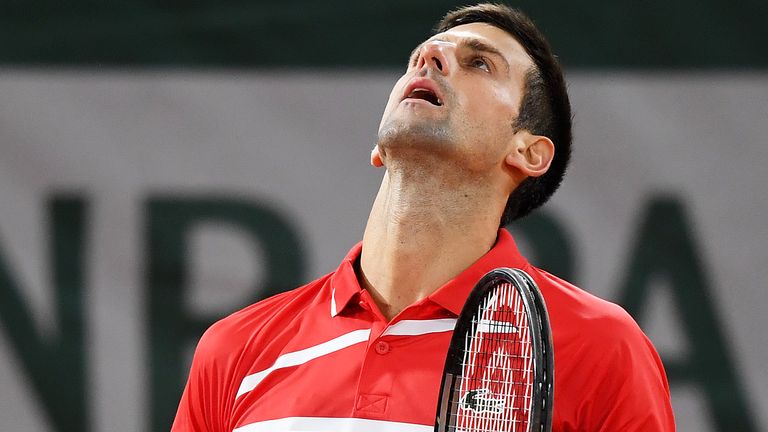 You can't afford to relinquish free points against Nadal and although he had mixed success with the drop shot, Rafa was instinctively expecting the shot a lot more as time wore on.
3-1 quickly turned into a 6-2 second set in Nadal's favour, but the statistics spoke volumes as the scoreline became bloated.
Winners vs unforced errors after two sets
Djokovic – 25 // 30
Nadal – 21 // 6
A spirited third set finish as djokovic fights back but loses 7-5
The third set felt more competitive and a fairer reflection of what we saw, but Nadal's ability to consistently win shorter points allowed him the breathing space needed to dictate throughout.
Just like Kenin, he was visibly energised by Djokovic's errors and almost didn't need a partisan crowd spurring him on.
Djokovic did, and roared for encouragement from the stands in an attempt to fire himself up after doing well to level the third 3-3 with a crucial break point in tow.
He had a golden opportunity to halve the deficit, up 5-4 as Nadal found himself serving to stay in the third set. Novak's level had flickered all afternoon but those aforementioned errors continued to hurt him as he looked despairingly at the clay, knowing time was of the essence.
With the set again finely poised at 5-5, Nadal had won just 35% (6/17) of his break point opportunities up to that point, but Djokovic's struggles continued with an untimely fourth double fault of the match.
All of a sudden, Nadal was four points away from the championship – two minutes earlier, he was serving to stay in the third set. Three successive errors presented three championship points and he blasted his way to #20 with an emphatic ace to finish.
Final thoughts, why this win isn't as surprising as it may seem
If you allow me to rewind to Friday, I praised Schwartzman's deep Roland Garros run but equally the manner of his semi-final defeat left an underwhelming feeling after a promising tournament.
He had 48 unforced errors over three hours and 10 minutes. Djokovic will be feeling similar emotions after recording 52 in 2:43 during a Final many expected to go a full five sets.
For context, he had 50 errors against Tsitsipas and almost relinquished a two-set lead from match point up. As the Greek knows first-hand, Nadal is a far better player, especially on clay.
That's why any pre-match belief the world no. 1 would win here disintegrated after his telling semi-final display. It was far more gritty than it needed to be, and even though he remained composed, facing the King of Clay was always going to be a more difficult proposition.
In moments where Tsitsipas was overwhelmed early by Djokovic's defensive abilities, Nadal duly stepped up to the plate and punished him for an error-laden performance.
The Spaniard left his best display for last: 14 unforced errors in just under three hours, one more than his straight-sets R3 win over Stefano Travaglia – which was little over 90 minutes. As mentioned earlier, he's now won 13 Roland Garros titles and that cannot be understated.
Between now and next year's Australian Open (assuming it goes ahead), the debate will rampage on: will Nadal surpass Federer on 21 and leave him behind, after the Swiss legend's recent knee surgery? How can Djokovic bounce back on his favoured surface?
At a time where everyone's so quick to look ahead though, it's important to cherish Nadal's achievements while he's still flourishing and able to peak precisely when he needs to at Slams.
Pictures source: Getty