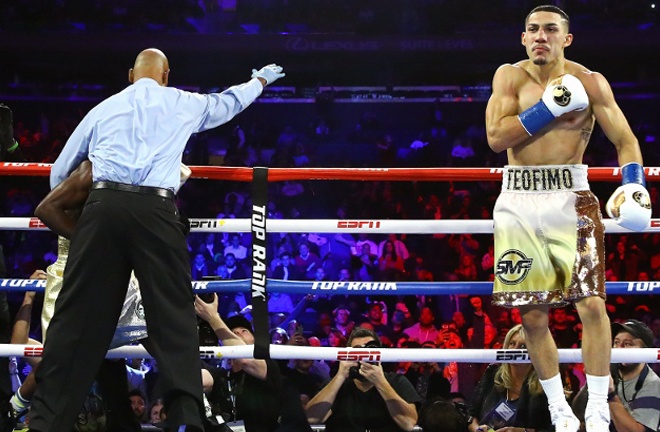 IBF lightweight champion Teofimo Lopez has ramped up bold pre-fight talk ahead of Saturday's title clash against three-weight world champion Vasiliy Lomachenko. Despite making the first defence of his belt in the biggest fight of the 23-year-old's career to date, Lopez believes he'll win emphatically and discussed his outspoken nature, itching to stun critics this weekend.
Lopez (15-0, 12 KOs) has only boxed past the sixth round twice in his 15 professional fights. His soaring rise atop the sport's lightweight division is both impressive and equally a cautionary tale.
It reinforces just how quickly a boxer's career and subsequent opportunities can skyrocket, or nosedive, with one result.
He blitzed Richard Commey inside two rounds last December to become a world champion 37 months into his professional career. In isolation, that's a remarkable statistic.
But if you listen to Teofimo Lopez Sr, you wouldn't be surprised in the slightest. Having an outspoken father in your corner can either hinder or help your stock. So far, so good.
That can all change in a matter of days though. Lopez is embracing the notion that he's unprepared to be taken into deep waters given his relative inexperience at this level.
During a virtual press conference on Monday, he was quoted as saying:
"People always wanna take me to deep waters and the fact they don't understand is that I live in deep waters.

I'm a shark, you know what I mean? And that's what it comes to, so try to take me to deep waters and it ends up becoming their downfall. 

That's why if this fight goes to the 12 rounds… I understand that Lomachenko may be a slow starter and he picks up as the rounds continue, but so do I.

I think this is definitely gonna be a chess match, a great fight and I don't look at it like Mayweather-Canelo. If it is, I'm Mayweather."
WBA and WBO champion Lomachenko (14-1, 10 KOs) has experienced 131 rounds in 15 fights as a professional – Lopez has less than half that number (60) in the same amount of appearances.
Lopez has been bold with his predictions, saying he expects a highlight reel knockout victory against the two-time Olympic gold medallist this weekend.
Why is he so confident? He believes in his abilities and is aware of the pressure he's placing on himself, but equally knows that only he can influence the outcome.
Lomachenko happy to let his boxing talk for him
Lomachenko isn't a natural lightweight and just like his UD win over Luke Campbell last September, will be giving up height and reach advantages against Lopez.
Last month, Teofimo stated his belief the Ukrainian will ultimately move back down divisions, should he lose this unification bout.
What's alarming as a neutral, is how calm and collected Lomachenko has been – rather embracing Lopez's trash talk and relishing his role as the reality check he needs this weekend.
During an interview with The Athletic last month, the 32-year-old discussed his desire for longevity in the sport and said health-permitting, he wants to continue for as long as possible.
On whether he's bothered by Lopez and his dad's comments, this response spoke volumes:
"It will be very fun that night. They are talking about my age, saying that, 'Aww, he's old..' but it will be very fun to see this old man beat that younger man. I can't wait for everyone to see that and hear what they'll say after.
He said experience, fight IQ and father-trainer Anatoly are keys that'll help him emerge victorious but revealed they only agreed to this bout as Lopez holds the IBF belt which they want to unify.
Will Lopez's trash talk come back to bite him on Saturday night in Las Vegas?
Pictures' source: Boxing Junkie, Bleacher Report