It wasn't a blistering knockout finish like many predicted. It didn't need to be. Teofimo Lopez dethroned Vasiliy Lomachenko to become the youngest four-belt world champion ever, aged 23, with a disciplined points (116-112, 119-109, 117-111) victory in the biggest fight of his career.
Teofimo stays unbeaten with gritty win in big unification bout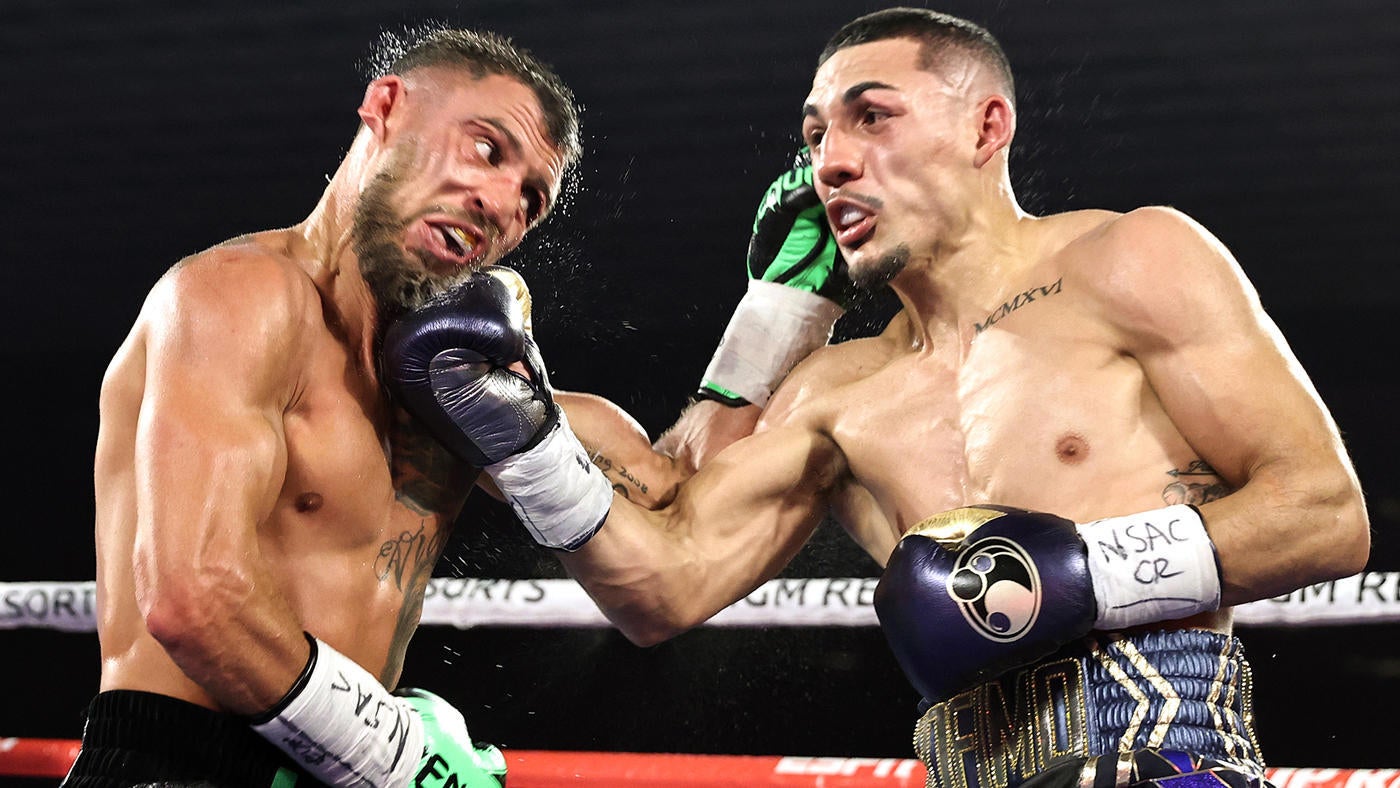 116-112, 119-109, 117-111: Lopez beats Lomachenko on points to unify lightweight titles
Billed as boxing's biggest clash since the coronavirus pandemic suspended sport worldwide seven months ago, Lopez's defiance bore fruit against Lomachenko – but there was no stoppage, no highlight reel KO, which made this victory even more commendable.
Some have raced to call it a changing of the guard, others are bemoaning the wide scorecards and in truth, this result looks a lot more dominant on paper than it was.
Lomachenko, widely regarded the sport's pound-for-pound best, didn't exactly help his case.
ESPN commentator Joe Tessitore said he was loading up for information but the Ukrainian's reserved start lasted far too long and gifted Teofimo a golden opportunity to bank early rounds while connecting with multiple body shots.
He landed 21 in the first six rounds – Lomachenko landed 20 across the whole 36 minutes.
His striking accuracy (44%) was noticeably higher than Lopez (28%), but he visibly wasn't as busy and spent large periods trying to evade shots, rather than countering with many of his own.
Statistic: Lomachenko landed just 31 shots of 80 thrown in the first seven rounds. He finished with 141-of-321.
No wonder Lopez said he expected more in the post-fight press conference. It eventually came, but barring a match-altering knockdown or late stoppage, Teofimo had a sizeable advantage to defend on the scorecards – something his dad barked between rounds.
Lopez controlled the centre early on and didn't allow Lomachenko an opportunity to get settled, while visibly gaining his respect after landing some powerful shots while keeping pace with him as he manoevured around the ring.
Loma's high guard allowed him a target to aim at, the body, which would be abandoned early in the second-half as Vasiliy finally responded.
After landing a perfectly-executed uppercut to end R6 on top, it was clear the 23-year-old was happy to continue striking at range – even though Lopez had unsettled him with punches on the inside and took advantage of his seeming naivety in the clinch.
Lomachenko rallies late but it's not enough
R8 was where Lomachenko finally had his foot on the pedal, but Lopez appeared ready to trade in the pocket with him after absorbing some damage. Being aggressive and applying pressure had allowed Vasiliy a chance to land combinations. Where was this earlier?
Lopez's level didn't exactly drop, even though he needed to be more defensive and avoid getting caught as much as he suddenly was. Stats show he was actually throwing more punches from R8 onwards, prepared to fire back at Lomachenko under pressure.
The Ukrainian had found his rhythm, Lopez traded shots with him but his hands were lowering upon occasion as the referee warned him for a low blow just before the end of R10.
For a moment, it seemed like Loma's tactic was going to work. Lopez was being made to miss more and didn't have as much time to pick his shots, against a now forward-pressing opponent who must've known he was losing on the scorecards.
He landed 19 power punches in R11, according to CompuBox statistics, and there was a feeling like this fight had exploded into one of two halves. Who would edge the 12th?
The referee urged a clean round and again warned Lopez against having to deduct a point, but even if he did, it wouldn't have mattered.
After emerging from a round of fire in the 11th, he came out in the final round like he had to win it – landing body shots, clubbing uppercuts, power punches galore. Despite an accidental clash of heads, he finished strong and it was clear he'd won by this stage.
Talk is cheap unless you can back it up. The new generation is well and truly here.
Post-fight comments as lopez looks forward, loma frustrated
Lopez discussed his grit and ability to prevail under pressure when it got significantly tougher in the later rounds:
"I had to dig deep, thankful and grateful. I couldn't do this without God, it feels good. I know he was coming, I don't know if they have him on the scorecards, I can bang too and that's what a true champion does – go out there, go and win.

You have to keep pressuring him, every time he wanted to throw something, I had a jab or something to effect his momentum. He had a 14-month layoff, I knew he was going to start slow.

This is the new generation – we're bringing back what the old school was. Fight the best and you push on it, I'm not here to pick and choose who I want to fight because I want to defend my title and keep that 0. 
Lomachenko meanwhile, was unhappy with the scorecards and spoke through a translator.
"I think in the first half of the fight, he got more rounds than I did. But then in the second half of the fight, I took it over and was much better.

I want to go home and review the fight to see, I can't comment right now much about it – but I definitely am not agreeing with the scorecards. 

At the moment, I think [I won the fight]. But the result is the result, I'm not going to argue right now." 
Top Rank promoter Bob Arum confirmed pre-fight that there's no rematch clause.
With that, Lopez is looking forward to bigger challenges – moving up in weight to potentially face the winner of Josh Taylor vs Jose Ramirez to become a two-weight undisputed champion.
Pictures' source: talkSPORT, CBS Sports