22 months since his last UFC appearance, the returning Brian Ortega (#2) made a statement of intent with a dominant showing against #4 ranked Chan Sung Jung – who was worse for wear after 25 minutes in the Octagon with the featherweight title contender. That followed Jessica Andrade marking her flyweight debut in style, starching Katlyn Chookaigan (#1) effortlessly.
50-45, 50-45, 50-45: Brian Ortega dominates The Korean Zombie in a memorable return
He sported a shaved head, having donated his long hair to a children's chemotherapy charity, but by the end of Saturday night's main event against Chan Sung Jung (#4), Ortega received plaudits for his brilliance inside the Octagon – not just the 29-year-old's generosity outside it.
This encounter was ultimately a comprehensive striking clinic, until Brian decided he wanted to mix things up and throw in some good kicks or level changing with multiple takedown attempts.
He landed more than double (129-64) the Korean Zombie's strikes over 25 minutes, completed three takedowns and two knockdowns.
After a two-year break, it was probably better to see him involved in that, rather than racing to a knockout victory. He didn't rush, showed patience and punished Chan's overeagerness nicely.
Knowing Alexander Volkanovski's durability and capability for mid-fight adjustments, that matchup against the champion certainly makes for an intriguing battle for supremacy at the top.
Korean Zombie left exposed by jabs, perfectly executed gameplan
Ortega set up the double jab well and meant business from the off. After catching a high body kick, he landed a stinging counter left hand which dropped Chan momentarily.
Rather than rush in for a finish, he stayed composed and continued landing kicks which took a visible toll on the Korean Zombie's eagerness pressing the issue as the fight continued.
R2 started better for Chan and he needed to, showing good takedown defence and connecting with a few combinations as the pair remained calculated with their striking output.
Right on cue then, he advanced forward and was met with a perfectly-executed spinning elbow – a rude awakening for the 33-year-old, who'd arguably been winning the round to that point.
He was fortunate not to have been finished right there, surviving but equally being hesistant in R3 after finding himself swimming in deep waters whenever he tried to force his way forward.
Ortega did well to keep him at distance, loading up on leg kicks and showing a level of sharpness which allowed an opportunity to mix up strikes aplenty without absorbing too much damage.
R3, he had four times the amount of total strikes landed (28-7) and as time ticked by, it was clear the Korean Zombie needed a finish. The way this fight had continued, he wasn't getting one.
R4 was Ortega's most balanced in terms of strike volume across the body (five to the head and body, seven to the legs) and although Chan was trying to close the distance, this was futile.
The referee temporarily paused the action after an accidental clash of heads drew a lot of blood just above the Zombie's eye and he couldn't help but pick at it profusely.
Ortega turns the screw in a commanding showing
After a doctor's brief assessment, he insisted he was okay to continue but the punishment just continued as Ortega caught his kicks and now began level changing effortlessly with takedowns.
R5 was Brian's busiest round with regards to striking output (35-19) but the same was apparent for the Zombie too. Sung Jung needed to go for broke and in fairness, he did just that.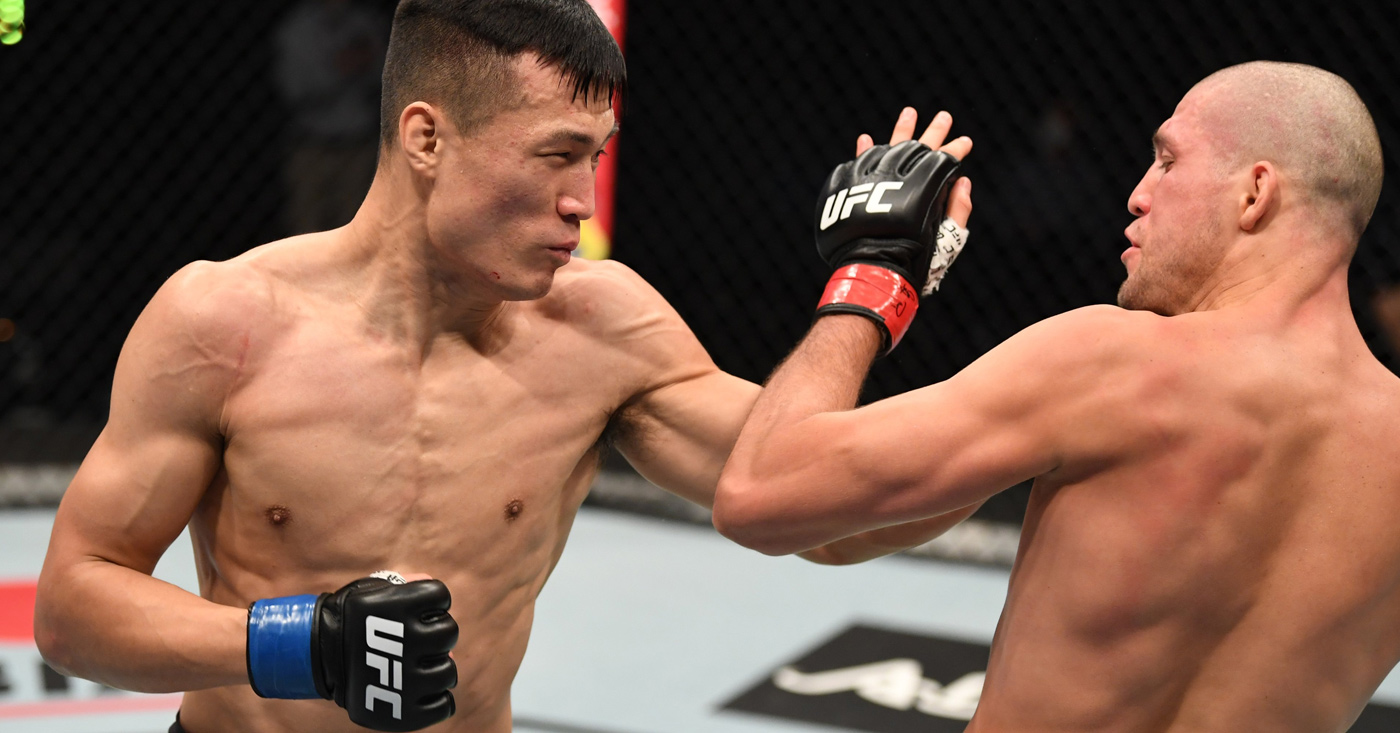 Problem? He absorbed too much damage himself and this spirited flurry came too late in a fight he found himself thoroughly second best in. Ortega connected with combos, you could hear the snap in his punches and the long layoff has helped him progress his overall game to a new level.
Statistic: Along with this victory, Ortega surpassed a career-best significant strike count (110) – he landed 127 of 212 thrown (60%) against Chan Sung Jung here. 
After his TKO defeat by former champion Max Holloway in 2018, Ortega improves to 15-1, 1 NC and post-fight was in reflective mood after an absence that has seen him grow as a fighter.
He said he did his best to mix things up, while showing everyone that he's back.
"I was counted out. You don't grow in a comfort zone. 

I understand, you leave the game for two years, you get counted out. I'm here to remind everyone – having your hand raised at this level is important, it's the number one thing. This is the first time I actually stuck to a gameplan." 
Andrade makes big statement in women's flyweight division
R1, 4:57 – Jessica Andrade defeats Kaitlyn Chookagian via TKO (body punches)
Despite having significant height and reach advantages, #1 flyweight contender Chookagian insisted pre-fight that whenever Andrade fought someone with big physical weapons, she lost.
What she didn't know, was that this would be no repeat.
Having lost the strawweight title to Zhang Weili in her first championship defence last August, she was engrossed in a Fight of the Night clash with Rose Namajunas at UFC 251 in mid-July.
In a highly-anticipated rematch, she lost via split decision – the first time she'd recorded successive defeats in her career to date. This wasn't about to be a third.
Moving up, back to flyweight, beckoned. It's clearly a weight class that she's more comfortable fighting at and can showcase her power – just ask Kaitlyn after absorbing the damage she did.
Andrade went to work early, closing the distance and applying pressure on Chookagian – swinging with a wild combo before being patient to complete a takedown against the fence.
Keeping the fight in the clinch as well as on the ground suited Andrade, but she was happy to trade shots on the feet too, landing both knees and powerful kicks which grounded Chookagian.
The Brazilian's persistence was remarkably overwhelming and although the #1 contender was clearly trying to find some rhythm, it never came.
Andrade showcased her power by slamming Chookagian to the canvas and landed a hook to the body which had the 31-year-old visibly wincing in agony once they broke from the clinch.
Like a shark stalking its prey, she could sense danger and with less than 15 seconds left in R1, Jessica raced forward before adding the exclamation mark to a deadly display.
A contested flying knee to the mid-section backed Chookagian up, before connecting with another body shot combo and wheeling away to celebrate with Kaitlyn helpless on her knees.
Statistic: With this victory, Andrade becomes the first female to win fights in three different UFC weight classes (bantamweight, strawweight and flyweight).
What's next?
Her Portuguese translator said she's looking for a potential title fight against Valentina Shevchenko (19-3) after this victory, but it'll be interesting to see what's next for her.
"It was really fun, I had a really good fight week. I used to fight at 135 and that's how I used to feel, so it felt good. The girls are bigger but I'm strong, can go in there and compete with them."
Shevchenko faces Jennifer Maia (#2) next at UFC 255 on November 21.
Assuming she's successful in her defence, the next contenders could be Andrade and Cynthia Calvillo (#3). The latter withdrew from UFC 254 after testing positive for COVID-19 on Friday.
However, both have now catapulted themselves into the title picture at 125lbs from the strawweight division. Calvillo impressed against former title challenger Jessica Eye in June.
Rest of main card
Crute blasts his way to an emphatic r1 win in lhw division
R1, 2:01 – Jimmy Crute defeats Modestas Bukauskas via KO (punches)
Modestas Bukauskas (11-3) had a four-inch reach advantage but entered this matchup as the clear underdog here. Within a few seconds, you could see why.
Crute (12-1) began as he meant to go on, standing firm but equally being unafraid to let his hands go. Bukauskas did well to stuff an early takedown, then the action was temporarily paused after he absorbed a knee to the groin.
Eager to continue and not spend much of the five minutes allowed to recover, he was greeted with a succession of leg kicks as the Australian consciously tried slowing down his movement.
He over-extended with a lunging left jab, Crute dodged it and landed an inch-perfect overhand right in the same fluid motion which dropped Bukauskas to a crumbled heap on the canvas.
As he tried to scurry back to his feet, he ate another right and then a left hook sat him down again before the referee took swift action intervening to stop the fight.
UFC president Dana White was stunned watching alongside welterweight prospect Khamzat Chimaev and Crute rightly earned a Performance of the Night ($50,000) bonus for his brilliant KO.
He discussed how having patience has helped him, before the 24-year-old made a bold callout during his post-fight Octagon interview as he targets a step up in competition going forward.
"He was hard to take down, the old me would've lost a bit of control because the first takedown didn't go according to plan.

I went back to the plan, chopped his leg up and not let him get set. I know there was a man supposed to start on this card, Nikita Krylov (#8), let's go."
Krause returns to winning ways, snaps Silva's streak
30-27, 30-27, 30-27: James Krause beats Claudio Silva via unanimous decision
Since losing his first professional fight in November 2007 via disqualification (illegal elbow), 38-year-old Brazilian welterweight Claudio Silva had gone on a 14-fight win streak, including five in the UFC – among which, features the division's #3 ranked contender Leon Edwards.
Although there are two sizeable chunks of inactivity during his career to date, he wouldn't have expected to be second best in such a way that saw his winning streak ended here.
James Krause outstruck him 96-66 over 15 minutes, had almost 30% more striking success with his shots and despite being taken down twice – both in R1 – he also defended 83% of the Brazilian's attempts to get this fight back to the mat.
Who could blame him? He didn't win many of their stand-up exchanges and although he made a concerted effort to finish with a flourish in R3, it was ultimately futile. Krause still edged the strikes landed (32-29) in their final round too.
Silva threw 54 more shots but connected at a significantly weaker rate (31% total strike success), against a man who was riding a six-fight win streak before a Fight of the Night split decision defeat by Trevin Giles at UFC 247.
Eight months later, he returned to welterweight and there was plenty to be pleased about, considering all the circumstances surrounding this victory. To make matters worse, Krause was visibly struggling with a knee injury in R3 and still got the job done through gritted teeth.
"I would have liked a finish, but given my circumstances with the 13-14 days' notice, I'll take the win over the guy that's never been beaten before.

It's just a different animal out here: the sleep schedule is really tough, you gotta be mentally strong to fight here.

I really enjoy those challenges, it's something I can look back on – there's nothing the UFC has done that I haven't been a part of."
Martinez eyeing more recognition after win vs. returning Almeida
30-27, 30-27, 30-27: Jonathan Martinez kicks off main card beating Thomas Almeida via UD
Jonathan Martinez took this fight on eight days' notice, facing someone he's personally a big fan of – Brazilian bantamweight Thomas Almeida.
This bout was contested at featherweight, a decision which favoured Martinez.
He had to surrender 30% of his purse after missing weight en route to a third-round TKO victory back in August over Frankie Saenz. 11 weeks later, he was up against an adversary in Almeida who had more than a two-year layoff to shake off during the main card's first matchup.
Unlike Ortega's triumphant Octagon return, the 29-year-old found himself stifled by a motivated opponent who showed great anticipation and defence to stuff five takedown attempts.
In addition, he outstruck him in their stand-up exchanges for large periods throughout.
Total strikes landed // Almeida-Martinez
R1: 15-21
R2: 18-24
R3: 31-28
Afterwards, Martinez hoped this latest win improves his visibility within the fight world:
"I'm a big fan of Almeida, took this fight, my coaches believed in me, so I just went in there and had to get my job done.

I feel really good, just want people to know who I am. A lot of people don't even know, I am here to make statements and climb up the rankings."
Prelim results, featuring a standout fight of the night winner
During the featured prelim of the night, there was a real entertaining scrap with two determined lightweights on show for a 15-minute battle.
Guram Kutaleladze ultimately emerged victorious with a split decision win to inflict Mateusz Gamrot's first career defeat on his UFC debut.
However, it was nonetheless a controversial decision reinforced by the fight statistics and one he didn't agree with either, making that abundantly clear during his post-fight Octagon interview.
The statistics support his passionate comments too: Gamrot outstruck him (69-43), landed more significant shots (52-37) and completed five of his 16 takedown attempts too (31%).
In R2, Kutateladze landed a knockdown in his best five-minute spell of the encounter.
Although the stats show he was mixing up his shots well across Gamrot's body, head and legs, many critics and fight fans believed it was 29-28 in the Polish fighter's favour – him included.
Both fighters were deservedly rewarded with a Fight of the Night bonus ($50,000) though, in a frenetic prelude to an intriguing main card which seemed to fly by.
Said Nurmagomedov, who shares the same surname as lightweight champion Khabib, wasted no time in the evening's first prelim clash – blasting promotional newcomer Mark Striegl with a knockout victory just 51 seconds into their bantamweight matchup.
After losing on The Korean Zombie's last UFC card last December, the 28-year-old has now improved to 14-2 and will be hoping for a quick turnaround before 2020 is over.
"More to come, I'm ready for top 10-15 and am going to show much more. I'm just going to go home to spend time with my family and then eat." 
In the light-heavyweight division, Gadzhimurad Antigulov lost to Maxim Grishin via TKO (punches) with just three seconds left of R2.
This result means the 33-year-old Russian has been defeated in each of his last four successive UFC fights, while Grishin vowed afterwards to break into the top ten sooner rather than later.
As for the women's flyweights, Gillian Robertson's ground game was crucial as she earned a gritty UD win (29-28, 29-27 x 2) against Poliana Botelho. Naturally, she wanted a finish to boot.
Although the striking percentages were fairly even, Robertson recorded almost ten minutes of ground control time and completed three of her seven attempted takedowns.
Per the UFC's stats, she landed 48 of her 57 significant strikes (84%) while on the ground. Although she didn't get the stoppage she longed for, it was certainly a commanding display.
In the middleweight division, Jun Yong Park had everything but a stoppage victory during a dominant display against John Phillips – winning 30-25 on all three judges' scorecards.
As for lightweights, Fares Ziam earned a close UD win against Jamie Mullarkey, 29-28 across all three cards – marking the Frenchman's first UFC victory, having lost on his debut last September.
Pictures' source: MMAFighting.com, Bloody Elbow