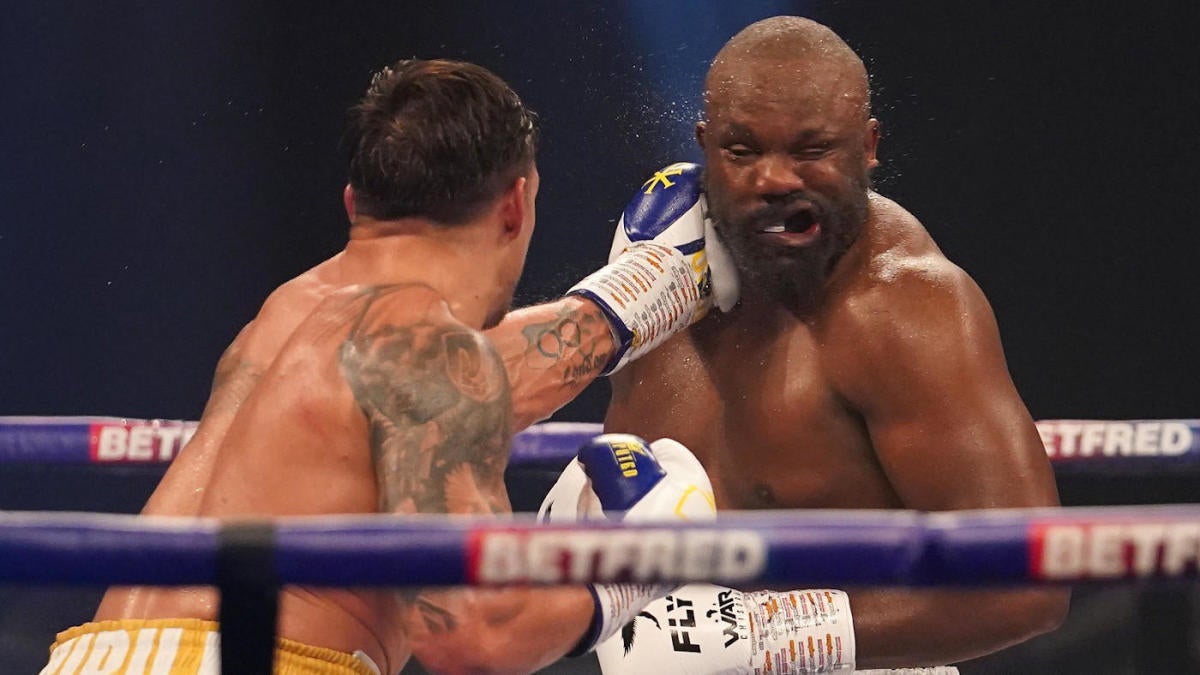 Oleksandr Usyk outpointed Derek Chisora to inflict the 37-year-old's tenth professional career defeat in an entertaining main event matchup overnight, winning the WBO intercontinental heavyweight title on a night where Sky's positive spin did little to help the British-based fighter against a far superior technical boxer who took his best punches and showcased his engine too.
USYK reigns supreme as wbo mandatory joshua watches on
117-112, 115-113, 115-113: Oleksandr Usyk defeats Derek Chisora on points 
They say the best way to judge and score fights from a neutral perspective is by muting the commentary. You didn't need to be a boxing aficionado to see how this bout unfolded.
Yet the close nature on two judges' scorecards, as well as many experts ringside, begs the question: how could they continue with such obvious positive spin towards Chisora?
Usyk's style and ability to skillfully dismantle opponents has long been an asset that's either underappreciated or not truly explained to the casual fans watching.
A natural cruiserweight, Chisora had nearly a three-stone weight advantage compared to the Ukrainian and the outspoken Zimbabwean-born Brit wanted to impose his will from R1.
That he did, with rough and tough fighting in the pocket where possible, regular clinching and visibly pushing the pace to make Usyk uncomfortable. Oleksandr was forced to be evasive.
Chisora swung and telegraphed his punches, but nonetheless made it a gruelling battle early on by dirty boxing in the clinch and charging towards Usyk in a fast-paced affair as time advanced.
In rounds three and four, you could almost sense Chisora was being lulled into a false sense of security about how the fight was going: both by his cornermen and Usyk himself.
Referee Phil Edwards ruled that Usyk's R4 stumble to the canvas was nothing more than that, as the two fighters tangled legs near the ropes, but Chisora's aggressive start had its benefits.
Usyk soaks up Chisora's purposeful start, then punishes him
In round five, Usyk did a good job consciously keeping him at range more while manoevuring across the ring as Chisora changed to a southpaw stance and was jabbing his way in close.
Every time he closed the distance though, Usyk returned fire with a few solid punches and significantly better defensive awareness – showcasing a sharp edge and better head movement.
Edwards gave Chisora a stern warning in R6 after excessive holding to the back of Usyk's head while they were in the clinch, and Usyk was visibly more comfortable by this point.
He watched as his precise movements from left-to-right and vice versa saw Chisora's wild swings regularly meet air, before swatting punches away as Dereck's early onslaught hadn't worked.
He didn't land enough body shots to tire Usyk out, nor slow down the 33-year-old's persistent movement around a fairly small ring inside the SSE Arena.
Right on cue, Chisora finally found some success deep into round seven. However, his encouraging flurries were met with even more sting and precision as Usyk finished strong.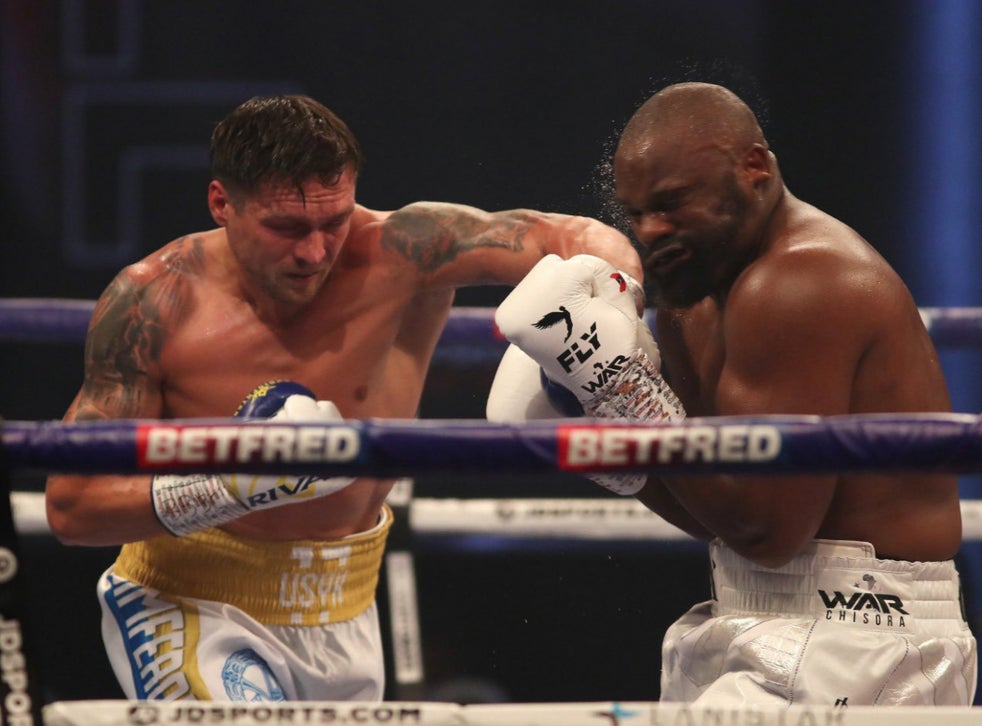 A few good body shots earned Usyk's respect, but Chisora was caught admiring his work and paid the price, absorbing multiple combos that visibly buzzed him just before the bell sounded.
Usyk took advantage as Chisora's movement slowed in R8, while his head was starting to snap back with more force whenever the Ukrainian landed combinations. Finally, he was backing up.
Or so you thought. R9 was a warning that Usyk couldn't rest on his laurels as Chisora responded with some determined combinations of his own, a few clubbing shots and more clinch work.
For me, it was the only round he won after R4. His sheer stubbornness pushed him to go the full twelve rounds, but he was still buzzed and moments of ferocity weren't sustained throughout.
Usyk landed a nice looping left hook in R10, and after exchanging in the pocket, the former cruiserweight world champion was clearly putting the finishing touches to an impressive win.
This was always going to be a war of attrition, but R11 and R12 was essentially more of the same: Chisora willing himself forward into a fire that continued burning him, thinking he'd won.
He revealed as much post-fight:
It'll only take a minute to scan the comments on that video or others besides to see what truly happened. David Haye and Tony Bellew – biased in Chisora's corner for different reasons – weren't going to say any different.
Chisora was second best and after a spirited showing in the first four rounds, outboxed by a better fighter – something many during the Sky broadcast were uncomfortable admitting.
What's next?
Chisora had sparred Alexander Povetkin earlier this year in the build-up to this fight and although questions remain over whether the Russian will repeat his victory over Dillian Whyte later this month, it'll be interesting to see where Chisora goes from here.
There won't be a market for a rematch, he was visibly gassed at times and Usyk fairly comfortable after his purposeful start faded – it was always going to – so much so that the Ukrainian probably would've preferred a late knockout, hence the 3/10 rating he gave himself.
Whyte and world champion Anthony Joshua were among the interested viewers, one ringside and another from Portugal, as they prepare for important bouts between now and Christmas.
Usyk's victory means he remains the WBO mandatory challenger for Joshua, while the former didn't mince words in his assessment of Chisora's corner.
Usyk wants to return home and continue improving, but it's fair to say Chisora – who now has ten losses – is essentially a gatekeeper in the heavyweight division. When heart and toughness are your main attributes, it's never a good sign.
Oleksandr has eyed the heavy-hitting heavyweights, though questions remain: can he manage against Tyson Fury or Joshua, both relentless and more refined than Chisora is? Time will tell.
Pictures' source: badlefthook.com, CBS Sports, Independent