#10 ranked middleweight Uriah Hall extended his win streak to three with a fourth-round TKO victory against future Hall of Famer Anderson Silva during the Brazilian's final Octagon appearance. Earlier, there were wins for Kevin Holland and Greg Hardy before featherweight Bryce Mitchell (#15) retained his position with a dominant co-main event win over Andre Fili.
Hall endures slow start before beating his hero Silva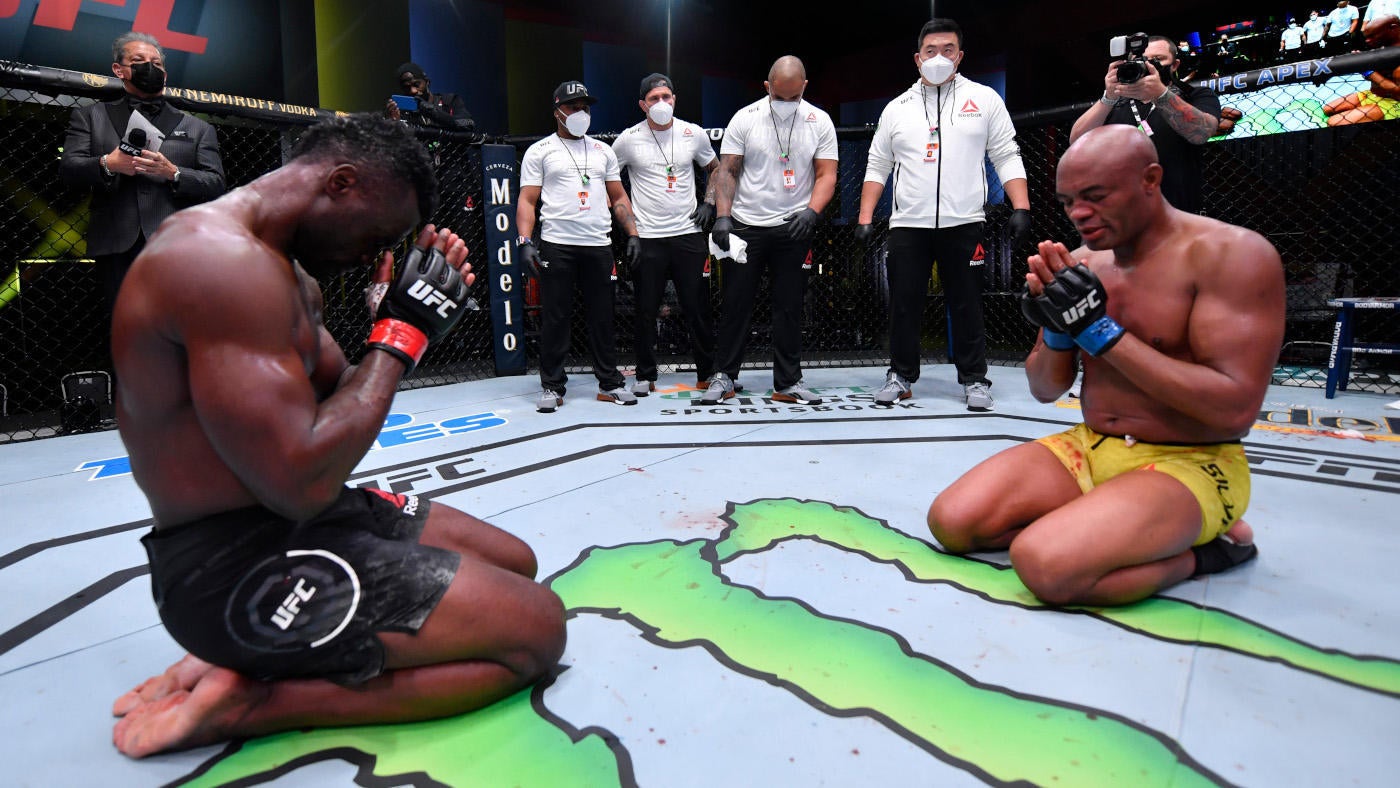 R4, 1:24 – Uriah Hall defeats Anderson Silva via TKO (punches) 
Now 36-years-old, Hall is entering the final years of his professional MMA career and understandably wants to finish with a flourish.
It's why this matchup against a legend in Silva meant even more to the Jamaican-American, who hasn't given up hope of a late surge towards middleweight title contention.
Jan Blachowicz is a prime example of persistence paying off. The new light-heavyweight champion turns 38 in three months, has one less defeat than Hall and is top of the mountain.
Silva reached those heights in 2006 and made ten consecutive title defences, but at 45, The Spider's best days have long passed him by.
He's still capable of encouraging moments, as was the case here, but father time doesn't wait for anyone – no exceptions – and Hall showed patience before earning a TKO finish here.
There was a genuine case to be made that Silva was winning the first 13 minutes or so, such was his ability to push the pace and stumble Hall with calculated strikes – throwing a mixture of leg kicks and smart punches where possible, forcing Uriah into his shell somewhat.
Hall landed a few counterpunches early on but visibly hadn't earned Silva's respect.
His corner urged him to be more aggressive and force the Brazilian into uncomfortable positions, but he continued being reactive as Silva controlled the tempo with good footwork and flurries.
R3 was where things changed. Both corners implored for their fighters to engage in more activity, understandable considering they'd landed just 58 strikes between them in the first ten minutes.
Silva landed some damage with a flurry of punches in the pocket which hurt Hall directly in his eyes. He looked at referee Herb Dean, who stressed it was just a knuckle and not a fingerpoke.
That appeared to be the impetus Uriah needed to pick up the pace, knowing that Silva was probably ahead on the scorecards and seemingly cruising to a UD victory unless he responded.
He certainly did. He connected with an overhand right to score a knockdown late in the round and Silva's limited defensive awareness there was startling. Hall was dangerously close to ending the fight with hammer fists on the ground, though the Spider was promptly saved by the bell.
It was a frantic finish to R3, where Silva was winning – up until he wasn't. As a neutral, this was the intensity you wanted to see throughout, rather than in flashes, and Hall continued that in R4.
Hall began letting his hands go and earned more counter-punching success, as Silva's over-aggressiveness left himself wide open before Hall landed a punch-perfect second knockdown.
After he threw a few more unanswered punches, Dean stepped in. Uriah improves to 16-9, enjoying his first three-fight win streak for five years and had plenty to say afterwards.
"I can't really describe it, I have so many emotions. Hats off to the legend, it goes back to me eight years ago, watching him on the roof hoping to one day train with him; the job was to get the W but that was work in itself.

To me, that was my championship round but I want Izzy. If the UFC want to give me someone they think will beat me, that's not a problem. My goals are set, to be the champion." 
Silva (34-11, 1 NC) meanwhile, remained coy when talking to former opponent Michael Bisping as to whether he'd continue fighting – even though this was his final UFC fight.
"I feel… a fight is a fight, it's 50-50 and today Uriah was the best. Sometimes it's very difficult for us [as fighters] to stop but today is the final day, I'm enjoying the moment.

I'm going to see with my team because it's tough to say my last [fight] because this is my air, it's what I've done for my entire life. I have so many memories, from me and you, to a lot. Every single opponent I've fought in the UFC." 
---
Mitchell retains top 15 spot with impressive showing against Fili
29-28, 30-27, 30-27: Bryce Mitchell beats Andre Fili via unanimous decision
In the night's co-main event, #15 ranked featherweight Bryce Mitchell retained his place in the top 15 with an assertive display against Andre Fili, staying perfect at 14-0 and 4-0 in the UFC.
The picture above was perhaps deceptive, as the bulk of Mitchell's best work was on the ground where he established himself quickly after an early leg sweep resulted in his first takedown.
It proved the first of many for the 26-year-old, who landed some good strikes in top position and controlled Fili, despite the latter's ability to recover and return to the feet on multiple occasions.
That was especially evident at the end of R1, where he avoided a triangle choke submission after absorbing some nasty ground-and-pound strikes. However, the takedowns kept coming.
Mitchell's counterpunching helped him complete a third takedown, tying his personal best after just five minutes.
Fili appeared a step slow in their stand-up exchanges and consciously needed to improve in R2 which, in fairness, he did. It was more competitive in that round, but he still probably lost it.
Mitchell earned three more takedowns in the final five minutes, adding the exclamation mark to a dominant performance which is perhaps more satisfying than a flash knockout for him.
"I believe I'm the first guy to dominate Fili. He's been beaten, KO'd, submitted. I could not do that to him, but he didn't win any of the rounds – he did a bit of damage, it was a really tough fight and a learning experience for me." 
Mitchell-Fili total strike count per round:
R1: 28-8 // 15-3 sig strikes
R2: 26-20 // 18-19 sig
R3: 46-23 // 13-5 sig
Greg Hardy flattens Maurice Greene in two rounds
R2, 1:12 – Greg Hardy defeats Maurice Greene via TKO (punches) 
Despite an initial scare that Hardy would be the first heavyweight to miss the 265lb limit on Friday, the 32-year-old former NFL defensive end returned an hour later on weight.
Perhaps it shouldn't be surprising then, that he went on to deliver a striking onslaught against Greene – who wasn't allowed any opportunity for respite during an early evening's work.
Greene threw a kick but appeared to injure his foot and Hardy duly pounced, landing a bruising one-punch knockdown, taking the fight to the ground.
To his credit, Greene absorbed damage aplenty before recovering as the fight returned to the feet, though Hardy began chopping him down with leg kicks.
There was no questioning who won that round, but there was more of the same by Hardy into R2 as he landed another one-punch knockdown. This time, Greene couldn't survive.
More vicious ground-and-pound strikes landed before ref Dean stopped the action, a finish that certainly pleased the heavy-handed puncher.
"Having control of my mental game makes my athletic game so much more dangerous. Now that I have a coach to focus on me individually, I'm starting to unlock more weapons that I didn't have before. I'm unlocking things that allow me to finish people and put me in a position to win."
Holland's impressive 2020 continues, with 4th win post-lockdown
R1, 2:39 – Kevin Holland defeats Charlie Ontiveros via TKO (submission to slam) 
Charlie Ontiveros, making his UFC debut on short notice against one of the promotion's most active fighters, was given a rude welcome despite an encouraging display in the early moments.
He landed a spinning strike and axe kick to assert his early sharpness, but was rendered defenceless little more than two minutes afterwards by a relentless Kevin Holland.
Holland completed a takedown and was visibly targeting a submission victory, controlling Ontiveros on the ground while continuing to land clubbing strikes across his body.
Despite getting back to his feet, it was only momentarily for Ontiveros – subsequently rag dolled back to the ground and landed awkwardly.
The referee quickly stepped in to stop the fight, though replays showed there was no submission or move in place, so this was a verbal tap.
No wonder the middleweight, who turns 28 next week, earned a Performance of the Night bonus for his troubles. This was both efficient (33 of 34 strikes landed) and quick for good measure.
He directed some words towards divisional champ Adesanya, watching ringside, before calling out a potential fight against the braggadocious Mike Perry next during his post-fight interview.
Debatable decision win for Moises against gamely Green
29-28, 29-28, 29-28: Thiago Moises defeats Bobby Green via UD
After a gritty 15-minute contest, Thiago Moisés earned his first two-fight win streak in the UFC – but it was an affair that many felt could've gone either way, given the overall striking statistics.
Having submitted Michael Johnson with an Achilles lock in May, the 25-year-old Brazilian kicked off the main card with a narrow decision victory – all three judges had him winning 29-28.
R1 was a back-and-forth spectacle, which could've gone either way. Green displayed some showmanship and lowered his hands but was getting caught as both connected with punches.
Green did well in R2 to escape a dangerous submission manoevure after a heel hook, which saw Moises visibly tire after his strenuous efforts to finish the fight on the ground.
That tiredness was punished by Green, who outstruck him 33-14 in R2. Both corners urged intensity with the scorecards level after ten minutes – though Green was visibly wearing damage.
Moises landed some good jabs and counter-punches, before they grappled near the fence to finish what was a tense, unpredictable lightweight clash.
Green-Moises total strike count per round:
R1: 26-13 // 26-13 sig strikes
R2: 33-14 // 29-14 sig
R3: 35-16 // 30-15 sig
Moises is eager to keep improving into the new year, and had this to say afterwards:
"I want to fight as soon as possible, after recovering from this fight. In 2021, I want to stay active – at least four fights a year. I feel great after such a big win, I'm ready for the top 15 in the division. 

Cerrone is #15 and I'd like to fight him, he's a legend and it'd be an honour. Alexander Hernandez just won today and that too, would be a good fight.

I have more confidence now, still have a lot to improve and am going to keep getting better. I think this proved I'm going to be a contender soon." 
Prelims, packed with impressive finishes
During a six-fight prelim slate, there were five furious finishes.
That included a return to winning ways for lightweight Alexander Hernandez after his humbling defeat by Drew Dober during the UFC's second card post-lockdown.
In his first fight since a Performance of the Night bonus against Joe Lauzon at UFC 223 in April 2018, 34-year-old Chris Gruetzemacher suffered the fourth defeat of his professional career.
Hernandez completed a number of encouraging early punch combos, looked sharp and it felt like only a matter of time as he mixed up strikes – a head kick and a lead left hook. Then, connected with six punches in a ferocious flurry with Gruetzemacher crashing to the mat.
Elsewhere, Adrian Yanez continued where he left off on Dana White's Contender Series in August with another first-round finish. He won with a beautiful head kick KO against fellow debutant Victor Rodriguez, marking his UFC debut with aplomb in a competitive bantamweight division.
In a catchweight bout at 187.5lbs, Sean Strickland made his return after a two-year layoff and finished 2020 with a flourish – beating Jack Marshman 30-27 on all three judges' scorecards.
He'll be hoping for more activity in the coming months as he eyes a place in the top-15 of a stacked welterweight division.
Both Strickland and Jason Witt prevailed in their catchweight bouts, the latter at 175.5lbs after Cole Williams missed weight. He didn't need 15 minutes though, inflicting damage aplenty before earning a R2 sub win via arm-triangle choke – meaning Williams is now 0-2 in the UFC.
In the light-heavyweight division, Dustin Jacoby wasted no time with a TKO win (leg kicks and punches) against Justin Ledel. Just like Yanez later on the card, Jacoby's DWCS success helped him to a memorable debut victory on a card with plenty of intrigued viewers watching on.
To open the card, Miles Johns – who beat Yanez via split decision two years ago – improved to 11-1 with a R3 knockout punch against Kevin Natividad.
Picture source: Bloody Elbow, Cageside Press, CBS Sports, MMAJunkie