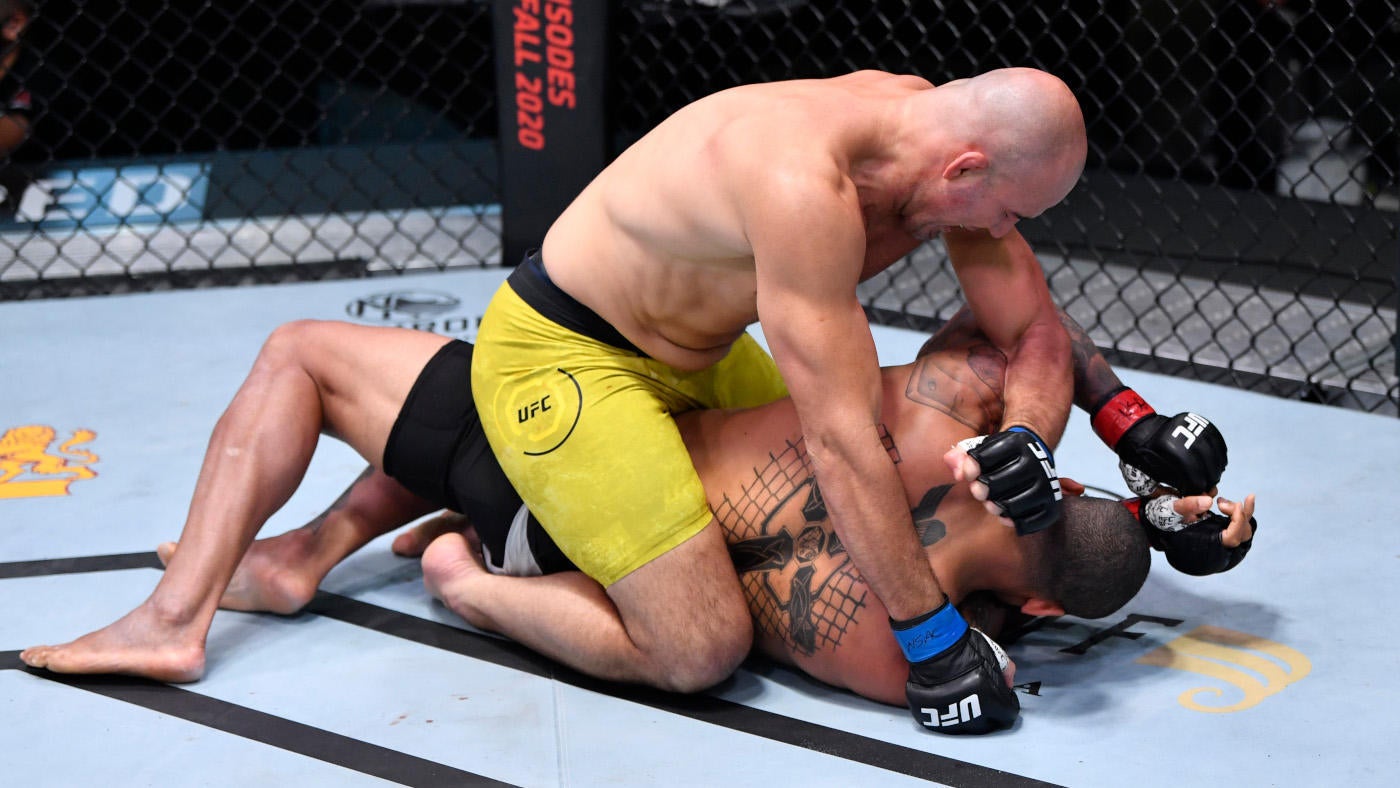 Glover Teixeira (#3) survived two knockdowns to earn a big win over compatriot, #1 light-heavyweight contender Thiago Santos in a back-and-forth main event. Beforehand, there were impressive victories for Giga Chikadze and Raoni Barcelos among others, while strawweight Yan Xiaonan (#8) proved her mettle with a disciplined showing against Claudia Gadelha (#4).
Teixeira earns comeback win, calls for title shot next
R3, 1:49 – Glover Teixeira defeats Thiago Santos via submission (rear-naked choke)
In an all-Brazilian clash, it was always going to be interesting to see how pre-fight favourite Santos fared on his return after a 16-month layoff following injury and COVID-19 rescheduling.
Beforehand, the 36-year-old said: "Once that Octagon door closes, I'm going to give Teixeira the worst night of his life. I have the explosion of a middleweight and hit like a heavyweight."
In fairness, it wasn't a nice outing for Teixeira here but judging by his post-fight interview immediately afterwards, he was prepared for a war.
He was wobbled by an early punch combo and Santos could be forgiven for expecting an early night's work as he saw Glover's head snap back with every strike connecting cleanly.
Surviving those dangerous moments is key though and although he was coming forward, Teixeira scrambled before securing a takedown near the cage having been knocked down.
If that wasn't enough, he transitioned from a body lock into top position and suddenly found himself winning the round – landing a succession of hammer fists and persistent ground strikes.
You only have to look at his previous fight against Anthony Smith to understand just how good Glover's ground-and-pound ability is. He suffocated Santos against the fence with pressure and this continued into R2, commanding the fight in top position after getting it back to the ground.
His ground game saw Santos saved by the horn as Teixeira locked in a guillotine choke late in R2, but R3 featured another unpredictable round where either man could have easily finished things.
Santos defended an early takedown, before reflexively lifting his left knee and landing a left hook which dropped Teixeira down a second time. Suddenly, he was now in top position.
He landed some nasty elbows of his own, just minutes after nearly being choked out – but you could sense there was another twist coming as Glover sensed fatigue and reversed position.
After landing more punches in top position, he grabbed Santos' back and returned to the move which almost earned a R2 finish – guillotine choke. This time, there was no horn to save Marreta.
Teixeira emerged through the fire in a wild main event, before stressing his eagerness for Dana White to book him – not Adesanya – against face new champion Jan Blachowicz next.
"Thiago's nickname is Sledgehammer, I'm telling you every punch he threw, it was like a sledgehammer. I don't know, I might have a broken bone in my face right now. It was amazing to fight him… I'd like to thank my coaches.

I wasn't out [the second knockdown], I saw everything but his ground and pound was aggressive, I recovered and knew I would finish him because he was tired. Dana White, come on man, I'm an old man over here. You're gonna give the shot to Adesanya and make me wait? Give me that title shot." 
Statistic: With that victory, Teixeira now has the second-most wins in light-heavyweight history with Ryan Bader (15). He's also tied for the longest active win streak across the division with #11 ranked Magomed Ankalaev (5) and has the most finishes in LHW history (12).
It's hard to argue against him getting a second crack at the title, six-and-a-half years after losing via UD to Jon Jones. Speaking of…
Arlovski stifles Boser hype in slow-burning co-main event
29-28, 29-28, 29-28: Andrei Arlovski defeats Tanner Boser via unanimous decision
After two wins in quick succession against Philipe Lins and Raphael Pessoa since the UFC returned post-lockdown, Tanner Boser was angling for a big fight. He got one in former champion Andrei Arlovski, but ultimately came up short in a disappointing co-main event.
Arlovski, 41, was an underdog here as plenty of hype surrounded Boser after the way he racked up successive knockout victories. Ultimately, experience proved key for the future Hall of Famer.
Boser loaded up on low leg kicks early while Arlovski was noticeably hesitant to avoid getting caught, despite throwing a few feints and keeping the Canadian on his toes.
As was the case in all three rounds, Arlovski finished strong – landing a big right-hand to finish the first, with both counter-strikers finding it difficult to unload with frequency.
You could see Arlovski quickly earned Boser's respect with his punch power, though it was frustrating that Tanner struggled to jab his way into creating more offense.
He continued kicking but couldn't utilise centre ring, as Arlovski intensified his attacks when the round was ending: landing a spinning backfist as Boser tried and failed to close the distance.
Arlovski landed a looping counter right-hand and charged Boser with a punch flurry which backed him up against the fence, but didn't take a risk by going for the kill. It didn't matter.
Although all three judges scored different rounds for the pair, they all came to the same conclusion: 29-28, in favour of a seasoned veteran in Arlovski.
He's now won three of his last four fights and only six men have more UFC wins than his 19.
"It was a great camp, my coaches pushed me hard so I'm very happy. I'm sticking to the gameplan, coach is happy and I am too. I want to prove that old school guys are still cool and very good." 
Barcelos with an excellent display in entertaining scrap vs. taha
30-27, 30-27, 30-27: Raoni Barcelos beats Khalid Tana via unanimous decision
On his main card debut, experienced bantamweight Barcelos was an overwhelming pre-fight favourite against Tana. You could tell why within the first few minutes after a forceful start by the Brazilian, who immediately went to work and pushedTaha into multiple precarious situations.
As was the case through their 15-minute scrap though, Taha showed great spirit and determination to fight back – whether he was being set up for a guillotine choke, or having to absorb a punch combination near the fence when it looked like a stoppage was on the cards.
He reversed two submission attempts but failure to check Barcelos' leg kicks proved troublesome as the Dortmund-born Lebanese fighter was being wobbled upon occasion.
There was more to come in R2, as Barcelos did well to mix up his strikes with flying knees, leg kicks and punch combinations. Taha responded well without really landing much of his own by comparison, though a pause in the action allowed him to recover after an accidental groin strike.
Barcelos connected with a big knee to the face and seemed seconds away from finishing the fight, before referee Jason Herzog signalled the end of an unpredictable second round.
Taha didn't adjust as those leg kicks continued. Despite managing to escape bottom position with another reversal as they returned to the feet, the 28-year-old needed a late knockout which ultimately never came as the pair stood firm and exchanged strikes until the horn sounded.
Barcelos' ability to mix up his striking was the x factor here, as he landed a career-high significant strike count (58% success) and although Taha's durability and capability to match him at times was admirable, the Brazilian didn't allow him an opportunity to win any of their three rounds.
Chikadze kicks his way to an early night's work, 4-0 in 2020
R1, 3:51 – Giga Chikadze defeats Jamey Simmons via TKO (head kick, punches)
After three successive decision wins in 2020, featherweight Giga Chikadze earned his first UFC finish with a Performance of the Night bonus too vs. promotional newcomer Jamey Simmons.
Simmons had significant height and reach disadvantages against Chikadze, so was carefully trying to ease his way into proceedings but came up short every time.
Whether he pushed grappling exchanges, tried to land combinations or close the distance, he was always met with a powerful presence in Chikadze – who did well to set up his kicks.
Having landed a body kick which hurt the debutant, he saw him drop his hands and duly pounced with a head kick that signalled the end of a measured but impressive night's work.
Referee Herb Dean stopped the contest after Simmons absorbed unanswered damage on the ground with some vicious ground-and-pound, before the Georgian wheeled away to celebrate.
He's not finished in 2020 either, by the looks of things and is eyeing a ranked opponent to finish strong next month:
"I've been waiting for this for a long, long time. I'm enjoying the moment, happy to be here. I know one guy just won his fourth fight [Kevin Holland] and is getting a main event, I want a co-main or a main event.

December is a great idea, I know three Georgians are fighting on that card… one week ago, [UFC matchmaker] Sean Shelby called me for Arnold Allen, he pulled out, maybe Jeremy Stephens is the man to step in-front of me." 
Xiaonan earns statement win over #4 ranked strawweight Gadelha
29-28, 29-28, 29-28: Yan Xiaonan defeats Claudia Gadelha via unanimous decision
Since blasting former title challenger Karolina Kowalkiewicz in February, there was a sense Yan Xiaonan had been earmarked for an all-Chinese clash against current champion Zhang Weili.
The 31-year-old's prospects are serious: delivering an accomplished display against #4 ranked strawweight contender Claudia Gadelha, en route to a gritty decision win to start the main card.
She entered this contest as a slight favourite against the Brazilian, who many critics believed was fortunate to emerge unscathed in a split decision win over Angela Hill in May.
The main criticism surrounded her inability to close out victory with much conviction and in truth, that was again the same story here – albeit different circumstances.
After a furious start by both, Gadelha secured an early body lock and grappled Xiaonan against the cage. Yan defended the leg trip well while refusing to fold under pressure, so much so that despite being taken down again before R1 ended, she continued inflicting damage on Claudia from bottom position with nasty-looking hammer fists after a succession of knees to the body.
Yan used her jab to good effect, keeping Gadelha at distance while countering well whenever the Brazilian lunged forwards. Visibly quicker in their stand-up exchanges, Claudia's workrate wasn't as busy nor effective and that notion became more pronounced as time wore on too.
Gadelha closed the distance early in R3 but Yan reverted back to type: landing strikes to make her uncomfortable and consciously deviate from what was an ineffective gameplan.
Her takedown defence was excellent – stuffing eight attempts in 15 minutes – while controlling the fight's tempo as Gadelha tried to mask increasing fatigue from persistent attempts to take things to the ground. In truth, she made Gadelha's striking look ordinary and there could be no arguments against the decision win, even after a purposeful start by the former title challenger.
Gadelha had almost seven minutes of control time, though Yan landed double her significant strikes (74-36) and was far more active over the three rounds.
Statistic: Xiaonan now has the longest active win streak in the strawweight division (6). Her only career loss to date, was way back in September 2010 – a R1 rear-naked choke by Karina Hallinan.
Prelim results as trevin giles headlines five contrasting finishes
Trevin Giles improved to 13-2 with an excellent performance against Bevon Lewis in a fight expected to be a closely-contested one, but proved anything but.
The 28-year-old, who hit headlines after fainting just before his scheduled bout with Kevin Holland in August, made a successful return and earned a third-round TKO victory to boot.
Lewis, three inches taller and with a six-inch reach advantage over him, was expected to make this contest a more gritty, difficult one than it actually turned out. Giles' hand speed and ability to visibly hurt him in the pocket, while showcasing his boxing skills, proved persistent.
Lewis did his best to counter but the speed difference was stark and only worsened as the clock continued, namely because he failed to throw regular combos – instead just one strike at a time.
After a passionate intervention from his brother in the corner between R2 and R3, you quietly had hope Lewis would finish strong to avoid a defeat via decision.
Instead, having been knocked down late in R1 with a jab, he succumbed to an emphatic stoppage loss as Giles increased the pressure before boxing him into submission near the cage.
"I expected him to be a little faster, he couldn't deal with my speed. I believe my jab is the fastest in the UFC, I work on it a lot and yeah… I like to finish, knew he was slowing down but my hand speed wasn't!" 
In the heavyweight division, Alexandr Romanov earned a first-round submission win (forearm choke) over Marcos Rogerio de Lima. The result means the Brazilian's W-L record since beating Igor Pokrajac in December 2014 now stands at 4-5, in what has been a stop-start UFC spell.
Luiz Eduardo Garagorri made his return after a year-long absence, but has now lost two professional fights in a row, losing via a R3 rear-naked choke to Darren Elkins – another submission loss after Ricardo Ramos beat him on the Blachowicz-Souza card last November.
In the welterweight division, Max Griffin (16-8) snapped a two-fight losing streak with a third-round TKO (doctor stoppage) finish against promotional newcomer Ramiz Brahimaj (8-3).
Since suffering a ground-and-pound defeat by #3 ranked contender Colby Covington four years ago, the 34-year-old is now 4-5 in the UFC after multiple split and unanimous decision losses.
To kick off the card at bantamweight, Gustavo Lopez earned his first UFC win – having lost via UD to Merab Dvalishvili back in June. He raced to a R1 rear-naked choke finish against Anthony Birchak, who made an unsuccessful promotional return after a three-year absence.
Pictures' source: Cageside Press, CBS Sports, MMAJunkie