With the new 2020-21 season set to start on December 22, I spoke to LA Clippers fan and NBA expert Jack Brown after a whirlwind finish to the previous campaign from the Orlando bubble – discussing topics including: free agency options, various head coaching moves and more too.
Plenty has happened since I last did one of these pieces – July 30 to be exact – with multiple storylines and questions emerging after an eventful return to play concluded in mid-October.
So, I had a chat with LA Clippers expert Jack Brown, getting his thoughts after a delayed finish to an unprecedented campaign ended with the Lakers winning their first championship since 2010.
With the Tokyo Olympics being moved to next summer, the NBPA tentatively agreed a 72-game regular season to start in late December. Players will thus still be able to compete for their nations.
---
Big questions ahead for Giannis' long-term future
Mosope: Pretend you're Giannis. Still thinking hard about your long-term future, especially after the manner of that defeat by Miami in September. Milwaukee approach you and ask, salary and realism permitting, you have one player in mind for them to trade for this offseason. Who is it?
Jack: If I'm in his shoes, I'm leaving. If forced to pick, I'd go with CP3 but also add Bradley Beal to the discussion too. I feel like an experienced point guard would do wonders going forward.
MO: Yeah, I think either option makes sense for different reasons – I'm more comfortable with Beal taking shots than Middleton/Bledsoe et al and Chris Paul's experience speaks for itself.
Why would you [Giannis] leave?
JB: Three reasons. Milwaukee is a smaller market and thus, less likely to attract top free agents long-term. The front office's lack of ambition is clear – it could change – but when you have a franchise maxing Middleton, you have to wonder.
And lastly, I don't think he can be the best player on a championship-winning team yet. For him to have a teammate better than him, he needs to leave.
MO: Fair enough, so like what AD did when joining LeBron last year? Those first two points aren't wrong either, in my opinion!
JB: Exactly that. I just.. He's great but can't shoot and I doubt he ever will be able to. He's probably going to be the best second option of all-time, ala Steph Curry when with KD. Add to that the fact KD and Kyrie are in the East now? That's already a better duo than his Bucks team.
MO: Ouch. I mean he's continued trying to improve his shooting but yeah, it's just not at the level it needs to be as a first option – contrast with Miami when Jimmy Butler had to step up in the postseason, you can't even compare them.
VanVleet's contract dilemma: re-up in Toronto or go elsewhere?
Let's talk about Fred VanVleet. He can get paid this summer elsewhere… does he stay in Toronto?
JB: I think they move Kyle Lowry and pay Fred the big bucks. If Kyle does stay, I think he might go somewhere else yeah, plenty of other teams would pay him. A desperate team would definitely panic buy, like the New York Knicks for example.
MO: In that case, where do you think Kyle would go? Am I being naive in thinking they'd ask him where he'd want to be traded – like a gentleman's agreement – i.e. Russ with OKC last summer?
JB: I actually think a good place for him would be the Clippers. They need a point-guard and although I don't personally want him, it wouldn't be that surprising in the short-term.
MO: Naturally I think he'd want to go to a contender, probably be nicer for Toronto if it was out West, seeing just how close they were to another Finals run in Orlando.
What would you say is the Clippers' plan? Potential sign-and-trade deals with Montrezl Harrel and Marcus Morris or retain them, JaMychal Green could opt out of his $5m player option and get a pay raise.
JB: They should definitely keep JaMychal, he was solid! I'd move Morris and keep Trez, probably trade Lou Williams though.
MO: Interesting. Where would they go? I'm not convinced many contenders would want either at their asking prices, believe it or not, after what's happened in recent months.
JB: I could see Lou on a rebuilding team, I think their stock is still fairly decent. Denver could do with an upgrade on Paul Millsap, who won't be making $30m money again next year.
MO: Hmmm, maybe. I'm just not sure they would be prepared to pay that much for either Morris ($15m last year) or Williams ($8m projected next year) but guess we'll have to see.
Pelicans hoping for progression under new management
How confident are you in the Pelicans' progression – both short and long-term – after appointing Stan Van Gundy as their new head coach?
JB: If they don't trade Lonzo, they're not making the playoffs for me. Especially with Golden State coming back. I do like the Stan hiring, as he's historically good with big men and able to put them in a good offensive system.
MO: I think you're being harsh on Lonzo, but let's say they trade him, who are they getting to replace him – presuming Jrue leaves too?
It's only been a year since he was traded there, don't forget, plus he had a great stretch just before the coronavirus shutdown… I'd be surprised if they cut their losses so early with him.
JB: Use Brandon Ingram and Zion Williamson as the offensive one-two punch. They need a scoring point-guard, not a pass first guy! Derrick Rose perhaps.
JRUE HOLIDAY'S FUTURE, OLADIPO AND WILL MIAMI SURPRISE US AGAIN?
MO: There's clearly no budging with you there! What's next for Oladipo, where should he go?
JB: I think he's a bit over-rated but should definitely leave Indiana. They're a dead end franchise. Miami Heat perhaps, needs better coaching to truly solidify himself as a great player.
MO: I'm not convinced Miami need him anymore after what they did in the playoffs. Anywhere else you could see him going, as far as contenders are concerned?
JB: I don't know actually, might be a stretch but maybe the Bucks?
MO: Funny you say that, I was listening to a podcast last week and it seems like there may be some interest there but post-injury, many are unconvinced whether he can return to an All-Star level again. If not, another expensive player they can't really afford having let Brogdon go…
Speaking of Miami, will they surprise us? Dragic/Crowder could return on one-year deals, holding out on the Bam Adebayo extension until next year while maintaining next summer's cap space?
JB: They should definitely retain Goran but Crowder is awful, I would move him and extend Bam as soon as they can – he's a beast!
MO: I think they might wait another year before giving Bam max money, issue with Crowder is more who they can acquire for cheaper that's an immediate improvement but yeah, he's poor.
Jrue Holiday is (again) being linked with the exit door in NOLA… it's unsurprising but where should he go? What makes the most sense?
JB: I'm sorry but literally anyone is better than Jae. He's been traded so many times – twice last season alone – and I'd say the Clippers is a good fit for Jrue in my opinion.
MO: Kawhi-PG-Jrue, would that work? Obviously he adds defence and shooting but I'm just not convinced as I may have been two years ago about the same trio. If he's traded, he'll go to a contender – he wants to win now.
JB: I think that's a good fit, yeah. We desperately need a point guard and someone to run the sets. Like you said, we keep the defence too.
Staying in the East, Atlanta and a Daryl Morey-infused Philadelphia
MO: It'll be a case of watching how it unfolds on court, rather than marvelling at it on paper. Defensively they are poor, but do you think Atlanta will improve long-term into a true playoff contender or will Trae Young have to leave in future before going deep in the postseason?
JB: I think the Hawks are on the up, actually. They are well coached and super fun to watch. Trae is a transcendent talent, while the defence will improve.
MO: What do they do with John Collins? They're reportedly reluctant to give him a max contract, which he's eligible for soon…
On his future, Collins was quoted as saying:

When we're talking max numbers and money, I feel like I definitely (am in) the conversation to have earned that money with the Hawks specifically, but obviously I know there's a business and we don't always get exactly what we want… But I want to be a Hawk, I want to stay with the Hawks."
JB: He's quality. The perfect teammate for Trae – the Blake to CP3.
MO: Do you pay him like Boston did Jaylen Brown last summer then? And, what do they need to make themselves a postseason team?
JB: Yeah, I would. Great size and his shooting continues to improve. Better defensive wings! Like Wesley Matthews and Al-Farouq Aminu, someone solid and strong.
MO: Fair enough. They still have a year to decide anyway, so the ball is in their court.
What are your initial thoughts on Daryl Morey joining Philly? I've heard he's among the top three GMs leaguewide, so what does this move mean on a wider scale?
JB: Knowing what he's like, he'll make a big trade if next season doesn't work. Ben Simmons will probably be moved for a three-point shooting guard – I do think they will change their style, modernising the offense. Doc Rivers as head coach though, is a backwards step.
MO: Would you say he'd be justified in making a big trade now instead? They have so much deadwood and trade assets, while he clearly likes Joel Embiid…
JB: I would yeah, Al Horford is the worst fit I've ever seen and Tobias Harris is mediocre but earning max money for the next four years! Just surround Ben and Joel with shooters.
MO: Shouldn't have let JJ Redick nor Jimmy go..
JB: I agree, I can't believe Brett Brown told the team to trade Jimmy. Ridiculous decision.
In Stephen Silas, are Houston making the right hc decision?
MO: Why do I get the feeling that, amid this optimism, Houston are missing the boat by appointing Stephen Silas – an offensive coach in Dallas – for a side that have struggled defensively in the postseason? Have they missed their championship-winning window?
JB: Their defence was good! It was the offence which needed work and to ultimately move on from their infatuation with taking as many threes as possible per game. If they're lucky, I'd say they have two years at most left to win a ring.
MO: Yeah, it was decent at times, but they made hard work of it when they didn't need to – just look at the OKC series – should've never been that close. Harden's game, as good as it is, feels too one-dimensional to be successful in the postseason.
JB: It's not one-dimensional, it's the coach. He's a good driver and playmaker but Mike D'Antoni just wanted threes.
MO: It feels like it is. He never moves off-ball, great driver/playmaker sure but he doesn't do enough when it matters most.
JB: That's fair. It does never seem to click when it should.
MO: From the eight head coaching changes that have happened since we last spoke, which one stands out most to you?
Head coaching moves in full
Chicago Bulls: Jim Boylen > Billy Donovan
New Orleans Pelicans: Alvin Gentry > Stan van Gundy
Philadelphia 76ers: Brett Brown > Doc Rivers
Indiana Pacers: Nate McMillan > Nate Bjorkgren
Brooklyn Nets: Steve Nash announced in September
Oklahoma City Thunder: Donovan refused extension, replacement TBC
Houston Rockets: Mike D'Antoni > Stephen Silas
Los Angeles Clippers: Doc Rivers > Tyronn Lue
bold finals predictions made as nash joins kd-kyrie in brooklyn
JB: Well, I think the biggest difference is going to be the Clippers – biased I know – but the most interesting appointment is Steve Nash. No-one expected it, he's a first-time coach but an offensive genius with KD and Kyrie on his roster: they could blow teams away.
MO: I've heard a lot of chatter about the KD-Kyrie combo and although I understand the enthusiasm, I think it's wise to dial back a bit…
We know how ball-dominant Kyrie is, and KD won't have played a game for 18 months or more by the time he returns. With that in mind, how do you think they'll do next season?
JB: You know what? I'll look like an idiot but I'm going to go for it. They're making the Finals this coming season. Great role players across all positions too, why not?
MO: I'd like to be proven wrong but I think Kyrie's already peaked and KD? Who knows how he is, coming off that big injury. Caris LeVert earned his big extension, I like Joe Harris but…
JB: Don't forget Jarrett Allen. They have a quality team, Nash is a genius.
MO: I'm hearing Harris will make money though, might have to leave in the current climate…
JB: That would be a real loss, he's a perfect role player – like Duncan Robinson. Every team needs a catch-and-shoot guy.
MO: It'll definitely be interesting to see how Nash does. So… Brooklyn Nets in the NBA Finals from the East. You backing a Lakers repeat then?
JB: It's definitely worth watching. They are going to be the Clippers of this season in terms of media attention… and no, the Clippers this year.
MO: I shouldn't be surprised but why do you say that? What will change?
JB: The coaching staff is completely different – it was a big problem – and now, we'll be out for blood. No bubble either.
MO: I'm not convinced about that. After what I've seen, I'm not going to bet against LeBron-AD but I'd like to be wrong on this one.
JB: It's not even that, I just think something bad will happen to them this time, maybe an injury or perhaps just a lack of motivation after winning it all last season.
MO: Hmmm… after that prediction you made pre-bubble, I'm not sure about that!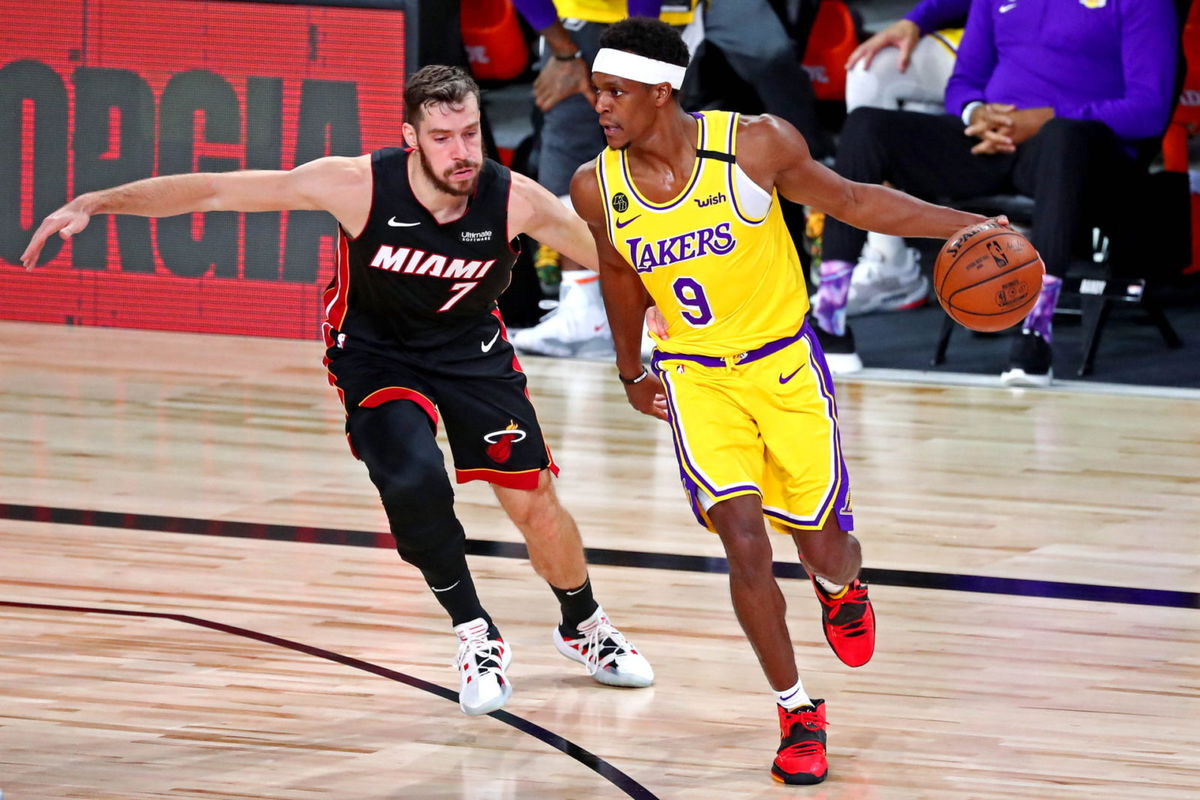 I don't think they'll lack motivation but definitely need a more consistent supporting cast to reduce the impact of injuries and lessen the load on their two stars. Without Rajon Rondo, I'm not sure they win it all – remarkable when you think about it.
JB: Yeah, Rondo was huge! Leadership too. What prediction are you talking about?
MO: I mean there were a lot, but these two that I dug up from our WhatsApp conversations really felt like they weren't going to age well even at the time…
JB: Well… first of all, I hate you. And second, they still don't scare me. We threw it away!
MO: I mean, props for doubling down but making predictions like that? You don't help yourself.
JB: Hey, everyone gets things wrong! Let's talk about Phoenix and how they play after being amazing in the bubble.
MO: Fair enough, and sure. I wrote a piece last week on Oubre Jr and how he's attracting interest across the league – namely the Warriors – they did really well without him in Orlando.
Can they sustain that all year round? Rather than when they know there's an unprecedented opportunity to sneak into the playoffs? They started the regular season well, if you remember.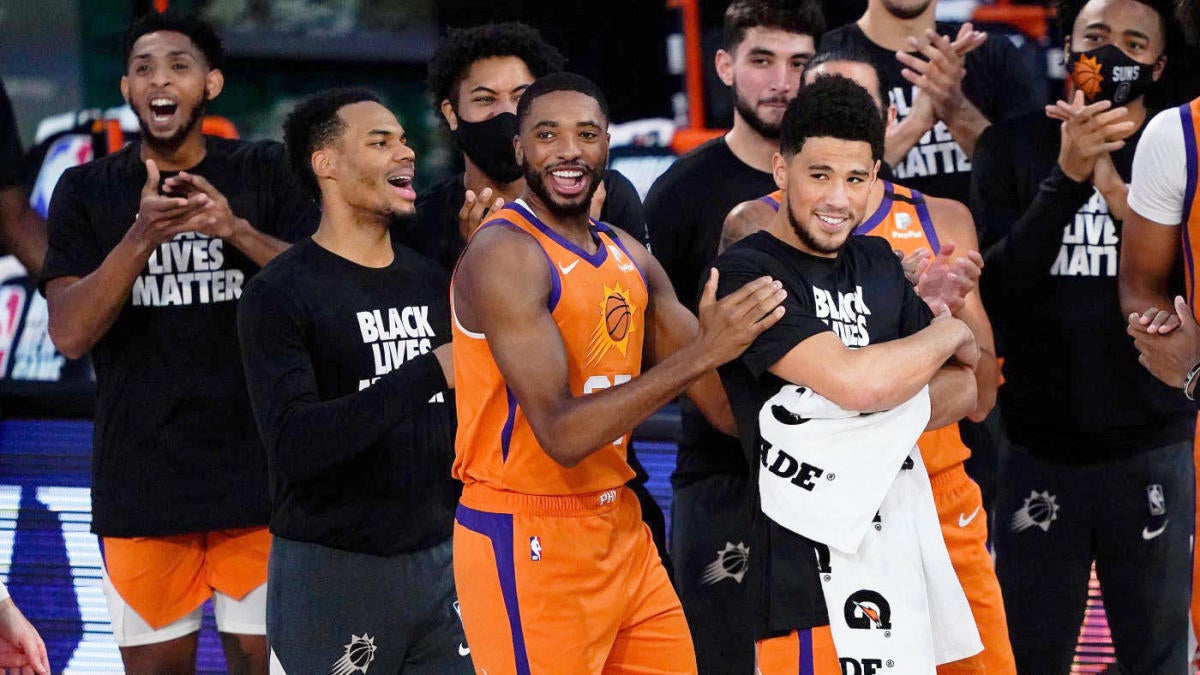 JB: I think with Golden State coming back and Dallas probably improving, it'll be tough and they'll miss out once again.
MO: Hmmm… so what about Devin Booker and his never-ending pursuit of postseason basketball then? We all knew, deep down, they would fade away after that excellent start.
It's not as if he can do what KAT did, get one of his buddies to team up with him in Phoenix.
Let's be honest, what's their ceiling when Rubio is earning $17m-a-year?
JB: Sadly, he's been dealt a bad hand. He's got to threaten to leave, so they make the necessary moves to improve. Deandre Ayton needs to be a beast for them to even have a chance.
MO: Links me perfectly to Ayton, who I was about to discuss… He quietly improved after that drugs ban early in the season but can he make a leap to help them reach the 7-8th seed? I don't know who else is pushing them there besides Booker of course, assuming Oubre leaves.
JB: The Western Conference is way too deep. In the East, they make it. Phoenix are a little inconsistent and short with their guard options.
players to watch for in this year's draft class, final thoughts
MO: My point exactly! With the draft on Nov. 18 – any names stand out to you in an unpredictable draft class this year? Someone you're particularly looking forward to watching in the league?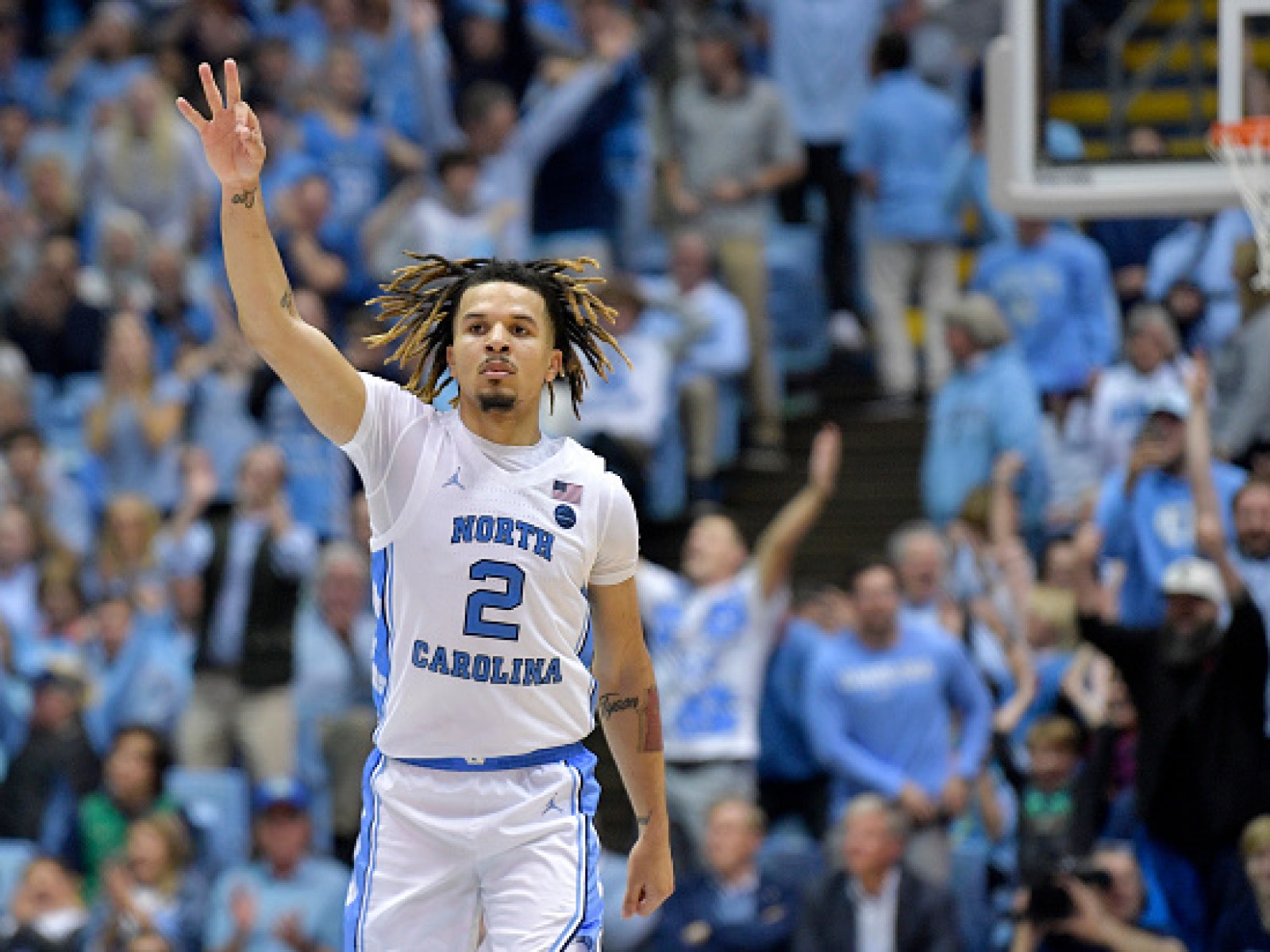 JB: Cole Anthony. I haven't seen him play properly, but he's who I've seen the most. He's got a swagger about him, like real confidence and he looks sharp!
MO: Agreed, though I have my eye on a few others too… not least where LaMelo Ball goes.
Last question from me relates to this picture:
Why is this not a good idea? Alternatively, is the short offseason being exaggerated after having three-to-four months off in between anyway?
JB: Truthfully, it's only bad for the Lakers and Heat. There are 30 teams, eight of which didn't even go to the bubble. Only perhaps four teams – conference finalists – have been shafted a little, everyone else has been off for ages.
MO: Yeah, pretty much. So they should just suck it up then?
JB: They have to. It's not ideal but you can't please everyone.
MO: Precisely that, someone will always feel aggrieved and in truth, maybe the first month or so might be rough – worst case scenario – but we've all seen it doesn't really matter until the business end and postseason anyway.
JB: There's less games and a two-week break expected in March too.
MO: Well, there you go then.
---
A big thanks again to Jack (@Logic2712) for his time with this piece! If you've got this far down, I'll be looking to do more Q&A-type NBA articles like this one with other experts too. If you liked this and want to contribute in future, don't hesitate to contact me.
It's not the first time Jack has featured in my work but won't be the last, as we're likely to discuss some new topics once again after the new season begins. Be sure to stay tuned for more!
Pictures' source: Getty, ESPN or Instagram unless stated