According to ESPN reports, the Phoenix Suns have had ongoing discussions about acquiring All-Star point guard Chris Paul from their Western Conference rivals Oklahoma City Thunder – the 35-year-old has two years and is owed $85.5m on his existing four-year contract, which was among the main reasons why he remained in Oklahoma after last summer's blockbuster trade.
No deal is imminent, though this news is more definitive than last year's trade talk surrounding Paul – an injury-prone All-Star veteran – who surprised many with his play in 2019-20.
OKC were expected to be among last season's lottery teams, having traded away franchise star Russell Westbrook (Houston Rockets) and All-Star teammate Paul George (LA Clippers).
They received multiple future trade picks over the next six seasons and assets, like impressive young guard Shai Gilgeous-Alexander and impending free agent Danilo Gallinari – who averaged 18.7 points and 5.2 rebounds on 43.8% shooting (40.5% from deep-range) in 62 games last term.
Paul, who they were actively trying to find a trade partner for, embraced his role as the wily veteran and quickly settled into new surroundings in Oklahoma. So much so that come the playoffs, OKC came agonisingly close to beating his former team Houston in the first-round.
What a story that would have been.
CP3's resurgence and a look ahead to potential options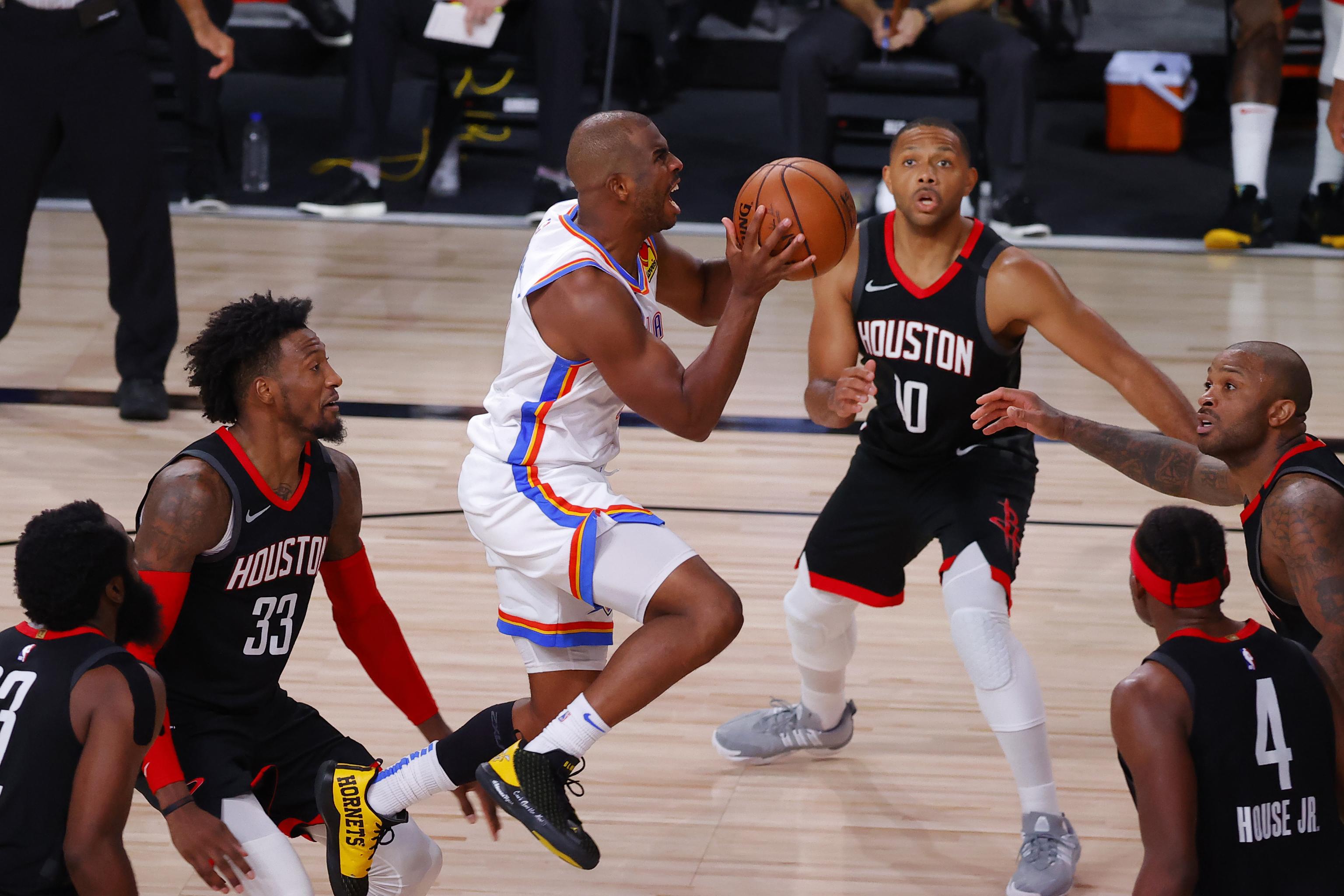 17.6 points per game on 48.9% total FG – best shooting percentage since 2009-10
More rebounds, less turnovers and fouls per game than 2018-19 season
Made his first All-Star appearance (10) since 2015-16, while logging the most regular season minutes logged (2208) since that campaign too
As they did with George and later Westbrook, OKC are willing to work with Paul on his preferred trade destination. I wrote this story back in early May, as the New York Knicks were linked with a trade package themselves and are reportedly interested in signing a star name themselves.
At 35, he'll naturally want to join a contender and challenge for the title.
Phoenix have a promising young core themselves, led by Devin Booker and Deandre Ayton. They narrowly missed out on a place in the play-in tournament, but also went 8-0 in the NBA bubble.
Set to open a new, state-of-the-art $45m practice facility later this month, Phoenix are expected to have more than $20m in salary-cap space which makes the trade feasible for both sides while equally allowing them to target shrewd free agent deals.
Paul has praised the Suns' style of play, as well as the coaching credentials of Monty Williams – having played under him in New Orleans from 2010 to 2011. There's no smoke without fire.
Although OKC are open to potentially retaining Paul for next season, they're also motivated to move his bloated contract – one that could hurt them long-term, should his injury luck continue.
ALSO… Reports suggest there is discussions about this expanding to a four-team deal involving the Los Angeles Clippers and Dallas Mavericks, two more Western Conference contenders.
Kelly Oubre Jr, Ricky Rubio, Landry Shamet, Dorian Finney-Smith are the four names being mentioned, alongside some unnamed players and draft picks, that could be swapped.
Pictures' source: Bleacher Report, Getty