Daniil Medvedev recovered from a set down to beat US Open champion Dominic Thiem and win this year's Nitto ATP Finals, making history in London on Sunday. Eleven years after his Russian compatriot Nikolay Davydenko won the first edition at The 02, the 24-year-old defiantly rose to the occasion in a way that sets him – and others – up brilliantly for a promising 2021 campaign. 
4-6, 7-6, 6-4: Medvedev beats Thiem in three sets
Twelve months on from his three-set defeat by Stefanos Tsitsipas, Thiem was again the gracious runner-up in London as another young gun – 24-year-old Medvedev – recovered to beat him too.
Plenty has changed since: Thiem's won a Grand Slam, Tsitsipas has come close, Medvedev was quietly a dark horse at the US Open but his statistics in this tournament? They speak volumes.
What makes Medvedev's win so special?
He looked to become the second player in competition history to go from a winless debutant to winner the next year (Novak Djokovic, 2007-08) and had a difficult road in store.
The Russian didn't drop a set in group wins over Alexander Zverev, Djokovic and Diego Schwartzman, but his ultimate test was against Rafael Nadal in Saturday's semi-final.
He was a set down and had seemingly lost his opportunity (3-0 up, then 5-4 down) but persistence proved his biggest weapon as Nadal faltered while serving for the match.
How would he recover in time, with less than 24 hours' recovery before Sunday's finale?
The narrative was already in motion: a peculiar pre-match training session as described by Amazon's Annabel Croft, involving plenty of alteration with different rackets and tensions applied.
Thiem was embroiled in a similarly gripping three-set battle against Djokovic six hours earlier, but even the Austrian admitted he got tight and rode his luck at times en route to win.
How he did it
Neither was playing their best tennis, but a few excellent moments were sprinkled into a first set that Thiem gratefully snatched midway through after a succession of Medvedev errors on serve.
40-15 up in the game, Medvedev made consecutive misses during rallies to present deuce.
Thiem produced a drop shot winner before a seismic double fault followed, with Daniil's overhead miss haunting him in the worst way possible as he was suddenly 3-2 down.
3-2 quickly turned to a 6-4 first set victory for Thiem, rather typified by what happened on set point. A forehand return flicked off the net awkwardly as Medvedev charged forward, almost hitting him as it flashed past his elbow.
An apologetic hand was raised, but the Russian's glancing look said it all – he knew adjustments needed to be made.
That's exactly what happened.
He won a 29-shot rally and was more aggressive with his forehand early in the second set, holding serve while mixing up attacks and approaching the net with increasing frequency.
He saved three break points, importantly stepping up in the big moments to force Thiem into uncomfortable positions behind the baseline. The differences were certainly noticeable.
Set 1:
Medvedev – 5 aces, 3 double faults, 12 winners and unforced errors
Thiem – 3 aces, 0 double faults, 12 winners, 10 errors
Set 2:
DM – 5 aces, 0 double faults, 19 winners and 14 errors
DT – 1 ace, 1 double fault, 7 winners and 9 errors
Thiem had to save a break point himself at 4-4, with Medvedev narrowly missing the line – the tide was changing before our eyes and Thiem couldn't do much to stop Daniil's resurgence.
Net approach winners crept up, he used serve-and-volley tactics and Thiem couldn't believe his eyes after a 2-0 tiebreak lead turned into a 7-2 defeat.
The court had effectively been shrunk in size, Medvedev knew he could rely on his powerful serving and suddenly it was one set apiece.
Thiem saved three break points early in the deciding set, never a reassuring sign after being five points from glory ten minutes prior.
He was losing a lot of the longer rallies, winners were becoming infrequent while unforced errors continued to persist. Medvedev could smell blood.
Problem? He was 0-of-6 on break point chances. That increased to 0-of-8, before finally creating some separation with a volley winner at the net – something he's not always confident doing.
The ability to adapt on the fly is key and proved pivotal, as it was now Medvedev's match to lose, up 3-2 in the deciding set. 15 minutes later, he was serving for the title and cranked up his serving when called upon to secure another big win that many critics weren't expecting to see.
A set down, he earned his reward for managing to stay persistent under pressure and won the tournament's longest ever final (two hours, 42 minutes), making history in the process.
Statistic: With this victory, Medvedev did what no player has ever done – beating the world #1 (Djokovic), #2 (Nadal) and #3 (Thiem) to win the ATP Finals.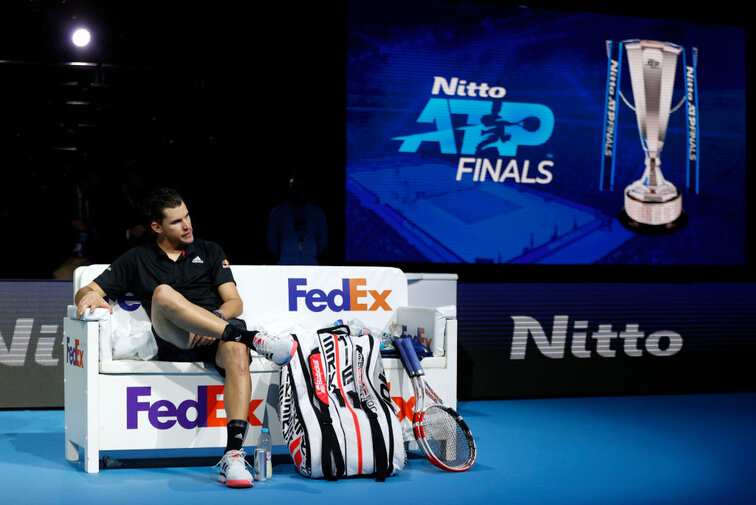 What's next?
Speculation over the Australian Open start date continues, though the first Grand Slam of the new year will present a golden opportunity for both players to start 2021 on a high.
Medvedev lost in five sets to two-time Slam champion Stan Wawrinka in the fourth round, while Thiem doesn't need reminding how his final against Djokovic went at Melbourne Park.
Tsitsipas' play and subsequent title last year was refreshing to see, but the 22-year-old's yet to maintain that consistency against the very best over a five-set format in Grand Slams.
Medvedev turned pro two years earlier and in fairness, also patchy, but probably has more confidence brewing into the new year after this victory than Tsitsipas did twelve months ago.
For one, he seems to have now solved the Nadal problem. He was perilously close to a remarkable comeback at Flushing Meadows last year, isn't scared of the Big Three and would've been energised by Thiem's Slam success in New York three months ago. It could've been him.
US Open runner-up Alexander Zverev is in a similar boat, while Medvedev's compatriot Andrey Rublev would've taken strength from his maiden experience in a top-eight format too.
Denis Shapovalov (21) reached his first quarter-final this year, while Felix Auger-Aliassime (20) and Jannik Sinner (19) are among a few talented youngsters to equally keep an eye on.
There's long been a rush to crown the next generation, anticipating a wave of bullish challengers truly ready to knock the Djokovic-Nadal-Federer dominance for good.
There have been many pretenders to the throne, but we've entered the most promising period. Time will tell, though.
Pictures' source: PA Images, India Today, Reuters