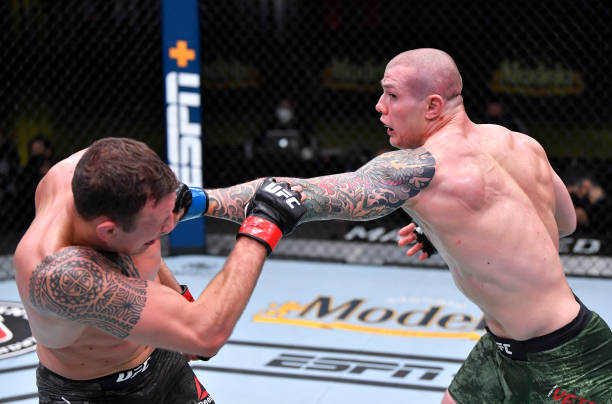 Marvin Vettori – originally set to face Jacare Souza next weekend – took his golden opportunity on a week's notice, beating #4 ranked middleweight contender Jack Hermansson by unanimous decision (49-46 x 2, 49-45) during a strike-heavy main event before calling out Paulo Costa (#2) next. Prior to that, were wins for Jamahal Hill and Gabriel Benitez among others.
Vettori fearless, propels himself into high middleweight standing
Vettori wasn't supposed to be here. It was Darren Till's chance, then Kevin Holland – both withdrew for contrasting reasons and suddenly the Italian had a big opportunity on his hands.
Hermansson was given credit for accepting two short-notice replacements by everyone but Vettori, who didn't take kindly to the notion he should've been thankful to Jack personally.
Maybe he underestimated the 27-year-old? Judging solely on the pre-fight promos, you got that notion – but even coming into this bout, he was a slight underdog. Vettori quickly proved why.
"Vettori is good, but not that good. It's not going to be pleasant." – Hermansson discussing how the fight with Marvin would go, during his pre-fight promo.
Well it wasn't pleasant for either man, but especially not Hermansson. He supposedly spends 80% of his training time working on stand-up, because his ground game is so good.
Vettori stuffed 5-of-7 takedown attempts (71%) and justified the pre-fight statistics that he possesses the highest striking defence among UFC middleweights and third-highest TD defence.
He pushed the pace early, with his hand speed and chin evident as the pair exchanged bruising blows in the pocket. There was no way this would last the full 25 minutes at such furious pace.
Right on cue, Vettori landed a left hand which scored a knockdown. Hermansson didn't know what hit him and after some brief ground-and-pound, the Italian looked to choke him out.
That was certainly a mistake on Marvin's part. It allowed Jack crucial seconds to recover, catching his bearings and although he was still in danger, the threat levels had decreased.
Perhaps that's why he was so annoyed with himself post-fight. More on that later. So into round two, Hermansson was earning success whenever he let fly with big leg kicks. Not for long though.
He pushed for a takedown and was rebuffed on multiple occasions by Vettori, who was expecting the level change so smartly fought it off as Hermansson tried single-leg sweeps.
Eventually his persistence paid off and had the Italian grounded, but beautiful work saw the position reversed and suddenly Vettori was in top position.
When they returned to the feet, there was no questioning who the sharper fighter was. After all, this wasn't exactly Jack's element. He raced to a heel hook sub win over Kelvin Gastelum in July.
That fight was over in less than 90 seconds. This was completely different and suddenly he was in trouble, his main strength nullified and those blasting leg kicks? Vettori checked one midway through R2 and Hermansson didn't throw another one for the remaining 15 minutes.
You saw him limping in agony immediately afterwards, he – and the adrenaline – helped to mask the pain well enough. R3 was Jack's defiant response, applying more pressure and making Vettori a touch uncomfortable, fighting forwards while also landing the more impactful shots.
He knew this was going to be a battle, but had he grown after an early scare? R4 rather effectively silenced that notion, as their back-and-forth exchanges regularly ended with Vettori on top.
The Italian's left-hand was landing all night long, his punch speed and ability to withstand pressure with additional strikes of his own were all decisive in keeping Hermansson at bay.
Whenever they came in close, Hermansson landed some vicious left hooks but Vettori was game to stand and trade punches with him. Big uppercuts flew, more jabs and swings continued.
Hermansson tried a leg lock submission late in R5, out of desperation than anything else. It was easily escaped and crucially, Vettori ended their bruising battle in top position before the horn.
Hermansson-Vettori, total strikes
R1: 17-58
R2: 20-14
R3: 35-23
R4: 32-52
R5: 35-55
Vettori had plenty to say afterwards, not least calling out Borrachina for a fight in 2021.
"I'm going to tell the truth, I can do so much better. He was tough! Active, made it a boxing fight and that's what I wanted to. I'm in the mix [at the top], let's go! This fight is going to get me so much better, it's for all Italians that believe in me, those who are struggling. This is just the beginning." 
---
Jamahal Hill earns victory over wily vet osp in co-main
R2, 3:37 – Jamahal Hill (8-0, 1 NC) stays undefeated, beats Ovince Saint Preux via TKO
In the night's co-main event, #15 ranked light-heavyweight Ovince Saint Preux put his ranking on the line against another of the division's rising stars in Jamahal Hill. In his 40th professional fight, this was the first time OSP had missed weight – so it was billed as a 207.5lbs catchweight bout.
Early on, you got the feeling that this was a chess game between two players who didn't want to show their hand too early. But with the punching power which Hill possesses, it didn't take long.
He loaded up on shots to the body, tried pushing the pace and the pair engaged with multiple leg kicks as the 29-year-old made OSP respect him early on. R2 was where he started to close the distance and unload with fast flurries whenever they exchanged in the pocket.
After connecting with a big right-hand near the cage that wobbled Saint Preux, the veteran grappled for a little while but looked visibly hurt. Hill could smell blood and the end was near.
With his back up against the fence, OSP absorbed knees to the body and ate another big right hand but crucially didn't create any separation nor fend off Hill's pressure. It only intensified at this stage, to the point where his blistering speed was waved off as a standing TKO victory.
Many critics suggested this was too early for Hill. Next week, he'll be into the top-15 of a division that remains very volatile without long-reigning champion Jon Jones on top of the mountain.
After the biggest win of his young career to date, he had some interested viewers watching on.
"OSP is a legend, seasoned vet, pushed me to a limit I haven't been pushed to before… I've kept evolving, everyone keeps talking so keep watching. I wanted to come out, do what my coaches said, stay disciplined, technique, control the distance and range. I was able to do that very well. 

I've been watching Jon for ages. I appreciate him, need to chase greatness and when it's time [to fight those at the sport's pinnacle], I'mma be ready." 
---
Rest of the main card
R1, 4:06 – Gabriel Benitez beats Justin Jaynes via TKO (knee to the body, elbows)
Benitez earned his first victory in two-and-a-half years after a furious start finished the same way it began, having landed some nasty uppercuts and kicks – Haynes was content absorbing them defiantly and continued pressing forward, connecting with firepower of his own too.
He didn't know it at the time, but that proved his downfall. After losing via submission on the Lewis-Oleinik card in August, the 31-year-old was keen to avoid a second successive stoppage.
He lunged forward to throw a shot and was met with an unforgiving knee to the solar plexus which saw him crumble to the mat. You could see it was all over from that move alone, but some additional ground-and-pound strikes were all Benitez needed to finish 2020 with aplomb.
The 32-year-old Mexican won a Performance of the Night bonus for his efforts and was emotional post-fight, revealing this was his first fight since his boxing coach sadly passed away recently.
"I feel great, it was my night. I'm sad because this is my first since my coach passed away. I really miss him and if he was here with me, maybe he [Jaynes] wouldn't have touched me.

I'm happy for this win, let's see if I get the bonus. I have a new striking coach and everyone helped me a lot, I feel good and am ready for the next one soon."
---
28-29, 30-27, 29-28: Roman Dolidze defeats John Allan via split decision
Unbeaten light-heavyweight Roman Dolidze improved to 8-0 and 2-0 in the UFC with a valuable 15-minute showing against the gamely figure of John Allan. However, he was forced to learn plenty that the 32-year-old Georgian wasn't expecting to have dealt with on this occasion.
After three submission wins (two by heel hook, one rear-naked choke) to start his professional career, it's understandable that Dolidze wanted to showcase those abilities on the ground.
He won via TKO against Khadis Ibragimov in mid-July, landing a knee before ground-and-pound finished the fight, and he should've showcased that knockout instinct here when Allan was hurt.
Instead, he watched as his tight heel hook had been escaped by Allan, who could recover his bearings and avoid an early stoppage defeat because of Dolidze's insistence on returning to that.
Allan was aware that he was being taunted too, as Dolidze could be heard audibly asking his corner whether he should finish the fight via submission. A brave move, all things considered.
Dolidze was in top position for sustained periods in R2, continuing to switch between side control and half guard where possible while suffocating Allan with pressure. The Brazilian was trying to reverse the situation into a submission of his own but as time wore on, it was futile.
R3 was more of the same: Dolidze's persistent search for leg locks hurt his chances of earning a finish. It meant that although down on the judges' scorecards, Allan still had an opportunity.
He rocked Dolidze and had a takedown shortly afterwards but as the momentum shifted momentarily, the Georgian soon completed his third of the night to assume control again.
The fight finished on the ground with elbows and fists, as the statistics spoke volumes:
Dolidze had 60 ground strikes, three takedowns and just over seven minutes' control time
Afterwards, he revealed he underestimated Allan's abilities early on and was made to pay for it but relished the opportunity to return quickly while continuing to develop his skills. He described the split decision result as strange and said fighting a full 15 minutes will benefit him.
"I was thinking the fight was going to be easier, had a tight leg lock – he didn't tap, had pain in his leg but is really good, strong-minded and I like it.

I feel good and if the doctors allow me, I can fight next week or in two, I want to fight at 185 [middleweight] next year too." 
Just beforehand, the card started in rather emphatic fashion in the lightweight division.
---
Body slam knockout in double quick time
Jordan Leavitt (8-0) wasted no time with a brutal slam knockout – the 12th in UFC history – against Matt Wiman. Just 22 seconds had elapsed when the 25-year-old rendered him unconscious near the cage, a wicked thud against the mat reverberating around the Octagon.
He went to comfort Wiman's wife post-fight and is sure to have won many new admirers with his interesting interview, where the soft-spoken LW revealing the move is one he's long worked on:
"That slam is one I've practiced a lot… that looks nasty. I've never been knocked out but can't imagine it feels nice, it's brutal, the fight game but I wish I didn't have to hurt somebody. There's nothing to fear, I have great training partners and can perform out here when the lights are bright." 
Leavitt revealed he wants to return sometime after February 2021, when his daughter is expected to be born.
---
Prelims as topuria earns yet another statement victory
There were multiple matchups scratched from this card, making for a three-fight prelim card.
After losing to Casey Kenney via guillotine choke back in late May, bantamweight Louis Smolka returned to winning ways with a second-round TKO (punches) win over Jose Alberto Quinonez.
Ilia Topuria continued from where he left off after an impressive UD win over Youssef Zalal in October, landing a relentless but punch-perfect combination to quickly end Damon Jackson's night with his back to the Octagon midway through the first-round of a possible three.
After losing in just 45 seconds against Tom Aspinall during a forgettable heavyweight debut on the Whittaker-Till card five months ago, Jake Collier (12-5) was dominant en route to a decision victory against Gian Villante (17-13) – who now has three successive defeats for the first time.
Pictures' source: Cageside Press, Bloody Elbow, MMAFighting.com, MMAJunkie, Getty