Deiveson Figueiredo retained his flyweight title with a majority draw after an unforgettable five-round main event against relentless challenger Brandon Moreno (#1), after there were statement victories for lightweight contender Charles Oliveira and middleweight prospect Kevin Holland – who has now become the third modern UFC fighter with five wins in a calendar year.
Figueiredo and Moreno combine for thrilling majority draw
48-46 Figueiredo, 47-47, 47-47: Figueiredo stays champ via majority draw
It was all about the flyweights in this fiery main event, which certainly lived up to the billing.
Deiveson Figueiredo may have retained his title as expected and would've won on all three judges' scorecards if not for a point deduction in R3, but was in a bruising five-round battle.
Brandon Moreno was wobbled in R2, suffered a gruesome groin strike in R3 and absorbed damage aplenty but importantly returned fire whenever possible to make a compelling watch.
Whether it was regular takedowns (4-of-8 attempted), ferocious kicks or timely jabs, the Mexican proved he deserved Figueiredo's respect after setting a relentless pace by both.
Weili-Jedrzejczyk remains the Fight of the Year but this encounter felt a close second, having exceeded expectations in such a competitive back-and-forth exchange.
Wild swings, momentum shifts and plenty of snapping shots were fired as the event finished with the bang many critics felt would disappear after multiple cancellations leading up to this.
Oliveira seizes his chance, dominates Ferguson in big win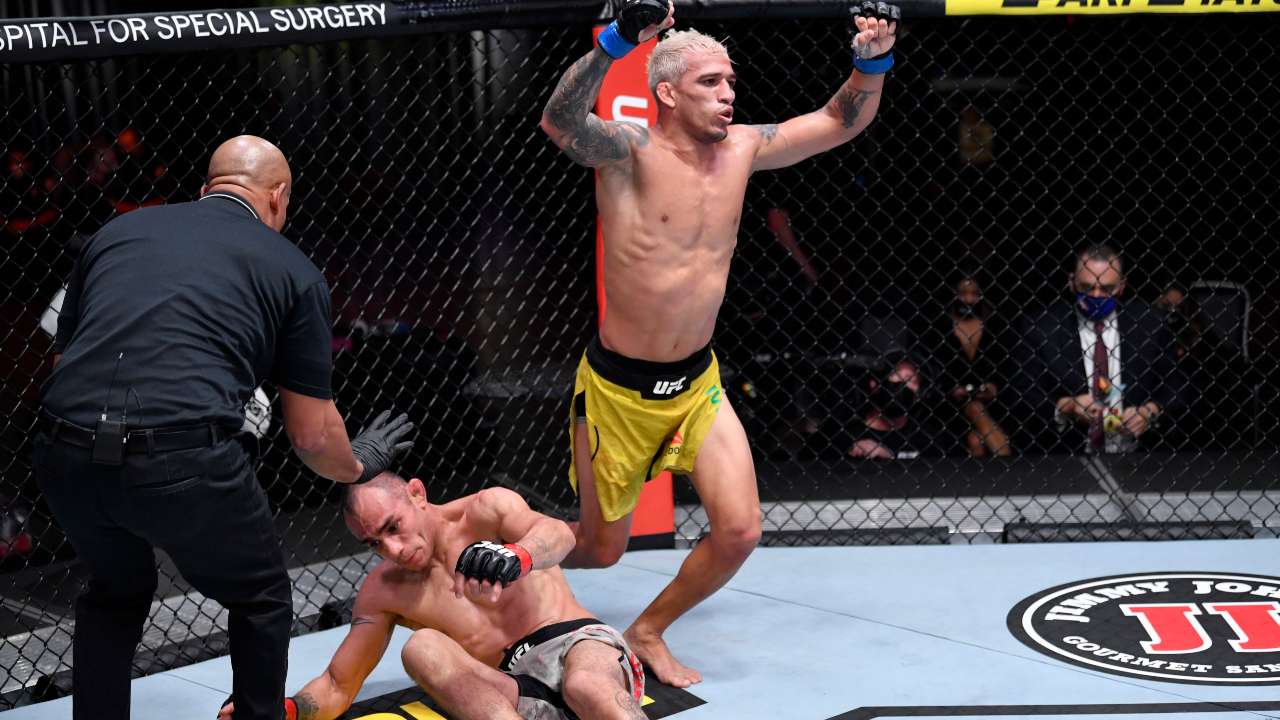 In the pre-fight promo, Charles Oliveira said:
"He had his time, but it's gone. Mine is now: I'm going to shock the world."
Suggestions were made that the winner could potentially be in line for the next lightweight title shot and as he did nine months ago against Kevin Lee, Oliveira silenced his critics in style.
This time though, he soaked up pressure as the pair both got off to an aggressive start and simply manhandled Ferguson – someone who had blasted his way past most of the division.
Genuine questions were raised as to whether he'd be the same fighter after such a brutal five-round defeat against Justin Gaethje in May and well, the answers were startling.
Oliveira earned a big slam takedown after securing a body lock and was able to dominate from mount position, racking up multiple minutes of ground control time as he came within seconds of finishing Ferguson with a nasty armbar.
That was just R1.
The control time numbers continued as Ferguson found himself swarmed on the ground, beaten from pillar to post and with no seeming way to stop what was happening either.
You could make a case that they were both 10-8 rounds, such was Oliveira's overpowering nature for which Ferguson had no answers to.
His ability to withstand punishment has never been questioned and was key in helping him avoid a stoppage defeat, but you could see disappointment etched across his face as R3 began.
More of the same and Oliveira made a defiant statement against someone many believed would prove Khabib's toughest test in this division. That fight didn't happen, despite multiple bookings over several years, and perhaps it was for the best.
That's what Dana White said post-fight, as the Brazilian seized his opportunity and is understandably clamouring for a title shot next.
Rest of the main card
Holland blasts Jacare in under two minutes for fifth win of 2020
R1, 1:45 – Kevin Holland beats Jacare Souza via knockout (punches)
Holland was a slight underdog and after having his name scratched from last week's main event following a positive COVID-19 test, he wasted no time in racing to an unforgiving KO win.
It didn't seem possible, but he ended the fight on the ground after landing a nasty looping punch which saw Jacare visibly shy away from him – then landed a few more for good measure.
This was after being on the bottom position as they scrambled to the mat, Jacare tried blocking hammer fists but as he kicked his way into creating some separation, he landed a looping right and series of punches stunning Jacare into submission, defenceless against the fence.
That record-breaking victory means Holland is now the third modern UFC fighter with five wins over the course of a calendar year, joining Roger Huerta (2007) and Neil Magny (2014).
He discussed the progression he's personally enjoyed this year before eagerly calling out Khamzat Chimaev, after Leon Edwards' withdrawal from next week's headliner with COVID-19:
"I've heard people talking online that I didn't fight enough stiff competition this year, so let's try and do the same thing next year with stiffer competition – then they can't say nothing, that's what I want.

If I can give someone like Jacare problems on the ground, then I guess I deserve my black belt. I know my son doesn't want me to say this right now but…  Chimaev was supposed to fight December 19th, he fights at 170 and 185.

That's what he does, right? I think I do it better. Who's fought the most this year?  He could be a future champ at 170 but if he comes up to 185, I'll bang that boy up." 
bloody Dern outlasts tough Jandiroba display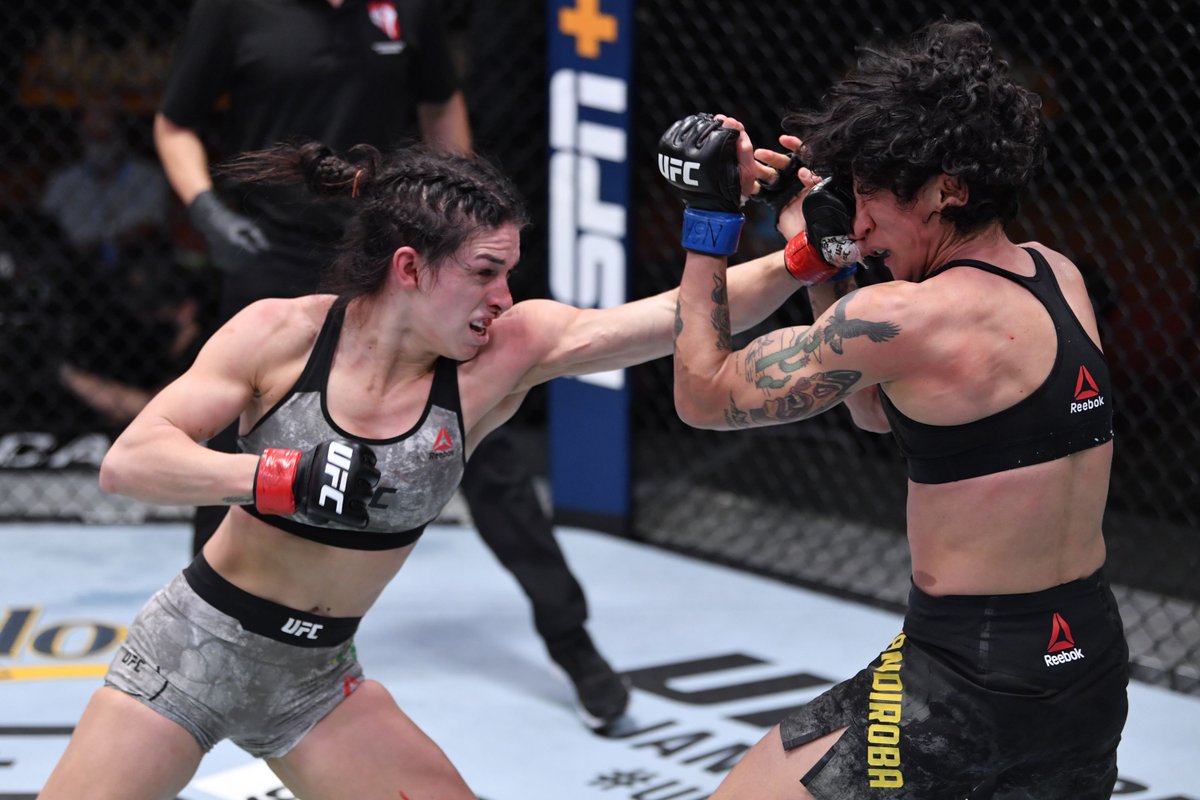 29-28, 29-28, 29-28: Mackenzie Dern (#11) beats Virna Jandiroba (#13) via UD
#11 ranked strawweight Mackenzie Dern retained her standing with a hard-fought UD win – 29-28 on all three judges' scorecards – over Virna Jandiroba.
After a purposeful start by the Brazilian-American where she outstruck her compatriot 29-20 on total strikes, Jandiroba made adjustments to potentially level the scoring through ten minutes.
She was winning R2 before an eyepoke saw the fight pause for almost two minutes, after which Dern tried to set the tone and not allow her any chance to recover as time ticked by.
That being said, Dern was caught by a knee to the face and found herself duly punished for that same over-enthusiasm from the break.
She went back to her corner, asking them whether she'd broken her nose and was bleeding profusely, revealing afterwards it was a sensation she hadn't previously felt.
Jandiroba's takedown defence was admirable, stuffing all five of Dern's attempts – but her jab was doing continuous damage and she took a needless risk fighting on her back late on in a battle that felt close throughout.
"I knew it was close, 1-1 maybe, I had to steal the third round – I have a way to go, to win like Tecia [Torres] did, but hey, I'm happy." 
---
Gane blasts dos Santos, remains unbeaten
R2, 2:34 – Ciryl Gane (#14) stays undefeated, beats Junior dos Santos (#7) via TKO
Ciryl Gane begun the main card in fine fashion, with a measured second-round TKO finish over former UFC champion Junior dos Santos.
After immediately putting the 36-year-old on the back foot, he mixed up the speed of his kicks – high, low, to the body and was comfortable landing at range while picking him apart at distance.
In the first five minutes, dos Santos had absorbed 16 strikes to the legs: more than the head and body combined (15). He didn't check them and instead allowed the HW prospect an opening which only intensified as he continued wearing the veteran down.
dos Santos responded by swinging wildly with his punches but despite connecting with a combo at the end of R1, had definitely lost the opening exchanges.
He was wearing the damage too, having been marked up by front kicks to the body which opened up a big welt on his right side.
You could tell those low leg kicks would take their toll and they ultimately did: dos Santos visibly winced, then Gane landed a jab and clubbing right elbows to flatten him.
The veteran complained afterwards about an illegal strike, both to the referee and Gane himself, though multiple replays show the elbows were on the ear as he turned away.
Statistic: This latest win means Gane now has the tied-longest active win streak in the UFC's heavyweight division (4), alongside Curtis Blaydes (#2) and #1 contender Francis Ngannou. 
It'll be interesting to see what happens to dos Santos going forward, as he's not getting any younger and defeats like these don't help change the narrative he has become a gatekeeper.
---
Prelim results, featuring fiziev and a returning chase hooper
It's been five months since a Fight of the Night UD win vs. Marc Diakiese in Abu Dhabi, but promising featherweight Rafael Fiziev wasted no time with the 27-year-old's first UFC stoppage.
He needed little more than four minutes to dispatch of a credible opponent in gamely Brazilian Renato Moicano – who possesses wins over Calvin Kattar, Cub Swanson and fought Brian Ortega (#2) among others.
Continued body work did the trick, as he was able to set up a devastating finish. An overhand right hand, then left hook blasted Moicano to the mat.
He landed another one as he raced towards a finishing sequence and the referee stopped it to avoid Moicano sustaining unnecessary damage.
The 31-year-old wasn't happy though, arguing his case that he was trying to recover. Replays showed while he had a point, it wasn't really an early stoppage per say.
Fiziev's English is improving, as is his promo skills:
"I just want to say to the guys in my division, train harder – grappling, wrestling, boxing, fitness… everything. I'm coming."
20 minutes later in the night's featured prelim, Cub Swanson ignored a left leg injury to blast Daniel Pineda to the mat with a beautiful R2 KO during the duel of two experienced veterans.
After a four-match losing streak, Swanson now has successive victories for the first time since 2017. He turned 37 last month and his display here shows he's still got more left in the tank.
Gavin Tucker ended Billy Quarantillo's eight-fight win streak, improving to 13-1 with a technical display in their stand-up exchanges as well as on the ground – during a gritty battle between two determined featherweights who landed strikes aplenty and neither wanted to lose.
Quarantillo landed more total strikes (136-123), but Tucker enjoyed higher accuracy with his volume (67% to 58%) while also completing a personal-high seven of his 13 takedown attempts.
30-27 across the board may seem harsh on Billy, but it was a deserved win for the 34-year-old – who is aware that time is of the essence, if he's to break into the top 15 and increase his stock.
Four months ago, he won a Performance of the Night bonus during his third-round submission victory over Justin Jaynes on the Lewis-Olenik card.
#10 ranked strawweight Tecia Torres delivered a ruthless striking display en route to a TKO (doctor stoppage) win over promotional debutant Sam Hughes.
Originally slated to face Angela Hill (#12) before a positive COVID-19 test, Hughes came in on short-notice but was no match for Torres.
Tecia's head movement, striking sharpness and ability to pick her punches – flying superman strikes, furious combos and more were all flowing.
Hughes told her corner that she couldn't see in-between rounds and after a doctor's assessment, the fight was duly stopped.
Statistic: Torres is now joint-second with Carla Esparza on total strawweight wins in UFC history (8). Former champion Joanna Jedrzejczyk leads the way with 10.  
Cormier and Rogan both said post-fight that this was easily the best they've seen her compete and Torres revealed she now wants a ranked opponent above her going forward.
"I'm grateful she [Hughes] took the fight, I want someone ranked above me and to make my way towards a title shot one day.

I'm one of the pioneers of the 115lb division,  my time is coming… a late-replacement fight if that's open too. Really wanted a submission win tonight but that didn't happen. I'm excited and want a top ten opponent next." 
Highly-rated featherweight Chase Hooper (21) kicked off the UFC 256 card with a return to winning ways, beating Peter Barrett deep into the third round with a heel hook submission.
Six months after losing handedly on the judges' scorecards against Alex Caceres, the youngster needed patience and a well-executed gameplan to prevail.
Barrett was comfortable picking him apart at range – but both fighters needed recovery time in R1 after landing accidental groin kicks.
Hooper finished well on the ground and landed a left hook early in R2 which stumbled Barrett, though leg kicks were quickly taking their toll as Hooper winced and needed to switch stances.
With movement compromised, taking the fight to the ground was realistically the only way Hooper would win as time ticked by.
After checking some of Barrett's kicks, he dived and used an imanari roll on his leg – just like midway through R2 – and landed multiple punches to the head, loosening him up.
That work helped sink in a heel hook and within seconds, it was all over as Barrett tapped rapidly in agony.
Plenty is said about how UFC is more ruthless than boxing with regards to building up young fighters, either you have a baptism of fire and come through stronger, or wilt under pressure.
Hooper was down two rounds, injured and seemingly en route to successive defeats. His toughness and ability to adapt proved decisive though, something he addressed post-fight:
"I'm estatic, happy to be here – get another win, my mojo back. I was able to deal with it [the leg injury] effectively, but it'll definitely hurt a lot more tomorrow. I had better takedowns than in the Caceres fight, my striking was a lot better and defensively I wasn't getting knocked around as much.

It's a lot of learning on the fly. Being the young guy, I get all these guys who are physically in their prime.

I'm still 8-10 years before my body is at its peak, so I need to sharpen up the technical stuff. I've been training since 2008 and am still going." 
Pictures' source: MMAFighting.com, MMAJunkie, Getty