It was a night for two seasoned veterans as Stephen Thompson finished 2020 with a dominant UD win against Geoff Neal to prove he's not a gatekeeper – before calling out Jorge Masvidal (#4) in 2021. Jose Aldo proved he was a class above determined contender Marlon Vera in the co-main event, after Rob Font enjoyed an impressive first-round KO over Marlon Moraes (#3).
50-45, 50-45, 50-45: Stephen Thompson (#5) beats Geoff Neal (#11) via unanimous decision
Thompson said he's much more than a gatekeeper at welterweight and even though he turns 38 in February, has justified his standing as an experienced contender eyeing a shot at gold again.
He got into his groove almost immediately by counter-striking while managing distance with persistent side kicks that caught Neal's attention.
Geoff landed a promising combination but an inability to cut the cage off and limit Thompson's movement was key, as he struggled while trying to force the issue.
An accidental clash of heads saw R1 peter out, but it was undoubtedly a round in the bank for Wonderboy – there was more where that came from. Neal's corner were aware of his tricky style but urged more activity from the 30-year-old, who tried finding a way to stifle that movement.
It was easier said than done. Thompson continued picking his punches, throwing body strikes, jabbing and constantly moving around a smaller 25-by-25ft Octagon cage with seeming ease.
By the midway mark in R3, it was clear Neal had his moments with Thompson's back against the fence occasionally but it was too infrequent to truly score points on the judges' scorecards.
He was waiting too long, for starters, rather than matching Wonderboy whenever he threw strikes. An encouraging exchange in the clinch position was quickly broken after a few knees to the thighs and the round became more scrappy as Neal kept charging forward with intent.
After absorbing sustained pressure, Thompson let his hands go with a number of punch combinations and enjoyed further success as Neal was wearing the damage across his face.
However, Neal's corner were stressing more of the same action as they felt he had won R3 – such was his pacing and ability to push Thompson towards the fence – instead of continuous circling.
As the main event rounds began, it was unchartered UFC territory for Neal in his first five-round battle and although he continued to land some strikes of his own, he was certainly second best.
Although his total accuracy was higher, he was comfortably outstruck as Thompson's volume increased: this proved an increasingly impressive showing by the former title challenger.
It was made even more commendable in R5, where his right knee was heavily compromised and he regularly clutched at it while limping but importantly powering through too.
The pair let punches fly and exchanged strikes in the pocket twice, though Wonderboy's poker face reigned supreme even under duress as they clinched, the clock continued ticking down and more punches continued up until the horn.
Statistic: With his display here, Thompson earned a significant strike personal best with 171 landed, compared to just 85 by Neal over 25 minutes. 
Afterwards, he praised Neal's durability and had an interesting callout too:
"Geoff is a tough opponent – he's rock solid, every time I hit him, he kept coming forward. Wonderboy is still here and the title will be mine, 2021, you're going to see. 2-0 in a row, the NMF vs. the BMF – give me Jorge Masvidal."
---
29-28, 29-28, 29-28: Jose Aldo (#7) beats Marlon Vera (#15) via unanimous decision
This was heralded as Marlon Vera's golden opportunity to prove why he remains underrated in the bantamweight division – even with a number next to his name.
Four months from his R1 stoppage win to end Sean O'Malley's undefeated streak, he begun promisingly but was gradually being picked apart by former featherweight champion Jose Aldo.
After checking Chito's leg kicks, he doubled up with body punches and landed stinging kicks of his own while setting traps as you could see Vera visibly shy away on a handful of occasions.
R2 was close as Chito tried to push the pace against Aldo's increasing resistance, though the Brazilian regularly blocked his attempts to complete a takedown. Early in R3, Aldo got the fight to the ground with a body lock – precisely what Vera visibly wanted from the previous round.
Vera tried desperately to escape Aldo's clutches but was fighting a losing battle as the time ticked down and he landed a few defiant fists with his back being controlled.
His reaction at the horn spoke volumes: resigned to defeat, as they shared a warm embrace after Aldo displayed he was simply a class above his determined opponent, reinforcing the Brazilian's standing as a veteran with more in the tank.
It shouldn't be a surprise either, having only fought for UFC gold just five months ago.
His first win since February 2019, he'll hope to prove critics wrong and called out two-time UFC bantamweight champion TJ Dillashaw – whose two-year drug ban ends in January – next.
Rest of main card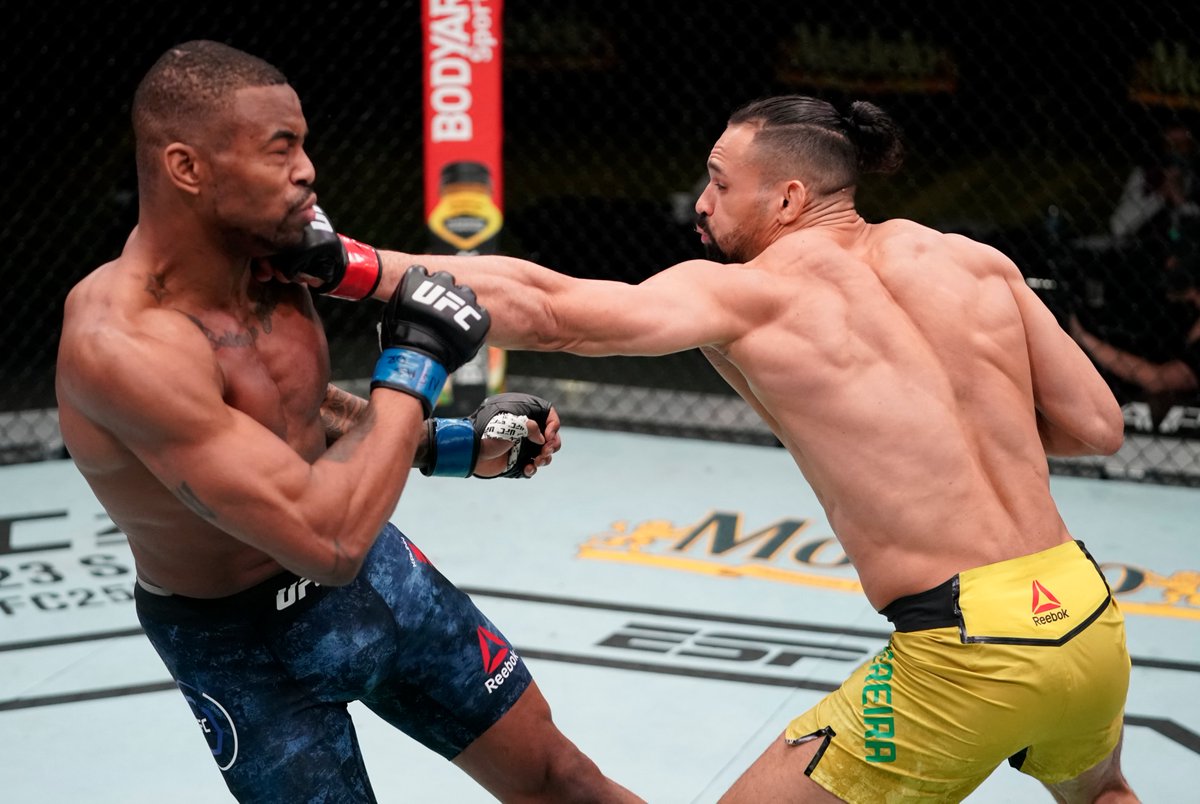 29-28, 29-28, 29-28: Michel Pereira defeats Khaos Williams via unanimous decision
In what was billed as an exciting welterweight clash between Pereira and a knockout artist in Khaos Williams, there wasn't a blistering finish this time around but instead a measured outing from both fighters.
Williams won his first two Octagon appearances in a combined 57 seconds, coming off a ruthless stoppage win over Abdul Razak Alhassan just five weeks ago.
He needed patience and exercised plenty in the early going, as Pereira's awkward style made him adopt a calculated approach – not exactly the ruthlessness many expected in this affair.
Pereira feinted a lot but despite the bravado, you could sense he too was being cautious and didn't want to absorb damage as Williams landed a few quick punch combos.
It was tough to score, but Khaos was the busier fighter throughout and needed to balance risk with reward.
He blitzed forward twice – both were successful – but Pereira countered quickly at the end of R2 and almost finished the fight with a standing choke.
Williams swung wildly but missed the target and was made to pay, as the horn came to his rescue in a dangerous position.
Pereira did more acrobatics and not enough striking in R3, interestingly opted against throwing the front kick as regularly as he perhaps should've, but crucially ended well.
Williams landed another powerful combination but Pereira landed a big double-leg takedown and effortlessly completed another, before landing ground and pound strikes to finish strong.
Williams was bemused as the scorecards were read, many fight critics saw why too, but Pereira was rewarded for finishing the last two rounds stronger – despite being outstruck in all three.
Pereira-Williams total strikes:
R1: 11-12
R2: 18-22
R3: 14-21
---
R1, 3:47 – Rob Font (#11) defeats Marlon Moraes (#3) via TKO (punches)
Two months removed from his spinning wheel kick TKO loss to Cory Sandhagen, Marlon Moraes started quickly with two quick takedowns. However, that promising start certainly didn't last.
He instead has now suffered successive defeats for the first time in nine years after an emphatic TKO finish when they returned to the stand-up exchanges by a determined Rob Font.
He landed the jab with lazor precision, wobbled Moraes and similar to Kell Brook against Terence Crawford last month, landing that punch proved the beginning of the end.
He dropped him after an uppercut and devastating flurry of punches, but referee Marc Goddard let it continue too long as Moraes was visibly helpless, without much in the way of resistance.
It was a worrying finish and one that will leave plenty of questions for Moraes' future, as he doesn't seem able to take a jab and his confidence will have taken another hit here.
---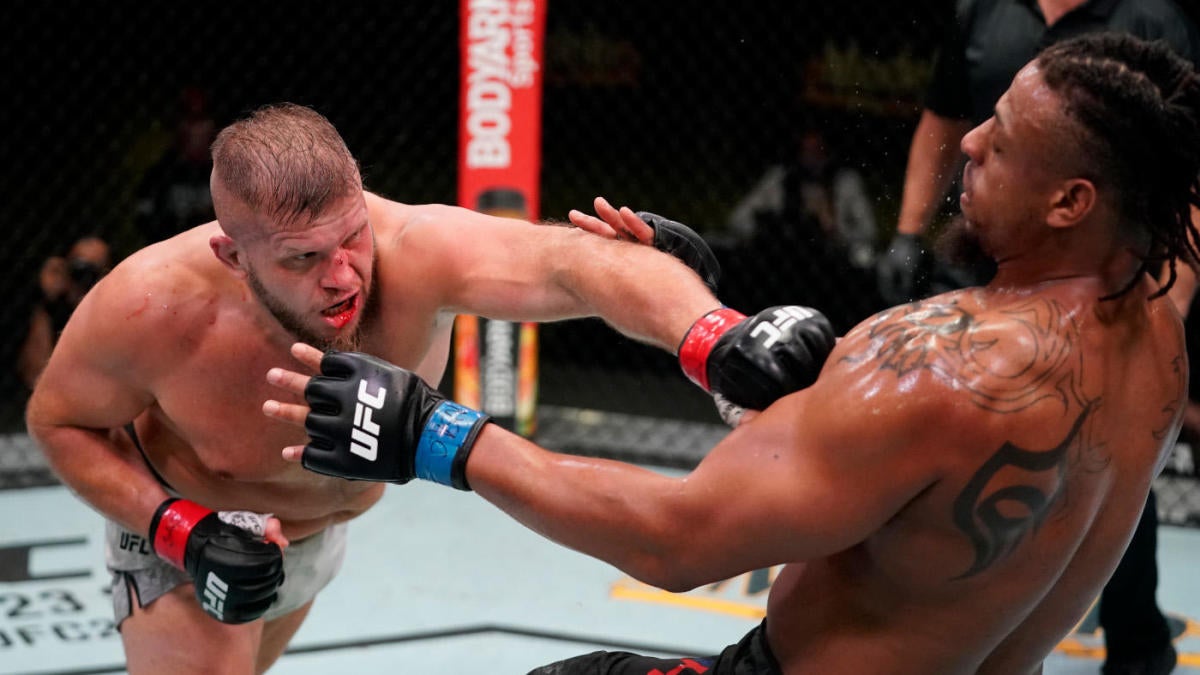 R2, 4:31 – Marcin Tybura beats Greg Hardy via TKO (punches)
Greg Hardy's boxing was beautiful in R1 and Tybura, who looked to close the distance, was duly punished for doing so as a number of right hands landed clean without response.
At one stage, it looked like the fight was dangerously close to being stopped. It was a promising striking showcase, but Tybura had more in the tank and proved so in R2.
After doing well to stuff two takedowns, Hardy couldn't prevent the Pole from continuing to swarm him against the fence. He essentially drowned on the ground, Tybura's eyes lit up and unanswered punches continued to land before it was all over.
Statistic: After successive defeats, Tybura now has four wins in 2020 – the tied-longest streak across the division, alongside Curtis Blaydes, Ciryl Gane and Francis Ngannou.
Prelim results, featuring victories for Pettis and Kianzad
There were just two finishes on a seven-fight prelim card, with more on them later.
Anthony Pettis survived a nervy first-round against a plucky Alex Morono to string together successive wins for the first time since his brief but sweet lightweight title run six years ago.
In the final matchup of his existing contract, he almost finished the fight with a spinning wheel kick late in R3, but settled for a 29-28 UD result across all three judges' scorecards.
Afterwards, he spoke to Daniel Cormier and confirmed an eagerness to return to the 155lb division – he's eyeing another run towards the championship in 2021 and beyond.
In the battle of two ranked fighters across the women's bantamweight division, Pannie Kianzad outlasted Sijara Eubanks in a gritty affair that could've shifted either way.
Although Antonio Arroyo landed 80% of his 87 total strikes, determined middleweight Deron Winn completed an eyewatering 12-of-16 attempted takedowns in a tiring UD win (29-28 x 3).
The 31-year-old's persistence to continually take the fight down to the ground proved decisive according to the judges, as he's now ended a two-fight losing streak.
Brazilian Talia Santos (17-1) will wake up on Monday with a top #15 ranking next to her name after patiently nullifying Gillian Robertson's ground game to good effect, earning her second UD win over 2020 – having beaten Molly McCann handedly on the Kattar-Ige card in mid-July.
Cameroonian middleweight Tafon Nchukwi impressed in a potential banana skin encounter against Jamie Pickett and remains unbeaten at 5-0, after a dominant UD win (30-25, 30-26 x 2).
Flyweight Jimmy Flick (16-5) enjoyed a quick night's work on his UFC debut with an impressive first-round flying triangle choke submission against Cody Durden.
In the night's first action, Greek-American lightweight Christos Giagos ended a 16-month absence while returning to winning ways with a UD win (30-26, 29-27, 29-28) over Carlton Minus during their catchweight (160lbs) bout.
The 30-year-old is now 3-2 in his second UFC stint, having suffered a first-round losing debut six years ago against upcoming welterweight title challenger Gilbert Burns.
Picture source: Bloody Elbow, Cageside Press, MMAFighting.com, MMA Junkie