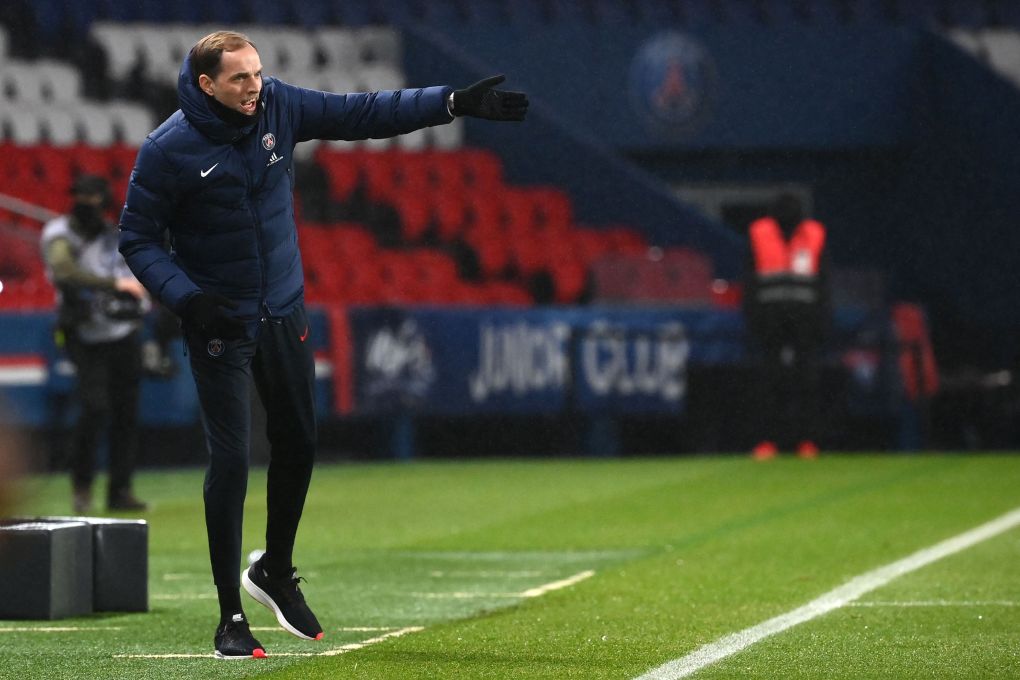 Ligue 1 champions Paris Saint-Germain have finally announced Thomas Tuchel's sacking, just four months after the German took them to their first Champions League Final and five days following reports suggesting he'd be imminently replaced by Mauricio Pochettino. It's a bitter end to a fractious relationship for the 47-year-old, whose time was numbered from day one.
A 117-word statement appears on PSG's website, confirming what we've all known for a while now: Tuchel's contract in Paris has been terminated and club president Nasser Al-Khelaifi was brief with his thanks for all the German – as well as his staff – has done in two-and-a-half years.
"I would like to thank Thomas Tuchel and his staff for everything they brought to the club. Thomas has put a lot of energy and passion into his work, and of course we will remember the good times we shared together.

I wish him the best for his future." 
Tuchel departs with six pieces of silverware to his name, including two Ligue 1 titles – which are essentially a formality, such is PSG's continued domestic dominance over the past decade.
Europe's elite was always where he'd be judged and understandably so, given their quality and heightened expectations following the arrivals of Neymar and Kylian Mbappe the season before.
Mbappe thanked Tuchel on Instagram last week, saying:
"It is sadly the law of football. Nobody will forget your time here – you wrote a wonderful part of the club's history and I say to you: thank you, coach."
In an accelerated one-legged knockout format, PSG broke Atalanta hearts late on, stifled RB Leizpig but fell short against a bullish Bayern who didn't need to hit top gear to beat them 1-0.
READ: Bayern Munich 1-0 PSG – 5 Talking Points as Coman's strike clinches UCL triumph
His legacy would certainly have a different feel, had his stars not squandered multiple clear-cut opportunities in that final. Maybe he'd still be there, even with questions over his playing style.
After all, they earned results didn't they? Of all PSG managers dating back to July 1970, only Unai Emery (76.3% between 2016-18) had a better winning percentage than Tuchel's 74.8% but the pair suffered the same fate, though this feels different given his public tension with Leonardo.
Tension surrounding multiple departures left Tuchel frustrated
The phrase declaration of war isn't a commonly-used term to describe a relationship between sporting director and head coach, but Tuchel's comments about player recruitment in early October – right or not – were gradually making his position at the helm untenable.
Among the Brazilian's comments, this quote stands out:
"I didn't like his comments – the club didn't either. We have to understand the moment we are going through. If someone is not happy, it is easy – we can talk. But if you decide to stay, you have to respect the people above you."
The comments he's referring to?
"We lose too many players on free transfers. It is too, too much. We cannot ask this squad the same thing as we did last season."
He's not wrong. Club captain Thiago Silva, Eric Maxim Choupo-Moting, Thomas Meunier, Edinson Cavani, Tanguy Kouassi and Adil Aouchiche (both 18) all departed on free transfers.
Fellow teenager Loic Mbe Soh was their only sale, in a £4.5m move to Championship side Nottingham Forest.
Silva has settled quickly at Chelsea, Choupo-Moting is providing depth to UCL winners Bayern, Meunier is at their Bundesliga rivals Borussia Dortmund while Cavani has proven a shrewd piece of short-term business for Manchester United – who were in PSG's Group H before Christmas.
Aouchiche has probably been Saint-Étienne's best player so far this term while the Kouassi departure particularly hurt Tuchel, something he was unafraid to discuss in the media.
In the defender's first press conference as a Bayern player five months ago, he expressed gratitude towards his former boss, which wouldn't have exactly eased the blow of losing him.
Especially not for free. Meunier discussed the 'outrageous' party culture in Paris, Silva felt disrespected over how he was treated – just like Cavani and suddenly you see a trend forming.
Leonardo is the common denominator within all of this and has such influence that he can make these hasty decisions with seemingly no foresight into how those actions impact others.
It feels typical that Kingsley Coman, who spent a decade in PSG's youth ranks, departed for Juventus and six years later, scored the matchwinner against them in their first UCL Final.
Perspective is needed as curtain falls on tuchel's reign
Pochettino will boost his CV with some trophies, PSG replace a good coach with a hotter prospect and one perhaps better suited to dealing with the politics that come with the territory.
Even something as innocuous – or so you would think – as a mid-season interview with German media is scrutinised and attracts controversy, so Tuchel can leave with his head held high.
A reported €6m (£5.4m) compensation package to boot isn't the worst send-off, though he'll be unhappy he didn't get to finish what he started – with a squad that was never truly his own.
His squad was significantly weakened by the aforementioned departures, not to mention a bizarre summer of arrivals that include Everton loanee Moise Kean and Rafinha on a free.
£45m for Mauro Icardi looks an investment that will age poorly, while they failed to replace Silva and there's no reason why more youngsters won't leave if there's no clear breakthrough path.
They sit third in Ligue 1, a point off Lyon and Lille – but there was literally no pre-season after their delayed finish to the previous campaign, multiple players were sidelined with COVID-19 diagnosis and injuries played a part too, so their early inconsistency isn't exactly surprising.
Neymar-Mbappe's partnership is such that they look a completely different team without one, or both star players – as evidenced by their group stage defeat in Germany by Leipzig.
READ: RB Leipzig 2-1 PSG – 5 Hits and Flops as Nagelsmann's men make frantic comeback
The 48-year-old will have his work cut out replicating those team-building abilities that had him adored in north London at Tottenham even without the trophies to show for that success.
He has the players to fit his preferred 4-2-3-1 formation and unsurprisingly, speculation has already circulated about which former players he'll bring to Paris with him – like Dele Alli.
Also read: Dele Alli and football's fickleness personified
As Frank Lampard is finding out in west London, you only get so much credit for managing a team you previously played for – and he was a bonafide Chelsea legend (13 years, 648 apps).
The Argentine made 95 appearances in two-and-a-half years but wasn't one in Paris, with reports claiming former Juventus boss Massimiliano Allegri was their first-choice to replace Tuchel too.
Well, better be careful what you wish for.