Read on for three NBA previews ahead of New Year's Eve, as the 2020-21 season continues. Philadelphia will hope for another big performance by their star center Joel Embiid away to the unbeaten Orlando Magic (4-0), while Indiana and Washington target responses after suffering preventable defeats in their respective games against the Cavaliers and Chicago Bulls next.
Indiana Pacers vs Cleveland Cavaliers: duel in the east awaits
Tip-off time – 8pm GMT
Poor execution proved costly for Indiana in clutch moments as the Boston Celtics overcame a 17-point deficit to exact revenge with a 116-111 win in the early hours on Wednesday.
Jayson Tatum had a double-double (27 points, 11 rebounds). Jaylen Brown added 20 and Nate Bjorkgren could only watch as his side's lead continued reducing before his eyes a big fourth quarter by their determined visitors – unprepared to lose two straight on the road.
How will the Pacers respond on New Year's Eve, against a Cleveland side who similarly suffered defeat for the first time against the New York Knicks yesterday?
After being rested for their last-gasp win on Sunday, Victor Oladipo returned to the starting line-up and made his presence felt against Brad Stevens' men.
He led them in scoring (24), had six assists and rebounds while being one of three players with a positive plus-minus rating (+5) at the game's end.
Two clutch free throws and a contested layup finish in the dying embers weren't enough to help the Pacers erase Boston's promising lead – one they regrouped to earn, having been down 11 heading into the fourth quarter.
Two costly turnovers in the final minute, after a poorly-executed play, proved decisive. Boston gladly held onto their lead and closed out a much-needed result.
Domantas Sabonis will presumably take responsibility for their loss, despite being just two assists from a triple-double (14 pts, 11 rebs, eight ast). He shot 5-of-12 from the field, in stark contrast to his big plays late which helped them beat Boston 48 hours earlier.
Cleveland has multiple quality players, but execution and consistency remain their big problem right now.
They beat Indiana by a 10-point margin in preseason two weeks ago, with Dante Exum exploding from the bench (23 pts, five ast, four rebs). After wins over the Hornets, Pistons in overtime and Philadelphia, they were undone by Julius Randle's productive triple-double showing overnight.
Exum had no points (0-of-5), Cedi Osman (2-of-12, 6pts) and Larry Nance Jr struggled (4-of-11, 9pts) while it wasn't an inefficient outing for Collin Sexton nor Darius Garland.
The pair had 37 points on 35 shots – not good enough to beat an unpredictable Knicks side, let alone the Pacers. They must improve.
Who's more likely to win here? The breakdown
ESPN's Basketball Power Index gives Cleveland just a 19% chance of victory here, supporting the suggestion that their 3-1 start will quickly evaporate as tough matchups await them in January.
They shot poorly in their recent defeat against the New York Knicks, so they need productive shooting displays from backcourt duo Sexton and Garland if they're to surprise their hosts.
That's easier said than done, considering Indiana are defensively solid while possessing ample scoring depth – they'll be itching to atone for a preventable defeat by Boston last time out.
Predicted starting line-ups
Pacers: Malcolm Brogdon, Victor Oladipo, TJ Warren, Domantas Sabonis, Myles Turner
Cavaliers: Collin Sexton, Darius Garland, Cedi Osman, Larry Nance Jr, Andre Drummond
Prediction: Indiana Pacers earning a win to finish 2020 on a high among home comforts.
---
Washington Wizards vs Chicago Bulls: battle of two strugglers
tip-off time – 10pm bst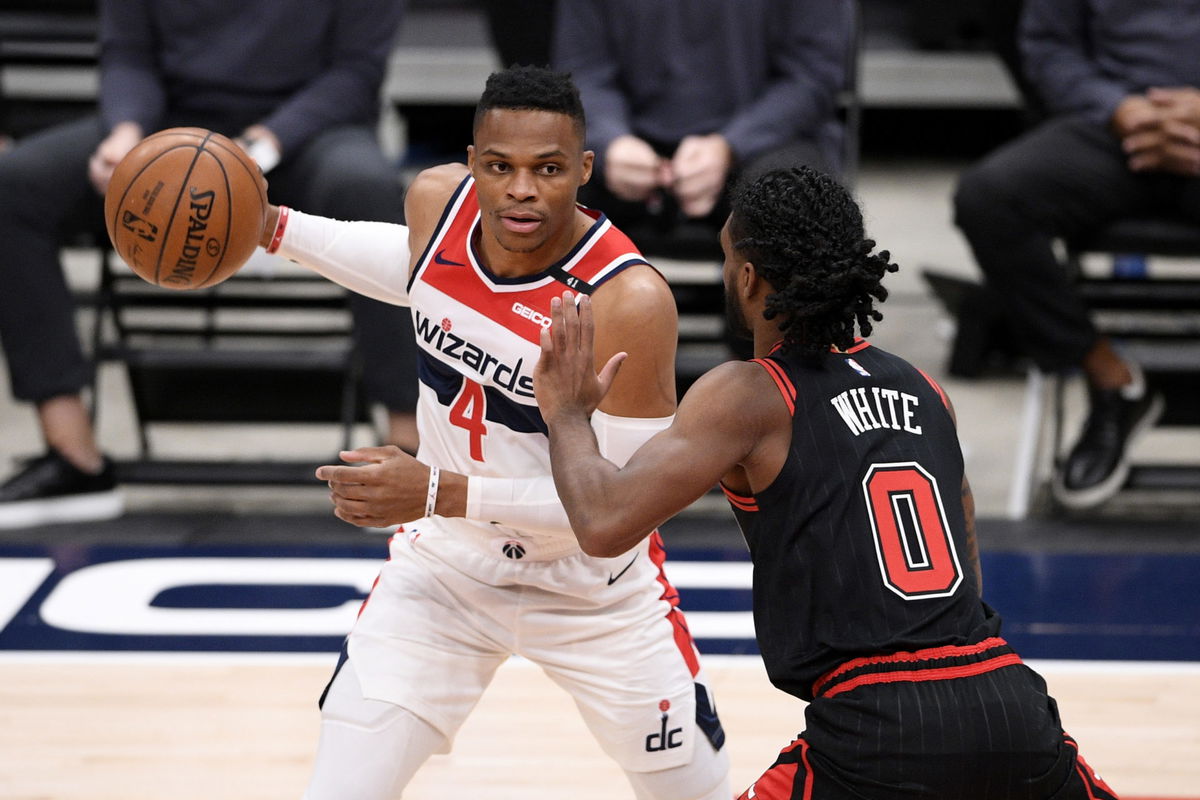 The Washington Wizards return home to their Capital One Arena with a four-match losing streak to start the campaign, after a tough 115-107 defeat away by a similarly struggling Chicago side.
Bradley Beal had 29 points, Russell Westbrook recorded another triple-double (21 pts, 15 rebounds, 11 assists) while Davis Bertans had 20 despite shooting 4-of-10 from the field.
Ultimately, it wasn't enough against a Bulls team who led for most of the way and will be hoping to inflict further damage on Scott Brooks' men in the reverse fixture away from home. Can they?
This wasn't how their season was supposed to start.
After making trading All-Star guards, sending John Wall to Houston with Westbrook going the other way, Washington had made a trade alleviating the pressure off Beal's shoulders.
At the same time, many critics were confident predicting they'd be in the playoffs.
It's still early days of course, but their 0-4 start is one that only the Detroit Pistons can match and isn't a reassuring statistic for a side looking to improve across both ends of the floor this term.
This is their worst start since beginning the 2012-13 campaign with 12 straight losses, and as a team, they shot just 27% from three-point range – missing 10 of 11 in the second quarter, allowing Chicago to take the lead before easing to a long-awaited win under Billy Donovan.
Post-game, Bertans said:
"The only way we can get out of this as a team is if we stick together. Being negative about the losses isn't going to help us come back and win games."
He's not wrong. A few possessions from beating Philadelphia in their opening matchup, suffered preventable back-to-back defeats against Orlando and now? They want to avoid the same fate against a determined Chicago side, whose head coach knows their two stars.
Coby White continued where he left off against Golden State with 18 points, six assists and five rebounds while backcourt partner Zach LaVine (23 pts, 6 ast, 5 rebs) also carried the scoring.
Wendell Carter Jr had his second successive double-double (10 pts, 12 rebs) and their bench outscored Washington 43-35 to boot. How will they fare a second time?
Who's more likely to win here? The breakdown
ESPN's Basketball Power Index gives Chicago just a 20.4% chance of repeating what they did overnight, which is surprising given the Wizards' well-documented defensive deficiencies.
The camera panned to Westbrook, looking frustrated as he sat down and was presumably encouraged not to dwell on this latest defeat by one of the Wizards' coaching staff post-game.
A 0-4 start is far from ideal and questions will be asked if this losing streak continues for long, so I'm doubling down on my earlier prediction by backing them to exact sweet revenge here.
However, I don't think it's out of the question that Chicago end 2020 with a hard-earned road win especially if LaVine and White (a combined 12-of-29) are efficient with their shooting.
Predicted starting line-ups
Wizards: Russell Westbrook, Bradley Beal, Davis Bertans, Isaac Bonga, Thomas Bryant.
Bulls: Coby White, Zach LaVine, Otto Porter Jr, Lauri Markkanen, Wendell Carter Jr.
Prediction: Wizards make it difficult, but finally earn their first win of the new campaign.
---
Orlando Magic vs Philadelphia 76ers: will magic's run continue?
Tip-off time – 11.30pm BST
The Orlando Magic's 4-0 streak to start the new campaign will again be tested, this time against Eastern Conference contenders Philadelphia.
The 76ers bounced back from a surprising blowout loss to the Cleveland Cavaliers with a morale-boosting result to inflict another loss on Toronto.
Joel Embiid shook off a leg injury to again produce: 29 points, 16 rebounds, four assists and two blocks and steals – as an MVP candidate in the Cameroonian bested Toronto.
Tobias Harris added a double-double (26 pts, 11 rebs) while Seth Curry atoned for an inefficient outing against Cleveland. Can they put it all together and snap the Magic's excellent start here?
Philly overcame a 14-point deficit midway through the third quarter and a seven-point run early in the fourth to stun their Eastern Conference rival Toronto Raptors into submission.
Their bench was outscored 19-10, and they shot poorly from three-point range (25.8%) while the aforementioned Harris was their only player who shot 50% or higher across the floor.
So how did they rally to win this from the jaws of defeat? Embiid.
He grabbed his right leg and walked to the locker room early in the third quarter, with fans and critics alike holding their breath – hoping another player wouldn't be sidelined for long after recent injuries.
His new head coach, Doc Rivers, described him as terrific and dominant post-game. As for his star center?
"I just did my job. We can't do it without our teammates – everybody that plays, we all come in with the same purpose, we all have the same goal."
Curry admitted Philly "didn't play well for long stretches" but crucially, had stuck it out and emerged unscathed in a game they shouldn't have won judging solely by the box score.
Orlando deserved their road win in Oklahoma against a frustrated Thunder effort overnight.
Nikola Vucevic had a pivotal double-double (28 pts, 10 rebs) while Markelle Fultz's inefficient scoring night (4-of-16, 11 pts) was overshadowed by his playmaking (10 assists, no turnovers).
Dwayne Bacon was efficient (9-of-10, 18 pts and eight rebs) while others chipped ineffectively.
The bigger question is whether or not they'll manage to step up against tougher opposition with a defiant Philadelphia side up next, who are capable of earning victories without playing well.
Who's more likely to win here? The breakdown
ESPN's Basketball Power Index gives Orlando a 33.7% chance of extending their winning streak to five straight here and in fairness, it's understandable.
Philly has squeezed their way through difficult moments since their season-opener against the Wizards and with Embiid leading by example, it's hard to look past them prevailing here.
Orlando has their own All-Star big man in Vucevic, but it's unlikely the 30-year-old can improve upon his matchwinning performance against Oklahoma overnight.
Predicted starting line-ups
Orlando: Markelle Fultz, Evan Fournier, Dwayne Bacon, Aaron Gordon, Nikola Vucevic.
76ers: Ben Simmons, Seth Curry, Danny Green, Tobias Harris, Joel Embiid.
Prediction: Philadelphia prove too much, snapping Orlando's winning start to the season.
Picture source: AP, IndyStar, USA Today, Orlando Post