Ahead of the heavily-anticipated lightweight bout between Ryan Garcia and Luke Campbell tonight, now felt like an opportune time to reflect on boxing's KO of 2021. For me, Gervonta Davis (24-0, 23 KOs) made his PPV debut a memorable one, winning the WBA super-featherweight title while retaining his WBA lightweight strap vs. Leo Santa Cruz on October 31.
This card clashed with Anderson Silva's final Octagon appearance and while I watched both simultaneously, the way this fight ended, I saved my notes knowing they'd be more useful another day. When reviewing an eventful 2020 for boxing, this fight immediately springs to mind.
Santa Cruz was one of the top fighters at 130lbs (super-featherweight) and set to face the #2 ranked boxer at 135 (lightweight), only behind Vasilly Lomachenko's conqueror Teofimo Lopez.
More on the latter to come later, but in an unprecedented year decimated by COVID-19 where cancellations were frequent, this had a big fight feel as far as setting up future divisional bouts.
I thought hard about the Povetkin R5 knockout against Whyte as my top KO of 2020, especially considering Whyte had two knockdowns in the previous round and this epitomised HW boxing.
However, the tetchy start – energised by having more than 9,000 fans in attendance – certainly helped this bout shine.
It was more competitive in comparison too, making the knockout punch even more of an impactful one at a moment where both boxers embraced their vulnerability near the ropes.
The fight itself
Davis' stumble to the canvas near the end of R1 reiterated Santa Cruz's promising start. The referee signalled it was merely a slip, but their body language was key as the rounds continued.
Santa Cruz's height and reach advantages meant Davis needed to be evasive and economical with his shot selection as mentor Floyd Mayweather continued barking orders ringside.
There was a moment midway through R2 where he forcefully pushed the Mexican to the mat, frustrated by his underhand tactics with dirty boxing whenever they clinched. Angry boos followed from the partisan crowd, as Leo chants emphasised where supporter loyalties were.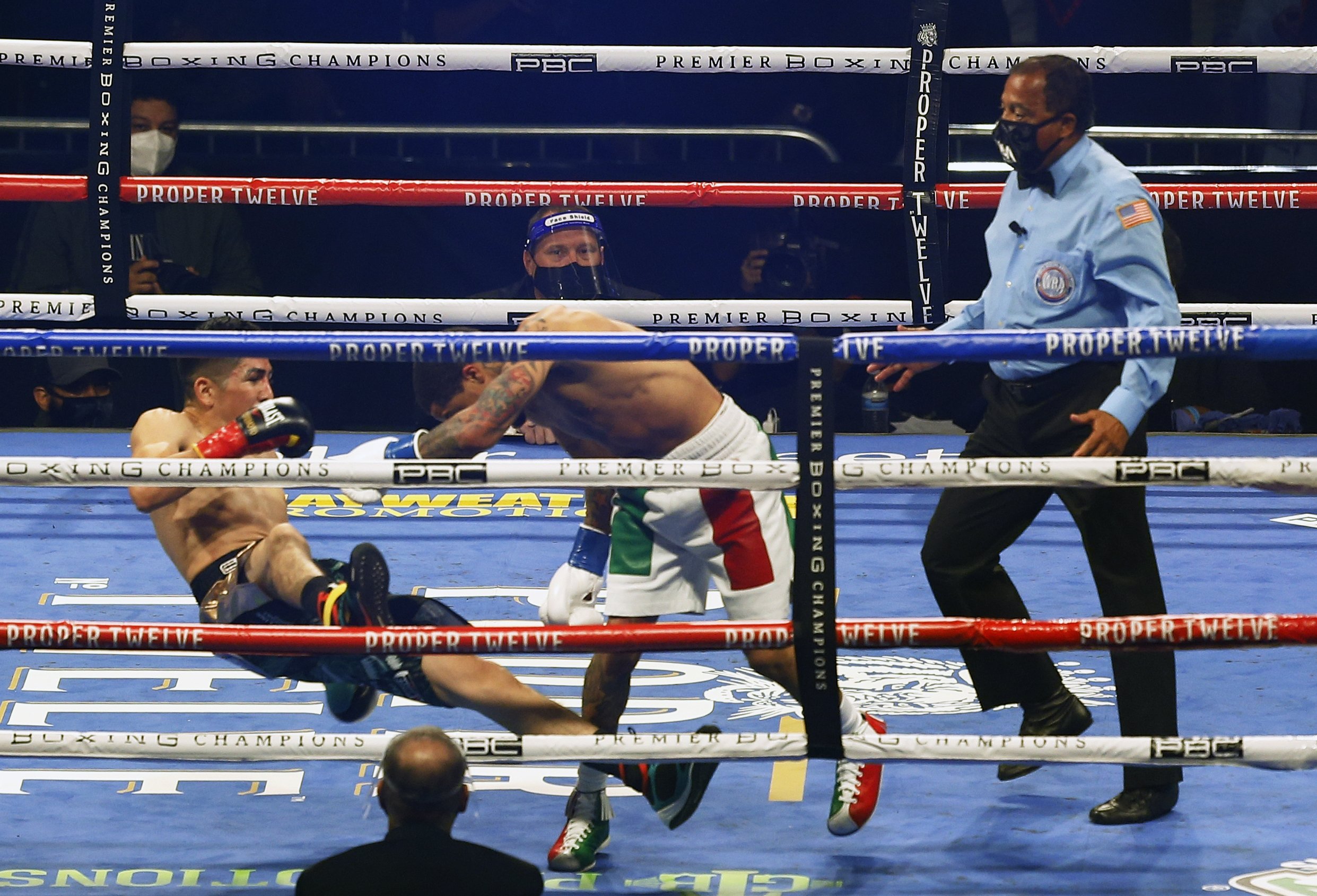 Davis landed a counter-punching uppercut and mixed up his strikes more regularly in R3, to the head and body, as Santa Cruz gamely returned fire. The boos returned as Mayweather was shown on the big screen giving his protege instructions in-between rounds.
Their pre-fight comments were prophetic: Davis said Leo would bring the best out of him, while Santa Cruz hinted Tank would ultimately be punished for tiring after a strong first six rounds.
They exchanged power shots in the pocket during a back-and-forth R4, as Davis began asserting himself more and started to unsettle El Terremoto.
Davis' work to the body and a tendency to land probing uppercuts eventually proved decisive, as he lulled the 32-year-old into a false sense of security after returning fire following a furious exchange in the pocket.
A 25-second pause after sustaining an accidental low blow didn't affect Santa Cruz as you might expect. He had clearly recovered and was trading punches, whether it was in close or at range.
Davis – with swelling starting to close his eyes – sensed the opportunity. Santa Cruz tried to punch his way up off the ropes, threw three unanswered punches and as he met air with the fourth, was sent unconscious with ruthless efficiency as Davis landed a beautiful left uppercut.
The punch was vicious but the way Santa Cruz lay motionless on the mat was scary and felt like it went on for an absolute age too.
Davis roared in celebration, spoke to Mayweather before seeing multiple officials in the ring still attending to Santa Cruz and went over to his corner with a concerned look on his face.
As if to further emphasise matters, the commentator said: "We know he's breathing, so that's a good sign." 
They showed multiple replays, before he finally sat upright and had help in getting back to his stool – that whole sequence took around three minutes.
This was billed as Davis' toughest test of his seven-year professional career, one he took in his stride and sets him up perfectly for even bigger challenges to come in 2021 and beyond.
embracing villain role with mayweather, what's next for 2021?
Outside the ring, he's been in trouble a handful of times in recent years and not exactly the perfect role model for how to conduct yourself as a public figure that many look up to.
Misdemeanor second-degree assault (2017), arrested for a public fist fight (2018) and charged for domestic violence against his ex-girlfriend (2020) – those are the trio just listed on his Wikipedia.
When you're under Mayweather's wing as much as he is, naturally more eyes are fixed on you and the mentor-trainer relationship they've developed has certainly benefited him long-term.
Floyd (50-0, 27 KOs) is widely regarded as one of the best boxers of all-time but during the heights of his career, he was no stranger to controversy and various trouble outside the ring too.
It's no wonder every time cameras panned towards Floyd giving Davis instructions ringside, there was a chorus of boos reverberating around The Alamodome in San Antonio, Texas.
The partisan crowd were heavily in Santa Cruz's favour, with the Mayweather-Davis combo willing to embrace a villainous role likely to continue over time whenever the latter faces a likeable personality like the Mexican. He's heralded as a warrior and naturally, that's endearing.
Santa Cruz considered retirement in the days afterwards, but has since claimed his willingness for a rematch with Davis – something very unlikely to happen after such an emphatic knockout.
Instead, he'll go looking for another fight – presumably back at super-featherweight – while Davis is being eyed by multiple boxers now.
In my piece earlier this week, Ryan Garcia called him out. The top 135lb fighters right now?  Lomachenko (#3), Devin Haney (#4) and Garcia's upcoming opponent Luke Campbell (#5).
WBC title-holder Haney is expected to face the Garcia-Campbell winner next, hopefully sometime in the spring months provided no injuries are sustained in tonight's bout.
Lomachenko wants a rematch with Lopez and as the WBA's regular champion now, Davis finds himself in a favourable position going forward. Before this bout, Floyd had this to say: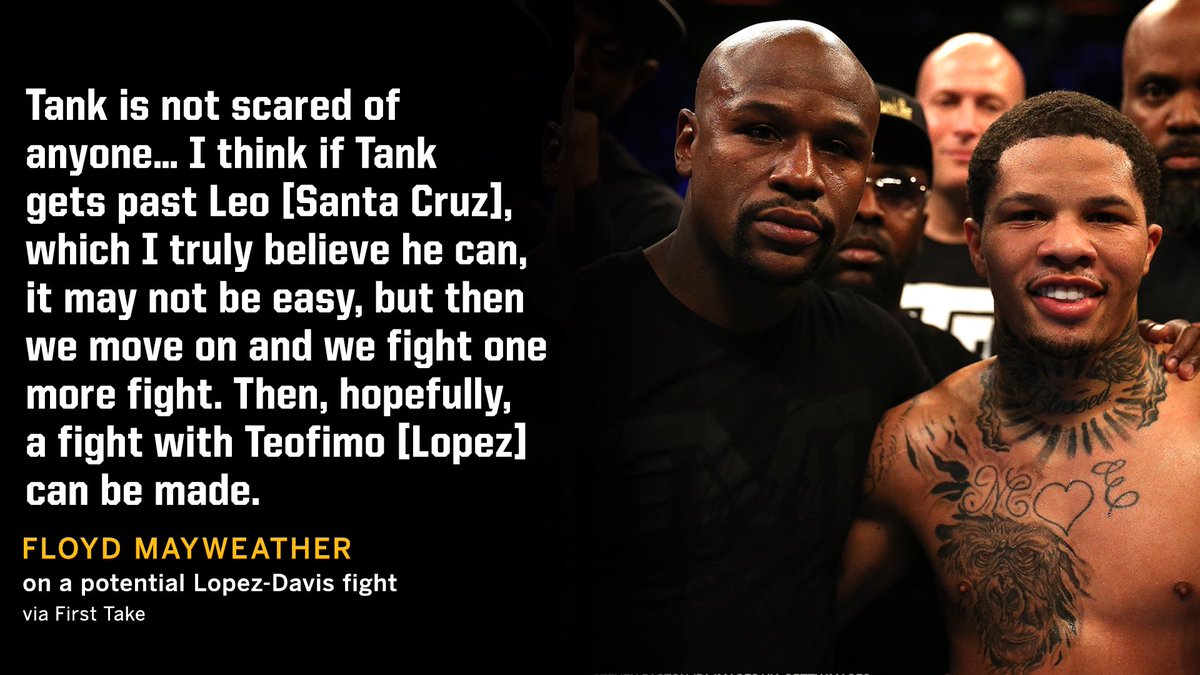 Actions speak louder than words though so we'll have to wait and see who's next for Davis, though the ball is in his court after a devastating knockout that won't be forgotten for a while.
Picture source: Forbes, AP, Twitter