Read on for two NBA previews as the action continues after an unpredictable start to 2020-21.  The defending champion Los Angeles Lakers (4-2) next face a weakened Memphis Grizzlies (2-3) side, while the Detroit Pistons (1-4) look to prove their first win of the campaign Friday night helped turn a corner – not a fluke – when hosting the Boston Celtics (3-3) once again tonight. 

Detroit Pistons vs Boston Celtics: Repeat or revenge?
Tip-off time: 8pm BST
Detroit earned their first win of the campaign, snapping a 0-4 streak with an inspired showing by new addition Jerami Grant stealing the show as Boston's three-point struggles proved costly.
Can they prove it was more than just a freak result this time around, finishing the week with successive victories? Or can Boston exact swift revenge, like they did against Indiana this week?
Grant signing a three-year, $60m contract in the offseason with Detroit certainly raised some eyebrows, as he's been on two contending teams out West recently and now earned a lucrative deal with an Eastern Conference struggler.
He leads them in minutes (37.2), points (23)and blocks (1.4) per game through five outings but has embraced more responsibility as someone with additional shots on his plate every night.
His shot-creating abilities will again be tested in the reverse fixture against Boston, whose offensive inefficiency was a point of frustration for head coach Brad Stevens.
"I don't know what happened at the start of the game, we just weren't running. I thought we had a lot of open looks down the stretch, but couldn't get anything to go down. They aren't going to be easy to score on."
Boston shot 8-of-31 (25.8%) from three-point range last time out, with Marcus Smart and Jayson Tatum the only players to hit more than one in a winnable outing they let slip. Up three with 3:36 left after Grant's driving layup, the Celtics missed ten successive shots and ultimately lost 96-93.
They say it's a game of runs, but this was certainly one that Boston will wish they had back – better execution and a few more made three-pointers would've decided it in their favour.
Detroit had valued production from Derrick Rose, alongside Svi Mykhailiuk and Isaiah Stewart while rookie guard Saddiq Bey (17 pts, five 3PM) impressed too. New addition Mason Plumlee was two points from a double-double, recording an eyewatering 17 rebounds in 30 minutes.
Can they build on that effort and record back-to-back wins here?
who's more likely to win here? the breakdown
Boston were down 20 early in the second quarter, but clawed their way back to eventually lead two minutes into the fourth.
They can't afford another sluggish start here, as Detroit will happily punish them. However, the Celtics missed multiple shots in a row late on – as a team – and that's unlikely to happen again.
Even without Kemba Walker (left knee), Boston remain a handful for anyone and that's largely through the Tatum-Brown scoring partnership. Six-time All-Star forward Blake Griffin (concussion) remains sidelined for Dwane Casey's men, so they're not at full strength either.
Predicted starting line-ups
Pistons: Killian Hayes, Saddiq Bey, Josh Jackson, Jerami Grant, Mason Plumlee.
Celtics: Marcus Smart, Jaylen Brown, Jayson Tatum, Tristan Thompson, Daniel Theis.
Prediction: As such, I expect them to exact revenge on the Pistons here.
---
Memphis Grizzlies vs La Lakers: life without morant continues
Tip-off time: 11pm BST
Following a gritty road win in San Antonio, the defending champion Los Angeles Lakers face an undermanned Memphis Grizzlies side next – determined not to fall away after Ja Morant's ankle injury this past week. They earned their second win of the campaign away in Charlotte last time out, by a 15-point margin as guard Dillon Brooks and forward Kyle Anderson particularly shone.
Will they step up away in Los Angeles next, in what's part of a two-game series over the next three days? Or will the AD-LeBron combo prove too much for them to handle?
Anthony Davis and 2020 Finals MVP LeBron James combined for 60 points, 22 rebounds and 15 assists between them as the Lakers earned a hard-fought win over the Spurs last time out.
For all the external noise suggesting the pair – especially LeBron – would miss early weeks of the new campaign, they've featured heavily through the first ten days.
Davis (bruised calf) missed their blowout win over Minnesota last weekend but led by example here: 34 points (13-of-26 shooting, four 3PM), 11 rebounds and five assists alongside two steals.
LeBron – who celebrated his 36th birthday last week – was less efficient from the floor (8-of-22, three 3PM) but recorded another triple-double – the 95th of his illustrious career to date.
Dennis Schroder (15 pts, four rebounds, three assists) was the other impactful starter, while Kyle Kuzma (11 pts, four rebs) made his presence felt off the bench – despite getting into foul trouble.
New addition Montrezl Harrell had a season-low for points (4) but claimed 11 boards from the bench, as Frank Vogel continues testing multiple line-ups. Naturally, it'll be interesting to see how Memphis plan on dealing with multiple scorers capable of causing them trouble here.
They rallied to beat Brooklyn in overtime on December 29 after Morant's injury, but the next-man-up mentality head coach Taylor Jenkins discussed after their win over Charlotte will be crucial against another tough team to beat.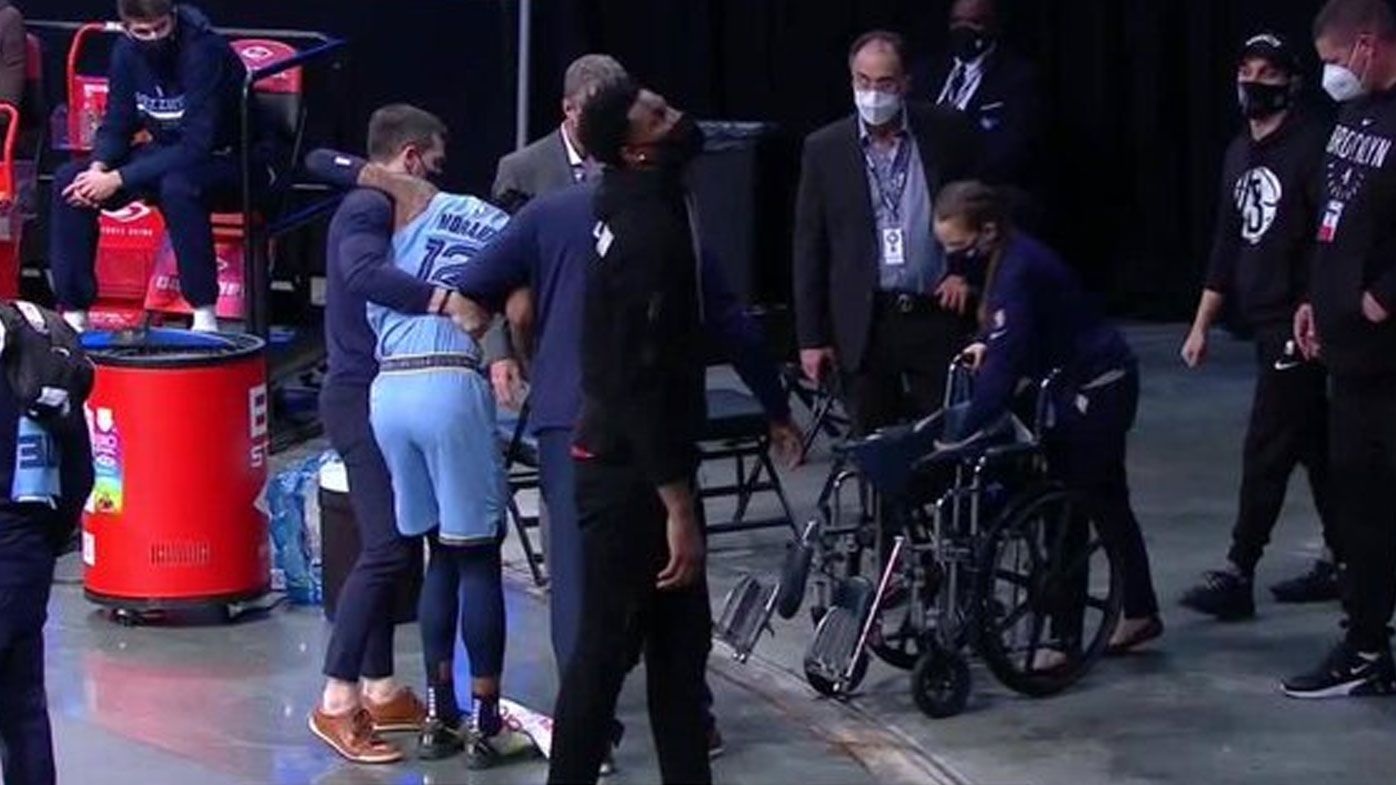 Anderson had 18 pts and a career-high 11 rebounds, Brandon Clarke scored 15 while Tyus Jones led all players with 12 assists. Brooks had 21, including five three-pointers, but can they maintain such shooting efficiency against a team who have multiple ways to beat you on a given night?
Who's more likely to win here? The breakdown
ESPN's Basketball Power Index gives the Grizzlies just a 14% chance of winning this Western Conference showdown and unfortunately for them, that low percentage is justified.
Morant is a matchwinner so without him and Jaren Jackson Jr (torn meniscus), it'll be a long evening for them. If they can stay competitive throughout – like San Antonio did – they'll have a better opportunity to snatch a morale-boosting road win. However, I don't see that happening.
Grizzlies: Tyus Jones, Dillon Brooks, Kyle Anderson, Brandon Clarke, Jonas Valanciunas.
Lakers: Dennis Schroder, Kentavious Caldwell-Pope, LeBron James, Anthony Davis, Marc Gasol.
Prediction: A comfortable Lakers victory
Pictures' source: Detroit Free Press, Getty, NBA unless stated