Former featherweight champion Max Holloway (#1) further reinforced the assertion that there's levels to this game as he was utterly dominant during a superb unanimous decision win (50-43, 50-43, 50-42) over Calvin Kattar (#6) in tonight's main event, capping an electric night's action at the Ethiad Arena in Abu Dhabi – the first UFC card with fans in attendance since last March.
Holloway's striking clinic steals show in memorable main event
50-43, 50-43, 50-42: Max Holloway defeats Calvin Kattar via unanimous decision
As I wrote last month, Kattar warned Holloway that overlooking him here would be a mistake. Max, who lost a razor-thin title fight against Alexander Volkanovski last July, took that personally.
There were so many moments to choose from, but the former champion's effortless showboating towards the end of R5 typified sheer dominance against a true challenger in Kattar.
Calvin loaded up on leg kicks early, his jab was landing and if you watched him against Dan Ige last year – or any of his previous fights – you'd be aware of his ability to take punishment well.
This was definitely a different feeling.
Holloway's fast hands – a theme particularly on display last summer – connected with increasing efficiency and he was more than happy pushing the pace. He mixed up strikes, to the body and head, showcased his movement while refusing to be predictable with attacks.
Whether it was a sharp knee to the head against the fence, a big right-hand flush on Kattar's chin, kicks to the midsection or timely spinning backfist, he combined them all to good effect.
Kattar's corner stressed the importance of him standing his ground more, but that was easier said than done. Max's quick combos continued, as he was loading up to the body and earned a brief knockdown in R2.
Kattar was landing strikes but Holloway had speed and time on his side. An elbow rocked the 32-year-old again, before more furious flurries landed as he frankly survived the round.
Saved by the horn as he grinned madly, Holloway's onslaught continued into R3 and 4.
Uppercut, body strikes, knees, jabs – Kattar ate them all and tried trading with him, but head movement and fight management saw him with an uphill climb that continued to increase as the minutes ticked by.
Referee Herb Dean shouted fight back a few times in R4 as Holloway's barrage of sharp punches continued, with Kattar absorbing more damage and again somehow surviving after a head kick wizzed upside his head.
The body punches continued into R5, with the aforementioned showboating.
With news of an inspired Brian Ortega set to face Volkanovski in the next title fight, the champ's reaction says all you need to know:
---
Condit outworks brown in final ufc fight of his existing deal
30-27, 30-27, 30-27: Carlos Condit beats Matt Brown by unanimous decision
In a co-main event clash between two legendary fighters, this was billed as potentially a final UFC fight for both. Brown pushed the pace early and applied pressure before getting a body lock takedown – but on the entry, he was bleeding profusely as his head split open against the fence.
Condit landed multiple ground strikes but Brown was doing his utmost to make him uncomfortable against the fence, with suffocating pressure and limited opportunity to scramble.
Eventually he did, continuing to outwork the 40-year-old with hammer fists before the horn sounded. Those punch combinations that were being threatened early in R1 were flowing in Condit's favour to start the second, though Brown wasn't content exchanging on the feet.
Instead he tried to wrestle and attacked the body where possible, before Condit produced a leg sweep takedown without warning and began chipping away with strikes on the ground again.
Brown mirrored that leg sweep in R3 and Condit responded as you'd expect: defensively and on high alert, as strikes were landing but this time from a commanding position against the fence.
The grappling exchanges continued as Brown blocked an arm triangle submission but was still in bottom position as Condit was warned about the direction of his clubbing blows to the head.
They returned to the feet, began exchanging once more before the final bell sounded – although Brown was unimpressed by the scorecards, it was clear who won this long-awaited matchup.
Rest of the main card
R1, 4:25: Li Jingliang defeats Santiago Ponzinibbio by knockout (punch) 
After a two-year absence, Santiago Ponzinibbio made his long-awaited Octagon return but his seven-match winning streak was put on ice by a motivated Li Jingliang (18-6), who rebounded from losing to Neil Magny at UFC 248 in style. In fairness, not much was happening early on.
Both were posturing a lot in a chess match of sorts, but Li kept his hands intently while Ponzinibbio couldn't find his striking range. He over-extended and was caught flush.
---
Di Chirico ends Buckley's hype train with a leg kick of his own
R1, 2:12 – Di Chirico defeats Joaquin Buckley via knockout (head kick)
During another middleweight clash, Joaquin Buckley was undone by a determined challenger in Alessio Di Chirico (13-5), who did to him what he did against Impa Kasanganay last year.
Buckley applied forward pressure early on in what was a competitive start by both, but it ultimately didn't last.
Di Chirico threw a leg kick and Buckley, who was winding up a right hook, buckled straight down to the mat after the Italian's shin caught him flush. A few hammer fists followed before the referee rushed in and ended it, a sequence which seemed to happen in a flash.
---
Soriano earns UFC's first knockout of 2021
R1, 4:48 – Punahele Soriano defeats Dusko Todorovic by TKO (punches)
The main card began with two undefeated middleweights, as Punahele Soriano ended Dusko Todorovic's 10-0 record after a series of devastating punches saw the Serbian scrambling desperately to recover from a knockdown and his mouthpiece getting swatted out too.
Todorovic began well and tried his utmost to be evasive – hit and not get hit – but that proved his downfall, as Soriano responded accordingly with a devastating knockdown just as the commentators began to express their frustration that he threw too much into each strike.
Right on cue then, came a devastating knockdown and Todorovic's main objective was now to survive the round. Herb Dean paused the action as they frantically tried to avoid wasting time, giving him more time to benefit from an inadvertent pause, but Soriano finished it in style.
He returned with another looping punch near the cage that grounded Todorovic once more and this time, Dean had seen enough and forcefully held him back as he wheeled away to celebrate.
"Not bad for a year off! He hit me with some good shots, no matter how hard I hit him, he tried to get me back – I was surprised Herb stopped it because he was riding my legs, but I'm not complaining." 
Prelim results: no knockouts, but gritty decision wins aplenty
Edwards makes a name for herself
In the night's final prelim, there was a memorable debut display for Joselyne Edwards (10-2), earning a decision win (30-27 x 2, 29-28) against Wu Yanan (11-4). Edwards could've ended it in R1 alone, with an armbar as well as ground-and-pound strikes after they scrambled on the mat.
Yanan did well to recover but she was clearly losing, rather evidenced by a moment midway through R2: Edwards slipped to the mat and as Yanan tried to capitalise, was met with a sharp upkick that pushed her backwards and drew a large roar from the crowd.
Whenever the debutant let her hands go, Wu simply had no answers and by the time she did wake up, it was too late. Edwards was fatiguing but had built up enough credit with her abilities, both in their stand-up exchanges and on the ground, to earn an impressive win on short-notice.
---
Felipe starts slow but finishes strong
Carlos Felipe (10-1) edged out a split decision win (28-29, 29-28 x 2) of his own, against a durable opponent in the form of Justin Tafa.
Tafa started better, loading up on leg strikes (11 in R1) and was visibly fired up after Felipe's inadvertent finger poke. Carlos' corner scolded him for his inactivity, which prompted an immediate response early in R2.
He began better but unsurprisingly slowed again, as they exchanged punch combinations in the pocket before referee Herb Dean gave a stern warning to the Brazilian for his second foul of the evening. He responded with big shots, almost as if those words had seen a light switch on in his head: mixing them up, to Tafa's body and head, as the momentum suddenly shifted in his favour.
Tafa's left eye swelled up fairly quickly afterwards as he did well to survive the onslaught, clinching where possible and recovering as they headed into R3.
Felipe had been rewarded for picking the pace up and clearly didn't want to clinch while Tafa wasn't kicking at range either. They exchanged more combos in the pocket before Tafa level changed into a takedown attempt near the fence.
He couldn't complete it the first time round but eventually did later on, as his efforts to frustrate were working. Ultimately though, it wasn't enough to help him edge a close 15-minute scrap – a result he'd understandably feel hard done by with.
---
Emeev and Zawada clash in fun welterweight scrap
A fun clash at welterweight saw Ramazan Emeev edge past David Zawada via split decision (28-29, 29-28 x 2) on the scorecards, in a battle that will raise the stock of both.
Emeev, who equalled a personal-best four takedowns, earned an early one while Zawada needed to be constantly alert with his defence as they brawled in the clinch.
Emeev landed a powerful combination as Zawada returned to his feet up against the cage, in what typified a furious start by the Russian.
In fairness to Zawada, his leg kicks were the x-factor here – Emeev was visibly struggling to deal with them, failed to check them and continued takedown defence from the German meant this felt even going into the third round.
Emeev earned a brilliant takedown early on to tie his personal-high four in a fight, while continuing to build from a furious flurry just before the previous horn which bloodied Zawada.
Zawada earned a takedown of his own and landed multiple shoulder strikes on the ground, but allowed Ramazan an opportunity for respite. Emeev scrambled as they returned to the feet, where strikes were exchanged in the final 90 seconds to end a competitive encounter.
---
Melo ends three-fight UFC losing streak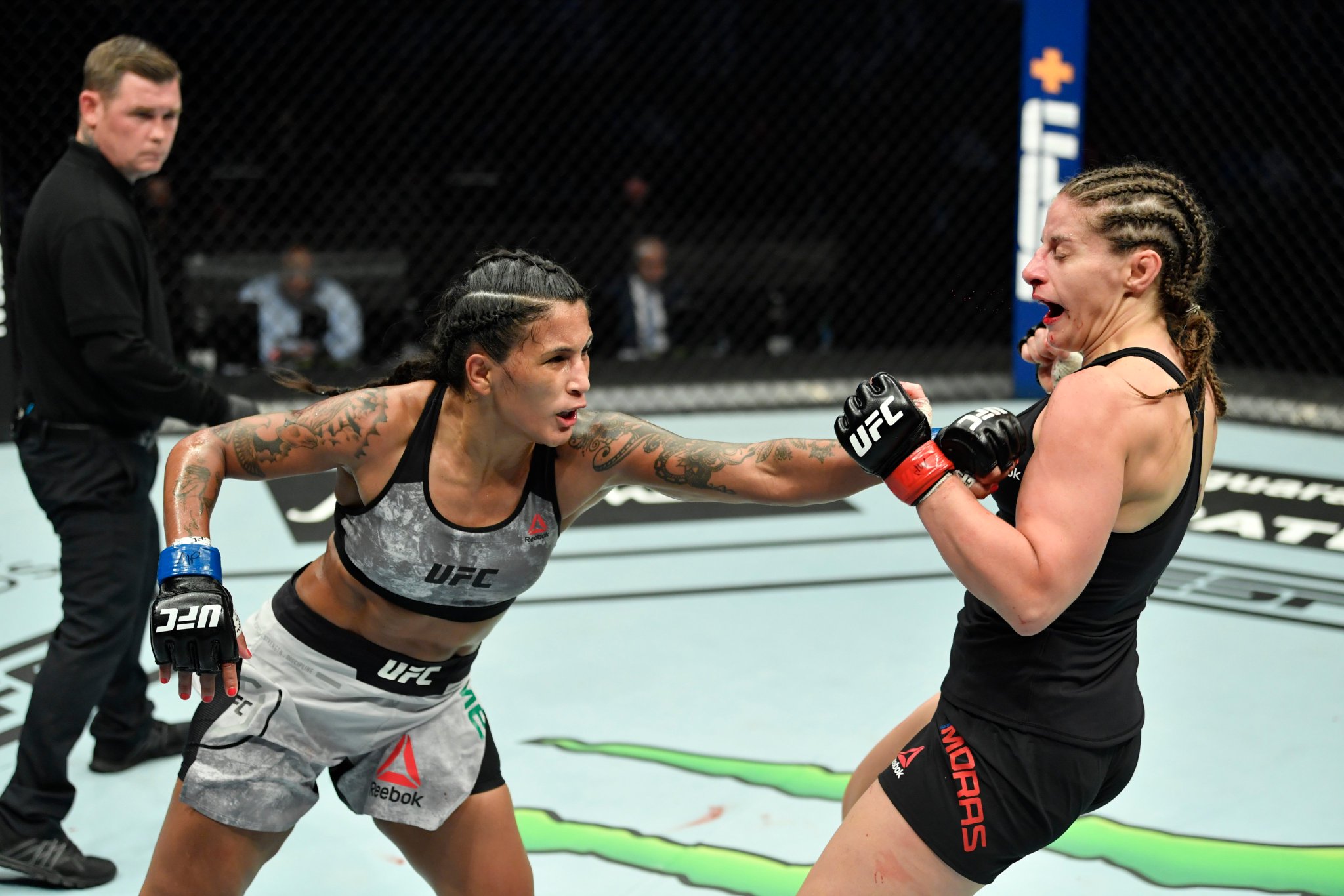 In a difficult-to-score women's bantamweight clash, Vanessa Melo edged a decision win (30-27, 29-28 x 2) against Sarah Moras – snapping a three-fight losing streak in the process.
Melo consciously tried to control the centre of the Octagon, against an evasive Moras who continued moving, landing infrequent kicks and bouncing on the outside looking for counter-punching opportunities.
Melo eventually closed the distance and it appeared as though Moras was running scared at times – very much aware of the Brazilian's power, as a left-handed punch caused a bloody nose and rocked her.
Some great takedown defence to end R2 saw Melo effortlessly shrug off Moras' efforts to take the fight down to the ground. R3 was better from Moras but Melo continued to charge forward as the unofficial stats were read out midway through the finale: over 250 missed strikes between them.
Although she looked perplexed as the scorecards were read out, Moras could have no real complaints about losing. She wasn't active nor urgent enough.
---
Lingo with an invaluable 15 minutes in the tank
Featherweight Austin Lingo (8-1) returned to winning ways (30-26 x 2, 30-27) against a gamely Jacob Kilburn, before revealing post-fight he's itching for more activity to come in 2021.
"I did what I had to, he's a tough guy – I thought he was going to go down but he just kept coming, Any month, let me know, I'm here."
He landed some big right-hands early and earned a quick knockdown, but Kilburn did well to recover – something that became a constant theme throughout.
Lingo continued landing big punches and closed the distance with ease as his movement was key: cutting off the Octagon and making Kilburn eat continuous jabs for good measure.
Kilburn tried grappling, submissions and anything to avoid more onslaught on the feet, but still had a puncher's chance after ending R1 with a defiant spinning backfist.
Lingo continued showcasing his sharp boxing skills early in R2, to which Kilburn responded with a timely takedown. It was ultimately wasted as they brawled in the clinch, but passionate corner work by Lingo's entourage showed his movement had started to slow.
Kilburn started R3 purposefully and secured a quick takedown, but crucially didn't do enough with it to justify the energy expended.
By the midway point of the final round, it was clear Lingo was easing to a comfortable decision win as the right-hand continued to prove too much for Kilburn to deal with. He couldn't adjust, and it's back to the drawing board for the 25-year-old.
Picture souce: Bloody Elbow, Cageside Press, MMA Junkie