Two more NBA match previews as the Philadelphia 76ers (9-5) attempt to bounce back from their narrow defeat in Memphis against Eastern Conference rivals Boston (8-4), while the Indiana Pacers continue life without Victor Oladipo, hosting Luka Doncic and the Dallas Mavericks, who have been unpredictable to start the regular season. Which sides will prevail?
76ers vs Celtics: Two eastern conference contenders clash
Tip-off time: Midnight BST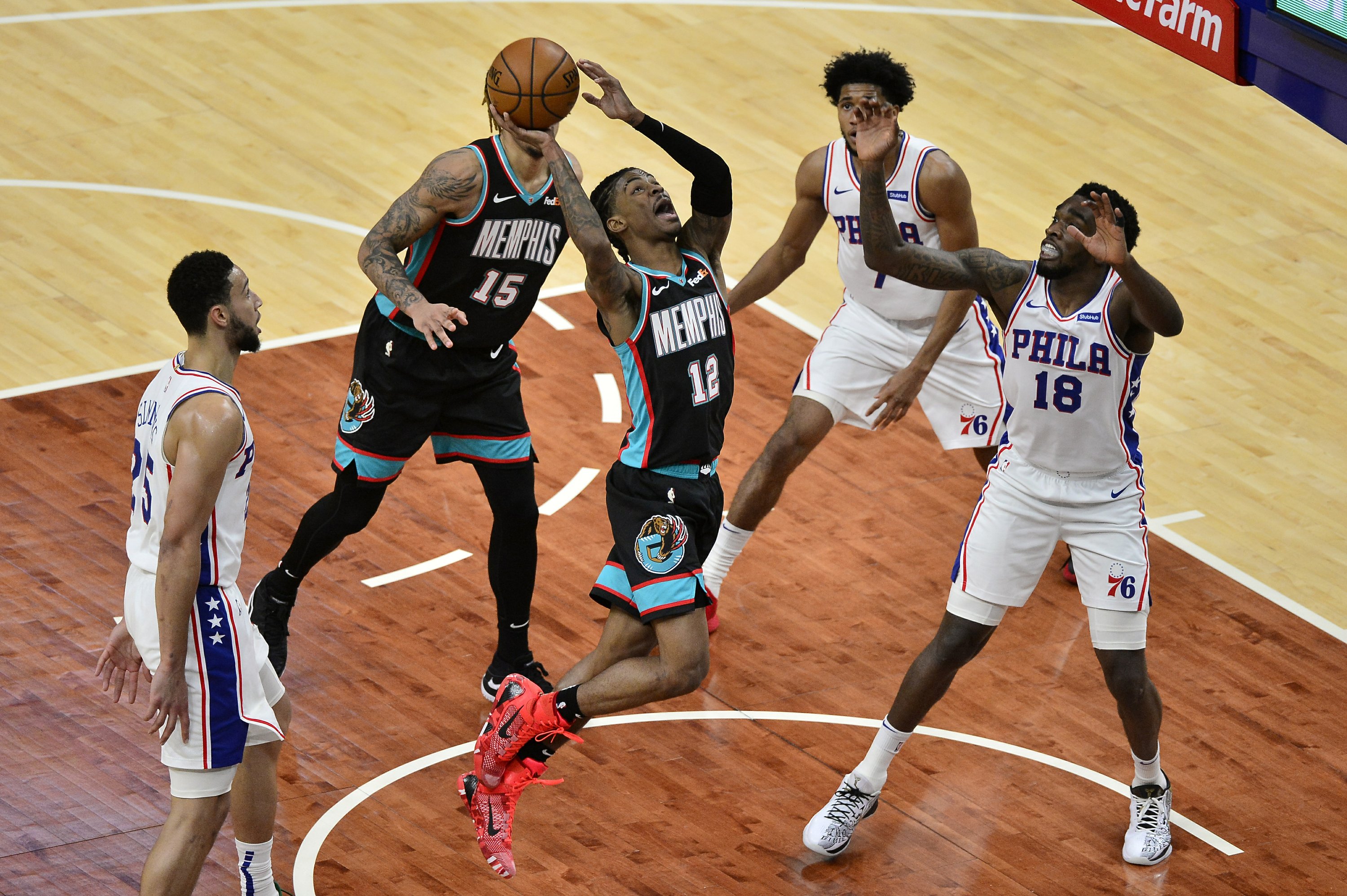 Two strong Eastern Conference contenders clash on Thursday, as the Philadelphia 76ers (9-5) entertain Brad Stevens' Boston Celtics (8-4) after COVID-19 protocols have ensured this matchup won't be the long-awaited collision between two title-aspiring sides many critics hoped for.
Last season's Rookie of the Year Ja Morant returned from his ankle sprain and was his usual influential self (17 pts, six assists, one steal) as the Memphis Grizzlies (7-6) did just enough to squeeze past the 76ers – losing 106-104 without their All-Star center Joel Embiid (right knee).
It's the eighth straight game Memphis has held an opponent under 110 points and it'll be interesting to see how Boston respond as they look to bounce back themselves, having been blasted out of the water rather comprehensively at home against the Knicks on Saturday night.
Will Doc Rivers' men fare better among home comforts, or can the Celtics spring an unwelcome surprise on them here?
Rough doesn't come close to describing what was a woeful collective display by Boston, as they were trounced 105-75 by Tom Thibodeau's New York Knicks last time out.
Jaylen Brown continues playing at an All-Star level (25 pts, 6 rebs, three assists) but even he couldn't help stop the bleeding as they were down 48-35 at half-time and their struggles only continued after the intermission.
Kemba Walker (knee) made his season debut with a 20-minute showing, but it couldn't have been a worse night for the All-Star guard to get his feet wet again.
He left the court in pain and receiving medical attention having absorbed an inadvertent hit late in the third quarter, after scoring just nine points on 3-of-13 shooting with five turnovers to boot.
As a team, Boston missed 39 three-pointers – a new franchise record – and their 75 points tied their lowest total of the Brad Stevens era. For context, the 44-year-old has been there since 2013.
They've had problems scoring against Thibodeau-led teams in the past, but even without Jayson Tatum (COVID-19) and Daniel Theis (finger sprain) among others, this was a particularly dismal display.
It goes without saying that they have to be much better against the Sixers, who have their own problems right now too.
Seth Curry's excellent start with his new team was curtailed by his positive COVID-19 test, while no new tests is encouraging but a development that will be clarified in tonight's injury report.
Philadelphia have been hailed for their handling of Embiid, who was being rested so missed the Grizzlies defeat and is being treated with caution – just like All-Star teammate Ben Simmons.
We'll see how that dynamic unfolds and whether either or both feature in Doc Rivers' starting five as they look to make a statement against tough and equally motivated opposition here.
WHO's MORE LIKELY TO WIN HERE? THE BREAKDOWN
This is a tough matchup to confidently predict, as evidenced by ESPN's Basketball Power Index and their razor-thin backing of Boston (50.4%) in this intriguing Eastern Conference clash.
It won't be the same without All-Star duo Embiid (knee, back) nor Tatum (COVID-19 protocols) for their respective teams here, but there's a chance the former does feature after all.
When you add that to the way Boston crumbled against New York – despite multiple unavailable players – it makes me inclined to expect the Sixers do enough, improving to 8-1 at home here.
It'll be interesting to see how Kemba and Smart fare after rough shooting nights (7-of-28) at home last time out and while there are mitigating factors, surely they can't get any worse?
Predicted starting line-ups
76ers: Ben Simmons, Shake Milton, Danny Green, Tobias Harris, Joel Embiid
Celtics: Kemba Walker, Marcus Smart, Jaylen Brown, Grant Williams, Tristan Thompson
---
Indiana vs Dallas: Doncic and co look to deliver defiant response
Tip-off time: Midnight BST
Two teams who suffered heavy defeats recently collide in a cross-conference affair Thursday when the Indiana Pacers (8-5) entertain an unpredictable Dallas Mavericks (6-7) side next.
Kristaps Porzingis continued his encouraging return after knee surgery and led Dallas in scoring (23 pts), but couldn't stop the likes of Kyle Lowry and Chris Boucher enjoying productive shooting nights as they cruised to a 23-point victory after an eventful second-half of action.
Indiana ended their four-game road trip with a humbling 129-96 defeat by the LA Clippers in the early hours on Monday as Luke Kennard, and Marcus Morris both had 20-point outings from the bench. Which side will bounce back, earning a morale-boosting result in this latest encounter?
Porzingis had 23 on 8-of-14 from the field, but the bulk of his Mavericks teammates largely struggled – including franchise star guard Luka Doncic (15 pts, nine assists, seven rebounds).
While that statline might be a decent night's outing for another player, the 21-year-old had three turnovers and struggled with his shooting (4-of-11) in 35 minutes. Their defeat overnight is the latest twist in a frustrating season so far for the Slovenian and his ambitious teammates.
Trey Burke (17 pts, three assists, two steals) and James Johnson (15 pts, six rebs, two assists) contributed well from the bench, but there wasn't much else inspiration. That needs to change.
They, like other contending teams, haven't exactly been helped by the COVID-19 pandemic.
Maxi Kleber, Dwight Powell, Dorian Finney-Smith and Josh Richardson (COVID-19 protocols) are all listed as sidelined for this matchup, though third-year guard Jalen Brunson returned against Toronto and could prove a key x-factor for the visitors here.
He's averaging 11 points and three assists per game this term. Besides his breakout game against Chicago, last week continues to show the encouraging progression that should earn him increased responsibility and minutes.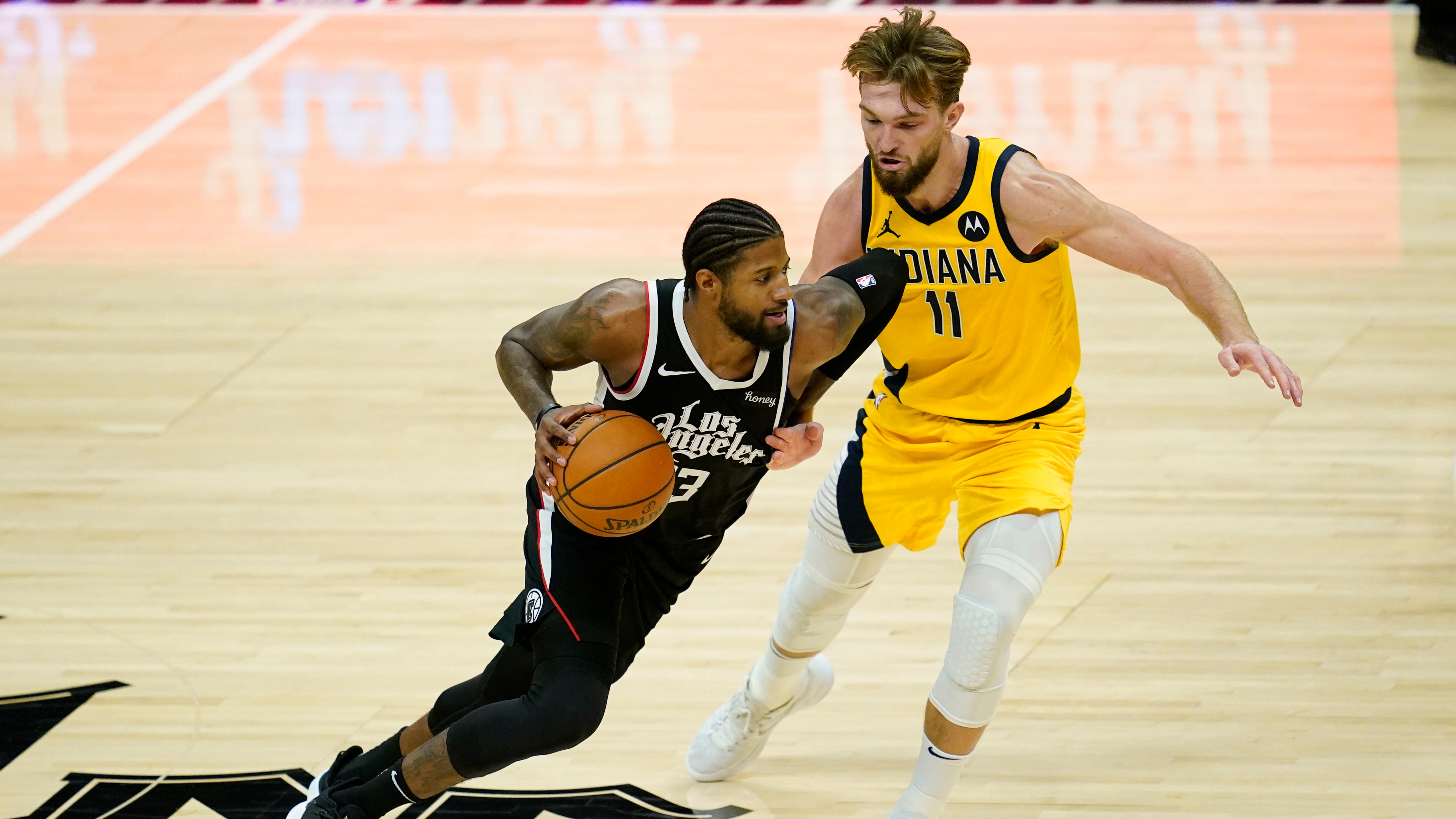 All-Star forward Domantas Sabonis had another double-double (19 pts, 14 rebounds) but couldn't stop the Clippers from extending their win streak to four at Indiana's expense.
Doug McDermott led the Pacers with 23 points (five 3 PM), who were outscored down the stretch and punished for lax defence.
Post-game, Sabonis said: "They started making shots, I feel like we left guys too open. We were throwing out a lot of different defences, they caught onto the box-and-1, and it was harder for us to catch up."
He'll hope they learn from their mistakes against the Doncic-Porzingis combination, who have shown on multiple occasions their ability to feed off one another or kick it out to an open man.
WHO'S MORE LIKELY TO WIN HERE? THE BREAKDOWN
ESPN's Basketball Power Index gives Dallas a slight edge (56.5%) in this matchup, and it's  difficult to disagree, despite both struggling for regular consistency to start the campaign.
It's almost impossible for players like Tim Hardaway Jr (0-of-12) to play worse than they did overnight away vs Toronto. Having shot just 25% from deep and 37.8% FG overall during that loss, it'd be surprising not to see an upturn in collective efficiency and production here to atone for a disappointing result against a struggling Eastern Conference team.
Indiana has lost three of their last five and are again without Myles Turner (hand fracture), who  leads the league in blocked shots (4.2 per game).
That's a significant blow and while Sabonis will step up in his absence, it's a big ask against a team with their own length and depth: Porzingis and reserve forward Johnson.
Pacers: Malcolm Brogdon, Edmond Sumner, Doug McDermott, Justin Holiday, Domantas Sabonis.
Mavericks: Luka Doncic, Jalen Brunson, Tim Hardaway Jr, Kristaps Porzingis, Willie Cauley-Stein.
Pictures source: USA Today, AP