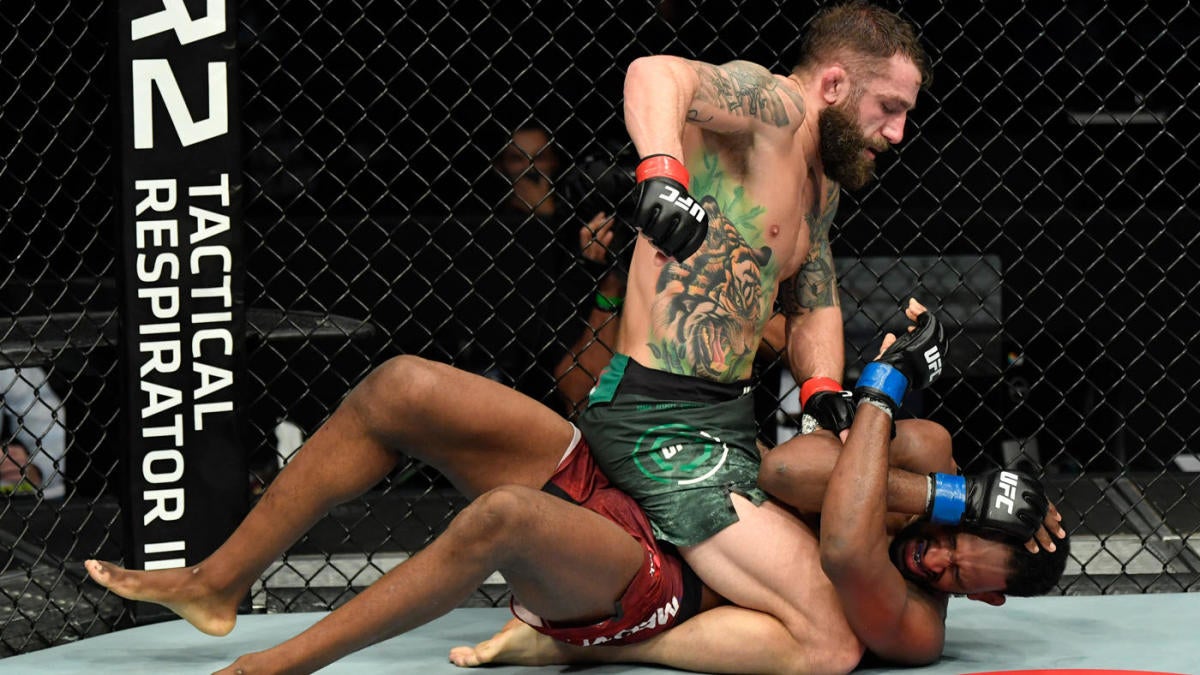 Michael Chiesa (#8) delivered on his vow to impress and went the full 25 minutes for the first time in his professional career against Neil Magny (#9). He earned a comfortable decision win (49-46 on all three judges' scorecards), maintaining a perfect 4-0 welterweight record before calling out former interim champion Colby Covington (#1) as the man he wants next.
Chiesa stakes his welterweight title contending claim
49-46, 49-46, 49-46: Michael Chiesa defeats Neil Magny via unanimous decision
In the build-up, Chiesa felt confident – despite a year-long layoff – this display would reinforce his belief that while entering the peak years of his MMA career, he can truly challenge for welterweight gold. Two fighters with three-fight winning streaks collided, and he prevailed.
It was comfortable in the end, with a more purposeful R3 showing going in Magny's favour on all three scorecards prior to the main event rounds. Although Chiesa was understandably starting to fatigue as time wore on and Magny still dangerous, the damage had already been done.
Afterwards, he revealed this fight was made a five-round main event on short-notice and cardio was always going to come into the equation – especially as he'd never been 25 minutes before.
Magny falls into Chiesa's traps, got his tactics wrong
Magny, entering this clash after post-lockdown victories over Anthony Rocco Martin and Robbie Lawler in a three-month span last summer, had logged 45 minutes of Octagon time in 2020.
He earned four takedowns against Lawler, landed 80.6% of his total strikes and produced suffocating attack against a wily veteran unwilling to be embroiled in a grappling exchange.
Chiesa's skills on the ground are well-known, so everyone knew this wasn't going to be like Saturday's main event – an all-out stand-up battle. That said, Magny didn't force the Maverick into any real uncomfortable situations until he was already down two rounds on the scorecards.
Chiesa outstruck him in their stand-up exchanges, timed his takedowns while burning plenty of clock time with 10 minutes' control time. Although there were a few promising moments, Magny didn't do enough and it's perhaps why Chiesa felt this was a good returning matchup for him.
There wasn't much in the way of urgency and after R2, you could easily see where this was going unless he made more of a concerted effort to keep the fight standing while holding his ground or initiate takedowns first. He didn't do either.
Post-fight comments, Colby callout
During his post-fight press conference, he said:
"This was the highest-ranked, available guy and this made sense – he's a legit welterweight, was on the cusp of being the all-time leader in wins. I have a lot to build off now, the key is to stay active and get into some big fights this year.

My priority is always to finish, but how easy is it to finish Neil Magny?"

On potentially facing Covington:

"He's the toughest matchup for me, stylistically should beat me on any given Sunday, there's not a lot of boxes you can check that favour me in that fight.

How can I say I want to be the champion if I don't want to fight the best guys. When I look at the top five, it's the hardest fight and if I come up short, I come up short but that's the guy." 
We'll see if he gets his wish, but the timing of this callout couldn't have been any more apt.
Alves ruins Lazzez's big night in co-main event
In the night's co-main, welterweight Warlley Alves earned his first win since UFC 237 – 20 months ago – against Tunisia's Mounir Lazzez, the crowd's clear favourite given his ties to Dubai.
He immediately began on the front foot and brutal body kicks helped the 30-year-old silence the Lazzez hype train on enemy soil as the 33-year-old crumbled to the mat in pain from liver shots: Alves was the only fighter to be booed, albeit mildly, during the pre-fight introductions.
Commentators suggested Lazzez sustained a broken rib or two from Alves' gruelling kicks, which put him on the defensive and the Brazilian immediately could smell blood.
Although it was an underwhelming end to a fight with plenty of build-up attached, Alves has fought champion Kamaru Usman (November 2016) and beat Covington the year before, so it shouldn't be seen as such a surprise considering the level of competition he's previously faced.
Rest of the main card
In the light-heavyweight division, Isaac Villanueva (17-11) potentially prolonged his UFC career with a nasty second-round knockout punch – 40 seconds after the restart – against Vinicius Moreira (9-5). Since signing a deal from Dana White's Contender Series, Moreira is now 0-4.
Moreira was more efficient with his striking up to that point (57% success of 42 strikes thrown), he mixed up his striking – largely to the body and leg – but was caught flush with a looping right.
30-27, 30-27, 30-26: In what turned out to be a true mismatch, #9 ranked women's flyweight Viviane Araujo made an example of Roxanne Modafferi (#8).
The commentators continued praising the latter's toughness and ability to absorb damage while still coming forward, but failed to get the Brazilian's respect for her punching power nor apply adequate pressure to shoot for regular takedowns.
Araujo's head movement and boxing skills were impressive to watch, even against Modafferi who largely looked out of her depth during their stand-up exchanges and was wearing plenty of damage rather quickly too.
Araujo completed all four takedown attempts and although she ultimately didn't get the finish, admitted it wasn't a surprise considering Modafferi's durability.
---
By stark contrast, #9 ranked flyweight Matt Schnell endured a few nervy moments as Bruce Buffer announced the scorecards during his 15-minute duel with Tyson Nam (#13).
He squeezed out a split decision win (29-28, 28-29, 29-28) despite landing more volume (85-58) and a 10% increase in striking efficiency over the encounter.
---
Featherweight Lerone Murphy remained unbeaten after a UD win (29-28, 29-28, 30-27) but revealed frustration post-fight with his overall display vs. Douglas Silva de Andrade, suggesting there was still more to come from him in future and being glad with the activity under his belt.
Showcasing good head movement, the ability to mix up his striking and improved grappling, the 29-year-old was good but would've preferred a finish.
---
To start the main card, middleweight Omari Akhmedov bounced back from his drab decision defeat to Chris Weidman with a R2 submission win (arm-triangle choke) over England's Tom Breese – who was slightly favoured against a defiant opponent keen to retain his #13 MW ranking.
After an explosive R1 display, outstriking Breese a whopping 71-6 and almost finished it there, he was patient enough to get back down to the ground after the break. Breese had no chance.
Prelim results
Ricky Simon impressed in the night's featured prelim, as his suffocating ground game proved too much for Belgian debutant Gaetano Pirrello – a R2 arm-triangle choke submission his finishing manoeuvre after persistent takedowns were Pirrello's kryptonite.
Promising flyweight Su Mudaerji returned to the Octagon just two months after his Performance of the Night display against Malcolm Gordon and earned some important cage time with a UD win (29-28, 29-28, 30-27) over Zarrukh Adashev.
As for middleweights, Dalcha Lungiambula bounced back from his first UFC loss, outlasting a durable Markus Perez during another competitive clash that could've swung either way.
There was an impressive start to the card with two finishes, but none in the next four immediately afterwards.
Frenchwoman Manon Fiorot excelled en route to a R2 TKO victory – a nasty head kick, followed by 16 unanswered punches – over Victoria Leonardo in the women's flyweight division.
Then, Khabib Nurmagomedov's cousin Umar (13-0) enjoyed a memorable debut while justifying his standing as a huge favourite with a R2 submission (rear-naked choke) win vs. fellow newcomer Sergey Morozov (16-4).
A competitive lightweight clash was next, as Mike Davis and promotional newcomer Mason Jones threw just under 550 strikes in 15 minutes.
The latter lost his 10-0 undefeated record despite connecting with more in every round, as Davis' three completed takedowns and ability to land the more impactful strikes was key on the judges' scorecards – all three scored it 29-28 in the American's favour.
Another UFC champion's relative was in action, as flyweight title-holder Deiveson cornered his younger brother Francisco to a unanimous decision win (29-28 x3) on his promotional debut against Jerome Rivera.
Picture source: Cageside Press, CBS Sports, MMA Fighting, MMA Junkie, talkSPORT