The pre-fight pleasantries and public display of niceties throughout fight week has been a complete contrast to their first meeting seven years ago, but while Conor McGregor's UFC return was always going to be surrounded by much fanfare worldwide, Dustin Poirier has a golden opportunity to right the wrong – something Conor himself has done before to great effect.
During an interview with Theo Von, Poirier (26-6, 1 NC) confirmed that he'd signed a new 8-fight UFC contract – one that presumably sees him tied up for the next three years. He turned 32 this week, is six months younger but importantly has far more Octagon experience (24-12) compared with McGregor and has also been involved in more action since their first encounter at UFC 178.
Both were featherweights (145lbs), have since moved up and naturally developed in the years since then. One thing that has always followed Poirier is the manner of that TKO loss, though.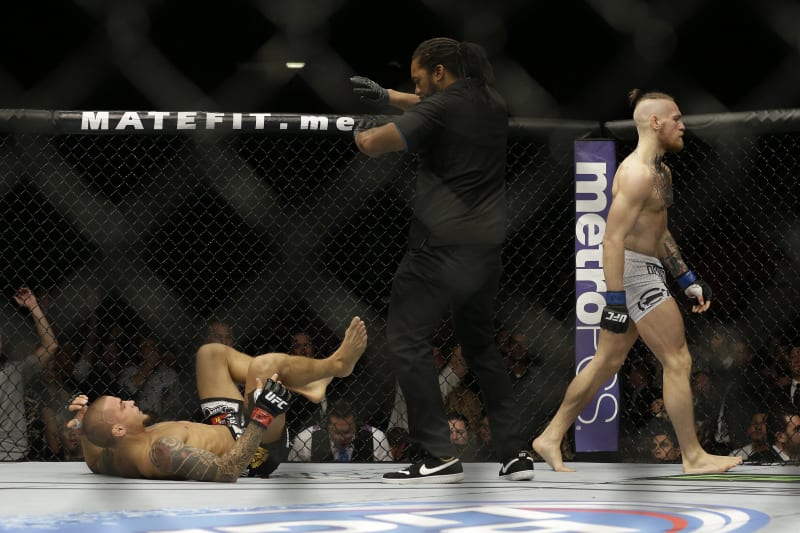 Last summer, Poirier said his loss to McGregor was the beginning of an "evolution to becoming comfortable" in his own skin. That might sound like hyperbole, but read this quote:
"That [the McGregor loss] was the start of it.

It's been a long process: being a father, losing again, winning some and losing again, and winning another one. It's just a long evolution of stop caring so much. You just stop caring about the noise, the stuff that doesn't matter."
McGregor and Ronda Rousey were key figures in piquing my interest in MMA six years ago, so that quote rings true in Conor's case too – having had to deal with losses of his own previously.
After being submitted by Nate Diaz during their first fight, he said:
"It's a tough pill to swallow, but we can either run from adversity or face our adversity head on and conquer it.

That's what I plan to do, it wasn't ideal, I got caught. It is what it is. I'll face it, take it on the chin and I'll carry on. I'll learn from it and that's it."
That he certainly did, winning the rematch before venturing on to greater heights – later that year, beating Eddie Alvarez to win lightweight gold, boxing Floyd Mayweather in 2017 and being submitted by Khabib Nurmagomedov 14 months later in an unforgettable lightweight title bout.
Unlike in boxing, where politics (promoters, sanctioning bodies and TV holders) often stop big fights from happening at their peak, we don't have that problem as often in MMA.
The best fight the best, someone always has to lose but there are multiple examples of fighters who've recovered well to early disappoint and been stronger for it.
Light-heavyweight champ Jan Blachowicz and HW title-holder Stipe Miocic are just two cases to support that point. Amanda Nunes has four losses and is the consensus best female of all-time.
Poirier has a chance many others aren't afforded – one to set the record straight and silence those critics who believe it'll be a repeat performance, another swift evening's work for Conor.
Daniel Cormier's comments earlier this week spoke volumes:
We've seen the ceremonial weigh-ins for the first time in a long while, he looked big and just like during Thursday's presser, there was more smiles and an exchange of his hot sauce too.
Perhaps he's trying to lull McGregor into a false sense of security, to let his guard down, as it's clear the former two-weight champion has his sights set on bigger challenges than this in 2021.
He has already said he wants to be Forbes' highest-paid athlete this year – he was #16 with an estimated $48m (£35m) in earnings last year despite only fighting competitively for 40 seconds.
A boxing return with WBA welterweight champion Manny Pacquiao is likely, though potentially rematching Khabib is clearly what both he and the UFC want to complete more than anything.
Poirier can't afford to waste big opportunity
Former interim champion Poirier also lost via submission to Khabib, albeit more recently (September 2019) and with infinitely more mutual respect attached during their matchup.
After his Fight of the Night win over Dan Hooker last June, he's #2 in the lightweight rankings and avenging that heartbreaking loss seven years ago would do wonders for his future prospects.
Hooker is welcoming two-time Bellator lightweight champion Michael Chandler to the Octagon in this weekend's intriguing co-main event.
Undefeated lightweight Ottman Azaitar (13-0) was cut from the promotion altogether after news broke that he was caught violating COVID-19 health and safety protocols just yesterday.
There are storylines aplenty with Khabib still listed as champion – despite retiring three months ago – while Justin Gaethje and Charles Oliveira will be interested spectators this weekend.
Despite the noise and pleasantries, one thing is for sure: Poirier needs to seize this moment.
Pictures source: UFC (Jeff Bottari), Bleacher Report via Getty Images