Dustin Poirier (#2) avenged his defeat to Conor McGregor (#4) on the Irishman's Octagon return with an impressive second-round KO win, after Michael Chandler put the lightweight division on notice by blasting #6 ranked Dan Hooker inside a round during the UFC 257 co-main event.
poirier exacts revenge with r2 ko win over mcgregor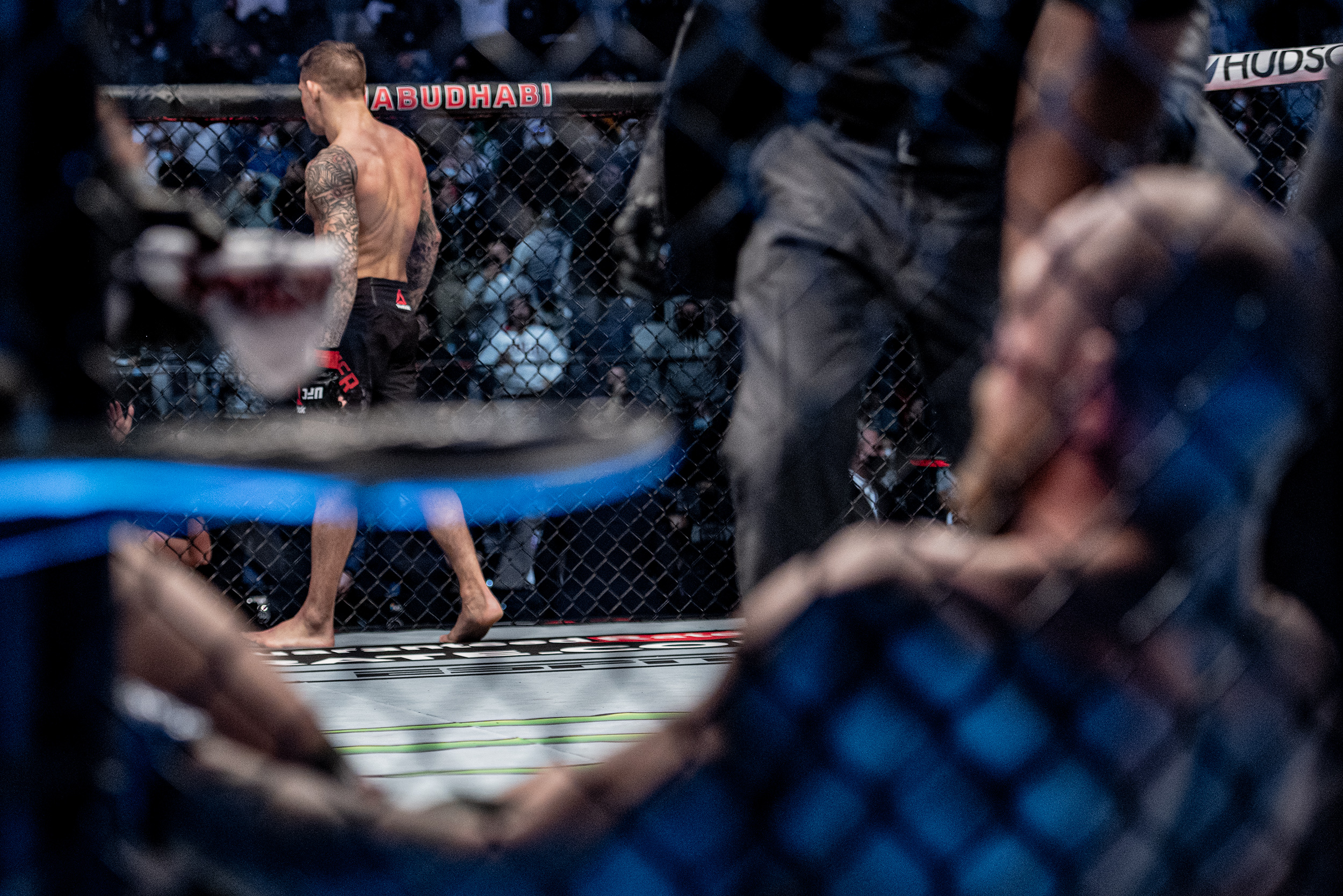 R2, 2:32 – Dustin Poirier defeats Conor McGregor via KO (punches)
McGregor began on the front foot and immediately put Poirier on his heels. Dustin responded well, with calf kicks and an early takedown. They exchanged shoulder strikes in the clinch, knees to the body but more kicks were beginning to wobble Conor – as the exchanges continued.
McGregor won R1 but Poirier quickly warmed to the fact this would largely be a boxing fight, as he found a few of his kicks caught and thrust back into his direction as an act of defiance.
Poirier, who was absorbing some punishment, also was able to showcase some good head movement despite McGregor leading the charge with his left-handed punches.
Dustin backed him up against the cage as they continued to exchange shots – Poirier with more volume – landing a big left hand and an unanswered combo which rocked Conor to the mat.
Just like that, it was all over. Referee Herb Dean halted the action, McGregor limped off in agony to his corner and Poirier earned some sweet revenge in emphatic style after a nervy opening.
After Dana White told the presser things "don't look good" as he continues to try luring Khabib back for a 30th fight, the current lightweight champion had his say on social media post-fight:
Also read: UFC 257 – Forget the pleasantries, Poirier must now seize the moment
---
Chandler races to emphatic finish on UFC debut
R1, 2:30: Michael Chandler defeats Dan Hooker via TKO (punches) 
Michael Chandler's long-awaited UFC debut certainly didn't disappoint – after a patient start, he was aware enough to stifle Hooker's calf kick attacks while constantly circling with intent.
Hooker didn't exactly exude confidence as he was constantly on the back foot and Chandler landed a two-punch combo which suddenly proved the beginning of the end.
As Hooker was backed up against the cage, he threw a right-hand low to the body and left hook which connected flush across the New Zealander's face. The force rocked him to the ground and after several unanswered follow-up punches, referee Marc Goddard stopped the action.
After blasting the #6 ranked lightweight emphatically, halfway through R1, he had some choice words during his post-fight interview:
"Let's go get that title shot soon. There's a new king of the lightweight division. See you at the top."
During his press conference, he stressed an eagerness to fight the likes of Poirier – who he admires – in the future and admitted it was the greatest night of his professional career to date.
---
Rest of main card
Calderwood earns big win over Eye
30-27, 30-27, 29-28: #7 ranked flyweight Joanne Calderwood defeats Jessica Eye (#6)
After her flyweight championship fight against Valentina Shevchenko was shelved through a leg injury to the title-holder last summer, Calderwood returned to winning ways after a first-round submission defeat by Jennifer Maia in August.
It was a competitive start by both, though dirty boxing and plenty of brawling in the pocket helped Calderwood edge ahead after mixing up strikes to the head and body.
It was a close R1, but the Scottish international did enough to win it. Importantly, she was less aggressive and more measured after listening to her cornermen in-between rounds.
A front kick connecting flush to the face, vicious knees and more combos continue landing for JoJo, who relished an opportunity to continue landing punishment against a fully-healthy Eye.
It was becoming increasingly clear Eye needed to engage, strike first and close the distance but that proved difficult – Calderwood was comfortable kicking at range and kept her there.
Right on cue though, Eye completed a late R2 takedown as Calderwood missed a spinning backfist, but didn't do much with it before the horn sounded.
R3 saw more improvement from Eye, but it ultimately wasn't enough on the scorecards – especially after being cracked open with another knee to an already swollen face.
"I definitely wanted this Jessica, rather than the one missing weight… yeah, I like making it hard for myself.. it's the Scottish way. If they want that, or for me to fight 10 more girls, I'm up for that too." 
---
Muradov continues his short-notice excellence
R3, 2:59 – Makhmud Muradov defeats Andrew Sanchez via TKO (punches)
After having four bouts cancelled over the course of 2020 (Antonio Carlos Junior, Karl Roberson, Krzystof Jotko and Kevin Holland), rising middleweight Muradov returned to continue his undefeated streak – 14 in a row, three in the UFC – against a gamely opponent in Sanchez.
He mixed up his striking well, but kept his head open too long as Sanchez did well to counter at times whenever they exchanged shots in the pocket.
A brief pause in the action after a groin strike didn't slow the pace of a competitive affair, as the Uzbekistani threw a leg kick that narrowly whizzed past Sanchez and he finished R2 on top too – a venomous right-hand rocked the American, who did his best poker face. However, no sort of blank expression could stop the 32-year-old from what felt like an inevitable finish late on.
Sanchez brought him into action as a punch pushed Muradov back against the cage. In response, he ducked low and let a looping right hook fly.
It connected and landed right by Sanchez's ear, who was visibly rocked on his feet and stumbled rather worringly before referee Jason Herzog had no choice but to stop the fight – seconds later after unanswered punch flurry continues. Afterwards, he spoke to Jon Anik through a translator:
"Three fights, short-notice. Give me 2-3 months, I'll prepare better. MMA is going up in my country, I'll fight anyone – next week if my hand isn't broken."
---
Rodriguez emphatically derails Ribas' hype train
R2, 0:54 – Marina Rodriguez defeats Amanda Ribas via TKO (elbow and punches)
Rodriguez (#8) overcame a sluggish R1, where Ribas showcased good grappling and largely dominated from top position, to impressively blast beyond the #10 strawweight early in R2.
Her corner stressed more action in-between rounds which she produced: a right-hand cracked Ribas flush in the face and after a devastating hammer fist combo, she thought Dean ended it.
He went in close but crucially didn't stop the action, so she returned fire after a brief pause for a few more strikes before he stepped in the second time with Ribas essentially out on her feet.
Afterwards, she had plenty to say:
"I knew I needed to hit her more in the second round and when I landed some punches, I saw she was shook and really felt it, so knew that's what I needed to do to get the finish. 

My name was barely mentioned before this fight, but granted, she faced a lot of great competition, very popular, but I knew that I would go in there and make my name known. I came into the UFC to fight the top-ranked fighters, hope this win is going to get me over there and I'm always going to keep moving up. I always want to fight because my goal has always been to fight for the belt."
---
all prelim results as Pena wins, calls out amanda nunes
In a catchweight bout (157lbs), Arman Tsarukyan beat Matt Frevola via unanimous decision (30-27 x 2, 30-26). Frevola appeared sharp early on, but Tsarukyan applied constant pressure and was picking his shots with impactful accuracy in what felt like a 50-50 first five minutes of action.
Tsarukyan, who forfeited 20% of his fight purse after missing the lightweight limit, landed exhausting ground and pound strikes with smothering offense as those takedowns didn't stop.
Frevola's corner stressed the importance of defending takedowns in-between rounds, but it proved easier said than done. Within 20 seconds, Tsarukyan earned another one and refused to relent when pushing the pace, as a single-leg takedown and swarming offense were too much.
With 10-of-12 takedowns complete, Frevola's chin durability could only take him so far as he was overwhelmed by a clearly overmatched opponent he wasn't supposed to be fighting anyway.
Tavares returns to winning ways with decision victory
After defeats to Israel Adesanya (July 2018) and Edmen Shahbazyan (November 2019), #14 middleweight Brad Tavares returned to the win column with a commanding display vs. Antonio Carlos Junior (11-5, 1 NC). Tavares' takedown defence was brilliant, stuffing 10-of-11 attempts.
Both absorbed inadvertent groin shots (Tavares R1, Junior R2), but that didn't stop a relatively fast-paced affair with Tavares landing the more impactful strikes and profiting as Junior's left knee was a cherry red colour and clearly compromised early on from persistent inside leg kicks.
He continued to slip and counter, landing right hands with bad intentions but that groin strike ruined his chances of a finish. It went the full 15 minutes, with a UD win (30-27 x 2, 29-28).
Pena recovers from slow start, submits McMann
In the women's bantamweight division, #7 ranked contender Julianna Pena bounced back from her submission defeat to Germaine de Randamie three months ago with an impressive sub win of her own, showing patience and persistence before ultimately easing past #9 Sara McMann.
McMann began strong, pushing Pena up against the fence and looking for submission manoevures where possible. Pena responded well in R2, with an early guillotine choke attempt.
Despite McMann's scrambling efforts, Pena continued – triangle chokes and further guillotine attempts before they eventually returned to the feet. It was probably even after 10 minutes, as Pena's effective striking was key in keeping things competitive. Her patience was important too.
At one point, the stats showed she landed 92 ground strikes to five for McMann, as they frequently went back down to the mat with hammer fists and elbows a common theme.
Despite McMann fighting to try and push Pena's arm off, the 31-year-old sunk in a one-arm  rear-naked choke and eventually all the 2004 Olympic silver medallist could do was tap.
"I feel great, amazing. It played exactly as I thought it would, just beat the best wrestler and it's time for me to fight Amanda Nunes next – this girl is fighting someone with just three wins, it's time for her to stop ducking." 
The champion didn't mince words with her response on social media:
---
In the light-heavyweight division, Marcin Prachnio produced an inspired third round to outlast Khalil Rountree Jr on all three scorecards – winning 29-28 across the board, despite looking vulnerable whenever the 30-year-old landed one of his heavy-handed punch combinations.
After some passionate words from his corner in-between rounds, this result means the 32-year-old Poland international has now ended a three-fight losing streak, earning his first UFC win.
In his catchweight (150lbs) bout, Movsar Evloev earned a gritty split decision win (28-29, 29-28, 29-28) over Nik Lentz to remain undefeated in the UFC (4-0, 14-0 MMA), before calling out Dana and the matchmakers – showing an eagerness to face top-15 opposition next.
In the night's opener, flyweight Amir Albazi recovered from a slow start to beat Zhalgas Zhumagulov by UD (29-28 x 3), vowing to finish his next opponent when next in the Octagon.
Picture source: Cageside Press, MMA Junkie, UFC