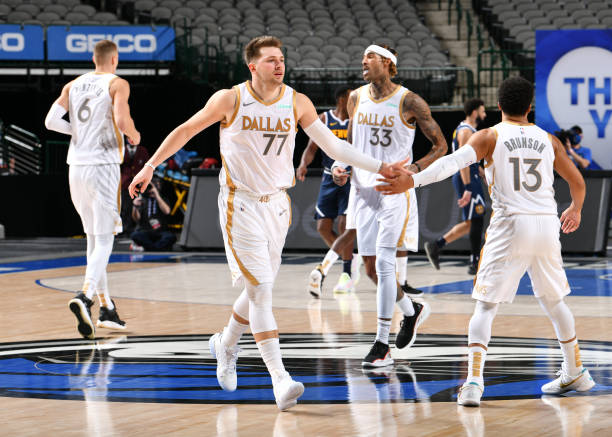 Two Western Conference sides clash in the early hours on Thursday, as the Dallas Mavericks (8-9) travel to Salt Lake City against an in-form Utah Jazz (13-4) team next.  In what will be billed as the battle of the duos: Mitchell-Gobert vs. Doncic-Porzingis, the hosts put their nine-game winning streak on the line once more – no-one else leaguewide boasts a similar run of late.
Jazz vs Mavericks: Can the mavs snap in-form Utah's winning run?
Tip-off time: 2am BST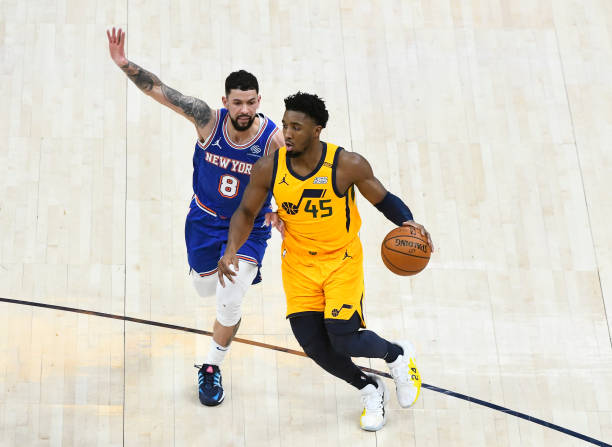 Donovan Mitchell has quietly entered the MVP discussion in recent weeks with career-high numbers in 3P% (39.5) and assists (4.9), but didn't showcase his developemnts with a disappointing showing overnight. The 23-year-old shooting guard was 3-of-15 from the field (2-of-9 from three), with nine points, eight rebounds, three assists and two turnovers in 34 minutes.
It didn't matter though, as Utah held the Knicks to just 13 fourth-quarter points and earned a comeback win – having been down 13 at half-time.
Post-game, head coach Quin Snyder and his All-Star center Rudy Gobert both spoke about winning ugly while having patience to endure tough moments.
"We did a lot of good things that didn't show up on the scoreboard. People talk about winning ugly, tonight ugly was pretty."
Gobert finished with 19 rebounds, 18 points, four blocks and two assists in 32 minutes – an opportune time for an influential display by the 28-year-old.
"We kept our focus on the defensive end, didn't worry about the missed shots. All of a sudden, we got stops and the shots started falling."
Simply put, Dallas need to be more efficient in clutch situations. Luka Doncic's pullup jump shot put them up 106-104 with 3:53 remaining against Denver last time out. Michael Porter Jr's three-pointer restored a slender Nuggets advantage 20 seconds later, but immediately afterwards, head coach Rick Carlisle watched his players wilt down the stretch with the game on the line.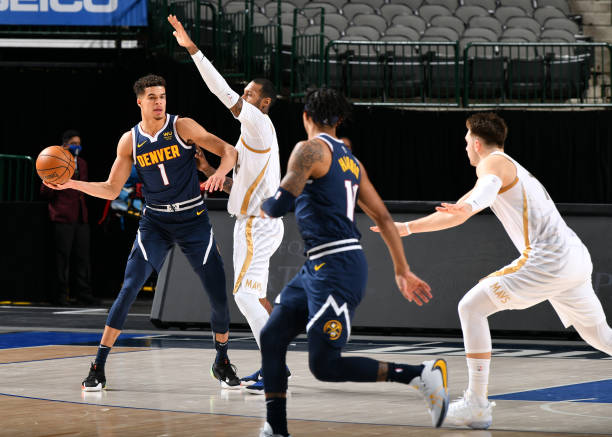 They missed 4-of-6 shots taken, made three turnovers and ultimately lost by a four-point margin as their visitors responded well to late-game pressure. All of Utah's last four wins (New Orleans twice, Golden State and New York) have been relatively comfortable affairs – but their defence was key to shutting out Denver away from home comforts during a 109-105 win early last week.
So, there's no reason why they shouldn't be comfortable performing the same way, against a Dallas team lacking similar depth to beat them with. Utah have six players averaging 10 or more points, while O'Neale (7.9 PPG) had a season-high 20 points on 7-of-12 shooting overnight.
Dallas have six too, but Josh Richardson (COVID-19 protocols) and a returning Porzingis (knee) are among that list – two talented but unreliable players so far this term, for different reasons.
Who's more likely to win here? The breakdown
ESPN's Basketball Power Index gives the Jazz a clear advantage (61.4%) in this matchup, unsurprising as they're the stronger Western Conference side – both on paper and in practice, judging by their promising start to the regular season thus far through 17 games.
After a rocky 4-4 start, they've won their last nine games and earned a double-digit win over the New York Knicks despite Donovan Mitchell's lowest-scoring game since February last year.
That emphasises their strength in depth, with multiple players who can punish teams both on offense and defensively – Rudy Gobert continues to impress, despite not always having the most attractive statlines to justify such clamour over his services on a nightly basis.
That said, winning streaks are always there to be broken. Dallas enter this encounter after a closely-contested defeat by Denver (10-7), another team stronger than them.
With Doncic and Porzingis firing on all cylinders, anything can happen. I'm predicting another home win for Snyder's men though.
Predicted line-ups
Jazz: Donovan Mitchell, Mike Conley, Bojan Bogdanovic, Royce O'Neale, Rudy Gobert.
Mavericks: Luka Doncic, Jalen Brunson, Tim Hardaway Jr, Kristaps Porzingis, Willie-Cauley Stein.
Prediction: Dallas make it difficult, but Utah ultimately extend their winning streak to 10 games
Picture source: Getty, — quotes via ESPN