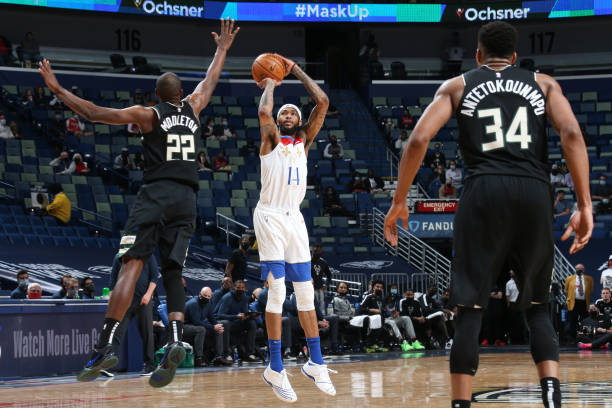 Brandon Ingram had 28 points, Zion Williamson impressed with 21 on 13 shots alongside a career-high seven assists as the Milwaukee Bucks (11-7) had their two-game winning run snapped emphatically away from home overnight. Can they sustain that level of efficiency against a well-rested Houston Rockets (8-9) team in the second of their back-to-back slate?
Pelicans vs Rockets: two west rivals clash in compelling watch
Tip-off time: Sunday, 1am BST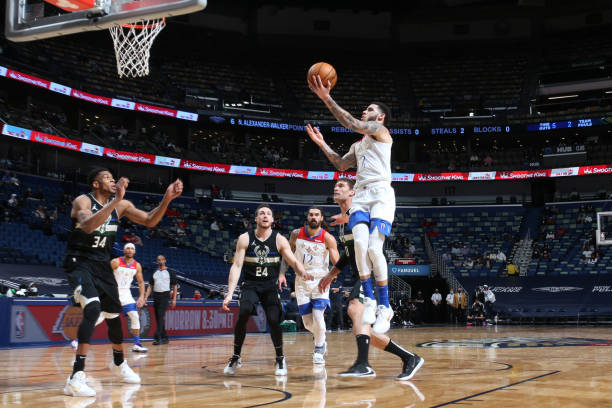 Lonzo Ball had a season-high 27 points to cap an excellent night, while backcourt partner Eric Bledsoe added 25 points to help sink his former team during their 131-126 win overnight.
They were up 27 midway through the third quarter and that scoreline rather flatters the Bucks, who struggled from distance and with the basics (12 turnovers, 19 fouls committed). Two-time MVP Giannis Antetokounmpo had 38 points and 11 rebs, in another frustrating outing for them.
New Orleans (7-10) were impressive but can they importantly manage to sustain those levels of production and consistency in the second of a back-to-back, with Houston up next?
assertive Lonzo display – despite trade talk – justifying potential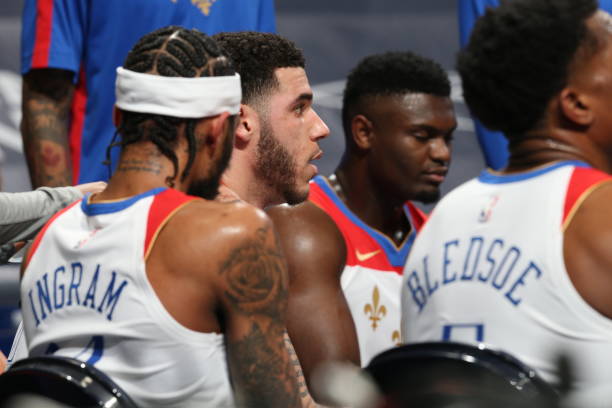 Lonzo was more aggressive, engaged and decisive from the perimeter – unlocking precisely the sort of potential everyone has long stressed this team is capable of producing. As hinted at already though, the question is whether they can sustain that over a long period of time.
Ball, the subject of trade speculation in recent days, has responded well. He impressed when guarding Bradley Beal and the Wizards before limping off with an ankle complaint on Thursday but continued in the same vein against considerably better Eastern Conference opposition.
"It's just about staying aggressive and staying true to the work I put in. I knew it was going to turn around sooner or later.

It's just a lot more fluid, a lot more guys in rhythm and we get better quality shots. So, we got to kind of use tonight as a blueprint. I just try to stay away from all the noise, just go out there and try to help my team win games."
Besides Ball's big display, Bledsoe delivered an impressive showing too. According to ESPN, Ball-Bledsoe became just the fifth starting backcourt in NBA history to hit at least seven threes in the same game, joining the likes of Stephen Curry and Klay Thompson in the history books.
Ball movement was key to their success overnight, but patience and a willingness to find the right shot to take was also important too. Head coach Stan Van Gundy was understandably displeased with the way they fell apart defensively late on, giving Milwaukee a sliver of hope, but it's unrealistic to expect perfection for 48 minutes in a team packed with vulnerabilities.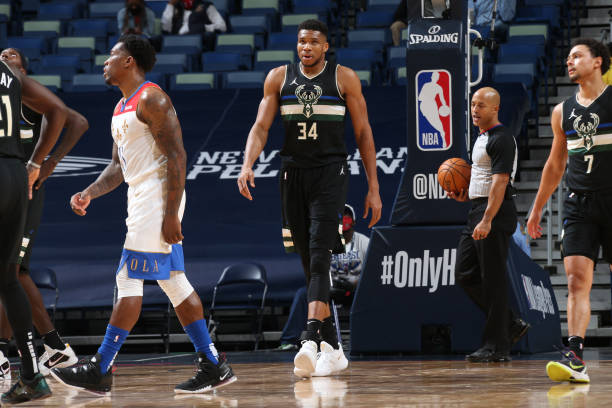 Jrue Holiday had 22 points, nine rebounds and five assists against his former teammates – who honoured him with a video tribute as he received a warm welcome in New Orleans. How will Houston fare, in the first of a four-game road stint?
Rockets impress after poor start vs. blazers, chemistry building
After a dismal first quarter where they were down 32-17, the Houston Rockets rallied to beat Damian Lillard and the Portland Trail Blazers in the early hours on Friday.
Victor Oladipo struggled – as the rest of his teammates – with his three-point shooting, but led the Rockets with 25 points, seven rebounds and five assists. They recovered defiantly, despite shooting 27.7% from deep with 13 turnovers and messy statlines across the board.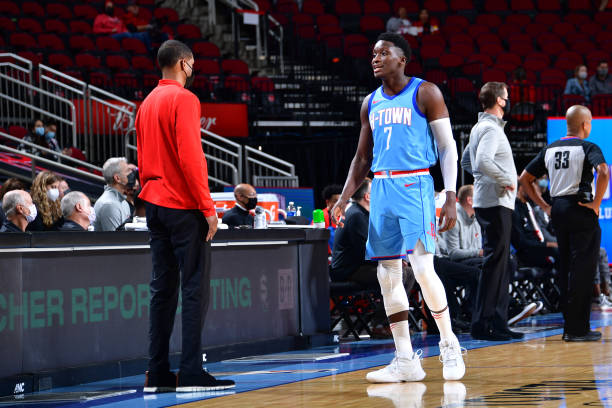 Up 53-50 at half-time, the advantage only grew as time wore on and they got into their groove – something head coach Stephen Silas was pleased with. Post-game, he said:
"The guys have grit, they're determined.

The adversity part is something that we've been talking a lot about. I think earlier in the season, it would hit and we would succumb to that. But tonight… we put forth the right energy to overcome it."
Christian Wood (ankle) finished with his eighth double-double of the season (22 pts, 12 rebs) on his return, having missed three games through injury.
John Wall had 20 points, six assists and five rebs before revealing there's a fresh energy after James Harden's trade to Brooklyn was made official earlier this month.
Can they build on that narrow Blazers win up against another form of unpredictable Western Conference opposition, just like themselves?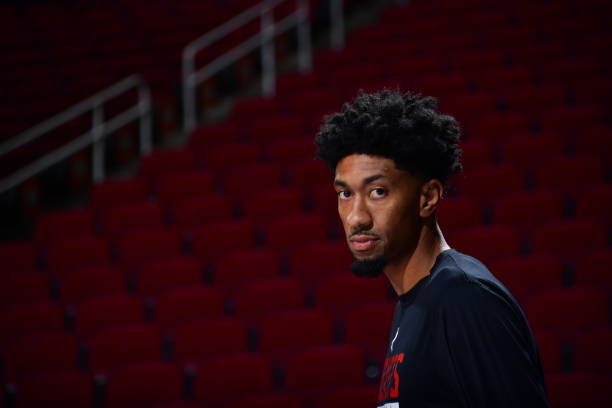 Who's more likely to win? The breakdown
Interestingly, ESPN's Basketball Power Index has given the Pelicans a slight edge (55.5%) for their latest home clash – justifiable considering how they can play, when everyone is firing on all cylinders. Starting center Steven Adams recorded just four points overnight (2-of-5, 20 rebounds) and yet they still managed to score 131 – their highest tally of the season to date.
The last time they achieved those numbers was last February, but they entertain a bullish Rockets side who are gelling together nicely and on a four-game winning streak too.
Wall-Oladipo is a better backcourt on paper than Ball-Bledsoe, while Wood's return from injury could prove decisive in an intriguing clash. I'm predicting a hard-fought Rockets win here, even though the Pelicans are in high spirits and will be keen to continue where they left off. That's easier said than done, especially in the second of a back-to-back against difficult opposition.
Possible line-ups
Pelicans: Lonzo Ball, Eric Bledsoe, Brandon Ingram, Zion Williamson, Steven Adams
Rockets: John Wall, Victor Oladipo, Danuel House Jr, PJ Tucker, Christian Wood
Picture source: Getty — quotes, statistics via ESPN