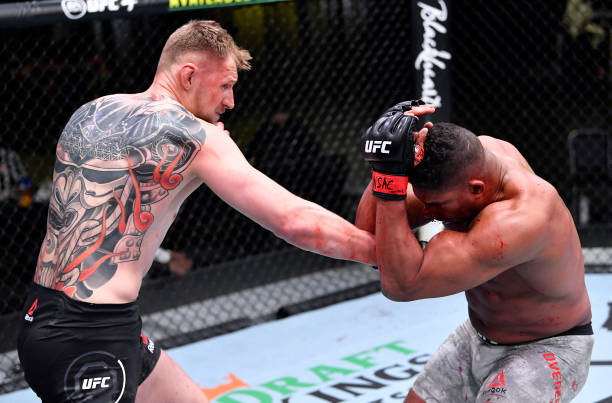 #6 ranked heavyweight Alexander Volkov produced a flawless display to blast past Alistair Overeem (#5) in the night's main event, after Cory Sandhagen (#2) reinforced the notion he's next up in the bantamweight title conversation with a flying knee KO win vs. Frankie Edgar (#4).
Volkov's violence ends overeem with relentless striking display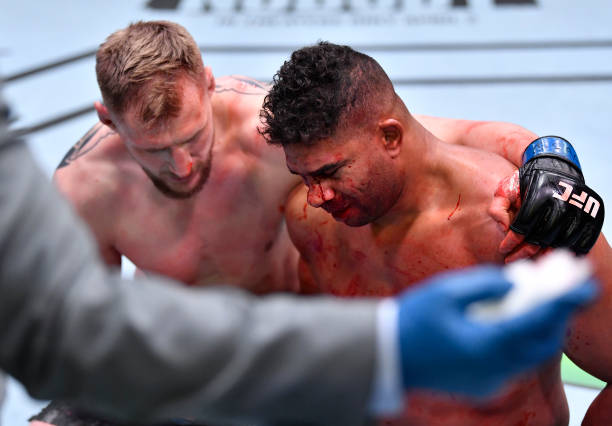 R2, 2:06 – Alexander Volkov defeats Alistair Overeem via TKO (punches)
Overeem landed a few looping left hands early but Volkov had continued success with his jab and forced the Dutchman into recovery from a precarious moment – a knockdown or slip of sorts, absorbing ground and pound strikes and suddenly needing to frantically protect himself.
He was outstruck rather comprehensively (8-33) in the first five minutes, but it would only worsen as time wore on. Between rounds, Overeem was wearing damage aplenty across his face, punishment for failing to effectively defend punch combos and being picked apart at range.
Wobbled on more than one occasion with one-two combinations landing flush, you could sense this wasn't going to last much longer in a smaller Octagon and no hiding place either. An attempt to take Drago down proved futile and after connecting with another combination, it was all over.
In his post-fight interview with Daniel Cormier, Volkov stressed he's not yet the finished article but learned a lot from his defeat by #2 ranked Curtis Blaydes last summer and wants a title shot.
"I feel great, really excited, it's my time, I'm coming for the belt.

I work a lot with my jab, my striking, everything – wrestling, my stand-up, I felt I could finish him and saw his face, he has a lot of cuts and blood, I'm waiting for a good punch and did it. I'm feeling better and better."
Also read: Volkov embracing main event spotlight, feels he'll be future HW champ
---
Sandhagen needs 28 seconds, stuns Edgar in devastating fashion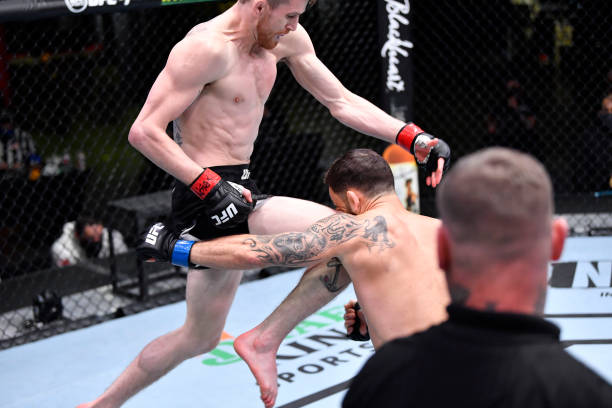 R1, 0:28: Cory Sandhagen (#2) knocks out Frankie Edgar (#4) via KO (flying knee) 
After a Performance of the Night TKO win vs. Marlon Moraes in October, Sandhagen earned the fastest win of his MMA career (14-2) to date – knocking future Hall of Famer Edgar unconscious inside 30 seconds. It's the second fastest flying knee in UFC history after Jorge Masvidal's infamous five-second finish of Ben Askren in 2019 and he expects it justifies his claim for gold.
He looked visibly reserved afterwards, aware that Edgar was in a bad way after what was a rather brutal knockout too – falling forward limpless and needing extended medical attention.
The defeat means Edgar has now lost three of his last four, just six months removed from a Fight of the Night split decision win over #8 ranked Pedro Munhoz.
The manner of this stoppage is sure to leave fans hoping he retires, though after signing a new multi-fight deal last year, it's unlikely after his comments earlier this week.
"I guess I didn't need them [tricks] this time. I'll take that. It feels good man but that's Frankie Edgar, I don't want to watch that happen to him, but rather him than me.

I'm a different monster than before the Aljo fight, he taught me some lessons. I heard Yan wants TJ, that's if he even wins that fight. If Aljo wins, I owe him a nap. Him or Yan, whoever wins gets knocked out by me in July."
---
Rest of main card as pantoja and dariush earn big decision wins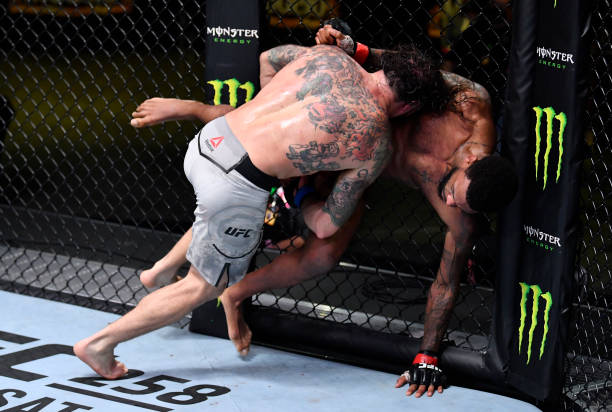 30-27, 30-27, 30-27: Clay Guida defeats Michael Johnson via unanimous decision
As he usually does, Johnson began furiously and cut Guida open by landing a few heavy punches. Across from him stood a gamely opponent who was always willing to trade leather – so Guida landed some of his own clubbing blows and level changed with a timely takedown.
That awareness was key throughout, especially as Johnson outstruck him at distance (47-32) but his insistence on taking the fight to the ground stopped the Menace from getting much rhythm.
Guida was rocked early in R3 and smartly responded with a takedown.
Just as the referee warned for inactivity, Guida completed a body triangle and tried to sink in a choke – Johnson gritted his teeth, surviving a dangerous moment but if it wasn't clear who was winning before the round began, it was by the end.
Johnson (19-17) has now lost four successive fights for the first time in his career, while Guida snapped a two-fight losing streak of his own – the scorecards don't really tell the full story. Post-fight, the future Hall of Famer praised Johnson's ability before revealing he has targets for 2021:
"It wasn't pretty, he [Johnson] hits like a truck, great takedown defence but it felt great to get my hand raised finally.

Kudos to he and his camp, hard to finish takedowns and he has more accolades in wrestling than I do, we stuck to the gameplan, winning up against the fence and on the ground. Let's get it going again, fight three times a year, maybe give me someone who isn't a 20-fight veteran – an up-and-comer. Let's go!"
---
29-28, 29-28, 30-27: Alexandre Pantoja (#5) outstrikes Manel Kape via unanimous decision
In Kape's long-awaited UFC debut, he had an immediate trial by fire with #5 ranked flyweight Pantoja ready to welcome him into the promotion.
The Brazilian loaded up on leg kicks and asserted himself in the early exchanges, which proved pivotal en route to a UD win – bouncing back after a defeat against Askar Askarov (#3) last July.
Kape tried to be evasive and showcased his fast feet, landing jabs but absorbing damage as Pantoja continued throwing strikes and applying forward pressure. An audacious cartwheel kick backfired on him late in R1, typifying a frustrating R1 for the Portugal-born former RIZIN star.
Pantoja returned to leg kicks in R2, throwing busy flurries upon occasion as Kape appeared in two minds whether to continue counter-punching or be first to strike – neither tactic was really working well for him, as his high striking accuracy had been contradicted by limited output.
R2: Pantoja goes back to leg kicks, throwing a busy flurry once more as Kape in two minds whether to counter-punch or be first — neither is really working even with his corner stressing more activity
As his corner shouted for more activity, promising moments of aggression and pressure only began late in R3 after absorbing further damage with Pantoja loading up on more combos.
Hyped up as an excellent fight beforehand, Kape had some promising moments but felt too comfortable trying to point score without absorbing damage – something easier said than done.
Afterwards, Pantoja stressed his eagerness to join the UFC hoping to prove himself to all those who tipped him for greatness during his earlier years – admitting the goal remains the same: current champion Deiveson Figueiredo, who is set for a rematch with Brandon Moreno next.
---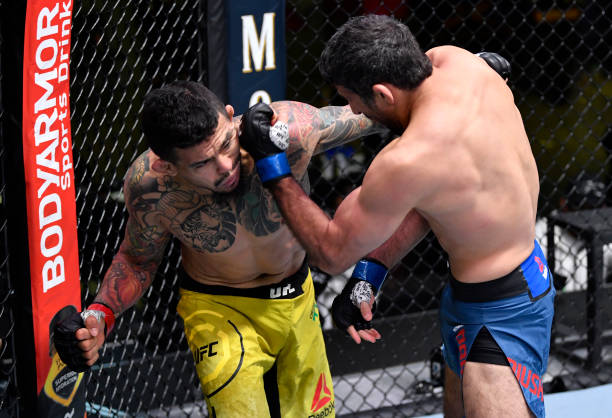 28-29, 29-28, 29-28: Beneil Dariush (#13) beats Carlos Diego Ferreira (#10) by split decision
In a lightweight encounter between highly-rated top contenders seven years after their first meeting, it was fought at a frenetic pace and lived up to the billing. Both were rocked, Dariush had more than two minutes' control time in R1 and hurt the Brazilian with a knee to the body but Ferreira staggered him before the horn with a right-hand as they exchanged in the pocket.
Dariush continued to complete takedowns in R2 and apply pressure on the ground, despite Ferreira flirting with a guillotine choke upon occasion from bottom position. They scrambled, Ferreira landed strikes aplenty and again Dariush picked his moment to ground the fight again.
He earned a personal-best five takedowns, eclipsing his previous high (4) with 6:12 worth of ground control time to boot before setting the record straight in his post-fight interview.
While refusing to call out a specific name, he said he felt both he and Ferreira were disrespected with this matchup – insisting both had built up win streaks deserving higher competition.
Statistic: With this latest decision victory, only #3 ranked contender Charles Oliveira (8) has a longer active UFC win streak in the lightweight division than Dariush. 
---
R2, 4:52 – Danilo Marques defeats Mike Rodriguez via submission (rear-naked choke) 
To kick off the main card, there was a light-heavyweight scrap between Rodriguez and Marques.
Marques used his physical advantages to suffocate Rodriguez early, logging more than two minutes' control time with two takedowns and sticking like glue against the fence in round one.
To Rodriguez's credit, he defended those attempts well and showed the requisite wherewithal to recover in uncompromising positions. After landing a few uppercuts whenever the Brazilian tried closing the distance with patient movement, the 35-year-old charged forward and eventually completed another single-leg takedown before softing him up with persistent hammer fists.
He got his back in a body triangle, put the squeeze on him with a choke and within seconds, Mike was out unconscious as referee Jason Herzog was aware – quickly ending proceedings.
Post-fight, Marques admitted he expected a first-round finish and learned those submission manoevures from Demian Maia. Hoping to spend a week at home with family, he'll return to training after and is eyeing a swift Octagon return as time isn't truly on his side at 35-years-old.
---
Prelim results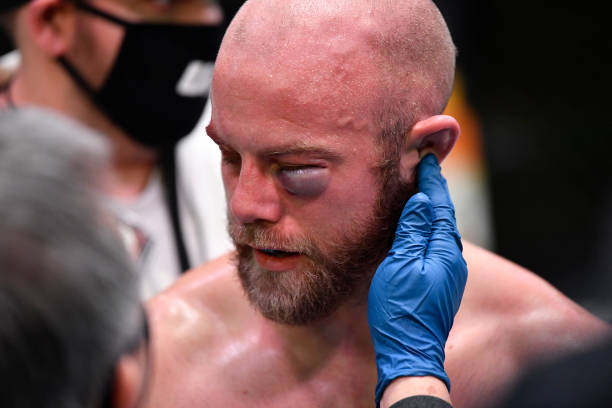 In a catchweight (160lbs) bout, Devonte Smith ended a long lay-off in style with a second-round TKO win over Justin Jaynes. After beating Frank Camacho in June, the 31-year-old has now lost three straight and although he was unhappy with the doctor's stoppage, he couldn't complain.
Vicious knees and punches, armed with an eight-inch reach advantage, helped Smith assert his striking dominance against a gamely Jaynes – who caught one particular knee in the clinch and was wearing the damage across his face, particularly on his eye. The referee halted the action.
After a short inspection, the fight was rightly ended at the 3:38 mark of round two – protecting Jaynes from sustaining more unnecessary punishment.
---
21 days after an impressive Octagon debut, Joselyne Edwards returned with a short-notice clash vs. Brazil's Karol Rosa – a significant step-up in competition, ranked just outside the top 15.
That showed almost immediately: Rosa capped a furious start with a sharp takedown early on, Edwards tried to match her intensity but it was quickly clear she was second best.
Rosa buckled the 25-year-old against the fence with heavy leg kicks early in R2 and while they exchanged haymakers, Rosa seized the opportunity to take the fight to the ground.
There, she dominated with top control despite blood gushing everywhere with a mouth laceration caused by a four-punch Edwards combo moments earlier. Rosa dominated the final stanza with heavy hammer fists to finish a bloody women's bantamweight affair with 30-27 x 3.
---
After a three-fight win streak in 2019, Liverpool-born Molly McCann is now 3-3 in the UFC after a UD loss (29-27, 29-28, 30-27) to Lara Procopio in the women's flyweight division.
Procopio applied suffocating attacks early on, stifling McCann to the ground continuously and  almost sinking in a submission choke to finish. McCann recovered well in R2 and almost earned an armbar stoppage, though her grip slipped as the Brazilian survived up against the fence.
After a stern warning from her corner, Procopio returned to what was successful early on – persistent offence on the mat, with some ground and pound strikes to finish the fight strong.
---
The card began with three featherweight bouts: South Korea's Seung Woo Choi (9-3) ended a 14-month layoff with an impressive UD win over Morocco's highly-rated Youssef Zalal (10-4).
Zalal accepted the fight last Thursday but didn't benefit from being a short-notice replacement on this occasion, as he did twice post-lockdown last year.
Choi immediately took centre ring and tried throwing haymakers, which Zalal largely evaded with timely head movement and a persistent jab. He was targeting takedowns and despite some good clinch work, Choi's takedown just before the horn rather typified a frustrating first round.
Zalal continued to work hard for takedowns in R2 with clinching aplenty up against the fence before referee Chris Tognoni separated them after being left unhappy by their inactivity.
Choi got a takedown and continued his high-pressure striking output as the minutes ticked by.
Zalal finally got a takedown for his endeavour – three by the final bell – and was close to completing a guillotine before a triangle choke attempt was fought off by the durable Choi.
Ultimately, his attack came too late. Choi landed more significant strikes and importantly prevented Zalal from implementing his gameplan.
---
Timur Valiev produced a commanding wrestling display with nine minutes' ground control time, easing past short-notice opponent Martin Day, winning 30-25, 30-25 and 30-26 on the cards before calling out Julio Arce – scheduled to fight him here but Arce pulled out last month.
He's a natural bantamweight (135lbs) and stressed an eagerness to return to that division in his post-fight interview, after his Octagon debut defeat by Trevin Jones was overturned late August.
Osbourne wastes no time on his return in card's opener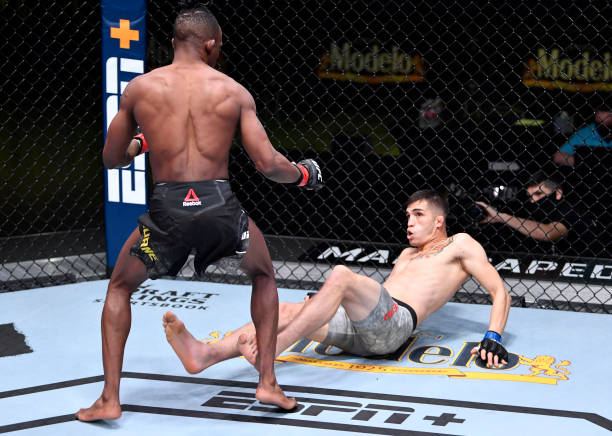 Ode' Osbourne wasted no time in bouncing back from his R1 submission loss vs. Brian Kelleher on the McGregor-Cerrone card last January, earning an emphatic KO win after just 26 seconds against Jerome Rivera – who lost to champion Figueiredo's younger brother last month.
Osbourne said he dreamt and lost sleep over his return, described it as an unreal feeling and revealed his eagerness for a quick turnaround himself after a year-long Octagon absence.
Initially supposed to fight at flyweight with two cancelled bouts making this a featherweight matchup, the 29-year-old (9-3) said it makes the most sense he gets to fight Francisco next.
Picture source: Getty via UFC