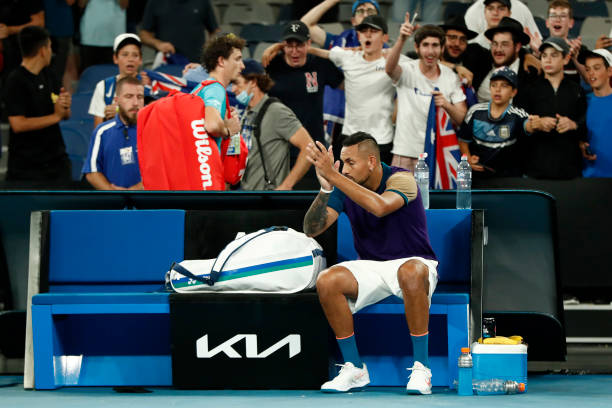 Day 3 was eventful: defending champion Novak Djokovic was pushed in a memorable first encounter against Frances Tiafoe, while world no. 2 Simona Halep and hometown favourite Nick Kyrgios produced gutsy comebacks to cap an action-packed night session after more seeded players fell, including Slam champions Bianca Andreescu (#8) and Petra Kvitova (#9).
Tiafoe impresses in valiant four-set battle against Djokovic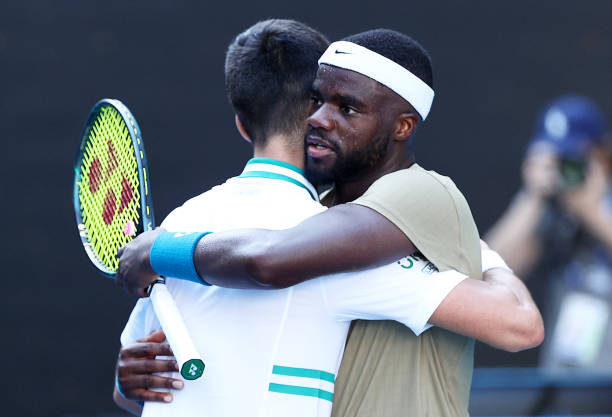 Frances Tiafoe is now 0-6 vs. the Big Three after losing in four sets to defending champion Novak Djokovic, but his admirable display justified precisely why many critics predicted plenty for the 23-year-old American in future after reaching the quarter-finals here two years ago.
There were multiple memorable moments to choose from, but Djokovic had two break point opportunities to take a 4-0 third set lead as the commentators hinted Tiafoe might take it easy, looking to refresh and go again in set four. Almost as if he heard them, he did the opposite.
Fighting defiantly as was the case throughout a gripping second set, he won the next four points to save those break points in a furious blur. Suddenly, the Rod Laver Arena crowd roared with delight as he produced a return ace on a weak Djokovic second serve and the score was 3-2.
As someone who has followed Tiafoe since his heartbreaking five-set R1 defeat by John Isner at the 2016 US Open – questionable shot selection and an inability to seize the moment are two things that have followed him into this decade. For context, he only turned 23 last month.
There's plenty of room for growth and to iron out his deficiencies as he continues maturing, but others in his age-group are already competing at year-end final tournaments and winning.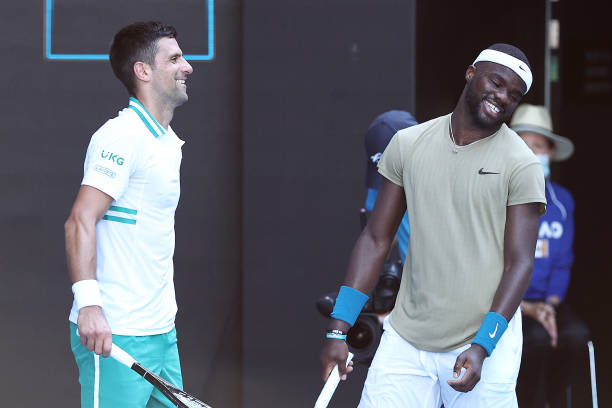 He enjoyed a spirited second wind but while Djokovic couldn't handle his powerful serving, the same was clear at the other end. Whether it was the trademark defensive skills or raising his level when the big points arrive, Novak understandably didn't want to hang around much longer.
At one stage, he'd won 74% of points played lasting longer than nine shots and continued forcing the American into uncomfortable situations, chiselling away at that renewed confidence.
The aces continued to flash by with startling regularity, but after Djokovic won the third-set tiebreaker with three set points still to spare, it felt only a matter of time before the end was near.
To his credit, Tiafoe remained locked in to start the fourth and earned a welcome reward.
After saving a break point on serve, he was 30-0 down but again responded: four straight points, including a blistering forehand winner after a brutal rally, to go 3-2 up.
Djokovic, as he so often does, took advantage and snatched a break point chance when Tiafoe's head dropped after being penalised for a time violation and remonstrating with the umpire.
Tiafoe double faulted on serve and shook his head in what was a disappointing end to an exciting matchup, one he must use as motivation for 2021 and beyond – consistency is key if he wants to test himself against Djokovic and co more frequently, having had his rhythm disrupted.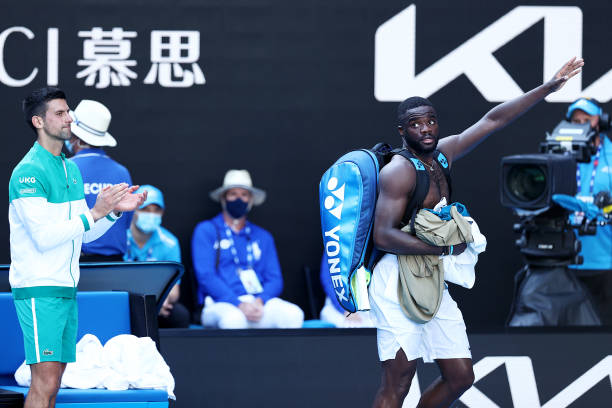 Afterwards, Djokovic praised Tiafoe's efforts and reflected on an eventful affair which saw him record a new career-high in aces too.
"Very tough match, difficult conditions, had sun on the court and was very warm – long rallies, I want to give a hand to Frances again for a great fight, fantastic match on his part.

If I have to choose, I would have these [tougher] matches in the first week but it'll only get tougher, I was fortunate to get through the third set, it was anyone's game.

23 aces to 26… the most I've served to someone [and vice versa] in a long time. High quality tennis, he gave it all and was just unlucky [with the time violation] but it is what it is, wish him all the best and hope he can have a great year." 
He said Rod Laver Arena feels like his living room, such is his comfortability and familiarity with the court but also added this year's court is the quickest speed he's ever played, likening it to ice. Up next is Tiafoe's compatriot Taylor Fritz, who recovered to beat Reilly Opelka in five sets.
Statistic: Djokovic's 26 aces recorded against Tiafoe has surpassed his previous career-high, which was 23 in a five-set win vs. Rafael Nadal in the Wimbledon semi-final three years ago. 
Another one to forget for Wawrinka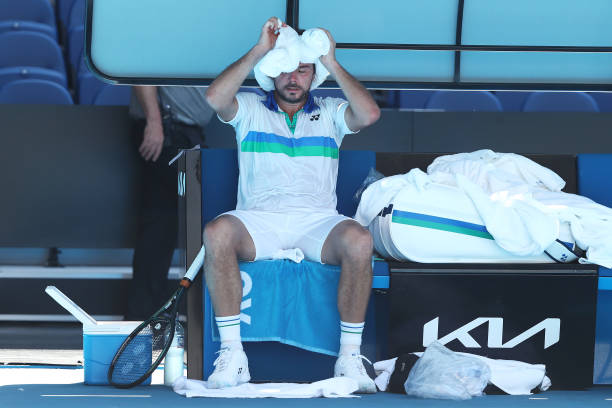 Elsewhere in section one, 17th seed Stan Wawrinka lost in five sets against Hungary's Marton Fucsovics – despite doing well to claw back an initial two-set deficit, the three-time Grand Slam champion was bested in a deciding tiebreak 11-9. Canada's Milos Raonic (#14) awaits in R3.
This result means since reaching the semis in Melbourne four years ago, Wawrinka has now lost in or before round three during nine of the last 13 Grand Slam tournaments that he's entered.
He turns 36 next month and that's not exactly an encouraging statistic for someone with the prospect of retirement increasingly persistent – something he already addressed late last year.
---
venus loses to errani, who faces andreescu's conqueror next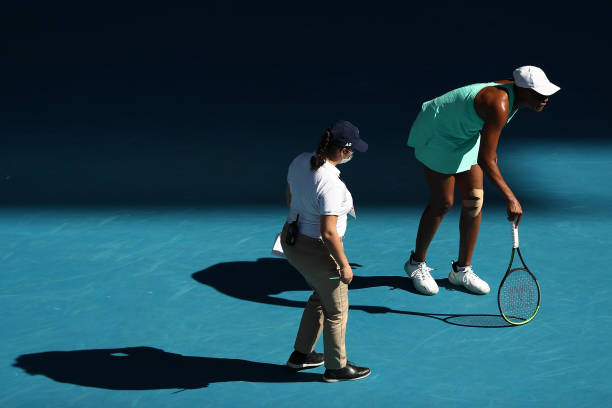 While younger sister Serena Williams made light work of her 6-3, 6-0 round two victory against Serbia's Nina Stojanovic, she would've only wished Venus could continue playing pain-free.
The seven-time Grand Slam champion (knee and ankle) needed two medical timeouts and looked upsettingly incapable of finishing her straight-sets defeat against Italy's Sara Errani, but admirably fought through the pain despite ultimately losing 6-1, 6-0 in 75 minutes.
She hit five more winners (21) but considering her limited movement, recording 36 unforced errors isn't a surprise. Errani, who qualified last month, was almost apologetic with her play but also ruthless elsewhere, as if she was ushering past a wounded gazelle with multiple drop shots.
"It's an honour for me to play her, a true champion… I'm sorry [that she got injured] and hope she's okay."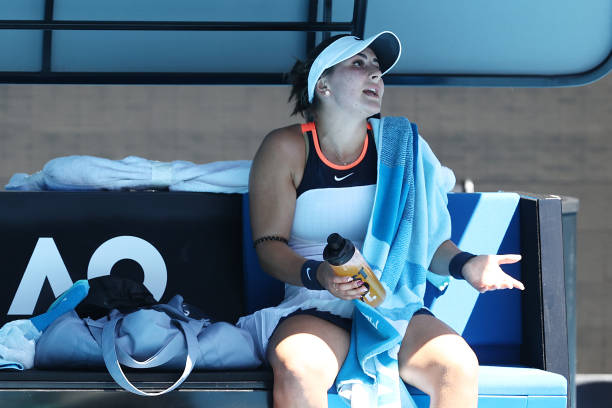 She'll play Taiwan's Su-wei Hsieh after the 35-year-old dropped just five games against 2019 US Open champion Bianca Andreescu, winning 6-3, 6-2 against the tournament's eighth seed.
Andreescu recorded four more winners over the match (20) but almost double Hsieh's unforced errors (25), failing to win her service games while double faults (5) were also problematic.
No excuses made, but no.9 seed Kvitova also crashes out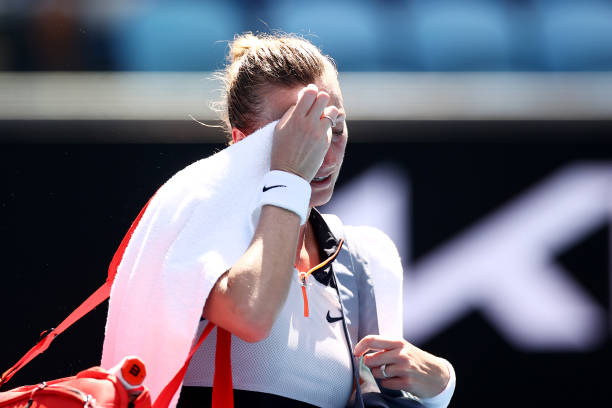 Four months after reaching the semi-finals in Paris, two-time Wimbledon champion Petra Kvitova endured a sloppy second-round exit – losing in three sets vs. Romania's Sorana Cirstea.
Andreescu had 25 unforced errors and five double faults during her surprise defeat, but the Czech – seeded ninth here – had even worse match stats and still managed to play a decider.
She finished with 44 unforced errors and seven double faults, but didn't blame the two-week quarantine for a rough display during her post-match press conference.
"This match wasn't really about the quarantine or just practising differently, it's a little painful and I'm really disappointed about my loss.

I didn't really bring the best tennis today – I should have taken the first set when I was leading a break… and it would be a different story." 
That was in complete contrast to Cirstea, who secured her first win over a top-10 opponent at a Grand Slam in nine years and faces 19th seed Marketa Vondrousova next. Victory on Friday will mean she matches her previous best Australian Open result – a fourth-round finish in 2017.
"I was one of the few in hard quarantine, it's impressive to come out of 15 days without hitting a ball and compete the way I did today, I wasn't expecting it." 
Osaka cruises to R3, Swiatek skills on show again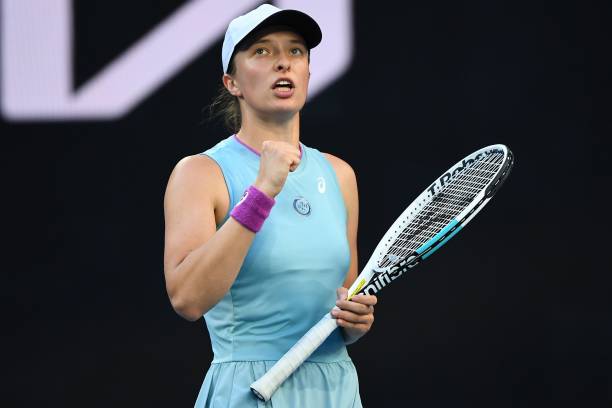 Naomi Osaka needed seven minutes less than her first-round win against Anastasia Pavlyuchenkova to book a third-round clash against Tunisia's Ons Jabeur – world number 30.
She needed four set points to take an early lead but ultimately eased to a 6-2, 6-3 win – finishing with a two-handed winner up the line and emphatic ace against France's Caroline Garcia.
Swiatek also had a 6-2 first set in the bank but the scoreline was perhaps unkind to Giorgi, who had three break opportunities early and watched them evaporate as the teenager responded.
There was only a nine-point differential between them after 35 minutes but while Swiatek left court for a comfort break between sets, Giorgi had time to lick her wounds and return stronger.
After some engaging back-and-forth, Swiatek was suddenly under the kosh again and 3-2 down in the second. As we've come to expect though, she responded with a pair of winners and swung her way to break back up at 4-3 – forcing Giorgi one way, then the next, as they exchanged blows.
Giorgi continued her fightback but the 19-year-old, helped by excellent court coverage, held firm and remained composed, serving out a well-earned victory: 6-2, 6-4 in one hour 20 minutes.
"She [Giorgi] was too strong for me before [in their previous meeting], but I had to have a different attitude and be more aggressive.

It's pretty hard [to deal with pressure], I'm ambitious and have my own expectations so working on that, it's always hard but I just want to enjoy." 
Her comments typified the contrast between herself on court and off, a soft-spoken teenager with big winners but unsure what to write when signing the post-match camera. She'll learn.
---
Halep's remarkable recovery a heartbreaker for Tomljanovic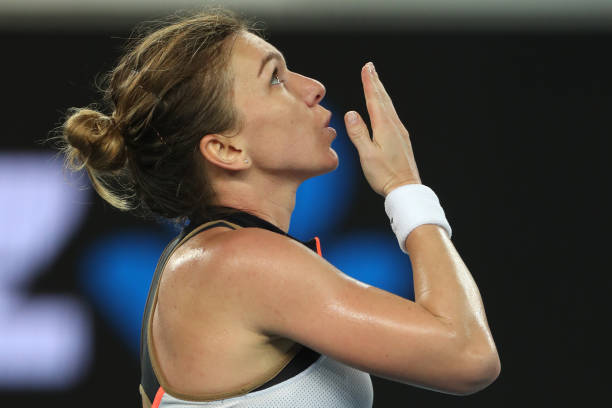 When this matchup was confirmed courtside on Monday night, you could already sense world number two Simona Halep was in for a test, but Alja Tomljanovic truly took her to the brink.
After a semi-final finish twelve months ago, the two-time Grand Slam champion was serving to stay in the match down 5-2. A relentless, tense hitting exchange many fans courtside and critics alike wouldn't have expected to last two hours 36 minutes, it wasn't one to be missed.
She saved ten break points over the course of an unpredictable encounter, but Tomljanovic – who has never gone past R2 in Melbourne – did very well.
Although the unforced error count continued to rise with each passing game, she made Halep play an extra ball or two in multiple rallies and Simona was missing routine shots. Combine those two factors and Halep couldn't hide her frustration as Tomljanovic took set one 6-4.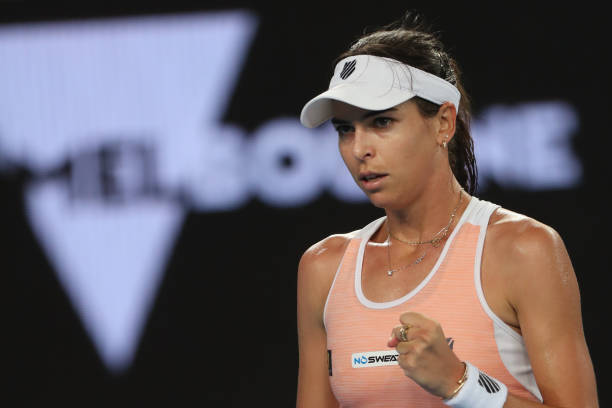 Those errors returned to haunt the 27-year-old though, as Halep raised her level and gladly seized the opportunity to level the scores with a 6-4 set of her own.
A final set shootout was upon us and Tomljanovic mixed up her offense well, pushing Halep behind the baseline while smartly incorporating drop shots as she took a 4-2 lead.
Both were producing excellent shots at this stage, but with a 5-2 advantage, surely it was too late for Halep? No. She held, from 30-15 down on serve, asking Tomljanovic the serve it out question.
More errors arrived as a booming forehand winner gave Halep two break points, serving again at 5-4. It was increasingly clear by this stage that Tomljanovic had tightened up in the moment, so even after saving three break points, she skewed a shot long.
That 5-2 lead was now 6-5 in Halep's favour. An ace and two errors presented three match points, which she claimed on the second opportunity after an enthralling rally.
Halep willed herself to win a match that was frankly on Tomljanovic's racquet. 57 unforced errors obviously didn't help the home favourite, but conviction deserted her when she needed it most.
"She's a tough opponent, difficult match, I'm really happy I can smile now. Mentally I was a bit stronger, had desire and didn't want to give up."

On facing no. 32 seed, Russia's Veronika Kudermetova for the first time on Friday in R3: "It's a new challenge, will watch a little bit of video but I want to recover after this. If I'm 100% in two days' time, then that's great."
---
Kyrgios saves two match points in five-set thriller vs. Humbert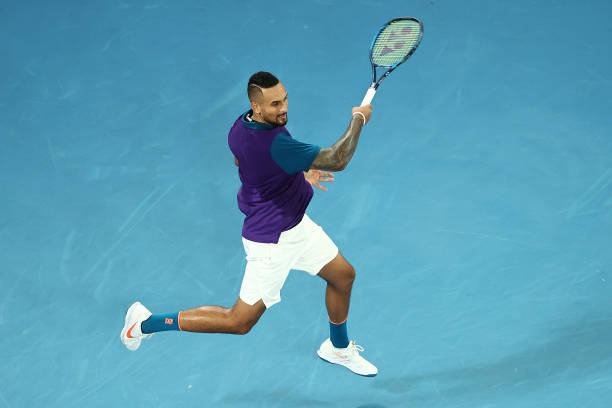 This was the first full H2H encounter between them and like Nick Kyrgios stressed during his post-match interview, one of the craziest the 26-year-old's been involved in – that says it all.
From the early exchanges you could tell this was destined to be memorable, one way or another, based on a brilliant back-and-forth through the first set.
Kyrgios saved a set point at 5-4 down, though Humbert's clean striking and point construction proved too good – gaining strength every time he could silence a raucous John Cain Arena.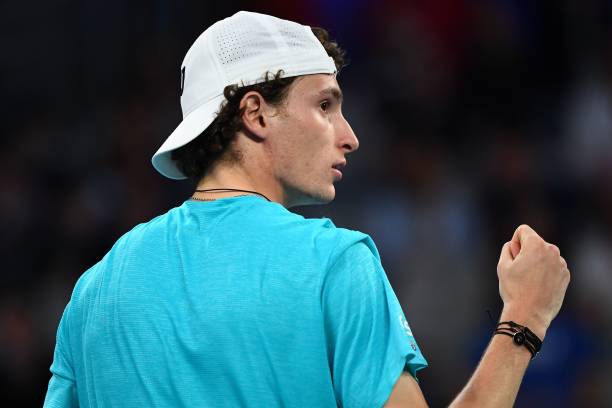 He completed a 7-5 set with narrow margins between them, particularly as Kyrgios had an opportunity at 4-4 but save a break point saved. Multiple let calls threatened to derail the Australian's flow, but he fired forward and levelled things again after an early break with a 6-4 set.
Humbert stormed back in-front, up 2-1 heading into a decisive fourth set after recording 12 winners and just one unforced error as his clean ball-striking was emphasised to finish countless rallies or force Kyrgios into helpless positions.
After receiving two warnings for code violations, Kyrgios was docked a point and as the camera quickly looked for his family in the crowd, his dad's bemused face spoke volumes. Not this again.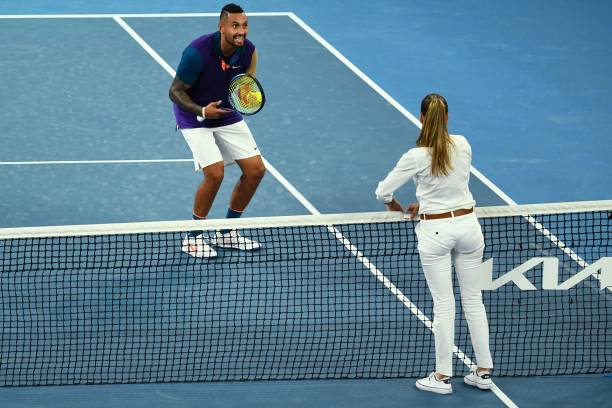 Down 5-3, he won three straight games – saving two match points in the process – with timely aces and the crowd helping him reach an extra gear.
A tiebreak was next as Humbert held serve, though that didn't last particularly long either.
Kyrgios continued forcing more errors from the 22-year-old behind his serve, crunching winners effortlessly with his back against the wall and suddenly the match was all square again.
20 winners and 10 aces in set four alone, after a sluggish start, this was going to a decider.
He saved a break point early on after more let calls on his serve continued lurking dangerously. You could almost feel the crowd hoping his rhythm wouldn't be disrupted like Tiafoe earlier, or himself in multiple big matches over the years.
The net cord sensor proved problematic but to his credit, Kyrgios didn't let it bother him too much once he finished complaining between points. They exchanged service holds, as a Kyrgios drop shot winner typified the level of confidence the home favourite was now playing with again.
Successive double faults presented Kyrgios with a match point of his own, though Humbert saved it and held, down 5-4.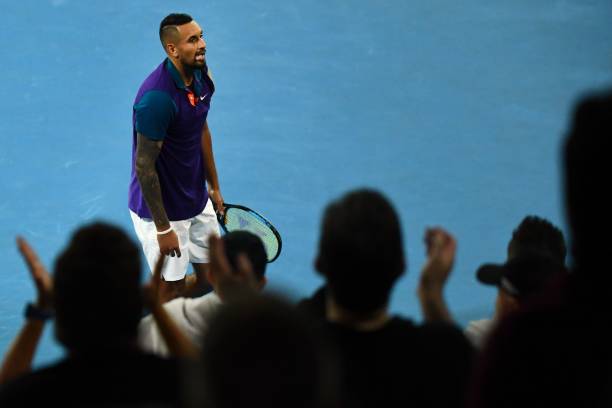 With an eyewatering 30 aces over the three hours 29 minutes, more forced errors presented him two further match points and this time he didn't need both to complete a gutsy comeback.
He praised the crowd for their energy, admitted he wasn't exactly thinking positively throughout while lapping up their applause with last year's finalist Dominic Thiem in R3 next. Watch it here:
Picture source: Getty