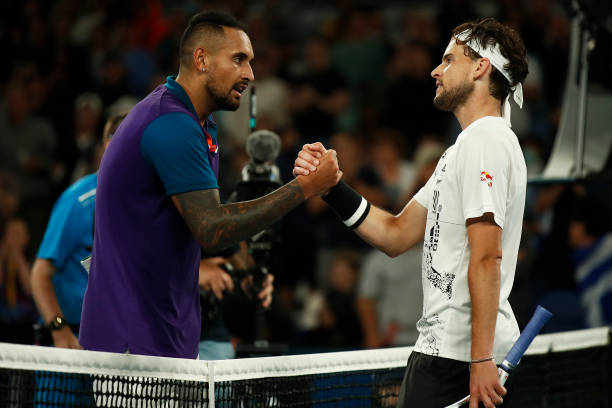 Day 5 was one not to be missed, as Naomi Osaka, Serena Williams and more navigated past potentially tricky matchups while there were surprises on the men's side of the draw as Aslan Karatsev was ruthlessly efficient in toppling Diego Schwartzman (#8), Kyrgios-Thiem certainly lived up to the hype and an injured Novak Djokovic closed the show in dramatic circumstances. 
osaka and serena both win in straight sets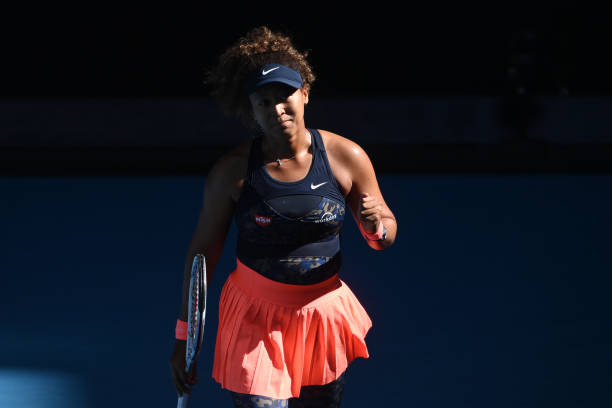 The tests continue to get harder for Naomi Osaka and Serena Williams but they're embracing the challenge, which will only intensify as they swim into deeper waters.
After dropping just eight games against Pavlyuchenkova and Garcia in the first two rounds, many critics felt Osaka would face her first real test against Tunisia's Ons Jabeur, seeded no. 27 at this tournament, yet she needed just shy of 80 minutes to beat the 26-year-old – 6-3, 6-2.
Osaka saved six of seven break points faced (86%), a statistic which rather told the story as she hit nine more winners (26) and five fewer unforced errors (28) to boot. Jabeur was honest upon reflection in the post-match press conference, but equally wants these challenges in future too:
Up next for Osaka is Spain's Garbine Muguruza – last year's finalist here – after the two-time Grand Slam champion won even more comfortably (6-1, 6-1) vs. Kazakhstan's Zarina Diyas.
It wasn't exactly plain sailing for Serena either, down 5-3 in the first set and finding herself facing two set points later on against Russia's Anastasia Potapova, but there's a reason why she's a 23-time Grand Slam singles champion – the determination and resilience was clear for all to see.
Their match statistics were largely similar, though Serena won 77% (36-of-47) of her first serve points – compared to just 47% (14-of-30) for the 19-year-old, who couldn't consolidate early break opportunities and was made to rue those missed opportunities as time wore on.
Next, she prepares to face Abu Dhabi winner Aryna Sabalenka for a quarter-final berth on Sunday after dropping just four games against America's Ann Li elsewhere in the day's action.
---
Karatsev efficiently dismantles no. 8 seed Schwartzman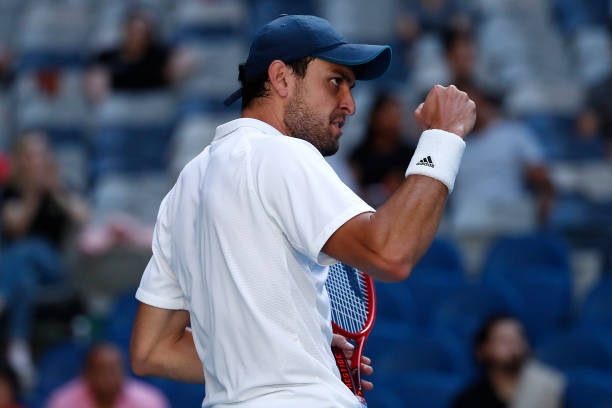 The best word to describe Diego Schwartzman, his demeanour and the way Aslan Karatsev was playing against him is draining.
Schwartzman – a Roland Garros semi-finalist last year – was helpless to stop the Russian's power, emphasised by a booming return ace which whizzed past him to complete the second set.
Finely poised midway through that exchange, Karatsev had plenty of self-belief and did enough to continually force the Argentine into deep waters to which the number eight seed had no reply.
There were fleeting moments, like at 4-2 in the third, where you could sense Schwartzman had a half-chance to recover and create seeds of doubt in Karatsev's mind.
Three break points came and went, as the 27-year-old's fearless shot-making continued and a timely ace snapped a fourth for good measure.
This was a reminder, after Thanasi Kokkinakis' five-set thriller vs. Stefanos Tsitsipas, that there are plenty of capable players outside the top 100 capable of producing shocks – even if relative inexperience at dealing with Slam pressure and momentum swings often prove their downfall.
That wasn't the case here, as Karatsev was broken at the start of the third but responded straight back with a break of his own and was unmoved by Schwartzman's urgency.
Instead, he used it against him by slowing down between points and produced steely composure to win with a bang: two match points, he only needed one to conjure up his ninth ace and 50th winner – Schwartzman had just five by stark contrast.
In R4, he'll face the winner of an intriguing all-Canadian clash between Denis Shapovalov and Felix Auger-Aliassime, continue reading for the result.
---
Halep punishes Kudermetova's sluggish start, into r4 again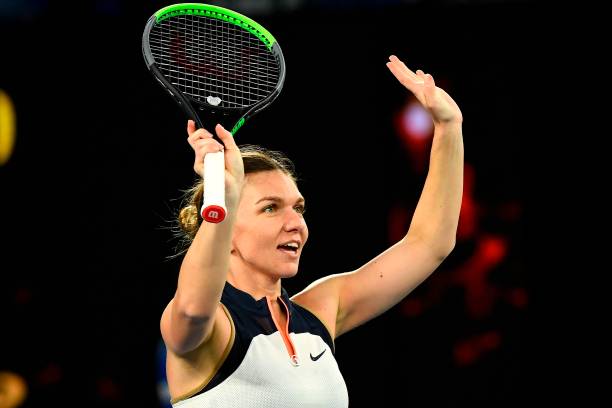 Simona Halep won 6-1, 6-3 against Russia's Veronica Kudermetova (#32), during a memorable first H2H meeting between the pair – at least for the two-time Grand Slam champion.
Kudermetova, a finalist in Abu Dhabi last month, failed to convert either of her two break point opportunities after being broken during the previous game and it only got tougher from there.
Despite a second set break, she struggled with serving (42% first serve percentage) while regular errors (38-12) haunted her – just like Ajla Tomljanovic's disappointing R2 loss to the Romanian.
Halep forced an error on her third match point opportunity to finish a pulsating rally and punch her ticket into round four, where she braces herself for an exciting clash.
"It's always tough to play someone for the first time, knew she was hitting strong and flat so had to be strong on my legs – the serve helped me a lot today.

I improved my serve a lot, worked in the offseason to get stronger – the court is much faster than last year, not easy for me but I like it.

Swiatek next, a big challenge because she crushed me in the French so I have to do some things better, I'm confident, here to give my best and let's see."
---
THIEM SURVIVES KYRGIOS STORM, WINS IN FIVE SETS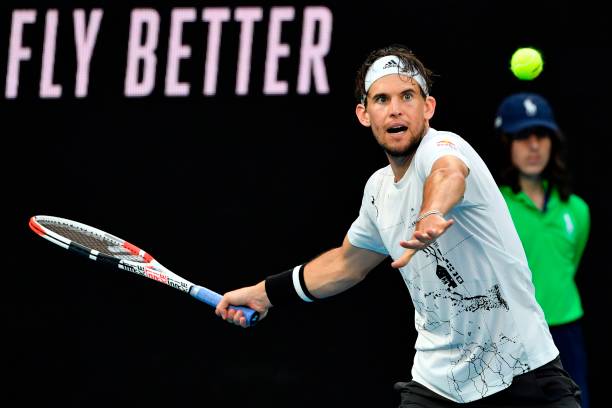 If ever there was a game typifying Nick Kyrgios' tennis career in a nutshell, it was this one: 4-4 in the fourth set, having led and previously set for a straight-sets win over the tournament's third seed – last year's finalist – he flickered between stupidity and the sublime, costing him the match.
He saved two break points: one with a serve-and-volley, the next with his 20th ace of the night but crucially lost his focus at another pivotal moment with game point literally on his racquet.
A needless tweener attempt, having pulled Dominic Thiem from pillar to post during the rally, went unrewarded and after losing successive points, Kyrgios could only watch in dismay as the US Open champion fired a winner up the line to snatch a break at the third time of asking.
The tide had begun turning long before that moment, of course, but this was perhaps the final nail in the coffin that showed why he's only twice reached the quarter-final of a Grand Slam, the last of which was in Melbourne six years ago.
Thiem hadn't played his best tennis, far from it, but the Kyrgios storm threatened to overwhelm him entirely.
It's no wonder he admitted to already "dealing with the loss" mid-match during the post-match interview, such was the high-quality ball-striking on show, roared on by an increasingly electric home crowd cheering their man on for more, almost hitting every shot with him at times.
Kyrgios swatted home some beautiful forehand winners, had Thiem caught in two minds of where he should stand when waiting to receive serves and the 27-year-old couldn't cope with his volatility: 25 aces, 72% first serve percentage and a few underarm aces for good measure.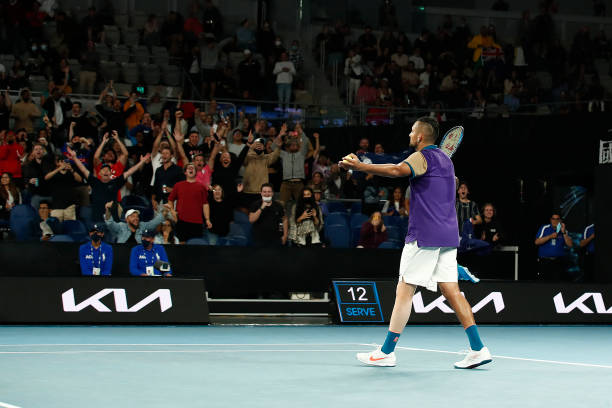 Yet after all that, the final score read: 4-6, 4-6, 6-3, 6-4, 6-4 in Thiem's favour and that's the only thing that really matters. He somehow found a way to win and picked his moments wisely, having responded defiantly when facing two break point opportunities to start the third set.
Whether it was half-volley backhand winners, outlasting Kyrgios during their gripping rallies or winning 28 consecutive points on serve, he had a spring in his step.
The crowd – described as aching with smiles on their faces an hour before – were now hushed as the reality dawned on them, Thiem had markedly improved and wasn't going to relent.
An inch-perfect backhand winner up the line won an epic match in style, leaving Kyrgios wishing he had chosen his shots more carefully when the wind was in his sails.
Afterwards, the world number three said:
"He [Kyrgios] is a huge player when on fire like today, I was honestly dealing with it [the loss] already, but impossible is nothing.

That match showed me, giving up is never an option, the great atmosphere, the more the match went, the more comfortable I got."
It's the fourth time he's recovered from two sets down to win a match, like against Zverev for his first Slam title late last year.
His reward? No. 18 seed Grigor Dimitrov on Sunday, who had a relatively comfortable passage as Spain's Pablo Carreno Busta (#15) retired after falling ill early in the second set.
---
Auger-Aliassime excels to beat wasteful Shapovalov showing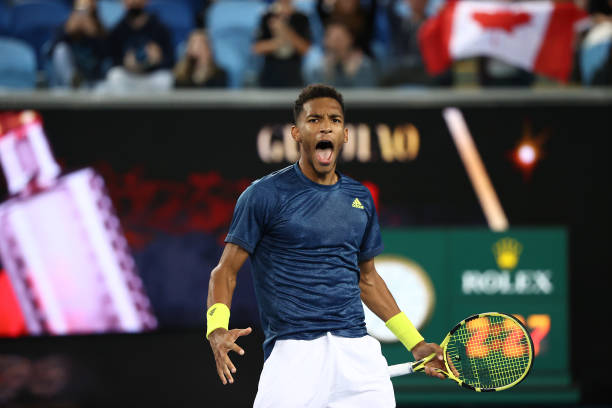 Diego Schwartzman's conqueror Aslan Karatsev will now play Felix Auger-Aliassime next for a quarter-final place this weekend, after the 20-year-old produced an amazing display of shot-making and mental fortitude in crunch time to outwit compatriot and friend Denis Shapovalov.
The final score read 7-5, 7-5, 6-3 in two hours 30 minutes but while the statistics tell a story, this could've easily been a five-set classic had Shapovalov held up his end of the bargain.
Instead, he was unable to consolidate any of his break opportunities until it was too late, sprinkled double faults all too often and close calls didn't go the world number 12's way either.
Sketchy serving hurt him when he needed it most while Auger-Aliassime remained composed, a theme that continued as the match got into the gritty exchanges.
Felix was rightly bursting with energy after managing to get a break back in the second, having needed to go full stretch mid-rally, pulling an unbelievable winner out from seemingly nowhere.
His point construction was key as Shapovalov continued missing makeable shots (37 unforced errors – just 19 winners) and after you audibly heard Denis shouting in Hebrew after being broken early in the third set, the writing was on the wall as far as the overall match was concerned.
"Unbelievable, thank you guys [fans] so much, it's been a while since we've heard a lot of noise… it's a shame you won't be here for the next few days.

We go back a long time, he's beaten me pretty bad a couple times, was an amazing match and hopefully later in future these are later in the tournament but I'm happy with my performance.

I didn't have a lot of luck in years past but I like it here [in Melbourne]." 
On facing Karatsev next, he described the Russian as a tough opponent that he's already familiar with – they've played twice (Uzbekistan in 2018, Rennes in 2019) and split the H2H (1 win each).
---
swiatek outlasts ferro, sets up intriguing halep clash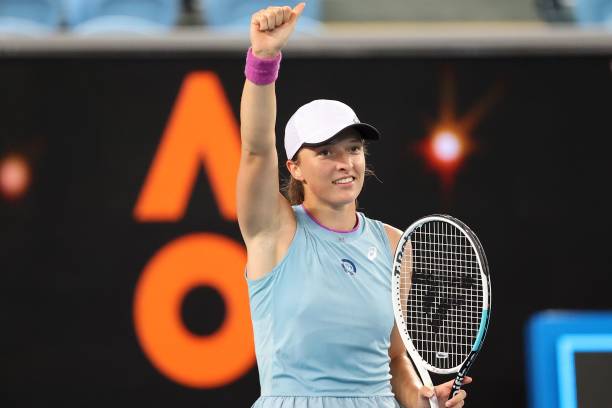 Iga Swiatek dropped just seven games to book her place in Sunday's crunch clash vs. Simona Halep against France's Fiona Ferro, but this was significantly more difficult than it looked.
After racing to a 3-0 first set lead in ten minutes, Swiatek saw two break point opportunities saved by Ferro and before long, they were level again at 3-3.
It was almost as if Ferro's coach had shown her Halep's post-match interview comments just before she came onto court and the 23-year-old wasn't going down without a fight.
By the time Halep had wrapped up proceedings, Swiatek was still waiting until deep into the night session before coming out to play – but was expected to win against unseeded opposition.
After a Swiatek passing winner saw her up 30-15 on Ferro's serve, the Frenchwoman swept each of the next three points to go 4-3 up. Suddenly, things had escalated quickly. Ferro produced a passing backhand winner up the line and roles had reversed, she was 30-0 up on Swiatek's serve.
The teenager duly responded as you'd expect, fearless and clinical with pressure creeping up on her without warning as she took the game to deuce and eventually levelled things again – before snatching a break point at the fourth time of asking in the very next game.
Again, she sprinted to three set points on serve and this time, only needed one after forcing Ferro out wide into another error – her 11th of an eventful set.
She did the same again midway through set two, producing a big first serve and saving a break point at 3-2 before finishing with increasing authority as Ferro's error count increased (27 total).
Funnily enough, they both recorded 27 unforced errors but Swiatek had 20 winners – Ferro just seven. The Polish sensation addressed the crowd's energy post-match, which won't be in force for the next five days after a statewide COVID-enforced lockdown that comes into effect today.
"It's so late, I wouldn't have made it without you who gave me energy, thanks. 

I hope we [her and Halep] are going to play a great match, bit longer than the last two we played against each other, it's always a great pleasure to play her."
---
Injured Djokovic embraces villain role to stifle fritz in five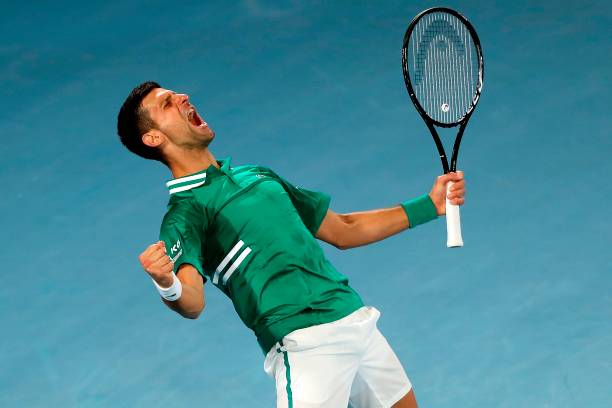 A roar reverberated around an eerily quiet Rod Laver Arena, one which felt at full capacity less than an hour earlier.
World number one Novak Djokovic was convinced post-match he has a torn muscle in his abdomen and whatever the diagnosis, the defending champion was close to a three-set finish.
During a post-match interview with Eurosport, he said:
"The way it felt, at the beginning of the third set, I was debating really strongly in my head to retire after two games because I couldn't move, rotate or return. The only thing I could do is serve, that's what got me out of trouble."
After sustaining the injury, the Serbian's resiliency – running on fumes, adrenaline and medical treatment – saw him survive the seemingly improbable in five against no. 27 seed Taylor Fritz.
Having been up 7-6, 6-4, 3-3 and serving, a ridiculous final score flashed across the monitors with some rough numbers across the match statistics for both but Novak – a 17-time Slam champion – described it as one of the most special in his life and it's truly hard to argue against the contrary.
This match had it all. Fritz relinquishing two break points after his shoelace broke, Djokovic blasting him away in a one-sided (7-1) tiebreak, Fritz staying competitive and eventually being rewarded, blistering serves and timely winners, persistent heckling from the stands with Rafa and USA shouts, boos as Djokovic embraced the villain role and more. That was all pre-injury.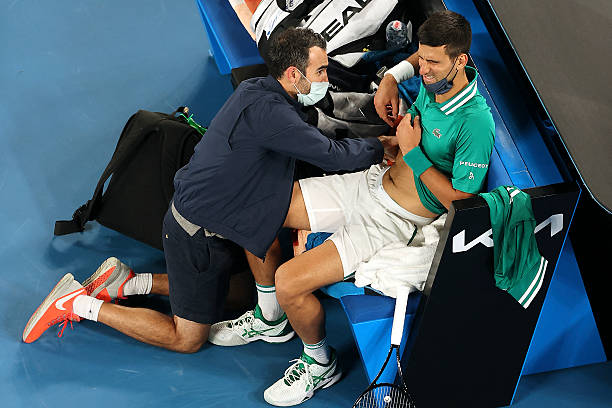 There were periods where both were producing excellent ball-striking, Djokovic won the bulk of their longer rallies and then a medical timeout changed everything. He was now regularly wincing mid-rally, serve speeds continued decreasing while receiving treatment at changeovers.
The commentator said it was potentially an oblique strain and he couldn't move freely anymore – so given his playstyle, essentially a sitting duck for Fritz to exploit. That much he did over the next two sets, as the pain appeared to worsen and transfer from serves to simple ball-striking.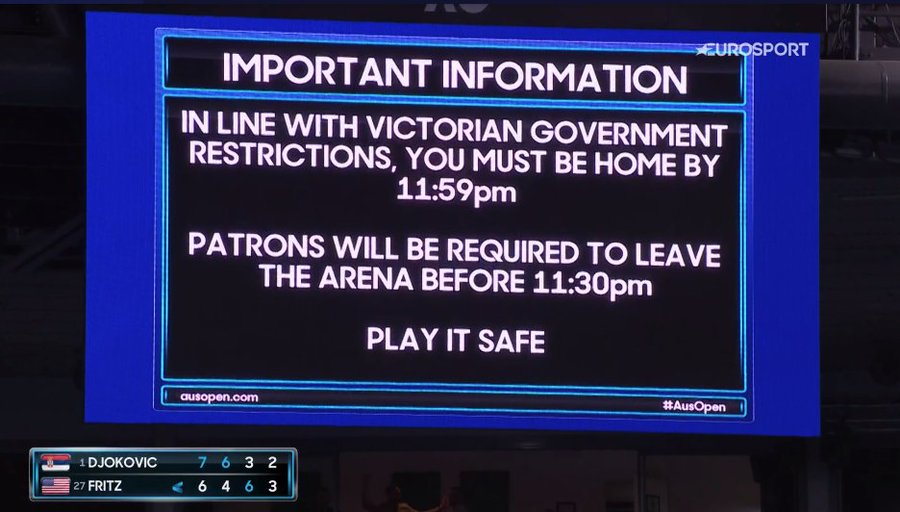 There was only one way this was going. Even with a ten-minute hiatus as the boisterous fans were being ushered out of the ground, very reluctantly, Fritz was surely going to take advantage.
Then a stat emerged: Fritz has never recovered from two sets down to win before, even while forcing shots into space and proving a crafty mover to shut down plenty of Djokovic's drop shots where possible with offense of his own. So with more winners and less errors, how did he lose?
Djokovic looked in disbelief as a Fritz winner kissed the line at 2-2 in the deciding set, but ala Thiem, there was a glimmer of hope and the 23-year-old American didn't slam the door shut.
As he so often does, the Serb raised his level just enough to earn and snatch a break point on Fritz' serve, now up 4-2. He won the next two games before roaring into round four, cliche I know.
But this was one you really had to see for yourself. Post-match, he had plenty to say:
"First of all, congratulate Taylor on a great fight, sorry he lost the match today, I tried to stay in there and was hopeful that whatever is happening [abdomen] is going to feel better, towards the end of the fourth, it started to.

Third and fourth [sets], I don't know.. just served, couldn't do much, going for my shots and it [my serves] worked. This is one of the most special wins in my life, under this kind of circumstances is something I'll remember forever." 
On whether he'll recover to face Milos Raonic on Sunday, doubtful is an understatement:
"I don't know, I know it's a tear [muscle] so I don't know if I'll recover from that, if I'm going to step out onto court, I'm just very proud of this achievement tonight, let's see what happens."
Fritz had 62 winners, eight less unforced errors (45) and 24 aces, but didn't put his foot on the gas to start the fifth – letting Djokovic get settled – and was punished.
Whether he believes Djokovic was truly injured or not, he didn't focus on controlling what he could when the match was truly on the line in set five so can't really feel hard done by.
Picture source: Getty —  post-match comments via Eurosport's TV broadcast