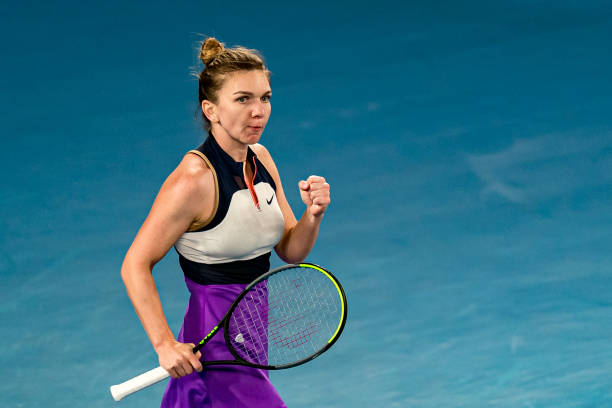 Naomi Osaka (#3) saved two match points, world no. 2 Simona Halep set up an exciting quarter-final clash vs. Serena Williams after both earned gritty three-set wins over Iga Swiatek and Aryna Sabalenka respectively. Elsewhere, Aslan Karatsev's historic run continued against all odds while Novak Djokovic continued his unbeaten H2H streak at Milos Raonic's expense.

Osaka outlasts Muguruza in back-and-forth thriller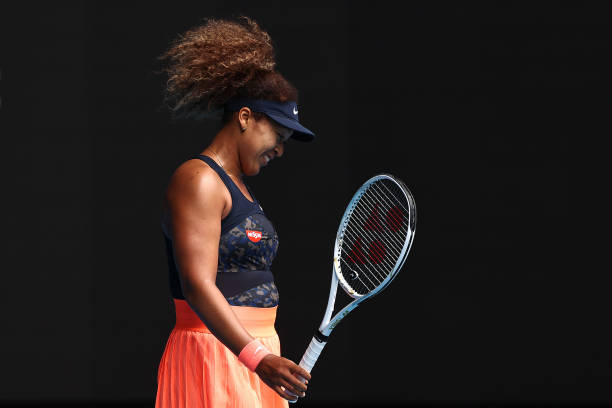 Number three seed Naomi Osaka saved two match points en route to a 4-6, 6-4, 7-5 win over two-time Grand Slam champion Garbine Muguruza, despite struggling with her first serve percentage (41%) in the deciding set and being 4-2 down at one stage.
She recorded 40 winners to the Spaniard's 24, had eight more unforced errors and won just 1-of-5 net points (20%), but Muguruza tightened up as Osaka raised her level.
Naomi plays Taiwan's Su-wei Hsieh next, who made history to secure her first appearance in a Slam quarter-final after dropping just six games vs. no.19 seed Marketa Vondrousova. The 35-year-old doesn't fancy her chances though, joking she'll "probably get smashed" on Tuesday.
---
Serena stifles Sabalenka in memorable first matchup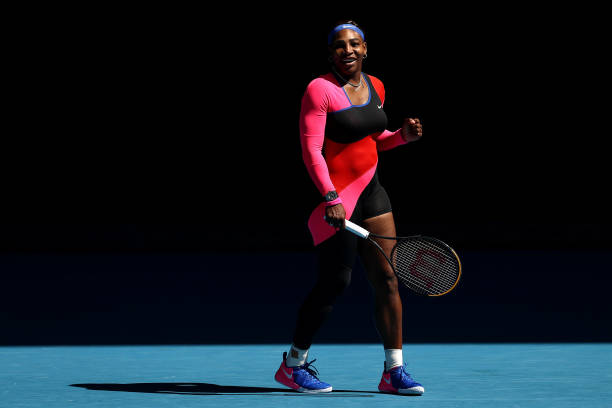 Serena Williams knew it wasn't going to be an easy meeting, but braced herself for a tough duel with Abu Dhabi winner Aryna Sabalenka, who could produce a coming-of-age display here.
That wasn't to be, she was frustrated but did herself justice losing 6-4, 2-6, 6-4 against a champion who survived to equal Chris Evert's all-time record of reaching 54 Slam quarter-finals.
The first set was particularly tight throughout, before Sabalenka fired a timely double fault – her first of the match – to present Williams with a set point.
Although the 22-year-old saved it with a big serve, Serena responded at deuce and forced forehand errors on successive rallies to take a 6-4 lead.
There were only two points (33-31) between them in the first set, but Sabalenka earned an early break to start set two and saved a break point, consolidating that advantage up 2-0.
Considering the second set lasted three minutes longer than the first, a 6-2 scoreline in Sabalenka's favour offers a lopsided look but she was deservedly back in proceedings.
Serena struggled with her first serve percentages (46%) and was made to pay, watching the Belarusian win three successive points after being up 30-15 to level it at one set each.
Both began the deciding set in defiant fashion: Sabalenka saving a break point to hold, before Williams earned the fastest serivce hold of the match to go 2-1 up.
She eventually got the break (3-1) as the heat suddenly intensified: needing to save two break points in the next game, but doing exactly that. Sabalenka was angry, didn't try masking her frustrations and was suddenly staring a 5-2 deficit in the face but importantly broke back.
4-1 was suddenly 4-4, continuing to force Williams into playing extra shots in each rally, prompting more errors and probing questions about her movement.
Williams then produced a big hold, centred on precisely powerful serving that had previously failed her – to snap a run of momentum which helped her close out the match.
"I am happy to get through that one, it wasn't easy but even the games I lost were close… told myself you got this, just gotta keep going."
---
two sets down? no problem as karatsev's super run continues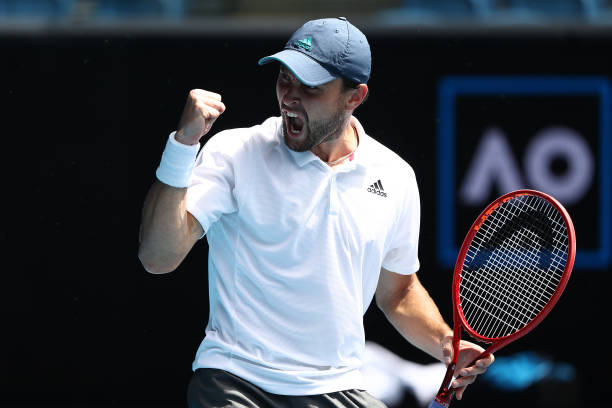 Russia's Aslan Karatsev became the first man to make a Grand Slam quarter-final on their debut appearance in 25 years and did it the hard way: recovering from two sets down to stun no. 20 seed Felix Auger-Aliassime.
"It was really tough in the beginning, he [Felix] played really fast and is a good player – it took me two sets to find a way to play but in the end, had the rhythm in the third, fourth and fifth. A bit tired but I put everything into this match." 
During his post-match oncourt interview, he looked bemused when asked whether he'd prefer playing Dimitrov or Thiem in the quarter-finals next week, saying: "I'll be ready for everyone." 
Another statistic to consider, is the fact that he lost 22 games in the match – more than all three previous rounds combined. However, the result doesn't reflect well on Auger-Aliassime either, who did so well to blast beyond compatriot Denis Shapovalov in R3 but hasn't been consistent.
He'll play Bulgaria's Grigor Dimitrov next, made to work hard for a surprising two-set lead after an hour 40 minutes, but Dominic Thiem (#3) – a finalist in Melbourne last year – struggled early on like against Nick Kyrgios Friday, before physical issues were obvious in a bagel set (6-0) to finish.
"Throughout every season you have one of those matches where you keep the ball rolling and today was one of those, trying to focus on what I was doing." 
He was reluctant to bask in a big victory over the number three seed, who refused to make excuses during his post-match press conference but clearly suffered with an issue of some sort.
---
Halep stays patient, recovering to avenge swiatek loss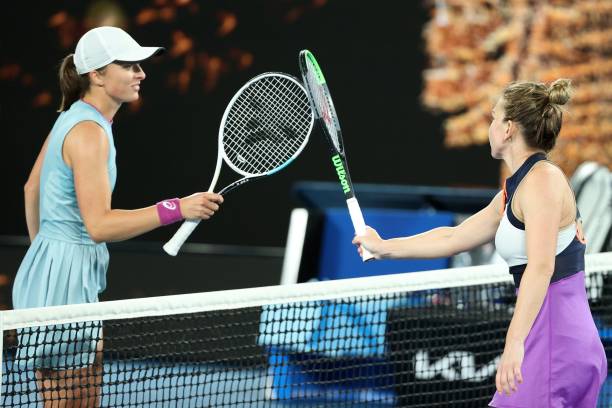 Just like against Ajla Tomljanovic in round two, Simona Halep needed to recover from a set down to knock out Roland Garros champion Iga Swiatek 3-6, 6-1, 6-4 and largely leaned on her invaluable years of Grand Slam experience to prevail.
Her reward? An enticing quarter-final clash against Serena Williams, who she swiftly declared as the best when reacting to the draw during her post-match interview on court.
Swiatek did well to save two break point opportunities in set one, but after failing to start the second with much efficiency, was duly punished by a player she flattened during the teenager's magical run in Paris four months ago.
While Halep wouldn't have wanted to go two-and-a-half hours with a hometown favourite in R2, the Romanian's gutsy comeback win this week ensured she was battle-hardened early.
Swiatek appeared to mentally check out midway through the second set, presumably resetting to fight again in set three. She saved an early break point but looked to her box in disbelief after double faulting on a second opportunity, gifting Halep an early lead she gladly snatched.
2-0 turned to 3-2 in rather frenetic circumstances, as forehand errors continued to rack up while Swiatek's questionable choice of tactic mid-rally was seized upon.
Drinking some coffee at the changeover was a false positive for the Pole, who appeared to rush her shots and went for winners too soon which helped Halep gain confidence at the other end.
Before long, Halep was asked the serve it out question at 5-4 up and held to love to secure her fifth Australian Open quarter-final. Swiatek did impress but simply made far too many errors (41-17) against someone who knew how to force them while remaining composed under pressure.
Serena leads Halep 9-3 in the H2H statistics, though they haven't met since Simona's flawless display at Wimbledon two years ago, where she dismantled her and lost just four games. You don't have to be a tennis aficionado to see this will be another fun matchup, whatever happens.
---
Djokovic's dominance against Raonic continues, Zverev next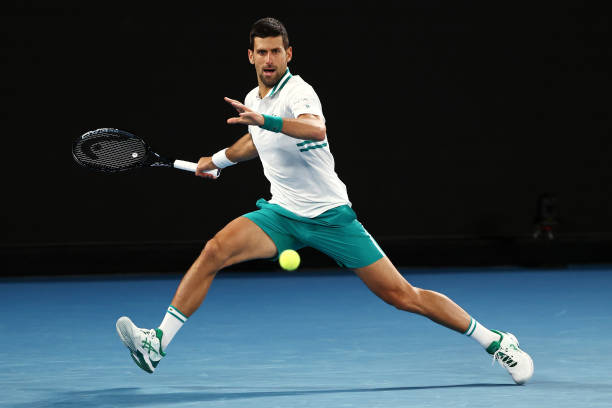 Defending champion Novak Djokovic said the abdominal pain is such that he would've withdrawn from any other tournament besides a Grand Slam, but willed himself to oust Canada's Milos Raonic (#14) with some awe-inspiring shots en route to a 7-6, 4-6, 6-1, 6-4 win.
Djokovic will play Alexander Zverev (#6), who beat Serbia's Dusan Lajovic in straight-sets and hopes to improve upon a semi-final finish this time last year – where he lost in four sets to Thiem.
The H2H record now stands at 12-0 in the Serbian's favour, but you would've been none the wiser just by watching them exchange body blows for the first two hours.
Then, as he usually does, the eight-time Australian Open champion raised his level to win big points with increasing regularity as Raonic's movement was compromised with heavy strapping on his ankle midway through set two.
Raonic served up 26 aces as Djokovic struggled at times, and shone in others, trying to return the 30-year-old's big shots. There were makeable forehand errors and some self-inflicted issues for the world no. 1 to navigate, as Raonic saved 73% of the break points on offer throughout (8/11).
However, there was a sense of inevitablity in the air as Milos' biggest weapon had failed him when he needed it most – Djokovic benefiting from significantly slower second serves (60km/h less) to seize the initiative and storm through the third set, eventually winning it 6-1.
When he needed it, moments of devastating shot defence kept Djokovic dictating longer rallies, which he often won. To neutrals, it would've been commentator hyperbole with lines like "made returning a tennis ball an art form," but you had to see it to understand their enthuasiasm.
Djokovic kept finding a way to make Raonic play another ball every time and if there was a point that typified this match, it was at 5-1 in the fourth set. Somehow he managed to stretch out wide and return a shot that just dropped in, highlighting his ability to thrive under duress.
Afterwards, he had plenty to say about his preparation for this match – lack thereof – and how he's feeling.
"I used every single hour that I had to recover, put myself in a position to possibly compete, my physio has done a great job, ATP staff were there for me, giving their best under these circumstances to try and get on the court.

I'm taking each day at a time, for me more than training is recovery right now, to put myself in a good condition for the next match.

Any other tournament besides a Grand Slam, I would have retired [withdrawn] but I didn't know whether I would play or not until three hours before, it's on-and-off, not ideal but can't complain, won against a great player."
On facing the German, he was effusive in his praise of the 23-year-old and is looking forward to their latest matchup – even if neither are at 100%:
"We get along really well on and off the court, he's a great guy, we joked around yesterday that we have similar injuries – and would play without serve if we met each other.

He's one of the top men's players in the last five years: has experience, big weapons, moves very well for his height with a complete game. Played him in the ATP Cup, it was a big battle and I'm expecting the same here."
Picture source: Getty