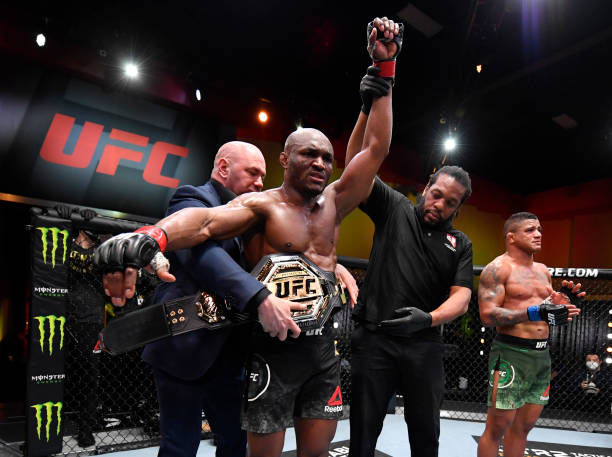 Kamaru Usman responded emphatically to Gilbert Burns' rapid start, surpassing George St-Pierre for the longest divisional streak of all-time (13) with the third defence of his welterweight title, blasting his former training partner to pieces in the main event. Before, there were big wins for Kelvin Gastelum and flyweight Alexa Grasso, who excelled during the night's co-main.

Usman gets stung early, produces defiant response to win again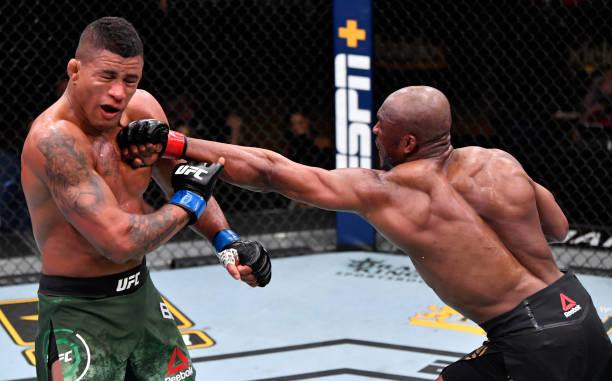 R3, 0:34 – Kamaru Usman retains welterweight title, beats Gilbert Burns via TKO (punches)
It felt fitting Usman's third title defence proved his toughest test yet, but facing a former training partner with Burns' abilities and their well-documented history didn't stop the Nigerian Nightmare retaining his welterweight strap impressively. It could've been completely different.
Burns started furiously, landing a right hand to wobble the champion early on. They exchanged shots with the Brazilian grounded and playing possum, trying to sucker punch Kamaru on the ground but eventually returned to his feet after absorbing far too many strikes for comfort.
It was a tense affair through five minutes, though Burns had clearly established himself and quickly earned Usman's respect in their stand-up exchanges – as if he didn't have it already.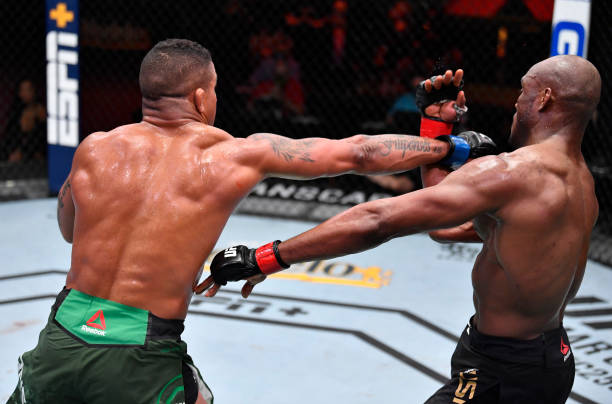 Trevor Wittman has been a valued addition to Usman's arsenal and the coach reinforced his strengths in-between rounds, stressing the importance of utilising a championship-calibre jab.
Wittman's words felt prophetic as Usman channelled his inner Terrence Crawford, landing jabs with continued success as Burns – the early aggressor – was suddenly met with a surge of heat that he visibly couldn't defend against, trying and failing to effectively counter-punch anymore.
Kicks, mixing up strikes and crafty takedown defence, Usman firmly established his dominance by this stage before scoring a knockdown with a jab and ushering Burns straight back to his feet.
Usman hit him clean with a huge right jab to start round three, pounced and unloaded as multiple strikes landed before referee Herb Dean inevitably stopped the fight.
Reinforcing the notion that there truly are levels to this game, Usman had plenty to say post-fight after watching Burns weep in the centre of the Octagon.
"It feels amazing, this was a very tough one because the whole gym situation, me leaving… first and foremost, you cannot discredit what Burns has done in this division, tearing through these guys.

We started together, he showed it tonight. He's knocked out one after another to get here [this title shot], I'm the varsity guy… it's a different ball game, a whole [a]nother savage."
Afterwards, he also had some strong words for Jorge Masvidal (#3), having vowed to set the record straight after their short-notice title clash ended in a decision victory last summer:
"We tried to make it [Masvidal fight] multiple times, the only reason why he said yes was because he already had an excuse [six days' notice]. I'll give you a whole training camp, you won't sign on the dotted line… anyone can get it."
---
Grasso's boxing showcase lights up co-main event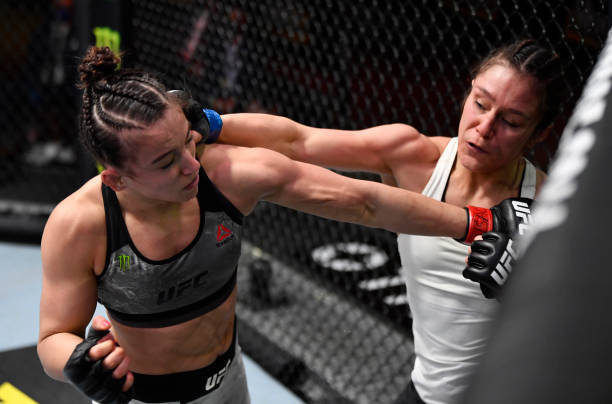 29-28, 29-28, 29-28: Alexa Grasso (#15) beats Maycee Barber (#10) via unanimous decision
Dana White described Grasso as Mexico's Ronda Rousey in the post-fight press conference and while she's endured an inconsistent spell in the infancy of her UFC career, the 27-year-old will hope this latest gritty win proves she does possess future flyweight championship credentials.
After an impressive statement victory over Ji Yeon Kim on her flyweight debut in late August, the step-up in competition was inevitable and Barber presented an intriguing challenge.
Efforts to become the youngest UFC champion have been iced: a knee injury last January and telling loss here stifling the 22-year-old's aspirations, despite finishing with a third-round flourish.
They exchanged often in the clinch to start, with questions over Grasso's ability to assert her power against a physically bigger opponent quickly answered.
They exchanged strikes in the pocket, though Barber was the one wearing most of the damage and a real sense of urgency from her corner in-between rounds spoke volumes.
Grasso was content fighting at range, showcasing her boxing skills or landing combinations whenever they did clinch – while showing a willingness to absorb strikes if it presented a better opportunity to assert herself against someone ultimately coming off a long layoff and looked it.
She showed developments within her jiu-jitsu game too, switching positions on the ground and transitioning seamlessly to threaten with an armbar attempt after Barber completed a takedown having caught a body kick and racing towards the mat.
Barber did much better at closing distance and making Grasso uncomfortable with forward pressure – two takedowns and clinch exchanges – during the latter half of round three, but ultimately needed a finish if she was going to prevail here and it felt like they both knew it.
Afterwards, she said she wants to be "full in all areas" as it'll help her climb up the rankings in a new division, while her body is thanking her for not needing such a strenuous weight cut.
---
Rest of main card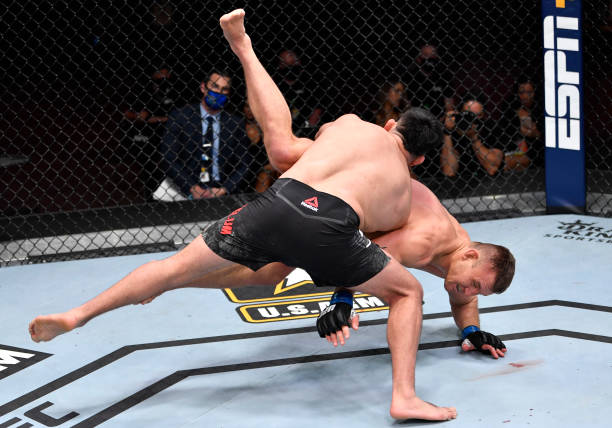 30-27, 29-28, 29-28: Kelvin Gastelum (#9) beats Ian Heinisch (#15) via unanimous decision
If he felt he was truly fighting for his job, #9 ranked middleweight Gastelum certainly produced a worthy display showing he still belongs in the Octagon against a hungry challenger in Heinisch.
The 29-year-old completed a career-high takedowns (6), mixed his boxing and wrestling skills well over 15 minutes before surviving a spirited R3 submission attempt in impressive fashion.
Afterwards, he was emotional when speaking to Joe Rogan and revealed his readiness to step in, should either Robert Whittaker (#1) or Paulo Costa (#2) fall out of their proposed April clash.
"I'm trying to hold back tears, very happy. It's been three years since my last win, back-to-back-to-back losses isn't easy to get motivated again.

Anyone going through failures or setbacks, you can do it if you get your mind and body right. I expected my experience to provide dividends, thanks to Beneil Dariush and my team, this [win] is for all of you guys.

If one of them falls out, I'm ready."
---
Simon shines in decision win against Kelleher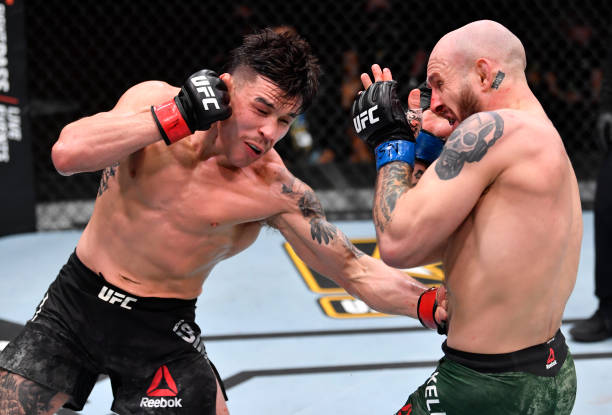 30-27, 30-27, 30-27: Ricky Simon defeats Brian Kelleher via unanimous decision
With three first-round takedowns in tow, Simon sealed successive wins in three weeks as he cruised to a draining win over Kelleher – who was cut open early after absorbing an elbow, which foreshadowed an arduous evening for the 34-year-old.
Simon continued to mix up his striking in R2 and while Kelleher had improved as time wore on, it wasn't enough to level the scores through 10 minutes despite suggestions an inadvertent low kick at the horn could have a positive impact to start the third.
After praising the promotion's facilities and ability to benefit from a nutritionist post-fight, Simon (18-3) has now won three straight after successive defeats vs. Urijah Faber and Rob Font in 2019.
---
Marquez fights his way back with gutsy choke finish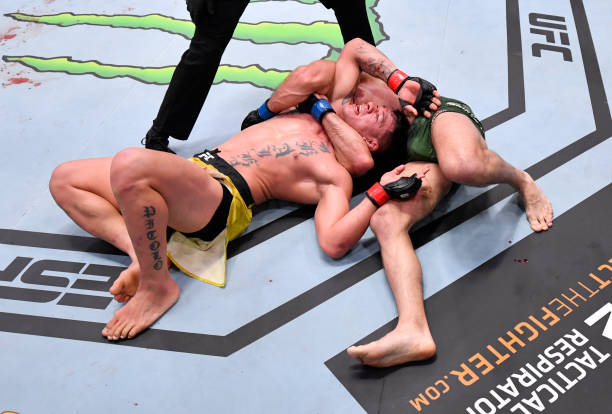 R3, 4:17 – Julian Marquez defeats Maki Pitolo via submission (anaconda choke)
After passionate cornerwork by James Krause between rounds two and three, middleweight Marquez made good on his promise to return from a 31-month layoff with a bang – rallying from two rounds down to submit Pitolo just 47 seconds away from a frustrating decision defeat.
Both were increasingly tired as the action threatened to go the distance, Pitolo largely stifled Marquez's pressure but couldn't sustain that level of defence up against the cage.
Marquez reversed a precarious position, then unloaded with huge shots and a hard knee as Pitolo could sense danger himself, shooting for a takedown.
That proved the beginning of the end though, as Marquez pushed for a d'arce choke and eventually got a variation which the 30-year-old Hawaiian couldn't break out of.
---
Prelim results as welterweight belal extends streak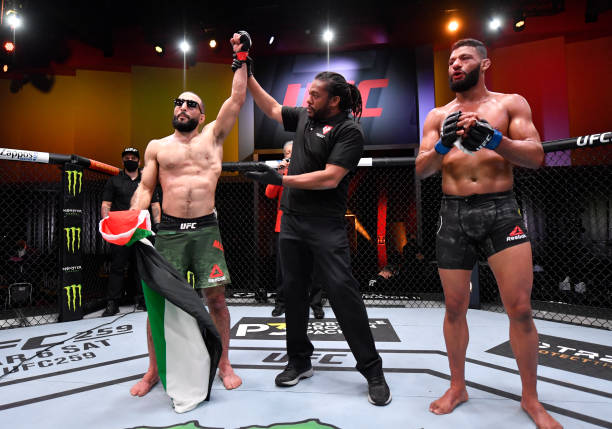 Despite two fight withdrawals over the last 24 hours as Bobby Green (collapsed) and Gillian Robertson (illness) pulled out, two submission finishes featured among a five-fight prelim slate.
Gabriel Green earned a UD win (30-27, 29-28 x 2) against Philip Rowe in the night's welterweight opener, while Chris Gutierrez had a lopsided decision victory (30-26, 29-28, 29-27) against Andre Ewell during their catchweight (140lbs) bout.
In the women's strawweight division, Polyana Viana continued where she left off against Emily Whitmire in late August with a second successive armbar win, needing just over three minutes to beat Mallory Martin.
Belal Muhammad has won four straight for the second time in his UFC career (18-3, 9-3 UFC) and importantly defended his #13 welterweight ranking with a comfortable win over Dhiego Lima – who had also won three in a row but not fought since October 2019.
To finish the prelims, middleweight Anthony Hernandez bounced back from a forgettable TKO loss against Kevin Holland last May with the sixth submission win of his career.
A second-round guillotine choke proved decisive against Rodolfo Vieira, snapping the Brazilian's unbeaten record (7-1) while earning Performance of the Night honours.
Picture source: Getty