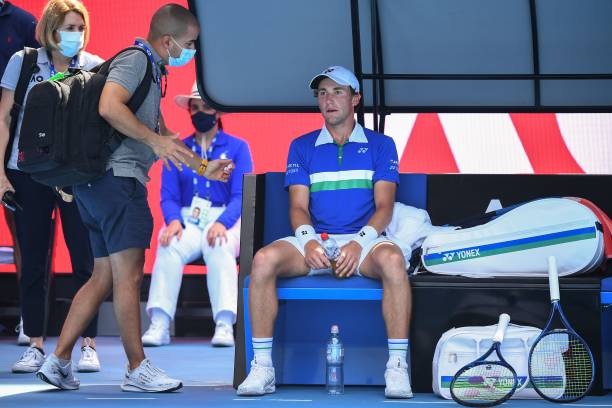 Casper Ruud was forced to retire midway through his first fourth-round match at a Grand Slam, no. 9 seed Matteo Berrettini didn't take to court against Stefanos Tsitsipas (#5) with a worsening abdominal strain while Karolina Muchova (#25) recovered from 5-2 down in the first set to stun Belgium's Elise Mertens – but also has a pre-existing ab injury and was wincing mid-match.

Berrettini withdraws, Nadal-Tsitsipas quarter-final awaits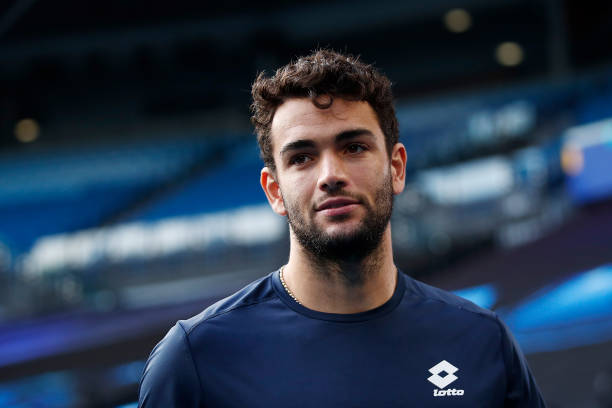 Stefanos Tsitsipas needs to banish his Nadal blues if he's to progress past the quarter-finals of this competition, with a 1-6 H2H record against an elusive Spaniard continuing to defy time and his well-documented back injury in Melbourne – managing it well over the first four rounds.
Back in mid-November at the ATP Finals before their scheduled matchup, he said:
"I'm going to try and play aggressive tennis, you can't play defensive with Rafa. Try to play the rallies, apply pressure, serve well. It's part of the game that I want to play against Rafa. I think everyone has to play this way.

I just have to be solid, more than him. Start strong and finish even stronger."
In a best-of-three sets format, he lost 6-4, 4-6, 6-2 and acquitted himself well – just like twelve months earlier in London – but this will be their first Grand Slam meeting since Rafa dropped just six games against him in this tournament two years ago.
Judging by the way he capitalised to oust an error-prone Fabio Fognini 6-3, 6-4, 6-2 today, Tsitsipas should be wary but arguably more battle-hardened for this clash – helped by an unexpected rest period – after a five-set thriller against home favourite Thanasi Kokkinakis in R2.
Berrettini said he wasn't 100% but anyone who saw how relieved he was to emerge in straight-sets against Russia's Karen Khachanov doesn't need to be told. That much was obvious.
---
russia reunite: Medvedev-Rublev quarter-final set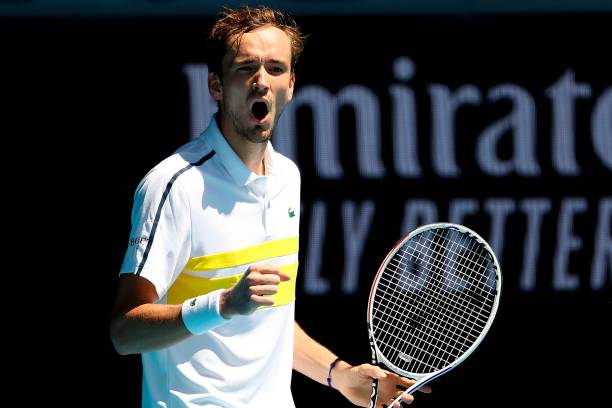 Just like Tsitsipas, no. 7 seed Andrey Rublev has a golden opportunity to finally get over the hump by beating his compatriot and ATP Cup teammate Daniil Medvedev (#4) on Wednesday – it would mark the first time he's beaten him after four previous meetings. Can he?
He needed a big set two tiebreak (7-3) to double his lead vs. Norway's Casper Ruud, who retired afterwards through an abdominal injury, having soldiered through following a medical timeout.
"I feel sorry for Casper, hope he recovers real quick. I did not expect it to end this way, but this is sport.

I'm feeling perfect, physically great. Last time he [Medvedev] beat me in the US Open quarter-final, now we meet in the Australian Open quarter-finals, we'll see what happens. I hope we can show great levels, it will be a great battle." 
---
Svitolina knocked out by pegula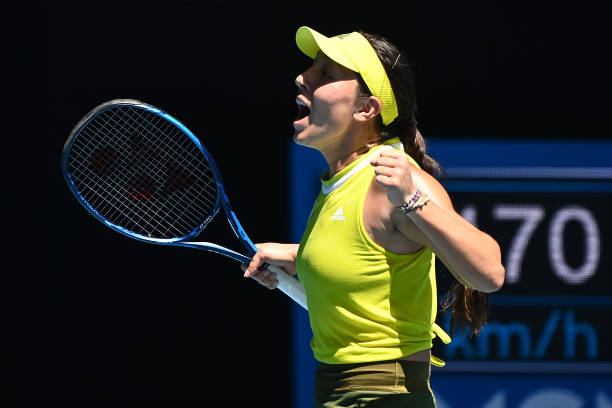 Despite promising wins in the first three rounds, including an intelligent showing to extinguish Gauff's hopes of a deep run while Melbourne's crowds could still attend, no. 5 seed Elina Svitolina has ultimately underperformed at another Grand Slam.
The 26-year-old Ukrainian benefited from an error-strewn second set to level the scoring against America's Jessica Pegula after going down 6-4 early on, but ultimately got broken early in the deciding set and failed to beat her agemate in a battle lasting almost two hours.
After reaching R3 at last year's US Open, Pegula has already surpassed her career-best finish at a Grand Slam to start 2021 but must do better to beat compatriot Jennifer Brady in midweek.
The no. 22 seed beat Croatia's Donna Vekic 6-1, 7-5 – ending the 24-year-old's impressive run here recording 22 winners and almost half her unforced error count too (19-37).
---
Barty to play Muchova, who is also struggling with injury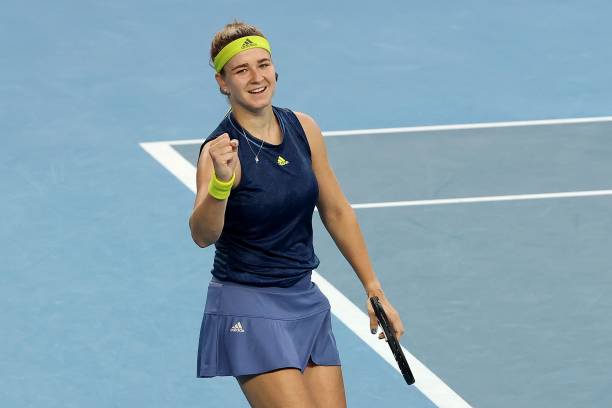 Just like Karolina Pliskova last week, Elise Mertens capitulated under pressure to lose 7-6, 7-5 against an ever-present Karolina Muchova who refused to relent and earned her reward.
She's not really thinking about facing Ashleigh Barty in the quarter-finals, with recovery paramount after cameras caught her wincing and readjusting clothes between points in set two.
That said, her poker face was good enough that Mertens wouldn't have known anything was wrong, had she not pulled out of a pre-tournament warm-up event with an abdominal issue.
Mertens was 4-0 up, then 5-2 early in set one but lost her grip on proceedings as Muchova's level increased – extending rallies, making the Belgian play extra balls and proving a pest throughout.
She saved break points, forced Mertens into increasingly tough positions as time wore on and rose to the occasion after a sluggish start – emphasised by the final sequence.
Serving for the match at 6-5, she produced successive aces to go 30-0 up before showcasing athleticism to volley home a winner on the stretch and present three match points. Forcing error number 30 from Mertens saw her win another arduous rally, the icing on a hard-earned cake.
"Slow start, I'm happy I got into it – tough battle and I'm happy to get through. Last match I had a 5-0 [deficit], so it wasn't that bad actually! Gave me confidence and tried to play, definitely going for winners, it worked out again."
Despite Shelby Rogers' best efforts, she couldn't stop Barty from progressing into the quarter-finals.
Rogers saved two match points to serve, down 5-3 in set two as the home favourite was clearly rushing to try and finish things quickly – which came with a succession of quick unforced errors.
The American asked her the serve it out question, though she answered it affirmatively to win 6-3, 6-4 and book her quarter-final place among home comforts for the third consecutive year.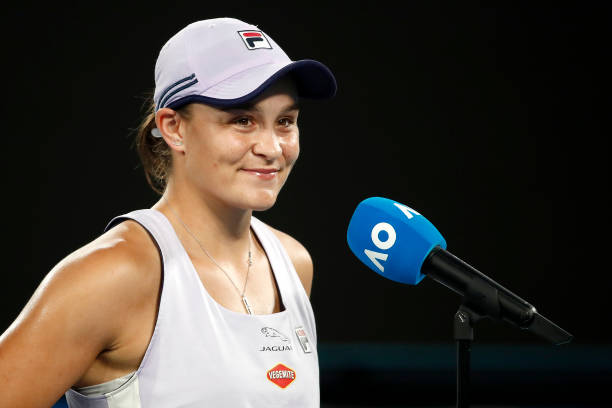 "It's really exciting to be through to another quarter-final, we come out here and have fun – love being at home, able to share it with my friends and family.

I knew my serve was going to be massive, needed to have my running shoes on and tried to be in as my control as I could."
Winning the important points to close proceedings out well, it'll be interesting to see how she fares should Muchova flip the script and produce a blistering start on Wednesday.
Picture source: Getty – quotes via Eurosport