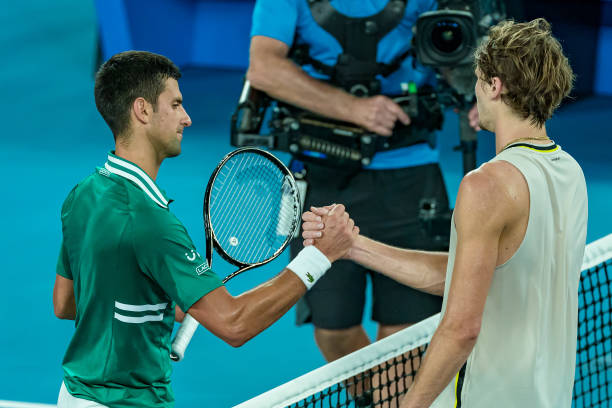 A Naomi Osaka vs Serena Williams semi-final is set in stone for Thursday after both were comfortable winners during their respective matchups, Aslan Karatsev's record-breaking run in Melbourne has continued at an injured Grigor Dimitrov's expense while defending champion Novak Djokovic recovered from a set down to beat Alexander Zverev in a chaotic four-set clash.

Serena's pursuit of elusive 24th grand slam continues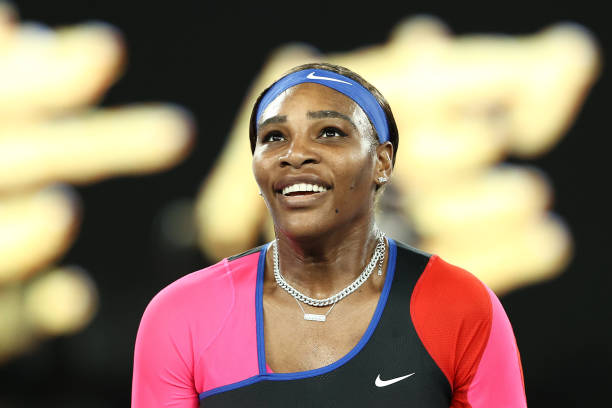 Serena Williams made a significant stride towards equalling Margaret Court's record 24 Grand Slam titles with a hard-earned 6-3, 6-3 win over world number two Simona Halep – describing it as her best performance of this year's tournament to date, in the most important of all.
Regardless of a one-sided H2H pre-match record in Serena's favour (9-3), this quarter-final was always going to be intriguing: could she finally banish that Wimbledon Final from recent memory, or would Halep produce her biggest scalp in a tournament full of twists and turns?
They exchanged punches like championship-level welterweight boxers would through the first 20 minutes on the Rod Laver Arena, playing at such a high intensity and speed that made time fly by as each broke one another.
Williams' persistence helped her go 4-2 up as Halep saved one break point but looked incredulous when the umpire confirmed a machine-made close call mid-rally – her second narrow miss in as many points.
The commentator described Serena as "scary when in full flight" and it was hard to disagree with that assessment, as she took the next game but Halep wasn't afraid.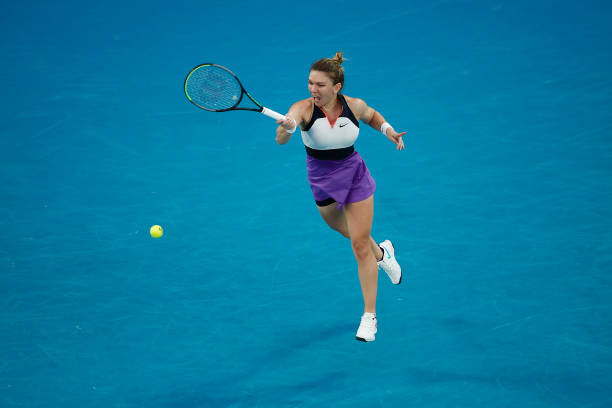 Williams was now serving to seal the set at 5-3 and after Halep broke one of her strings on the first return, it typified the lack of rhythm she was allowed to establish. Trailing 6-3, Halep needed to make a purposeful start in set two otherwise her tournament would be over rather quickly.
Williams produced a return ace with her eighth forehand winner to force deuce, then another to keep the scores level as both began tightening up – a double fault here, forehand misses there.
Eventually Halep had some good fortune with a net cord to lead 1-0. They exchanged breaks of serve over the next four games and just as the commentators speculated whether Williams had peaked in terms of arousal levels and energy, she responded emphatically.
While her unforced error count continued to rise, Halep couldn't close out closely-contested games. Case in point was at 3-3: saving five break points but Williams remained relentless.
The 23-time Grand Slam champion won a 20-shot rally – the match's longest duel – before producing awe-inspiring defence to claw her way out of a precarious situation at the baseline and take a 4-3 lead.
4-3 became 5-3 pretty quickly after and despite Halep saving a match point on serve, Williams had no hiccup on the second attempt with a forehand winner to finish in style. Although she finished with 33 unforced errors, Serena declared it her best display of the tournament to date.
"I just realised I was making a lot of unforced errors on the games I lost, stay in there and that's what I did. I definitely think this is the best I've played, going against no. 2 in the world, had to do better and I did so I'm excited!
When asked if she worked with coach Patrick Mouratoglou specifically on her defence:
"He said I need to be better on defence, we worked on our movement but not so much in the offseason, I was trying to heal.

I can make leaps and bounds really fast, speed has been one thing that has been super good in my game, I know I have the legs to do it so it's exciting."
Up next is Naomi Osaka, who produced 24 winners and dropped just four games against Taiwan's Su-wei Hsieh in the day's early action.
"She's such a strong player, an inspirational person off the court which is really cool, so good to see someone so inspiring on both things. I've been watching her, she's been watching me, just need to keep doing my best, it's the first Grand Slam of the year and I've had an incredibly long, arduous offseason."
---
error-prone Djokovic recovers from a set down to sting Zverev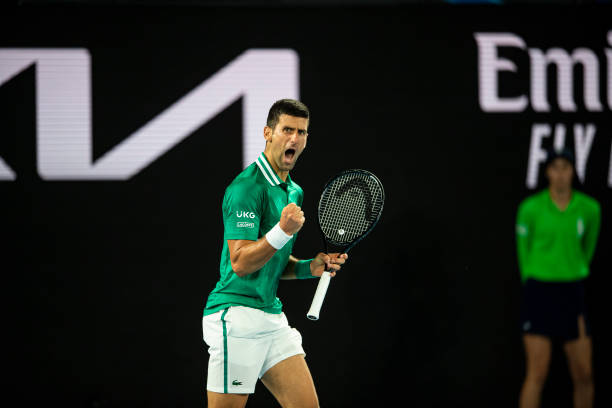 Defending champion Novak Djokovic started sluggishly, destroyed one of his racquets, recorded an eyewatering 56 unforced errors and still managed to come back from 4-1 down – facing another break point – in set three to beat Alexander Zverev 6-7, 6-2, 6-4, 7-6.
It means he's won his last nine Slam quarter-finals and booked his place in the semi-finals after a nip-and-tuck match which again reinforced why he's the world's best player.
Zverev had never beaten a top ten player in a Grand Slam before today, a damning statistic for someone of his pedigree and experience since debuting at Wimbledon six years ago.
He turns 24 in April, was as high as world no. 3 at one stage and lost from two sets up in his first Slam final against Dominic Thiem in September. So while it almost sounded too good to be true, this was perhaps his best opportunity to end the questions over his clutch ability under pressure.
After all, Djokovic is injured and clearly not 100%, even though analysts and rival fans alike are trying to poke holes in his exaggerated self-diagnosis. What makes the manner of this loss worse is the fact Djokovic lost serve, gifting the German with an early break in set one, three and four.
Two of those occasions came after double faults and while Novak's sloppy start was being punished by Zverev's big serving, you could sense he'd eventually improve. That he certainly did.
Annoyed, impatient and bullied off the court at times, the Serbian found a way to raise his level when facing the big moments as the match wore on.
Whether that was with his serving, winning longer rallies or forcing errors, he won a 24-shot rally before eventually going 6-5 up and suddenly Zverev was battling to save face.
He did so, eventually winning the first set tiebreak 8-6 after going down 2-0 early on – Djokovic's preference for drop shots came back to haunt him, and Zverev was ahead.
Djokovic wasted no time in earning a double break to start set two with an inch-perfect forehand winner, racing in-front after a set he had no right to win narrowly slipped out of his fingers.
The whole second set lasted half the time it took to settle a gripping first, with significant differences in the stats to boot.
UE = unforced error, WIN = winner
Djokovic – Zverev
set one: 21 UE, 11 WIN — 11 UE, 15 WIN
set two: 2 UE, 10 WIN — 5 UE, 9 WIN
As mentioned, Zverev gratefully took a commanding third set advantage as Djokovic continued missing makeable forehand shots and there was already a 12-error differential (30-18) in the youngster's favour, as he looked to capitalise with momentum back into his sails again.
After saving a break point to go 4-1 up, he watched as Djokovic couldn't bottle his feelings any longer – destroying his racquet in frustration as shards flew across the court.
One of the courtside attendants swept the damage away as Zverev prepared to serve, unaware he'd lose five successive games and a set that he should've sealed long ago.
Djokovic got his angles right to force more errors from the German, almost as if he was waiting for him to crack. Break points came and were duly snatched, with two double faults in a minute rather typifying a match unravelling before our eyes.
Holding his nerve to go 2-1 up, Zverev was again 3-0 up in set four but a mixture of volatile shots and bravely aggressive winners helped Djokovic outlast him after more gruelling rallies and a nervy tiebreak were needed to separate them.
He did so with an ace, but admitted his surprise at the match statistics in his oncourt interview and had plenty to say afterwards – from recording more aces than the German to the increasing number of injuries that are occuring on tour right now:
He'll play Russia's record-breaking qualifier Aslan Karatsev for a place in Sunday's final, after the commentator's curse struck again – the 27-year-old showing the same steely determination once more to recover from a set down, beating Bulgaria's Grigor Dimitrov (#18), 2-6, 6-4, 6-1, 6-2.
They said he was "beginning to wilt" midway through the second set, but importantly stayed focused despite losing serve to break back when it mattered most, surging ahead with three successive games to close out the set.
Finding a second wind proved pivotal, having saved seven break points and gaining strength as Dimitrov's error count continued increasing with unsettling frequency.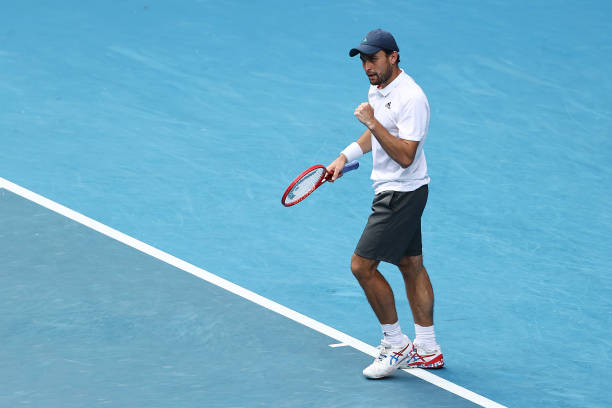 Dimitrov had a medical timeout after set three with a pre-existing pelvis injury bothering him, did his best given the circumstances but could only win two more games in set four.
Afterwards, Karatsev admitted he was nervous early on, not exactly helped by the sweltering heat before describing his latest victory as an unbelievable feeling – the first time he's entered the main draw at a Slam, he's also got to the last-four.
Picture source: Getty