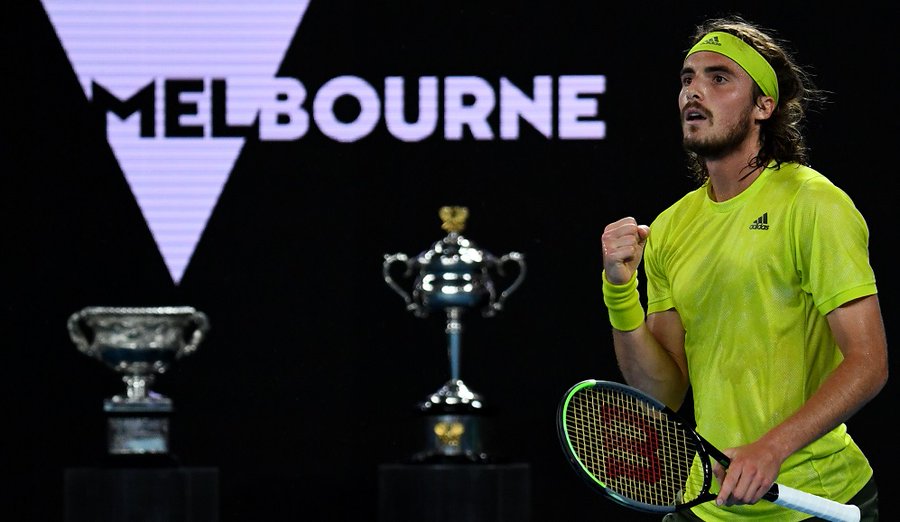 World number one Ashleigh Barty was stunned in three sets against Karolina Muchova (#25), second seed Rafael Nadal relinquished a two-set advantage as Stefanos Tsitsipas (#5) ended his tournament after a gruelling four-hour battle, while there were big wins for Daniil Medvedev (#4) and Jennifer Brady (#22) elsewhere on another unpredictable day of tennis in Melbourne. 
Barty knocked out by comeback collector muchova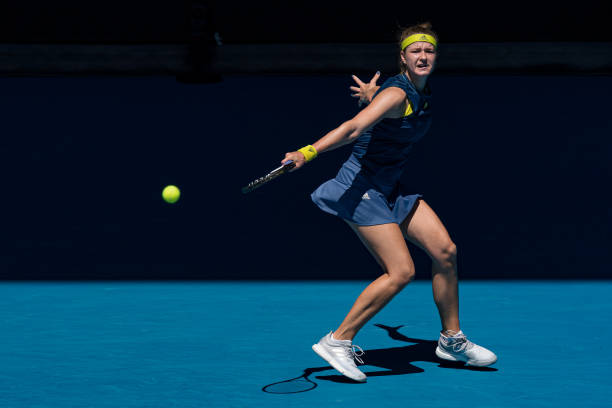 Home favourite Ashleigh Barty was up 6-1, 2-0 but lost to Karolina Muchova – who has become the ire of critics and fans alike after taking a medical timeout early in the second set, citing diziness and clutching her neck, which people believe contributed to Barty's drastic demise.
In 25C heat, the Czech Republic international had an initial assessment at the changeover before a timeout was called – Barty kept limber as she waited, nine minutes came before play resumed.
You'd have thought nothing of the delay from the opening point, as Barty welcomed Muchova back to court with an emphatic ace. Three unforced errors in the next four points followed to give an unlikely break point chance, which she snatched after Barty hit a forehand into the net.
Winning four of the next five games helped her level the scoring, before an immediate break – while saving two break back opportunities in the very next game helped Muchova take control.
With a 1-6, 6-3, 6-2 final score, the 24-year-old now faces someone who had to recover from a set down overnight too and clarified how she was feeling during her post-match interview on court:
"I started feeling a bit lost by the end of the first set, Ash played really good, like no mistakes and it was very tough, my head was spinning so I took a break.

It [the break] helped me, I tried to get back, playing faster rallies so we don't get those long ones from the first set and it worked well. Just try to put the ball in, go for it, go to the net and that was the key by the end."
Into her first-ever Grand Slam semi-final, who's next? 
---
Brady battles into her second Slam semi-final in six months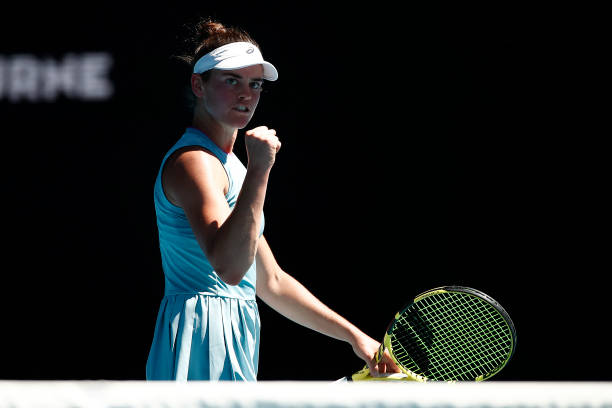 She'll play America's Jennifer Brady in the semi-finals on Thursday (4.30am BST), after the 22nd seed came back from a set down to beat compatriot and friend Jessica Pegula 4-6, 6-2, 6-1.
Although her first serve percentages were sketchy throughout (49%), evidenced by seven aces but equally five double faults in just over 100 minutes of play, the 25-year-old won 82% of her first serve points – Pegula by contrast, had a lowly 56%.
She had seven more winners and three less unforced errors total, cleaning up her numbers significantly after a back-and-forth first set where she was 30-0 up on serve at 4-4, but found herself broken back just minutes after earning a break of her own.
From there, she lost just three more games in the next two sets to complete a successful comeback after dropping her first set of the tournament to date.
Naturally, she's looking forward to her second Slam semi-final – having reached the last-four at Flushing Meadows last October before losing in three sets against eventual winner Naomi Osaka:
"In New York, it was an empty stadium. It'll be a new atmosphere here for me playing the semi-finals of a Grand Slam in front of fans – I'm really looking forward to it." 
---
Tsitsipas completes historic comeback to overcome nadal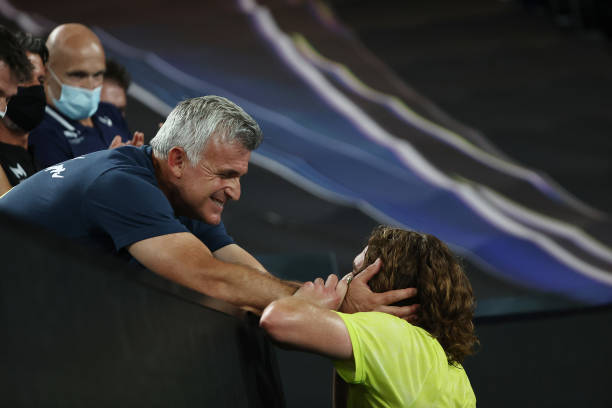 Stefanos Tsitsipas recovered after being two sets down, becoming only the third player in history to beat Rafael Nadal in a match from that same predicament, and was understandably speechless having looked hard done by and virtually defeated after just 80 minutes on court.
Roger Federer (Miami, 2005) and Fabio Fognini (US Open, 2015) are the pair alongside him but after Matteo Berrettini's withdrawal before their proposed last-16 clash, the Greek rose in confidence and conviction as time wore on, with ultimately nothing to lose.
Nadal hadn't won his first Grand Slam until two months after Federer beat him in 2005 and as for 2015? He was struggling for consistency after troublesome injuries ended the previous season.
Nadal pushed Tsitsipas backwards, closed out tight moments with purposeful serving and shut the door via emphatic winners (58 total) whenever the 22-year-old kept their rallies competitive.
Whether it was a crosscourt backhand to finish a 25-shot rally, or a booming forehand down the line, Tsitsipas' risk-taking tactics weren't working as Nadal did well to force more errors. As if he needed additional encouragement to finish this affair as quickly as possible.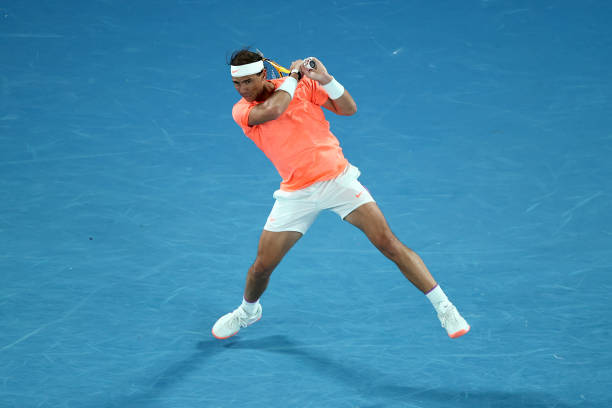 But as they exchanged service holds in set three, Tsitsipas kept points short on serve and suddenly it was apparent a tiebreak would be needed to separate them.
His level had increased by this stage, but surely not enough to warrant a true comeback? Especially after a makeable backhand miss on the first point, rather typifying why this hadn't been as competitive a matchup as many had hoped for.
He needed to keep Nadal honest with his ball-striking and that's precisely what he did.
Instead of feeling sorry for himself and a 1-6 H2H record that felt close to being extended in another big match, he forced the Spaniard to beat him for each point – something easier said than done, playing against someone with Tsitsipas' 6ft 4in frame and subtle defensive abilities.
Nadal missed two smashes in the tiebreaker, Tsitsipas took set three and suddenly this match had turned on its head as the 20-time Grand Slam champion's errors started to quickly increase.
That marked the first set of Slam tennis Rafa had lost since a five-set defeat by last year's finalist Dominic Thiem in Melbourne 13 months ago – eleven matches with 35 successive games won.
His shot timing and anticipation had improved, but was this too little too late? The opposite.
Nadal saved three break points before a graphic flashed across the screen: Tsitsipas was winning 71% of points during rallies lasting over nine shots, the aforementioned defence had noticeably improved and Nadal almost second-guessed himself at times when charging towards the net.
Tsitsipas finally broke him (1-of-4 on fourth set BPs) and seized the fourth set, meaning a decider was needed. They exchanged holds, but you could sense Nadal was under more pressure, after all he was comfortably leading two hours beforehand.
The peaks and troughs of a five-setter were on full display: Tsitsipas executing well and another Nadal unforced error meant he was now serving for a match he should've lost by this stage.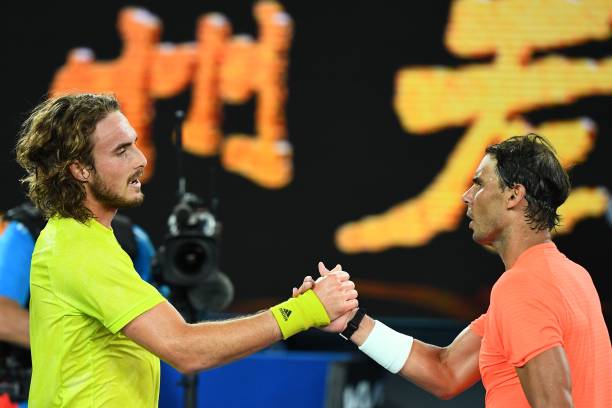 Nadal saved two match points but after split-second hesitation when approaching the net mid-rally, then watching a backhand winner fly past him, it was all over. Four hours and five minutes, Tsitsipas was down-and-out. No wonder he was speechless afterwards.
"I'm speechless, no words to describe what happened.. it's an unbelievable feeling to be able to fight at such a level and give it my all out on court.

I started very nervous but what happened after the third set? I flew like a little bird, everything worked for me and the emotions at the end are indescribable.

It was something I focused a lot on – staying calm, holding my nerves – I've failed to do that at times before.

A big part of my win today is that, being consistent with my mood, stay calm in crucial tight moments and I've been working on that, my attitude on court."
He'll play Russia's Daniil Medvedev in Friday's semi-final, as the fourth seed continued his H2H dominance against top ten players with a 7-5, 6-3, 6-2 win over compatriot and ATP Cup teammate Andrey Rublev in just over two hours.
Medvedev had 14 aces, 30 winners and 33 unforced errors – six less than Rublev – who needed to start well if he was to truly threaten the US Open 2019 finalist on this occasion.
They exchanged breaks midway through the first set but that was as good as it got, both in set one and two, as the 25-year-old ultimately seized his opportunity and broke Rublev's spirit.
Picture source: Getty — quotes via Eurosport