World no. 1 Novak Djokovic produced his best performance of this year's tournament so far to knock out fearless qualifer Aslan Karatsev 6-3, 6-4, 6-2 in just under two hours – booking a ninth Australian Open Final, where he'll play either an in-form Daniil Medvedev (#4) or Rafael Nadal's conqueror Stefanos Tsitsipas (#5) on Sunday as he looks to again retain his title in Melbourne.

Djokovic's brilliant start sets the tone against gamely Karatsev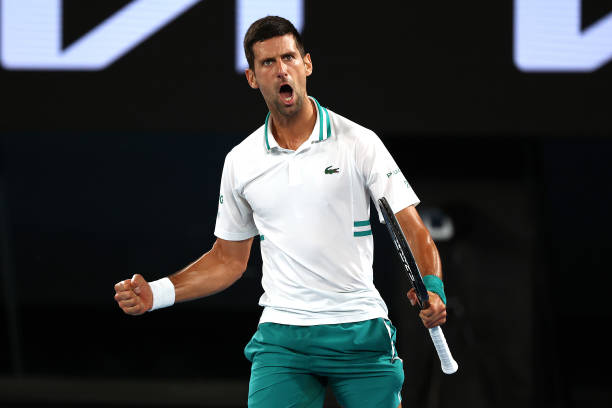 After their ATP Cup triumph before the tournament began, Medvedev described Karatsev as Russia's secret weapon. Here he was, playing on the big Rod Laver Arena stage again, this time with fans back in attendance once again and gladly cheering him on as the ultimate underdog.
Having recovered to beat both Felix Auger-Aliassime and Grigor Dimitrov in the previous two rounds, this David vs. Goliath clash always felt likely to provide compelling viewing.
This bullish 27-year-old blasted Argentina's Diego Schwartzman – the tournament's eighth seed – to bits in an emphatic R3 straight-sets win. From there, nothing he did surprised me anymore.
But even still, he broke records, made history and quietly went about his business with workmanlike efficiency, with critcs understandably questioning why it took so long for him to burst onto the scene like this. Troublesome injuries and inconsistency, is the short answer.
It felt fitting he beat an Argentine en route to this semi-final, given qualifier Nadia Podoroska's similarly inspiring run to the last-four at Roland Garros four months ago – where she lost 6-2, 6-1 to eventual champion Iga Swiatek. before winning the WTA's Newcomer of the Year award.
If anything, that's probably another sign favouring Djokovic as he prepares to watch with popcorn at the ready when Medvedev-Tsitsipas duel tomorrow evening.
The match itself
Karatsev did well to push him, exchanged holds early on and made the Serbian uncomfortable in the first half-hour. Whether it was a crosscourt forehand, top spin lob to help him win a rally, recovering with timely aces and more passing shots, the Russian matched Djokovic.
That all changed in the first game with new balls, serving at 4-3 down: Djokovic seized his opportunity as he often does, taking the first of three break points after forcing a wayward forehand.
Within a flash, 4-3 had turned into a 6-3 Djokovic first set with successive aces helping him hold to love. Karatsev, despite his undeniable power and ability to play freely, was guilty of trying to force a few more winners when they engaged in rallies.
His 13 unforced errors in set one was a stark contrast to Novak: just one, with nine winners. Despite a strong hold for both to start set two, the signs felt ominous for Karatsev after double faulting to gift-wrap an early break which Djokovic snatched.
A two-handed backhand crosscourt winner and emphatic forehand down-the-line were perhaps the pick of the shots as Djokovic's lead kept increasing – much to the crowd's collective frustration, hoping to see another thriller.
hold on, it's Not over just yet…
It felt like Djokovic just couldn't miss as 2-1 turned to 5-1 with successive aces for a third time through an hour and change. He clearly wanted to get this finished as quickly and efficiently as possible, with a backhand slice crosscourt winner to start purposefully on Karatsev's serve again.
Alas, this wasn't over just yet. The qualifier responded well enough to hold, asking a serve it out question that Djokovic couldn't answer. Not for want of trying, either.
Karatsev's ability to stay in rallies, keeping Djokovic honest and aware that this wasn't one he could take lightly, saw the world number one wobble on serve with three unforced errors.
A perfectly-placed return ace and forehand error gave him a break back, which he sealed before turning 5-1 to 5-4.
A second net cord and inside-out forehand winner wasn't enough to dent Karatsev's enthusiasm, as he saved two set points in the next game and had two break point opportunities to level the scoring at 5-5.
Despite outlasting Djokovic in a 33-shot rally and firing a return ace beyond him, he couldn't close it out as Novak roared after surviving the match's longest game. That was dicey.
After riding a wobble to serve out the second set, he found himself up an early break to start set three. Even with his chances dwindling by the minute, Aslan refused to give up.
He mixed crosscourt shots with deft placement and execution to force the eight-time Australian Open winner into further awkward positions, breaking back at 2-2 with a whipping forehand.
However, his resurgence simply didn't last long enough to mirror Tsitsipas' fantastic comeback yesterday.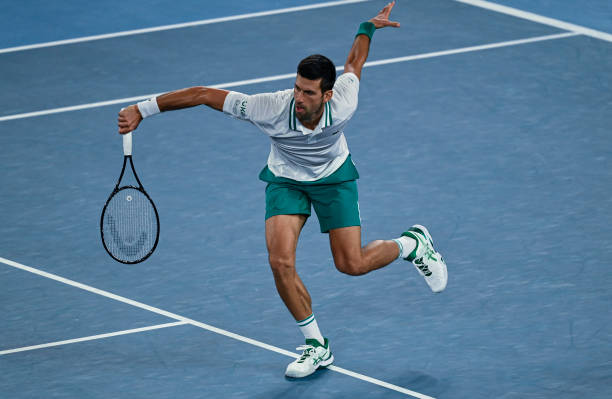 A forehand error and Djokovic net winner saw him 30-0 down on serve once more, before the mistakes continued to increase as Novak did a great job wearing him down – pulling him from one side to the next, incorporating sliced backhands to stifle his power.
Djokovic broke back at 3-2, consolidated it with an ace down the T and after Karatsev's serving struggles returned, the world number one was suddenly serving to book a record ninth Australian Open Final.
Two errors and a pair of aces – finishing with 17 on the evening – saw him seal another semi-final win just shy of the two-hour mark.
djokovic post-match comments and praise for Karatsev's run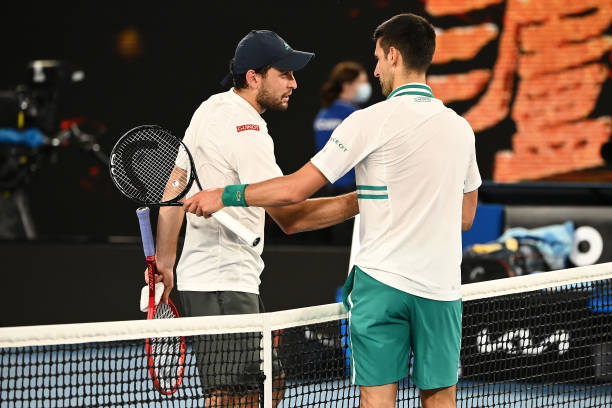 During his on-court interview with Jim Courier, Djokovic made sure to praise Karatsev's efforts before revealing how he's feeling physically and saying he had zero preference over who he plays in Sunday's final:
"We need to give him a hand, huge congratulations, well done to him, played a great tournament. This is the best I've felt, no pain, best match so far, came at the right time and I'm thrilled to feel this way.

I will see, talk to the team, evaluate and train – probably Saturday, but recovery is priority right now, had enough match play and practice, just gathering the energy for the most important match.

I watched from the middle of the third set: Stefanos did well to hang in there [against Nadal], played a solid tiebreak and next thing you know, he won – probably the best match of the tournament so far.

Medvedev has played at the highest level over the past few months, is on a streak, Stefanos hasn't reached it [a Slam Final] before, always a high-intensity match between them, playing great – going to take the popcorn and enjoy it."
During an interview with Barbara Schett, Mats Wilander and Tim Henman shortly afterwards, the world number one reaffirmed the belief this was his best performance of the tournament so far.
"I made him play, mixed up the pace of the ball, wanted him to have a different rotation coming from my side, didn't want to play predictable and it worked. He hit flat and deep in the court. 

It's going to be tough, get on the practice court [Saturday] and work on specific things but my priority is recharging the batteries, feeling recuperated and had enough match play, I'm ready."  
Mischa Zverev (world no. 274), a quarter-finalist in Melbourne four years ago, had this to say on Eurosport's TV broadcast having watched the match unfold from a courtside bunker:
"He [Djokovic] was perfect for two sets. Karatsev coming from qualifiers, working his way up the rankings and through the tournament, he had a phenomenal run."
On what the Russian needs to do against Djokovic and other top players next time the opportunity presents itself:
"He needs to anticipate his intensity better, tried forcing it too much.  The faster you play, the faster he'll respond [against you].

You can tell Novak is getting ready for Sunday, the only time he misses is when he's off-balance, which he wasn't today – a dangerous sign."
Final word on an inspiring Karatsev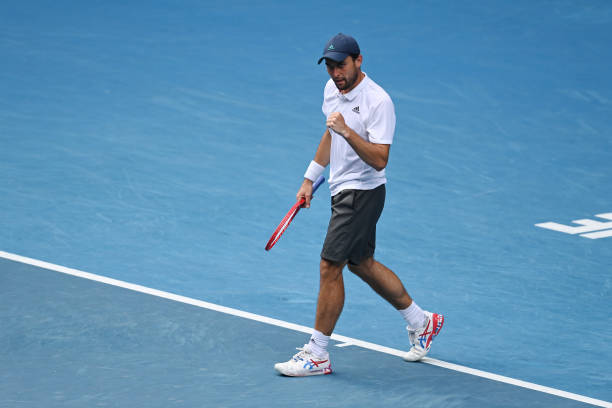 After he beat Schwartzman, I wrote:
This was a reminder, after Thanasi Kokkinakis' five-set thriller vs. Stefanos Tsitsipas, that there are plenty of capable players outside the top 100 capable of producing shocks – even if relative inexperience at dealing with Slam pressure and momentum swings often prove their downfall.
Karatsev will have doubled his career earnings by next week, with a new career-high ranking of 42 to boot. This was a testing affair that Djokovic needed to win, rather than one that the Russian lost – rightly enjoying his moment and forcing mid-match adjustments from the world's best.
It's understandable he ran out of steam in the last 5-10 minutes and looked physically spent as he thanked fans for their support before walking off court, having played nine matches (three qualifiers) in this tournament – without a straightforward route to this stage either.
This was an incredible run and one he'll look to build upon, with a tournament that has garned some hard-earned recognition. To finish, here are the records he broke on his magical route:
First qualifier to reach Grand Slam semi-final since Vladimir Voltchkov at Wimbledon 2000
First in Melbourne since Bob Giltinan, back in 1977
Lowest-ranked player to reach semis since Patrick McEnroe, who was also ranked world no. 114 at the 1991 Australian Open
First player to reach GS semi-final on their main draw debut
Earned his first top-ten victory, beating world no. 9 Schwartzman in straight-sets
First qualifier to reach Slam quarter-finals since Bernard Tomic at Wimbledon 2011, first to reach quarters in debut Slam since Alex Radulescu at Wimbledon 1996
First player to reach a Slam semi-final on debut appearance in Open Era history
I'll have coverage on Medvedev-Tsitsipas (8.30am BST) tomorrow, so stay tuned for that!
Picture source: Getty – quotes via Eurosport broadcast