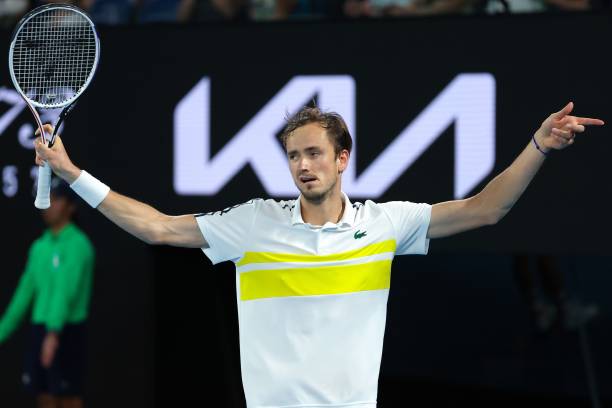 Daniil Medvedev (#4) produced some exquisite shot-making and was relentless to subdue a partisan crowd at the Rod Laver Arena, surviving a late third set wobble to win 6-2, 6-4, 7-5 against Stefanos Tsitsipas (#5) – booking his place in Sunday's final against defending champion Novak Djokovic, extending his win streak to 20 tour matches in just over two hours.

Medvedev relishes task as clear pre-match favourite
Having defied the odds to knock out Rafael Nadal in five sets on Wednesday, Tsitsipas was looking to become the youngest finalist in Melbourne since Djokovic first won back in 2008.
Ultimately though, there was a reason why he was such a heavy underdog in this matchup.
Armed with just one win in their six previous H2H meetings – during his run to the ATP Finals triumph two years ago – questions remained over whether he'd be able to match Medvedev's intensity, with both persistence and pressure after enduring a four-hour battle two days earlier.
Beforehand, this felt like another long match was in store, with tactical breakdowns suggesting Tsitsipas had another mountain to climb if he wanted to reach his first Grand Slam final.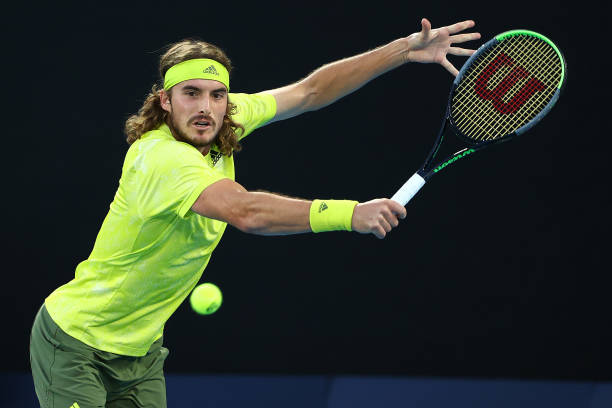 After a purposeful early hold by the 22-year-old, Medvedev's backhand winner to finish a 25-shot rally in the following game said all you needed to know: there was no time for sluggish starts.
Tsitsipas saved one break point with a big first serve, but couldn't save another as the man in-form wasted no time racing ahead and consolidating the break, up 4-2 in the first set.
Serving came to Medvedev's rescue, as he needed four set points to eventually seal a 6-4 first set – though his shot precision and placement was causing the Greek multiple problems, not least an inability to assert himself during their longer rallies.
A driving forehand volley saw Tsitsipas squeeze past a nervy opening game to start set two, but Medvedev was energised by the continued success he was having during return games and kept him guessing with his shot variety as time wore on.
He fired a forehand up-the-line winner, establishing another early break, before Tsitsipas angrily slammed an open water bottle at the changeover as ballkids swept up his mess and umpire James Keothavong had a few words as play resumed. Medvedev knew he was starting to crack.
If Tsitsipas flew like a little bird to recover against Nadal, he barely had a chance to get off the ground as backhand winners continued to fly off the Russian's racquet with consummate ease.
He played a beautiful backhand passing shot as forehand errors continued to flow down the opposite end, much to the crowd's frustration – they were expecting a long match. Medvedev had three break points and produced yet another return ace, before sealing a 6-2 second set.
"If this was a boxing match, you'd be looking to the referee asking him to stop it," said one of the Eurosport commentators as the Tsitsipas fans again tried to gee up their man. Medvedev was firmly in control of their rally exchanges though, and raced into another early break of serve.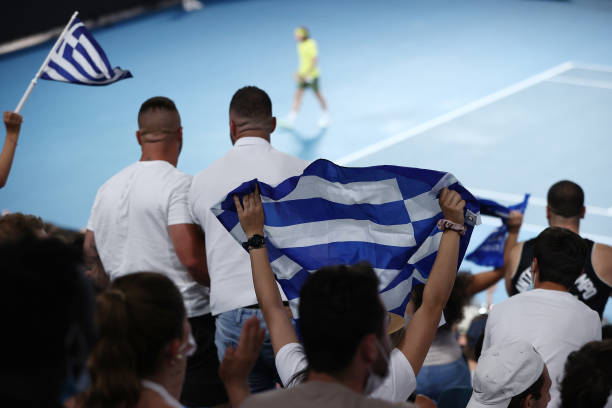 It didn't take long for 1-0 to turn into a 3-1 third set lead as the graphic flashed up across the screen: Medvedev had won 36 of 39 total points behind his first serve, while taking seven seconds less (18, on average) between points.
His serve was working brilliantly like a perfectly-placed body shot and you knew Tsitsipas couldn't take many more, if he was to recover and create doubt in the Russian's mind like the third-round Filip Krajinovic clash, where he needed five sets to prevail despite initially cruising.
Tsitsipas' third set fightback?
Right on cue, Medvedev faltered at precisely the wrong time with tension starting to eat away in what was previously a faultless display. Having saved two break points on serve, Tsitsipas watched him miss with a forehand into the net as the crowd cheered: a first break of the night.
A poor backhand volley into the net followed in the next game, as Medvedev was suddenly rocking without warning – like he'd just absorbed a big punch and needed to gather his bearings.
He did precisely that to level again at 4-4, digging deep and saving a break point by relying on what was previously working wonders: his devastating serve.
Tsitsipas' decision to serve and volley worked, but only temporarily. Medvedev returned fire with a backhand return ace and thunderous forehand winner shortly afterwards, though the Greek's mental toughness and ability to hang in there was again being tested.
Down 30-0 on serve, Medvedev won four straight points to make it 5-5 as he'd clearly recovered from the earlier wobble. Tsitsipas' shot selection and positioning was again exposed as he handed the fourth seed three more break points.
Despite saving one, he watched helplessly as Medvedev somehow produced the shot of the tournament mid-rally with a ridiculous backhand up-the-line winner.
He retrieved the ball on the stretch, near his ankle, before firing it back to put another exclamation point on an excellent ball-striking display as he now led 6-5.
Centred on more brilliant serving, he had two match points and only needed one to withstand those nervy moments in style and book a second Grand Slam final without unnecessary fuss.
---
Post-match comments, Medvedev insists pressure is on Djokovic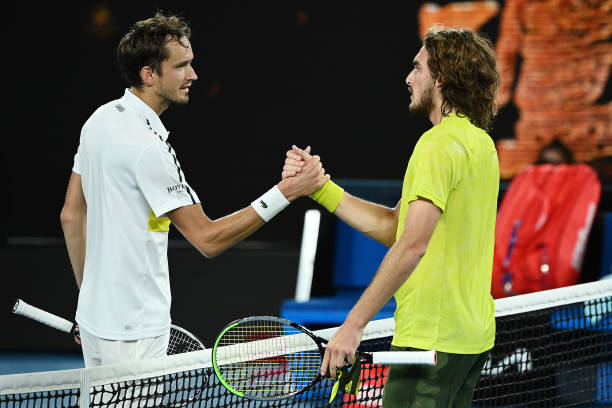 Afterwards, he admitted getting tight midway through set three and referenced Tsitsipas' display against Nadal as inspiration for his strategy – which worked perfectly.
"Not easy, I got a little bit scared and tight… it's a semi-final of a Slam, it wasn't easy but I'm happy I turned my game on, some tight moments on serve and happy to be in the final.

I saw the statistics, he was for sure tired against Rafa but looked quite fresh. As soon as I moved him around the court, he wasn't moving as well so that was my strategy from the first set."
When Jim Courier asked about his record, which now stands at 20 consecutive wins:
"Just working hard, really happy at this moment and it [the record] is going to stay with me until I'm like you, interviewing someone! It's a great achievement for me, I was losing some tight matches [before] and with hard work, turned it on, hopefully it doesn't turn off and I can keep my momentum going."
On facing Djokovic this Sunday, he said there's no pressure on him:
"Took a lot of experience [against Nadal], it was my first Slam final. I'm going to play against another of the greatest, we're going to see.

I don't have a lot of pressure, he hasn't lost here in eight finals, getting to Roger and Rafa [both have 20 Slams, Djokovic has 17] … he has more experience but more to lose than me." 
Mischa Zverev (world no. 274), a quarter-finalist in Melbourne four years ago, praised Medvedev but issued a warning on Eurosport's TV broadcast after again watching from a courtside bunker:
"Daniil's placement and positioning is incredible, Tsitsipas could not use his weapons at all today. He's doing so well, not thinking about how to improve further – still enjoying the fact he can beat everyone with the way he's playing.

It'll become tricky once people figure out his game more, that's the next step… you get to the top and have to stay there.

"To beat him, you have to break the rhythm: play like Roger [Federer], super quick and aggressive, or play his game and be physically stronger.

His backhand is difficult to read, it's not super fast but stays so low, when it bounces, you have to move towards it, he outmanoevures opponents with the shot. He's always ready to play a perfect shot, seems off-balance but isn't."
On what Tsitsipas could've done differently:
"He could've incorporated slice backhands, maybe serve and volley earlier than he did, but Daniil's serve is a huge weapon and impossible to read."
Statistic: Medvedev won 82% of his first serve points (18/22), compared to just 63% (17/27) for Tsitsipas.
Stay tuned for coverage of the women's final (8.30am BST) tomorrow, as Naomi Osaka attempts to win her fourth Grand Slam title against first-time finalist Jennifer Brady. 
Picture source: Getty — quotes via Eurosport