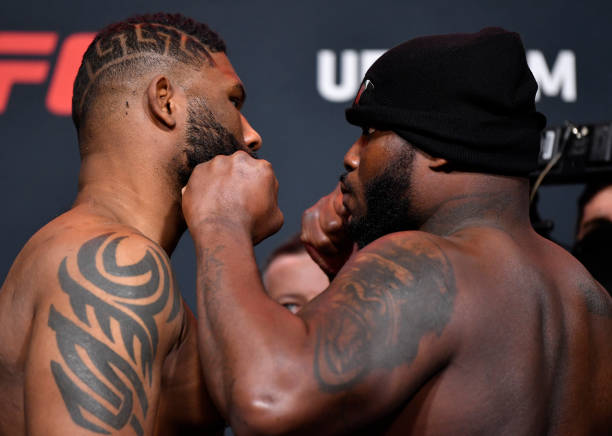 Three years after his first UFC title shot, Derrick Lewis (#4) is under no illusions about how much work lies ahead should he finally earn another crack at becoming the heavyweight champion. But after their initial November matchup was rescheduled following a positive COVID-19 test, the Black Beast has a real chance to stake his claim against Curtis Blaydes (#2) tomorrow.
last chance saloon: can lewis seize his chance?
Blaydes-Lewis is an intriguing duel with ramifications near the top of the promotion's heavyweight division, even despite the news that Jon Jones is next in-line for a title shot on his divisional debut after Stipe Miocic vs Francis Ngannou 2 is settled at UFC 260 on March 27.
That news was something that #2 ranked Blaydes (14-2 MMA, 9-2 UFC) took graciously when asked during his portion of the news conference yesterday, while Lewis (24-7 MMA, 15-5 UFC) admitted it would be crazy if one day, he ultimately became the UFC's heavyweight champion.
"That would be crazy, really crazy for a guy like me, going through all the stuff that I went through, and becoming UFC champion, heavyweight champion of the world. That's just crazy to even put in the same sentence as my name.

It just felt even crazy when they announced I have the all-time UFC knockouts compared to all the thousands of other guys who fought before me, all the big knockout artists that they had.

That I'm the no. 1 guy now, especially how I used to approach the sport, not even really taking it seriously. To even be this far in my career is just so crazy."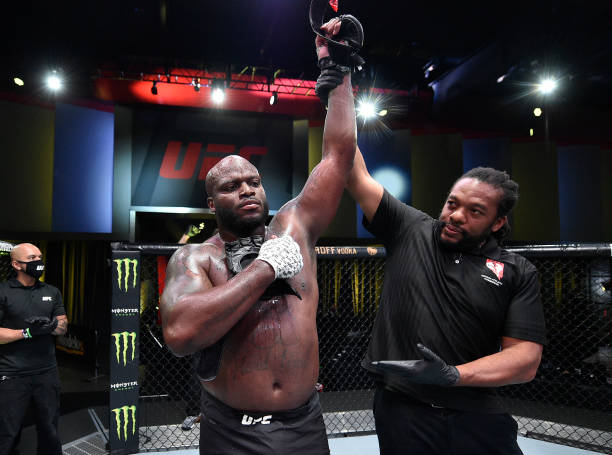 This weekend marks Lewis' seventh headliner and one he looks to finish with style, whether that's another KO win – like his second-round TKO of Alexei Oleinik in August – or a unanimous decision, easing past Illir Latifi to kick off the Jones-Reyes main card at UFC 247 six months prior.
Also read: Curtis Blaydes' heavyweight warning to Jon Jones speaks volumes
Lewis has two fights remaining on his existing six-fight contract and as he's aware, the outcome of Saturday night's main event could significantly impact future contract negotiations – another of the factors he is being motivated by.
He's reportedly being paid between $140-155,000 show money per fight with the same amount as an added win bonus. If he beats Blaydes and takes the #2 spot, that figure could increase.
"Even if it's not a significant bump, that's fine. It'd be great if I could get a significant bump [in pay], I'm really going into this fight because I have one more fight on my contract after this one.

I have to perform [as] I've never performed before, especially if I want a better contract than I have right now. I'm going into this like it's my last shot at the UFC – I have to go out there, perform to the best of my abilities." 
He has beat multiple ranked heavyweights, including the aforementioned Oleinik (#10), Shamil Abdurakhimov (#8), no. 1 contender Ngannou and a thrilling comeback knockout win over Alexander Volkov (#5) – who produced an excellent display vs. Alistair Overeem two weeks ago.
---
blaydes prepared to clean out hw division waiting for title shot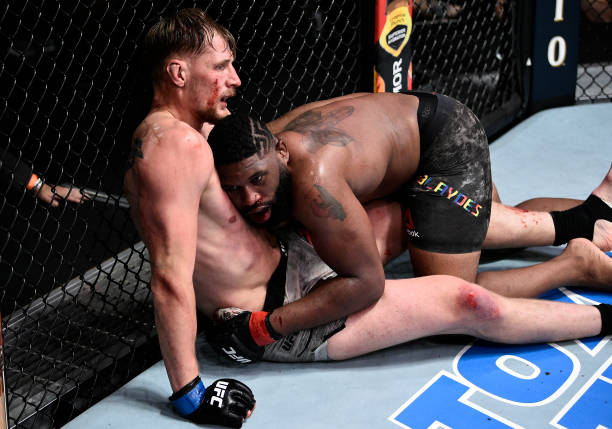 Blaydes produced a dominant yet uninspiring decision win over Volkov in June and was heavily criticised for his wrestling-heavy style, which he was unapologetic about.
It's fair to say that most fans won't exactly be rooting for him given his style which in turn impacts the ability to draw real interest in his fights. However, genuine questions remain about how this will unfold after he withdrew from the initial fight booking having contracted COVID-19.
If Blaydes beats Lewis, he'll be on a five-fight win streak and has stressed a willingness to clean out the division while he waits for the title shot.
"Worst case, I've always iterated, if I have to clean out the division, I will do that. I have a family at home that I provide for, so the more active I am, the better for them. The ultimate goal is the belt but we'll get there."
It's clear from his quotes that he's in no rush, having just celebrated his 30th birthday yesterday. Lewis isn't in the same position.
He turned 36 earlier this month and while he holds the record for most knockouts in UFC history (11), has never been in optimal physical shape as a heavyweight. That could prove his downfall against Blaydes, who again hasn't disguised what appears to be a grinding tactic this weekend.
On the prospect of taking Lewis down, Blaydes was quoted as saying:
"The more aggressive you are, the easier it is for me to get to your hips.

Even if you're more counter-oriented like Junior dos Santos was, as long as I've got you on your back heel, I'm winning the fight and eventually either the takedown or strikes will open up.

I view the majority of the division like that, Ngannou too. The majority of them, I get them on the ground and they're not a problem no more."
Time is of the essence for Lewis if he's to make this crazy outcome a reality, but no-one would've expected Jan Blachowicz to be crowned the UFC's light-heavyweight champion three years ago.
Stranger things have happened. Will he seize the moment though?
Picture source: Getty