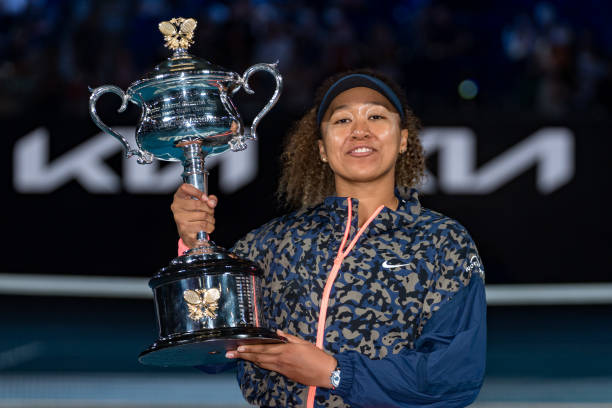 Naomi Osaka (#3) clinched her fourth Grand Slam title and second Australian Open triumph with a 6-4, 6-3 win against first-time finalist Jennifer Brady (#22), while extending her win streak to 21 straight. As a result, she becomes the first female to win four singles titles since Maria Sharapova in 2012, and youngest to do so since Monica Seles won the Australian Open in 1992.

Osaka races to a promising lead, before brady responds
Having served nervously during her semi-final win over Serena Williams on Thursday, Naomi Osaka got off to the ideal start before old habits returned at precisely the wrong moment against first-time finalist Jennifer Brady.
Minutes after Brady's served her third double fault of the match to present the three-time Grand Slam champion with a 3-1 lead and break of serve, it was the 23-year-old who begun having problems with her ball toss and subsequent serving motion.
Brady broke back immediately and fired a pair of down-the-line winners from the baseline to level at 3-3 as Osaka was made to work for her points, missing a few makeable shots before eventually holding serve – much to Brady's visible frustration at her own point construction.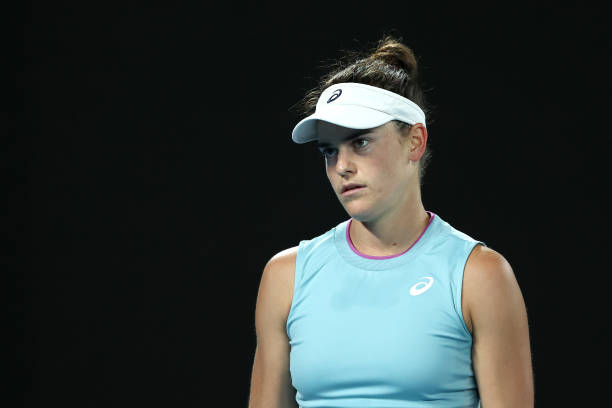 The importance of establishing a strong first serve was key: Brady saved a break point to eventually level at 4-4, Osaka saved one too with a crosscourt forehand winner and persisting in attempts to wrongfoot the American.
Successive misses helped Osaka seal a 6-4 first set, as Brady's serving issues returned to sting her at the wrong time: a double fault, overcooked looping forehand long and even bigger error into the net as she was clearly overthinking her shot placement.
With 33 unforced errors between them in 41 minutes, you could only hope the level improved in set two by Brady as she wasn't yet settled and time wasn't on her side.
Time of the essence as match slipping away from the american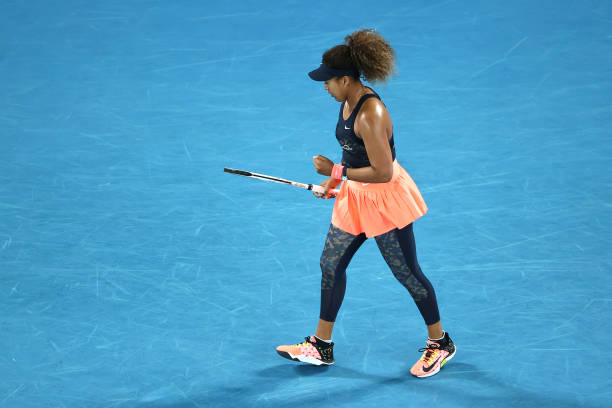 Barely ten minutes had passed by and Brady was already staring at a 3-0 second set deficit to somehow overturn, as the errors continued to fly off her racquet while Osaka grew in stature watching her opponent's confidence levels shrink ever so slightly with each mistake.
She crunched another crosscourt winner and consolidated the break with another big service hold, before sealing a double break, up 4-0. Brady's inconsistency was emphasised in this game alone: shanking a forehand and virtually stoping play mid-rally, only to eventually win the point.
Then, she wasted a break point with a backhand slice error – before a down-the-line shot and Osaka error finally got her on the board at 4-1.
Brady held at 4-2 as her body language improved, still believing she had a chance to keep this competitive and eventually force a third set. Osaka missed two makeable forehands but another wayward forehand flew long as Brady was now serving to stay in the match, down 5-2.
Despite a few nervy moments, she eventually did so – Osaka was now serving to clinch the title she won two years ago. Brady fired two forehands long to present her with three championship points, before her 29th unforced error of the match was the finale.
---
Post-match as Brady, Osaka talk at trophy presentation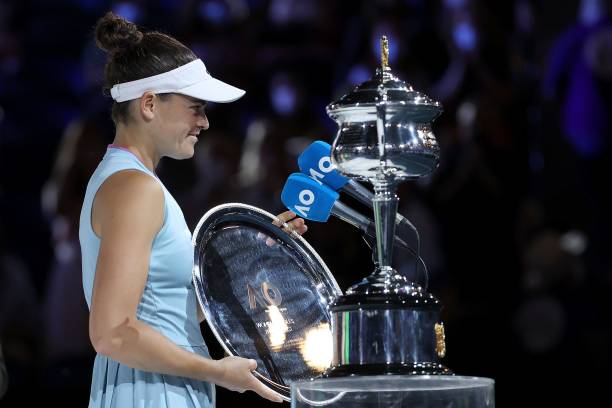 Brady made sure to thank her two-man team and mum, who was watching at home:
"First I'd like to congratulate Naomi on another singles title, I hope young girls are inspired by what she's doing. Her team: obviously you're doing something special, pushing her everyday and she's only getting better so congratulations.

Thanks to my team, these two guys over there, Michael and Daniel… without you, I wouldn't be standing here and let's keep going for more.

Thanks to Craig Tiley, his team, Tennis Australia, I was in [hard] quarantine, appreciate everything they did for me while I was there.

Mum, I know you're probably watching in-front of the TV crying so, it was special to play in-front of fans in my first Grand Slam final. Tonight it wasn't meant to be, hopefully there's many more."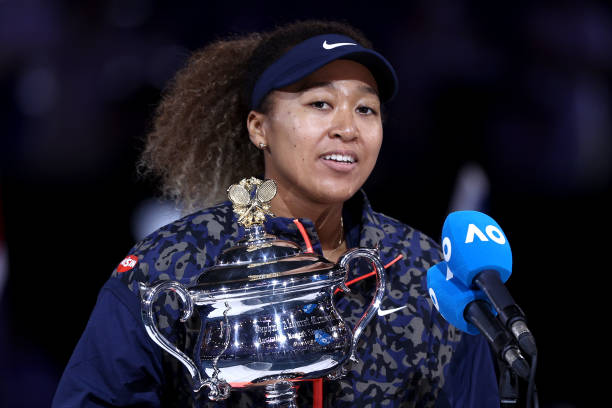 Osaka meanwhile, who you sense is getting used to this by now:
"Hi everyone, firstly I want to congratulate Jennifer, we played at the US Open and I told everyone who would listen you'd be a problem, I was right. You're working very hard, so congratulate you for that, it's great to see.

My team are like my family so I know you're probably the same. Your mum is really proud of you, friends and family are and I think we're going to play a lot more matches so cheers to that.

Like to thank my team, I've been with them too long, a month and change, they're with me through my training, matches, nervous talks before, I'm really appreciative towards that so thanks – this one is for you.

Lastly but not least, I want to thank you guys for coming and watching. I didn't have it for my last Slam so it feels incredible, means a lot to have your energy.

Thanks for opening your hearts and arms to us, it's a super privilege and I don't take it for granted."
By contrast:
---
osaka proves she is world's best, brady should be encouraged
Having become the seventh woman in the Open era to save match point en route to a title triumph, Osaka is now 33-2 (94%) in hardcourt slams over the past two-and-a-half years.
Excluding walkovers, her winning streak – as mentioned in the introduction – is 21. She emerged from a difficult draw and it's a shame the final didn't live up to expectations, as Brady struggled throughout and only looked promising in the latter stages, by which point it was too late.
She was battle-hardened when facing match points vs. Spain's Garbine Muguruza and perhaps the scary thing is she's won without playing her best – importantly thriving in big moments.
It's a testament to her ability that Margaret Court's 24 title haul – a record proving elusive for Serena Williams – has already been identified as a target over the next decade and beyond.
It feels like an age since she lost to precocious teenager Cori Gauff in Melbourne just 13 months ago, though her game has advanced significantly since then.
While the pandemic-altered rankings mean she only rises to world no. 2 with this latest victory, it would seem disingenuous to suggest anything other than the notion that she's the world's best.
With it comes the hunted moniker as many try to take her crown, including those who watched at home while she thrived post-lockdown like Ashleigh Barty, Bianca Andreescu and others.
Halep, who has dropped to no. 3 as a result, made a similarly remarkable comeback earlier this tournament, only to lose to Serena Williams – while Sofia Kenin, Aryna Sabalenka (both 22) and French Open champion Iga Swiatek (19) are all too talented not to rise again.
The one caveat to Osaka's hard-court dominance is the fair retort that she's not yet mastered clay nor grass – two specialist surfaces that dominate half the year's calendar. Time will tell.
Brady will be disappointed but did very well to reach the final anyway, beating multiple tough opponents including Croatia's Donna Vekic and Karolina Muchova, that's without factoring in a 14-day hard quarantine that hamstrung players aplenty across both the men and women's side.
She rises to a new career-high world no. 13 with this finish and will hope to build on it, having really come into her element over the past 18 months.
She's able to match and beat the world's best players, but establishing that consistency long-term is key at a time where the talent pool is high but insufficient continuity between them.
Picture source: Getty — quotes via Eurosport